One part of town that I don't get around to exploring is Grove City. Over the last year, I have made more of an effort to get out there because my dad moved out that way . Thankful he did because Grove City is home to many hidden gems. A few weeks ago, we were house sitting for my dad and decided to check out on of their breweries – Grove City Brewing Co. I thought it would be a good choice because I knew they were somehow connected to a winery (wasn't sure if it would be open because it was Sunday, but, crossed my fingers). Not being a beer fan, but, loving the vibe of a brewery, I knew this would be the perfect Sunday Funday.
"Grove City Brewing's story begins with Plum Run Winery, opened by the Crosbys three years ago in the same building where the brewery is being built. Dave Crosby knew wines and ciders, but not beer. A mutual friend connected Crosby to Luther, an experienced home brewer who also was working at Buckeye Lake Brewery. Crosby and Burroughs work together on the Grove City Convention and Visitor's Bureau. She and Smolinski, her husband, own Hocking Hills Canopy Tours. Mantkowski, a friend, joined the group, too." - Dan Eaton, Biz Journals
After walking in through the back, which clearly wasn't really open, we made it to the front bar. We were greeted by the nicest employees who explained what they were and what they offer. I have to admit I was overwhelmed by all of the options, but, not in a bad way. If you notice, there are TV's up on the wall – that is one way to look at all of the beers they have on tap. On tap, you will find their flagship beers + other local breweries.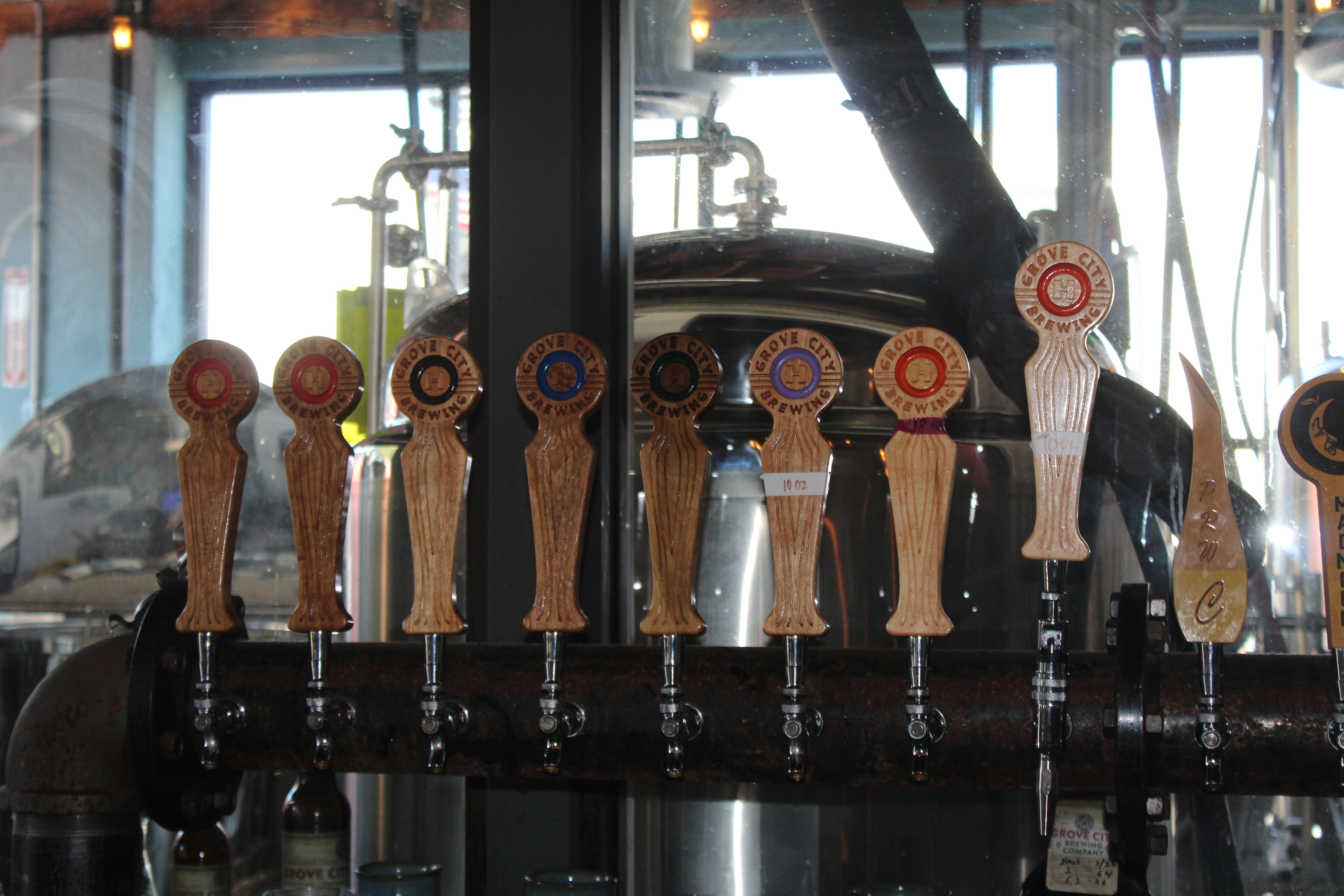 While Stephen was deciding which beers to order, I was deciding what food we would start with! Well, apparently, he had already looked. As soon as I looked at the menu, we both said, "BOSCO STICKS!" Not officially what they're called, but, it's what the mozzarella stuffed breadsticks reminded us of. Did you have them growing up? Basically, its a mozzarella stuffed breadstick. 😉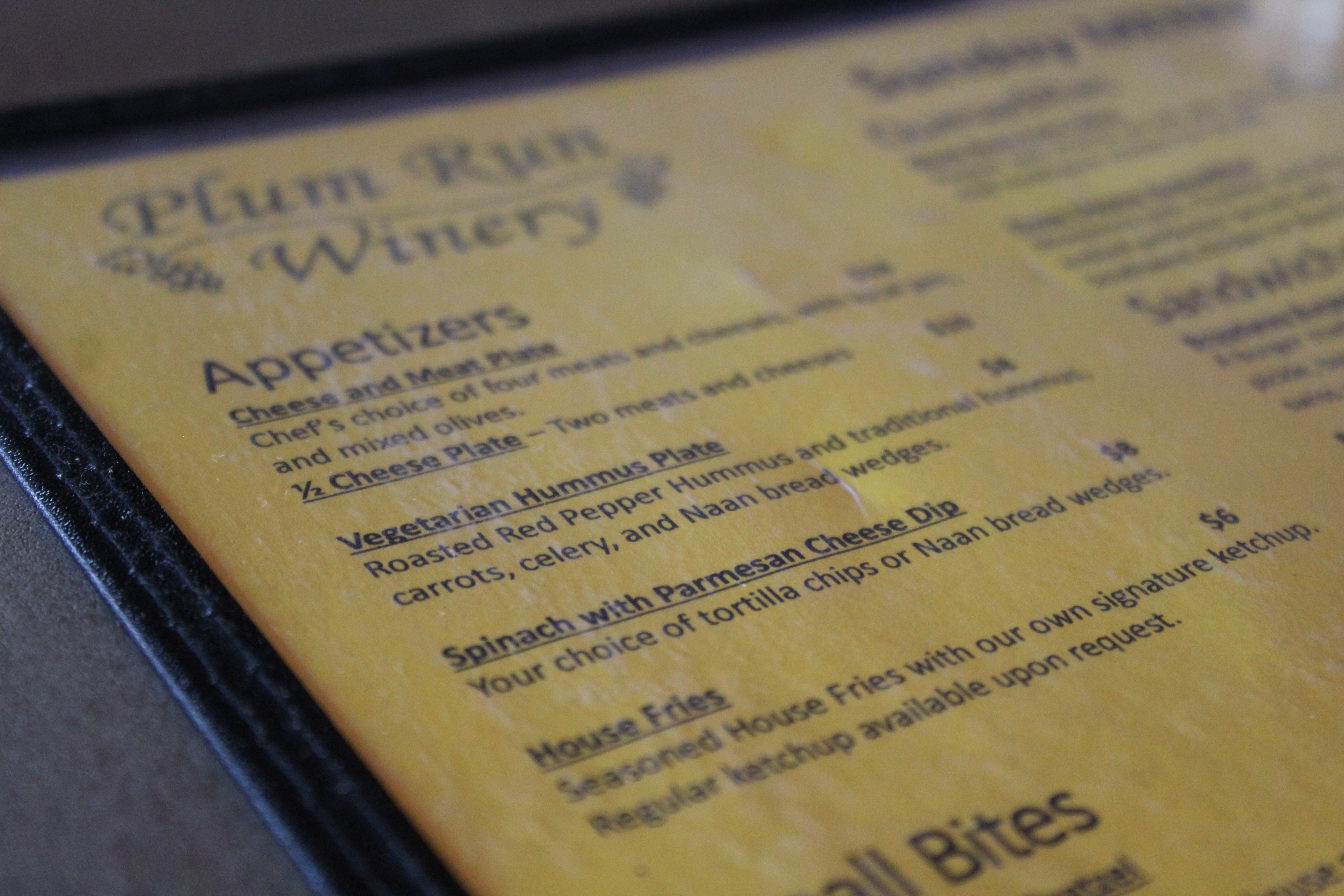 Okay, now that the appetizer has been order (don't worry, there is more food coming later) – it's time to focus on what I want – ALL THE WINE! Before there was Grove City Brewing, there was first Plum Run Winery. On the way over, I read about the history of the winery. This is something I like to do before exploring a new spot – get their back story. If you know me, you know I also get it while I am there because entrepreners and people following their dreams are what excite me in life. I have always been that way. I want to know who you are, what your dreams are, what your goals are, what you do on a daily basis. It interested me and I love to get below the surface – not just the, "Hi, I am Megan. I like cats. Nice to meet you," type of stuff.
Anyways, back on track. The story behind Plum Winery and the owners, Dave and Diane Crosby, is a fun one. An inspiring one.
"Plum Run Vineyard and Winery is named from the small stream of the same name that originates on our farm south of Grove City, Ohio. Our Vineyard consists of three acres of grapes that include Traminette, Vidal, Chambourcin and Cabernet Franc. A total of 16 varieties of grapes are planted on the farm. Grapes from Plum Run Vineyard as well as grapes sourced from other Ohio vineyards are used to craft a variety of fine wines for your purchase."
They tell their story much better than I would – you an read it here. They weren't in when we were there, but, I would love to go back and chat with them. Maybe visit their winery and share stories about our failures at making wine at home.
After I was done with my wine flight, we decided to sit out on the patio and order some more food. But, first. I had to pick out a board game. Yes, they have a board games!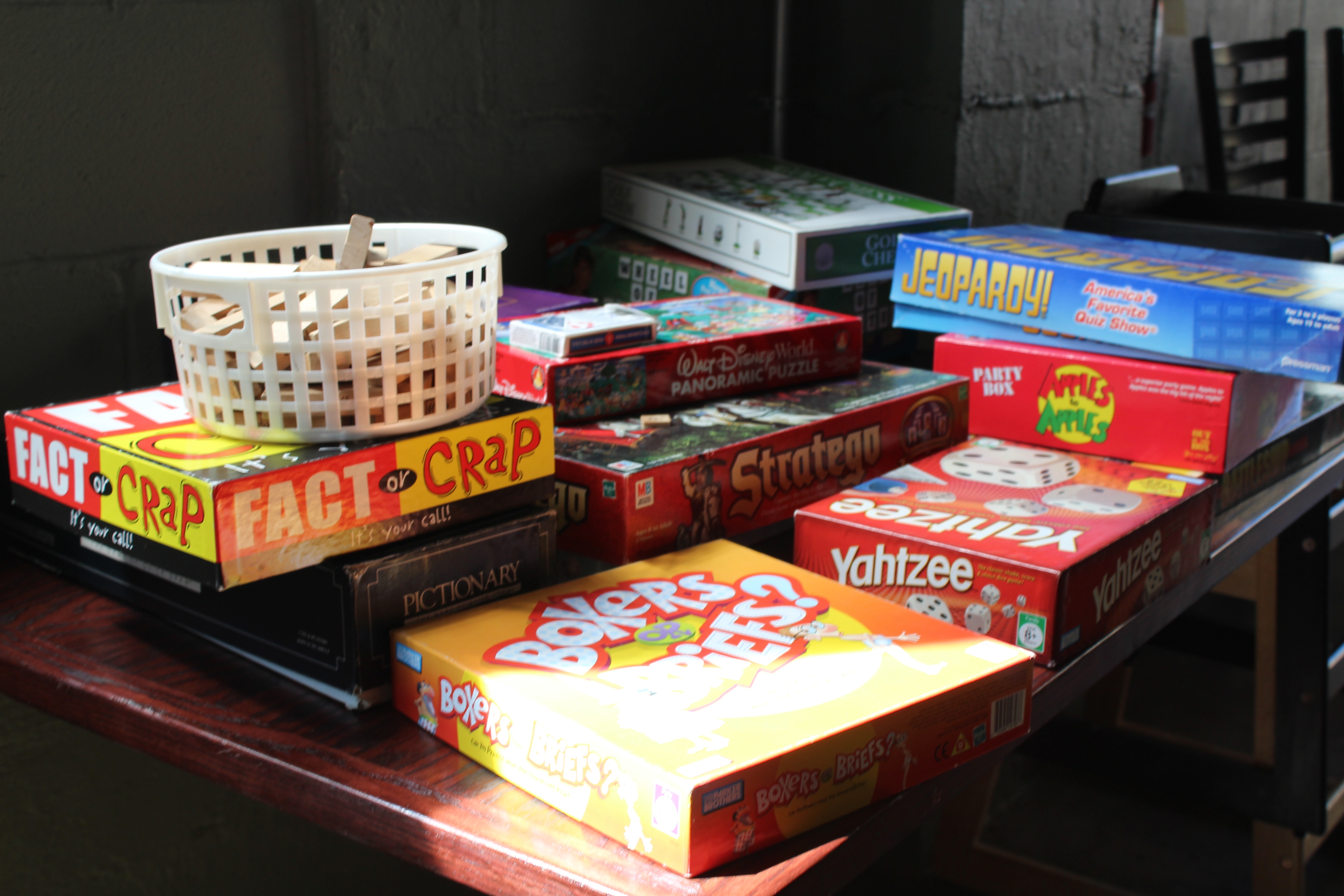 Remember earlier when we said that we would end up ordering more food later, well, we did. We went with the Broadway burger and fries. Mostly because it was topped with bacon jam.
Honestly, I do have one negative thing to say. WHY IS THIS NOT CLOSER TO OUR HOUSE! Ha! Seriously. This may be one of my new favorite spots. The vibe. The energy. The employees. The beer. The wine. The patios. The people. Everything was perfect. I could have spent all afternoon there if we didn't have to get back to three cute puppies.
---
Taco Tuesday – 5:00 – 9:00 pm
Winey Wednesday Happy Hour – 3:00 – 6:00pm
Wing Wednesday – 5:00 – 9:00pm
---
Plum Winery + Grove City Brewing Company
3946 Broadway Grove City, Ohio 43123
They are located in the heart of the Grove City Ohio Town Center at the corner of Broadway (Rt. 62 and 3) and Columbus Street.
Parking can be found onsite (Columbus Street side) or across the street in City Public Parking.
Phone: 614-991-0338
Tuesday – Thursday  11:00 AM – 10:00 PM
Friday and Saturday 11:00 AM – 12:00 AM
​ Sunday 11:00 AM – 6:00 PM