Nothing beats a fun night out with your girlfriends, but going to the same places over and over again can be quite boring!  I am lucky enough to have girlfriends that are always up for an adventure and trying something new. Sometimes it is hard to find something to acomodate a bigger group, especially at the last minute. I've put together a list of things my girlfreinds and I have either done or are planning on doing, plus a few places to eat with bigger groups.
---
Art with Anna is the perfect spot to host a private party. If you're familiar with the Wine & Canvas, this is similar, but, so much better. Not only do they provide all art supplies, smocks, cups, plates, napkins, and corkscrews – you and your girlfriends get the entire studio to yourselves and pick your own painting. If you haven't had a chance to visit Anna's studio, you're going to love it. It is a gorgeous space. When you walk in, you already feel like an artist. 😉
There is a minimum cost of $350, which sounds like a lot, but it breaks down to ten artists at $35/person. You can email, call or fill out an online form to get started. We had SO MUCH fun, plus getting it scheduled was a breeze.
420 N Cassady Ave | Bexley, OH 43209
614.252.1881 | info@artwithanna.org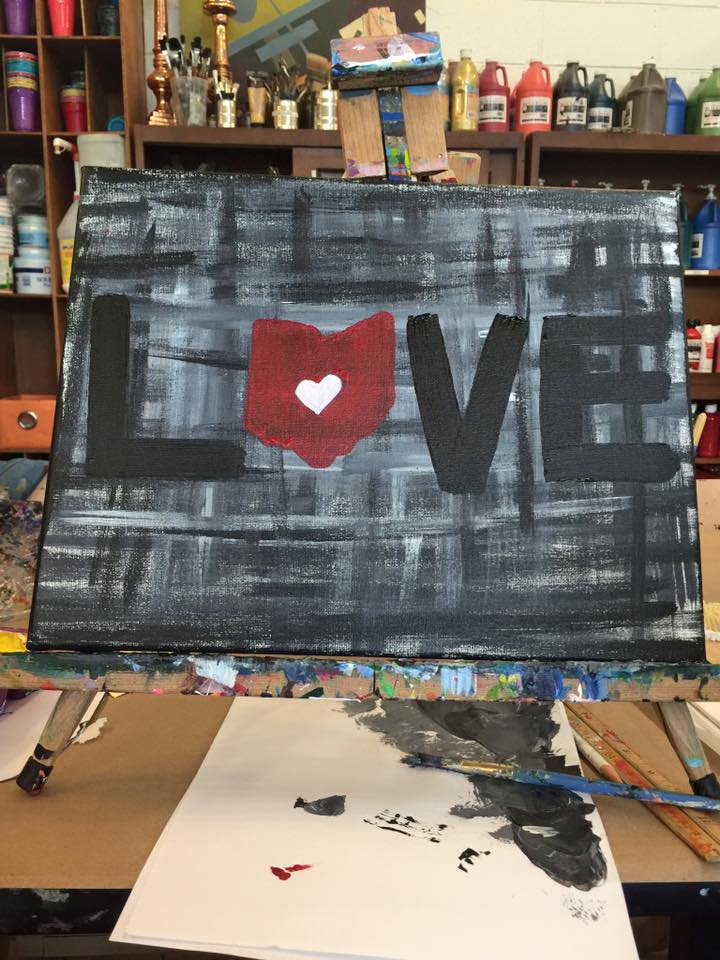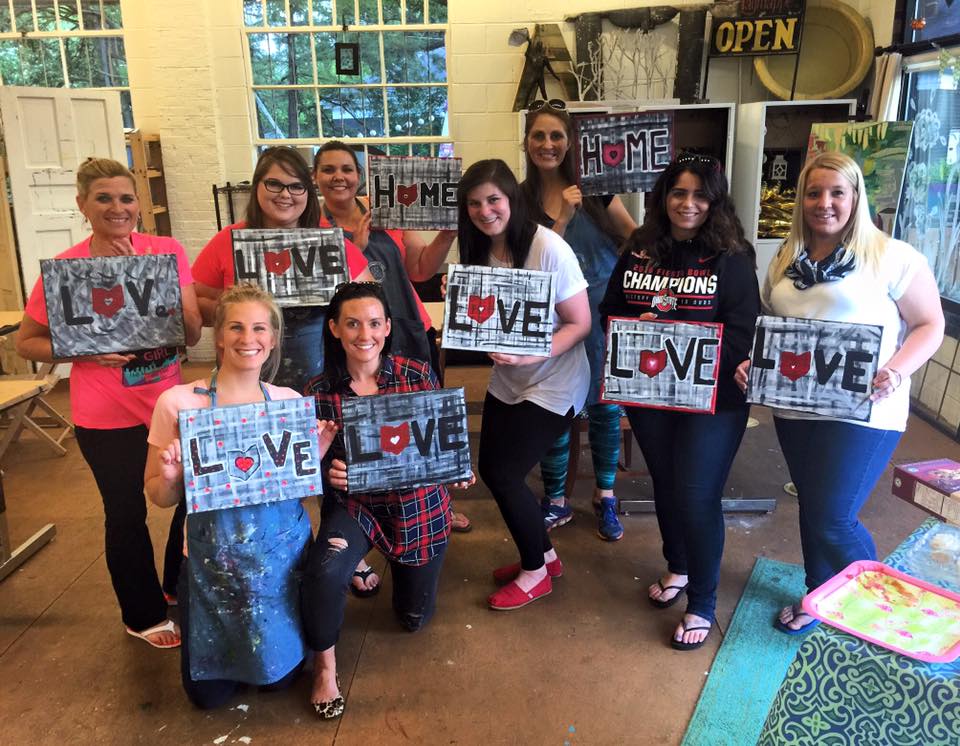 ---
The candle lab is so much fun! They can help you plan any sort of party. When you go in, you get to each choose your container, as well as your combination of oils! Make sure to call and make a reservation. I suggest the one in Worthington because it is next to House Wine and The Whitney Hosue. You usually have to wait an hour for your candle to set, which gives you perfect time to visit one of the two spots. House Wine has a wine dispenser, just saying!
646 High St | Worthington, OH 43085
---
Most recently, a group of us took an "Olive Oil 101" class at A Twist on Olives in Uptown Westerville. If you aren't familiar with them, they are a family owned and operated business who offers over 20 of the freshest extra virgin olive oils from around the world. Their goal is provide their customers with the freshest extra virgin olive oil and balsamic vinegars available that will inspire you to create your own memorable meals.
During open hours, you are able to go in and browse their store – trying all of the different oils and vinegars they offer. However, we took it a step further with the class. Tuesday-Thursday, usually from 6:30-8:30, you can gather up a group of 10 friends and head to their store for a private, after-hours experience. It was fabulous. We learned all about their story, their process, how to pair olive oils with different foods, how to truly taste the oils, what is good vs. bad, how to cook with them and so much more! We were even able to bring our own wine in with us!
I chose the $150 package, which is $15 per person if you have a group of 10. It included two DELICIOUS appetizers, two AMAZING desserts, plus, we got sent home with our own 4 oz bottle and recipe card. It was such a fun night.
20 S. State St. | Suite K  | Westerville, OH 43081
614.823.8800 | Facebook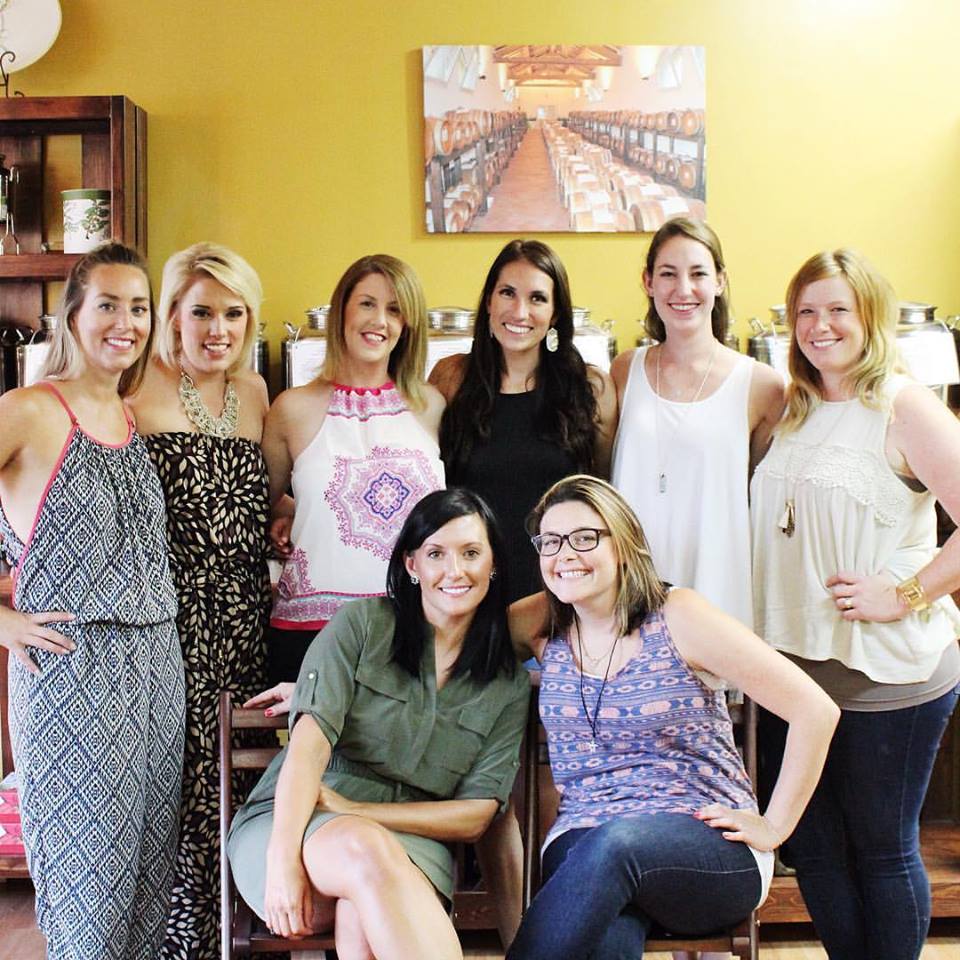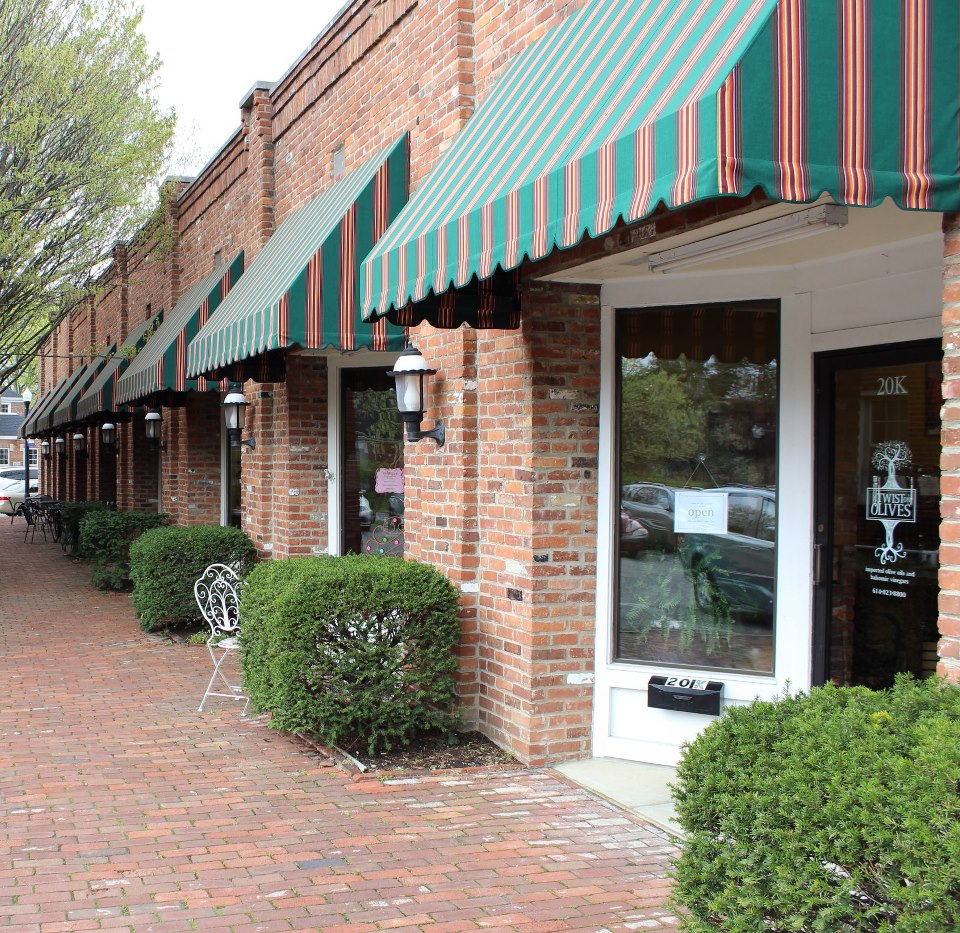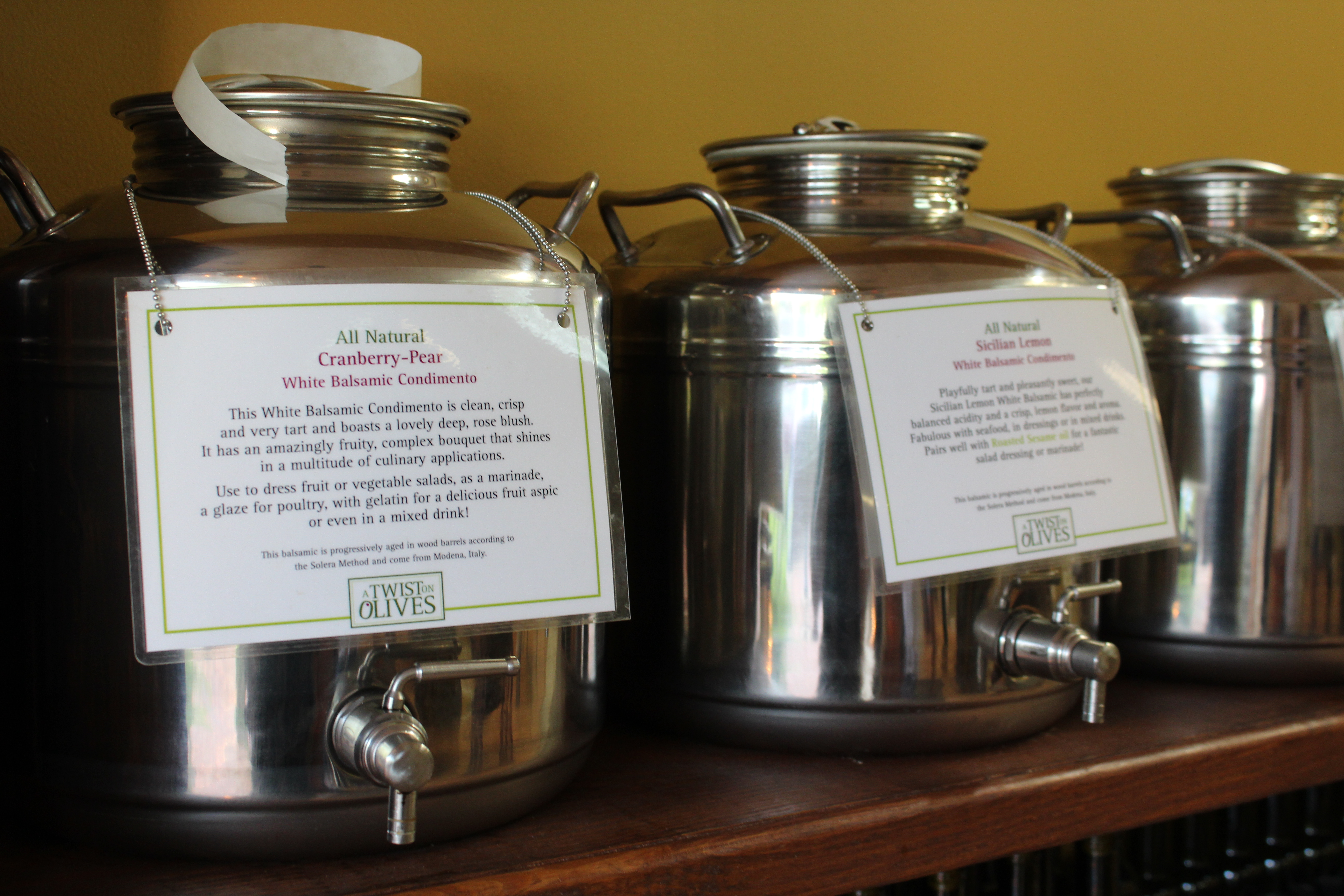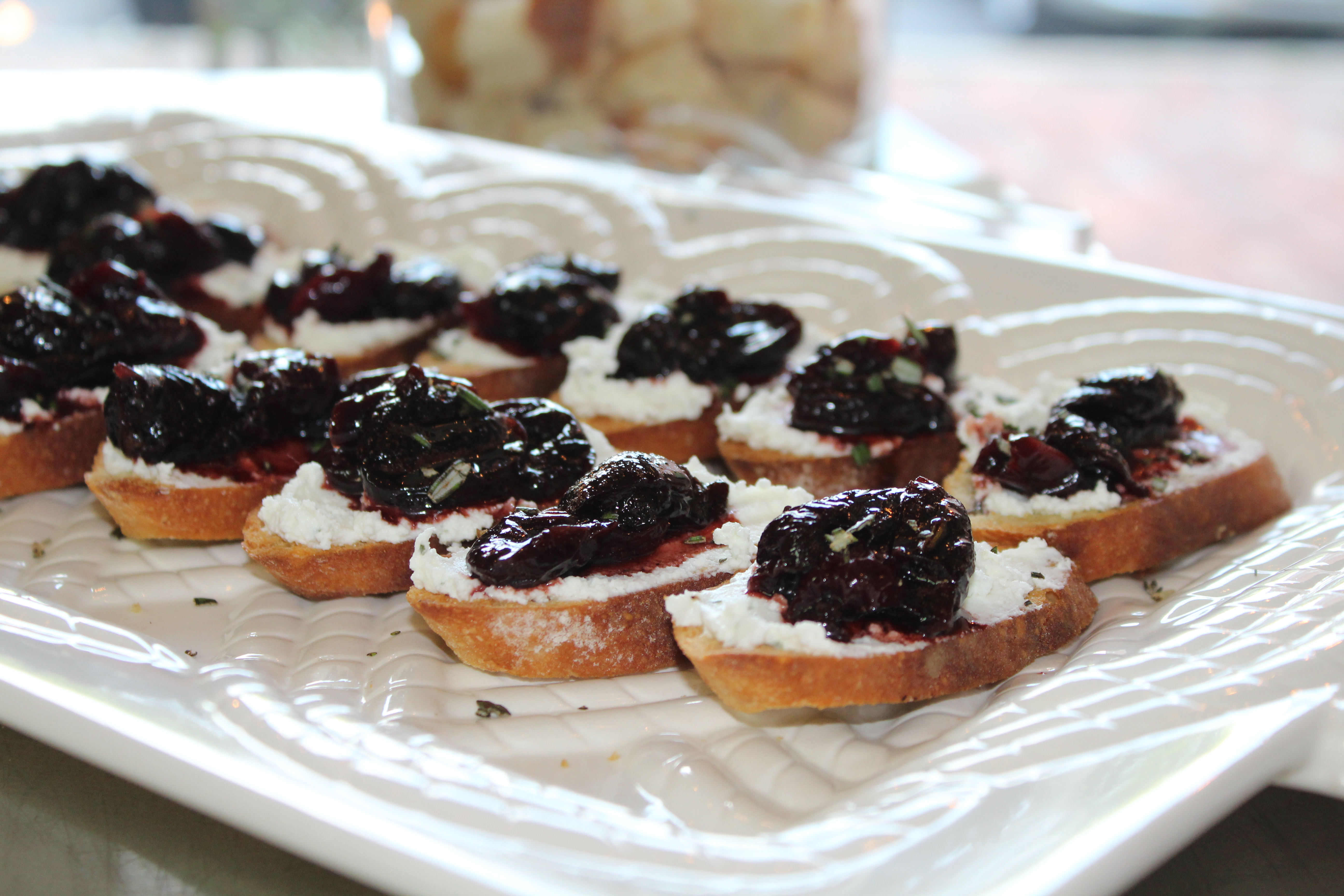 ---
One of my favorite spots in Westerviller is Meza Wine Shop. They always have something fun going on + the shop is adorable! On Wednesdays, they've dedicated the night to us ladies! They offer happy hour pricing from 5-9pm. This means select glasses are $4, plus there are NO corking fees on any bottle in the shop. Once a month, during ladies night, they offer  additional fun with a local artist named Amy Winters. For $30, you can paint a personal wine glass and take it home. The price includes the glass to paint, materials and TWO glasses of wine!  You can email them vinomeza@gmail.com to register! They also offer fun wine and painting classes for $25, also including materials and two glasses of wine. They are different from your normal canvas and wine class because you paint off of inspiration. Last time, they had tons of different pictures of waves and you went with what you were feeling. Whether you go for a specific girls night event or for a glass of wine, you're going to have a blast. Make sure to call and reserve one of the bigger tables (picture below). BONUS: They have yummy snacks!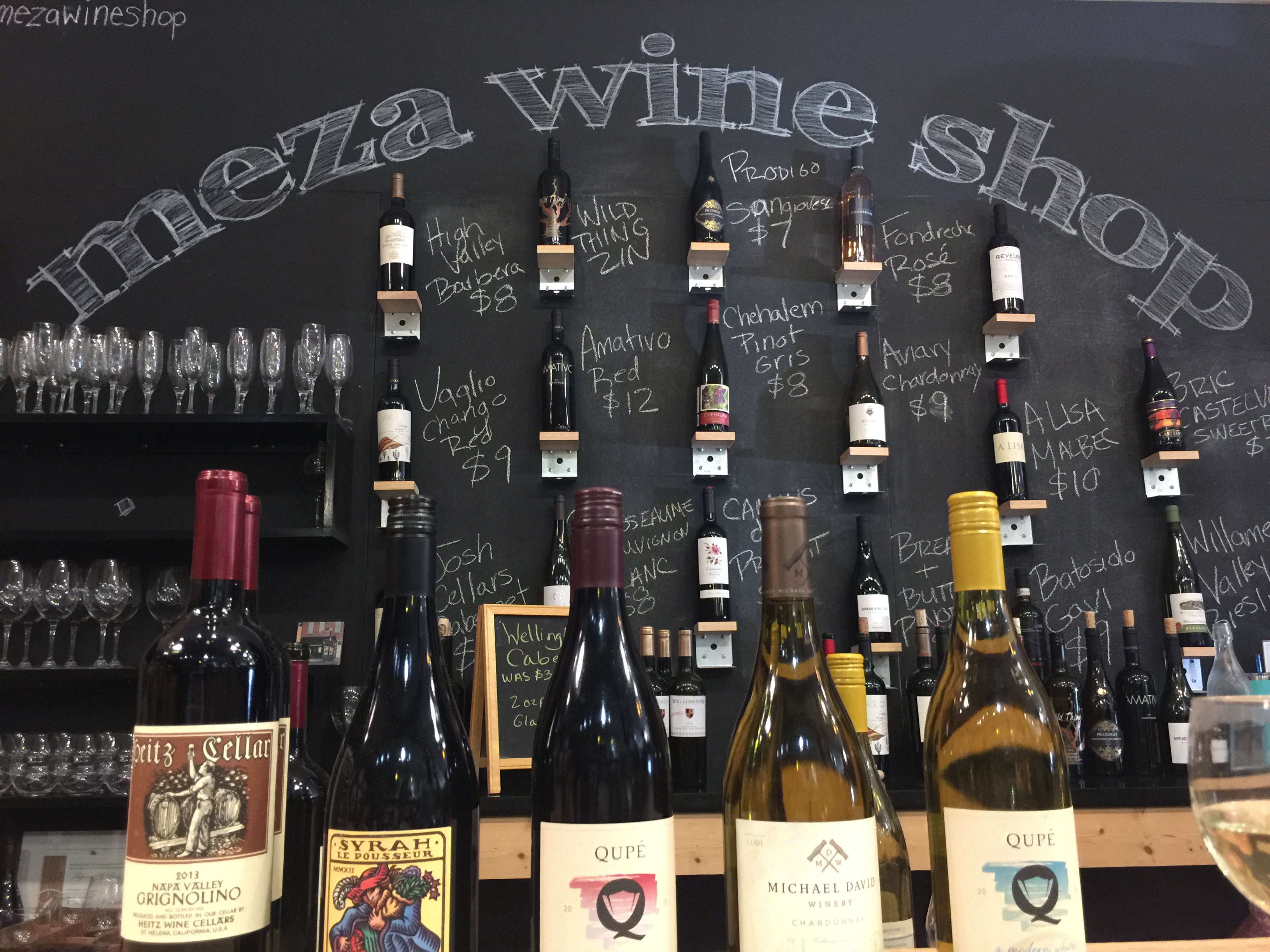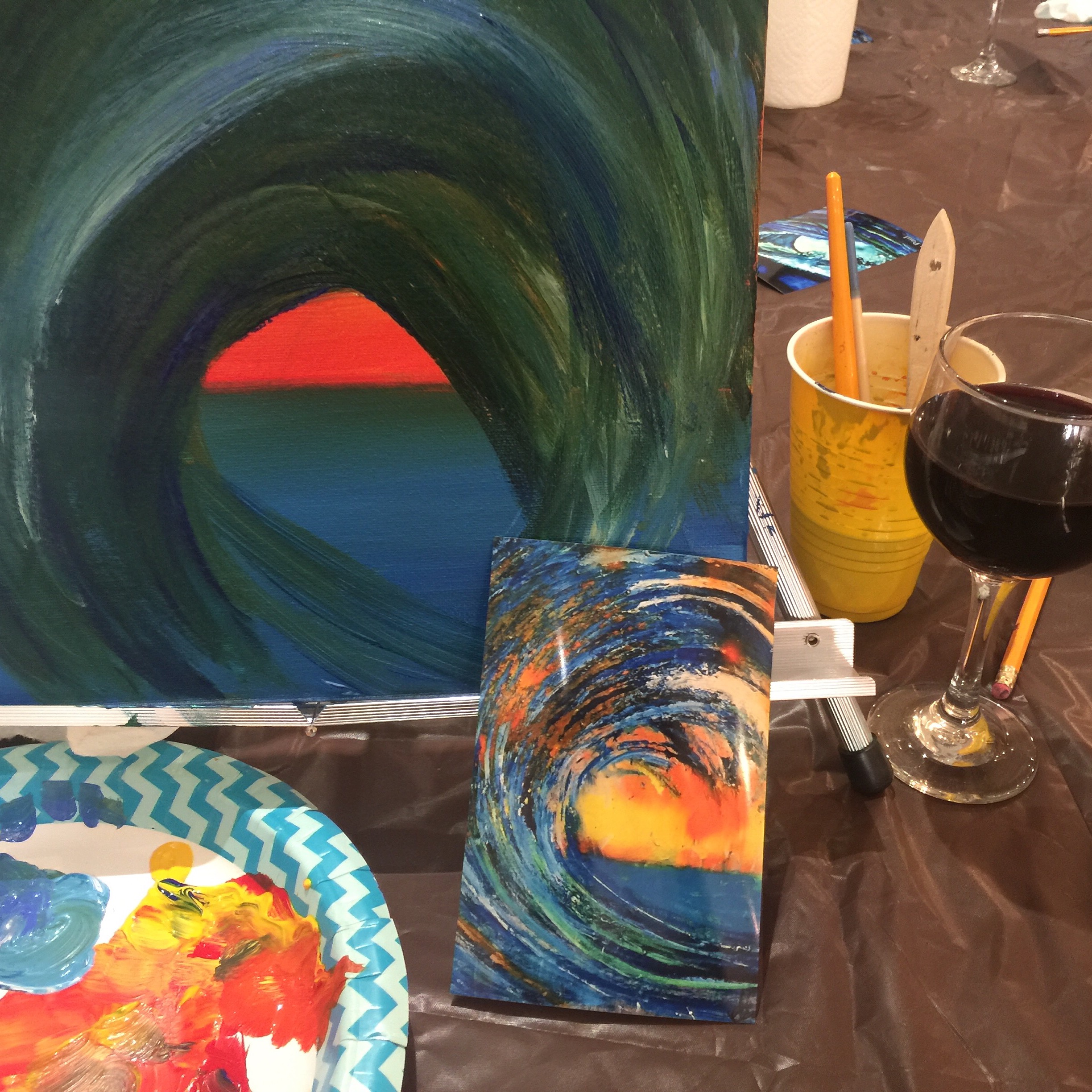 ---
Brother's Drake is one of my favorite spots in Columbus. If you aren't familiar with them, they are a local meadery. If you aren't familiar with mead, it is an ancient form of a fermented beverage that uses honey as its primary sugar source. They use local honey and local ingredients whenever possible. One of the best parts of the tour is tasting the honey! OMG – delicious. You can read more about their story here.
The tour is a great way to get to know them and learn what it takes to produce their delicious mead. You start off in the bar area, sampling one of their most popular meads. When the tour starts, you walk to the back room where they do all of their production. We have done the tour twice because it is so fun learning about who and what they are, plus, I love seeing how passionate they are about what they do. During the tour, you sample a few of their different meads. DELICIOUS! Once you're done, I suggest hanging around at the bar and trying a few of their cocktails.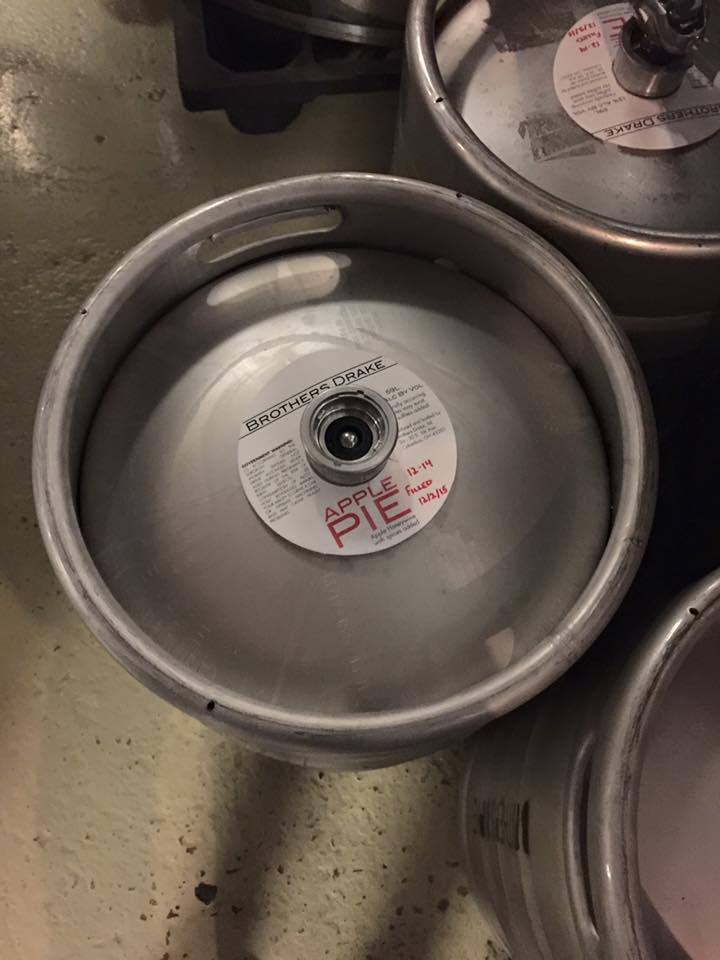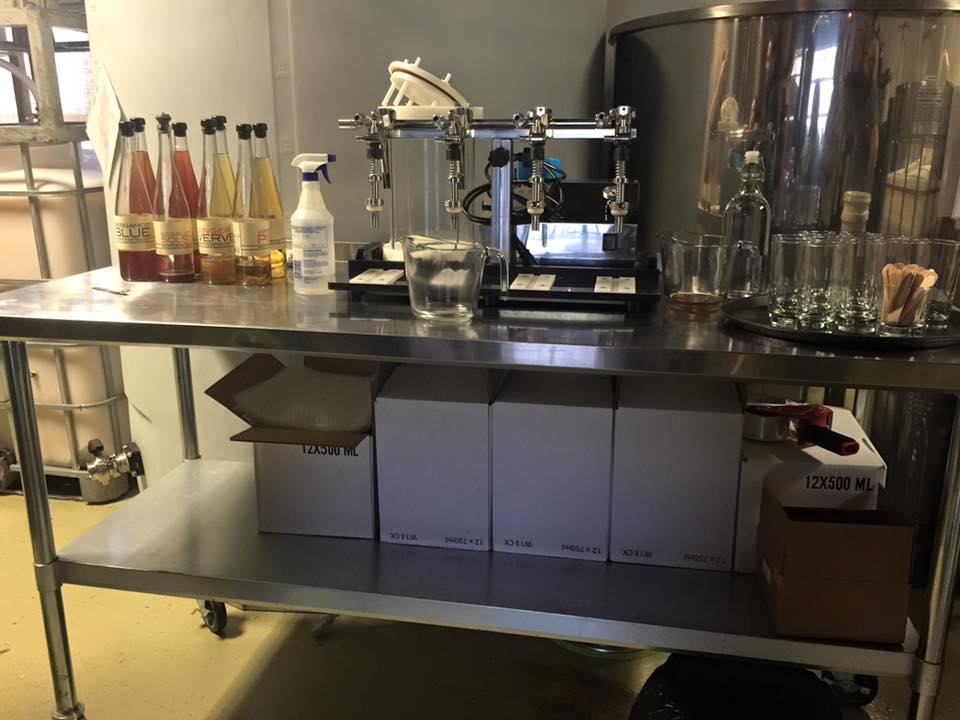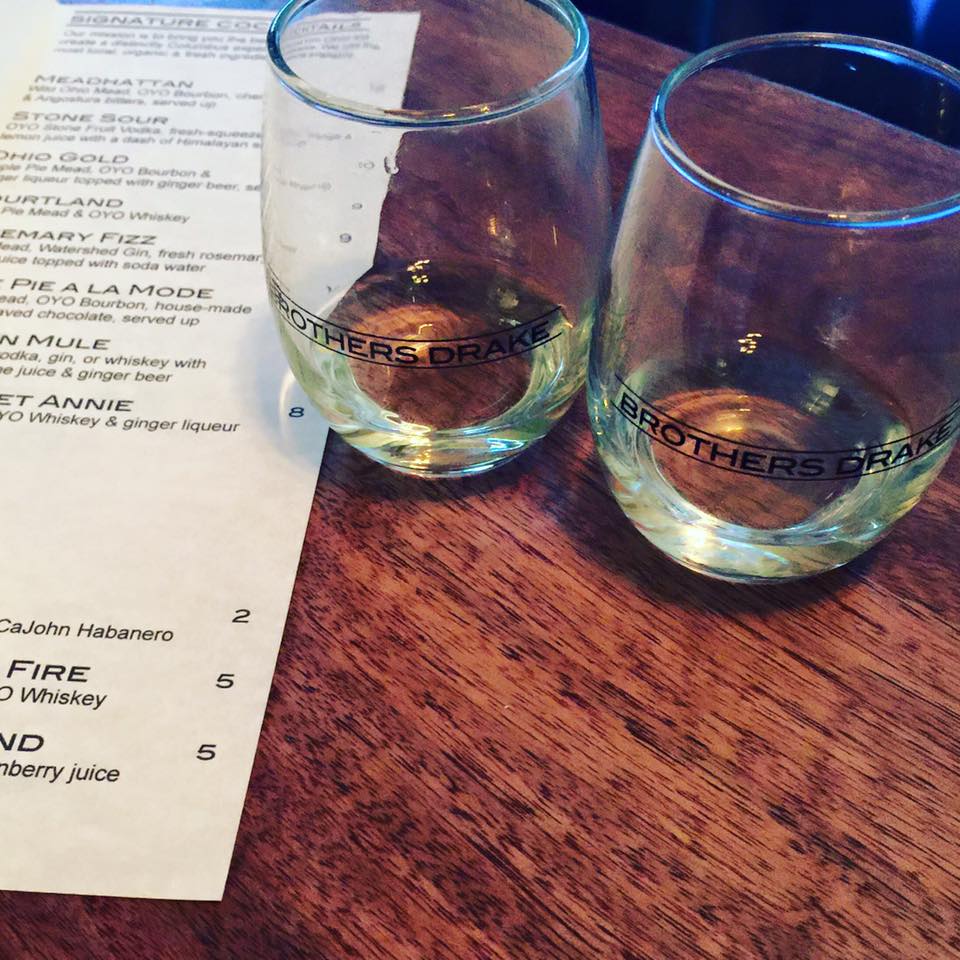 ---
Shadowbox has never disappointed. Located in the Brewery District, Shadowbox is bringing us the best live shows out there! They have a wide variety of shows. I have seen rock n' roll sketch comedies to their version of RENT. Lots of singing. Lots of comedy. Lots of awesome moments. This is one of the easier spots for a girls night, I think. They have big tables. They serve food and drinks. It lasts a few hours. Everything is all in one spot! It takes the planning out of it because you just have to pick one thing – the show! Right now, they have 'The Best of Shadowbox' as one of their shows. I suggest going to see that if you haven't ever been. It is a highlight show of the season, which only includes the best acts and performances!
503 S. Front St. | Suite 260 | Columbus, OH |43215
614.416.7625 | Facebook
---
Murder Mystery
We participated in a Murder Mystery last year and it was a BLAST. We may have been most excited about dressing up for it. If you haven't been to one, it is like the game Clue came to life. Each table has a binder and a spokesperson. You have to try to figure out which table has the person who did the murder. It is very interactive and you are going to talk to people you don't know! You have to walk around and ask questions, trying to figure out who did what! It was VERY entertaining. We were so sure that we had it right, but, in the end we failed miserably. Still so much fun. Right now they have a Groupon Deal!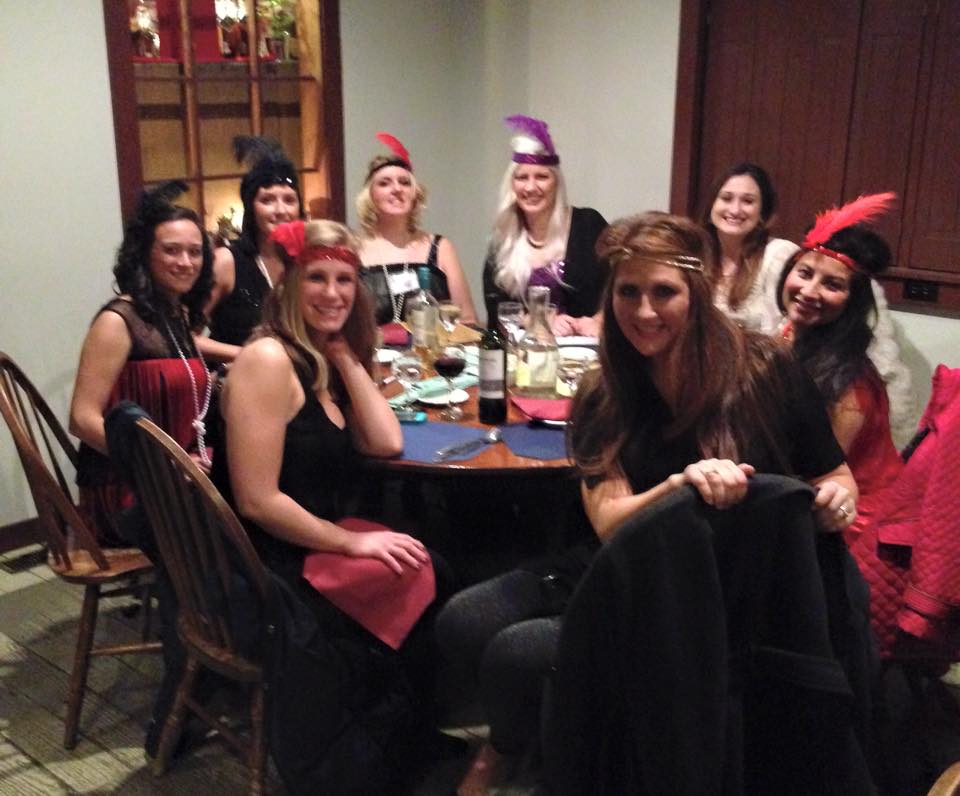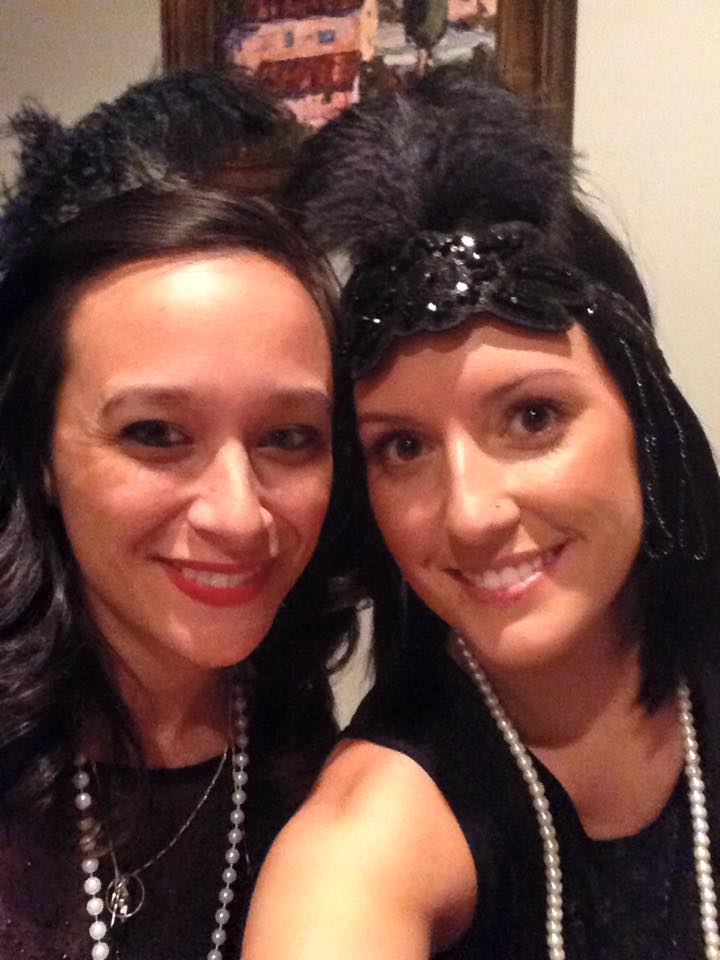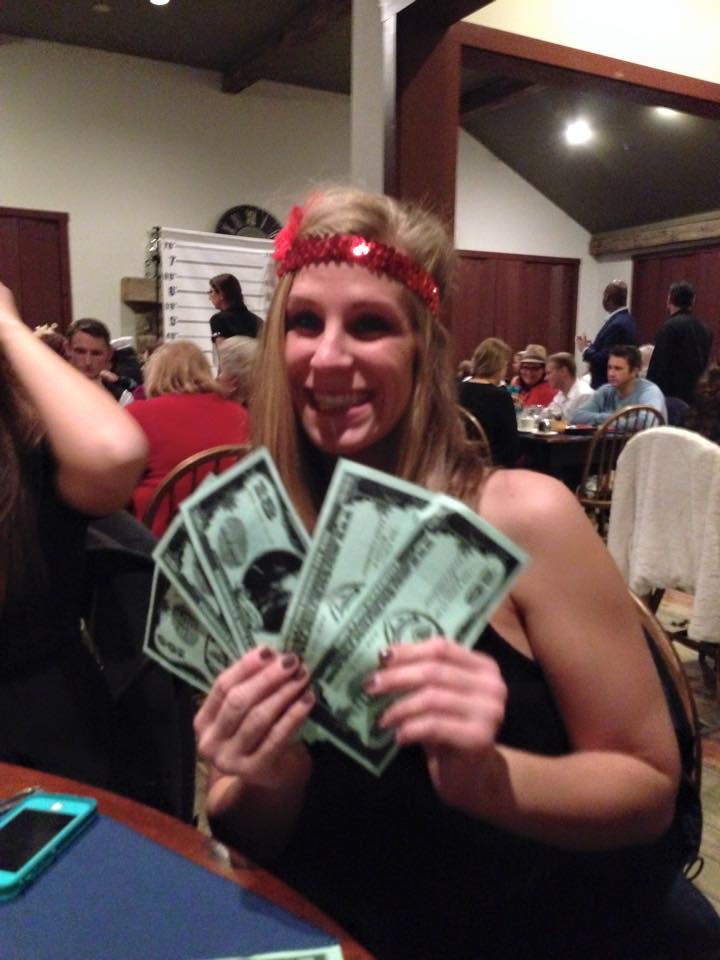 ---
If you are looking for a fun group workout, you have to check out SkyRobics at Sky Zone. I thought this was just going to be a fun night and not too hard, well, I was WRONG. You can burn up to 1,000 calories in hour, bouncing around on their wall-to-wall trampolines! Be prepared. It is NOT just bouncing around, like I assumed. There were 8-10 different stations that we rotated through.
Tuesday: 7-8pm; 8-9pm | Thursday: 7-8pm; 8-9pm
Saturday: 9-10am | Sunday: 10-11am
Individual Class: $10 | 10 Class "Get Fit" Pass: $85
459 Orange Point Drive | Suite E | Lewis Center, OH 43035
740.548.4004
---
---
I have always wanted to take a cooking class! Sur La Table offers a ton of different options for that. Coming up on September 8th, they have a night dedicated to us girls! When you attend, you will learn how to make  Zucchini and Shrimp Fritters with Basil Aioli – Creamy Risotto with Lemon and Red Wine and a Caramel and Pear Skillet Cake. YUM! You can also plan you're own private event.
3990 New Bond Street | Columbus
614.473.1211
---
I have yet to try this out but it looks like so much fun. It has really great reviews on yelp. If you aren't familiar with it, it is a real life escape game designed for up to 12 people. Your goal is to work together as a team to escape from a "l0cked" room.  They say getting through the locked door will require finding clues, solving puzzles, and working together as a team or else you may never escape. It takes around 45 minutes to complete.
Tickets are $27 per person on weekdays and $29 per person on weekends.
12 people minimum. If you do not have 12, there may be other people placed in there with you!
1415 E Dublin Granville Road | Columbus, OH 43229
614.781.1632 | Contact@thechamberescaperoom.com
---
Places to Eat
All of these places are able to sit your party of 10+. If you like Sushi, I suggest Haiku. They have a fabulous patio with an awesome table for a big group. The way they have it set up makes it easy to talk to everyone. If you are looking for a good happy hour on a Sunday, check out Hubbard Grille. They offer half off appetizers and certain cocktails from 4 to close. They have a nice, bigger group table in the corner of the bar area.
Buca di Beppo | Arena District
Wolf's Ridge Brewing | Downtown
M at Miranova | Downtown
Hubbard Grille | Short North
Union Cafe | Short North
Haiku | Short North
The Pearl | Short North
Buca di Beppo | Arena District
Spaghetti Warehouse | Franklinton
Melting Pot | Easton
Asterik | Westerville
Wine Bistro | All Over
---
Groupon Deals

I love Groupon. It is such a great way to explore your city at an affordable place. It has introduced me to many new spots in Columbus that I may not have even heard of if wasn't for their website. Listed below are a few spots that jumped out to me when I was most recently on their website.
Use code "first" to get 25% off your first groupon purchase. If you're like me and use Groupon frequently, you can use the code "sale3" to get 20% off up to three local deals!