I am going to be open for a second: between working a full-time job, starting this blog and doing life with my husband—I've been feeling really burned out and overwhelmed. The past few months have been quite an adventure and I have absolutely LOVED every minute of it. But lately—in the past few weeks—I've been getting that feeling, you know, if I don't slow down, I might lose it.
"I just need to slow down. I need to rest. I need a break."
That's what I kept telling myself. As we know, that is much easier said than done because what happens if we stop? Everything will fall apart, right? Well, I stopped and guess what I learned? Everything doesn't fall apart. The world doesn't stop moving. What did happen? I felt refreshed. Rejuvenated. Relaxed. Inspired. Connected.
The Inn & Spa at Cedar Falls was the perfect spot to unplug and just enjoy the moment. Located in the scenic area of Hocking Hills, their cabins and cottages offer the harmony of nature, the peace of solitude, and the simple joys of the Earth's beauty. A green certified and Select Registry property, the Inn & Spa at Cedar Falls is surrounded by three sides by Hocking Hills State Parks.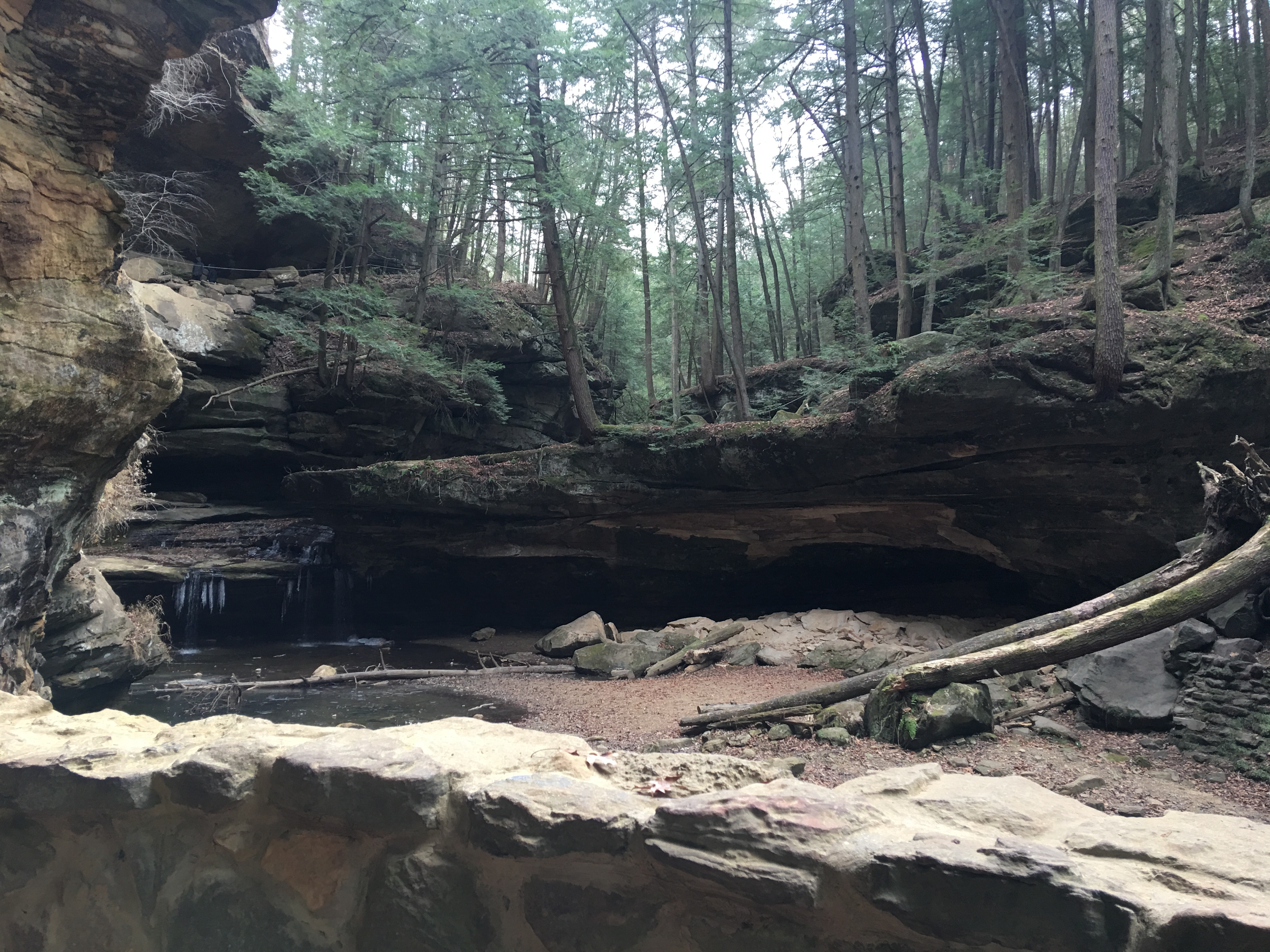 The inn opened in 1987 after Anne Castle had the vision of creating a place where urban dwellers could retreat to a natural setting. A place where they could leave to and connect with the land. With no hotel background, NO country living experience and lack of money, many people doubted Anne. This is where a source of inspiration came from – Anne's story. You see, I just spent an entire weekend at a place that people didn't think could exist. Her story is a true testament to the fact that no matter what, if you keep believing in your dreams, you can achieve them.
"The struggle to withstand back-breaking work, mind-bending discouragement, seemingly countless physical, emotional, and financial blocks, is a long tale. Its one punctuated by hilarious boo-boos, by ridiculous living conditions, by loving generosity, by people's putting money where their mouth was, by, not so simply, miracle piled on miracle.
[The short version of Anne's story]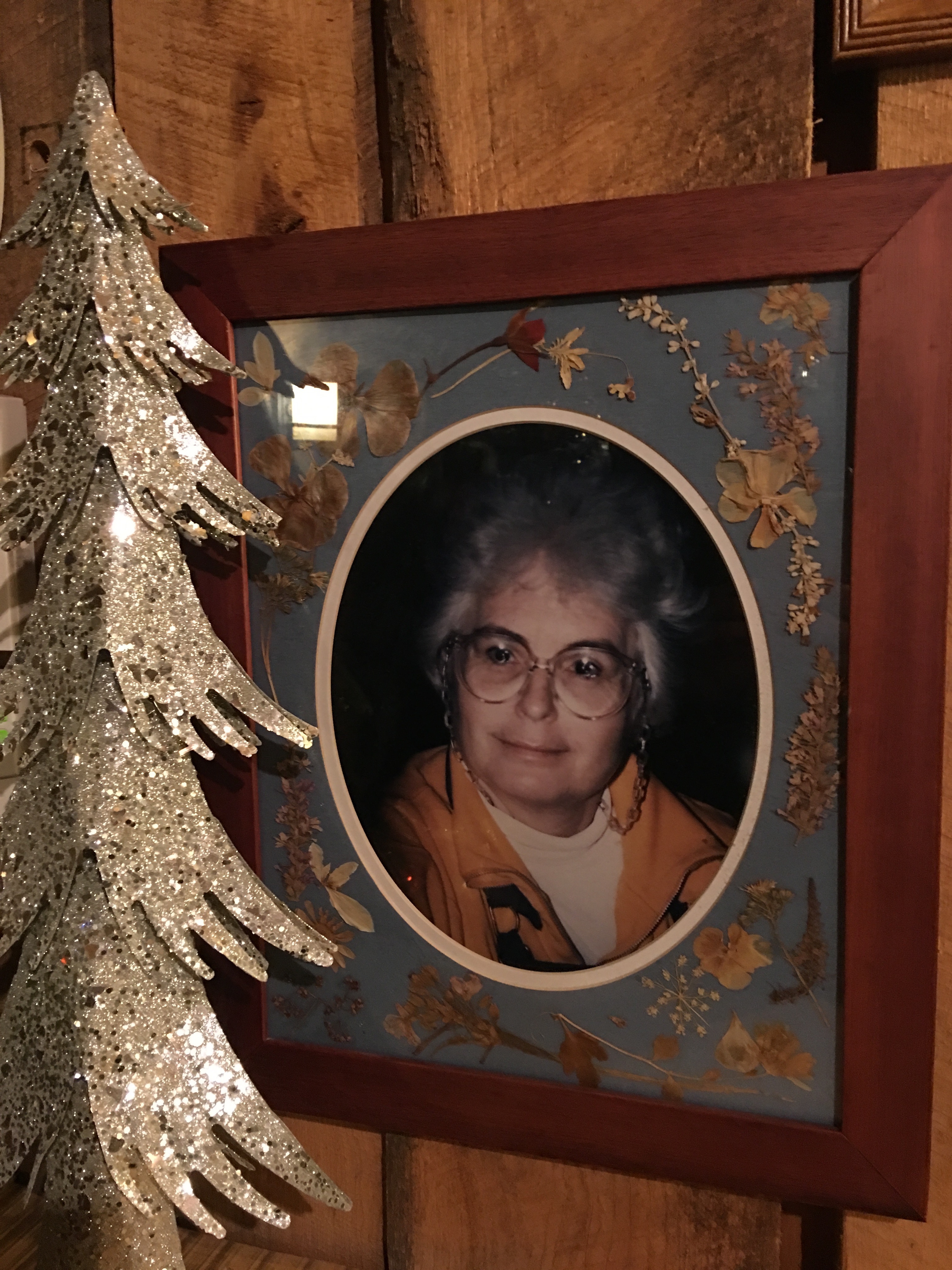 The Inn is a product of a community coming together and helping to  bring one woman's dream into reality. Before Anne passed away in 1991, she encouraged everyone to give back to the land. The current innkeepers, her daughter Ellen and son-in-law Terry, continue her vision and encouragment by constantly striving to improve and maintain an inn that serves as a wonderful place for urban dwellers to unplug and relax.
"We are a Country Inn in a peaceful, natural setting, where people can connect with the earth and universe. We are dedicated to high standards — standards of Excellence. We have committed ourselves to quality food, quality surroundings, quality service and quality employees."
[Mission Statement for the past 27 years]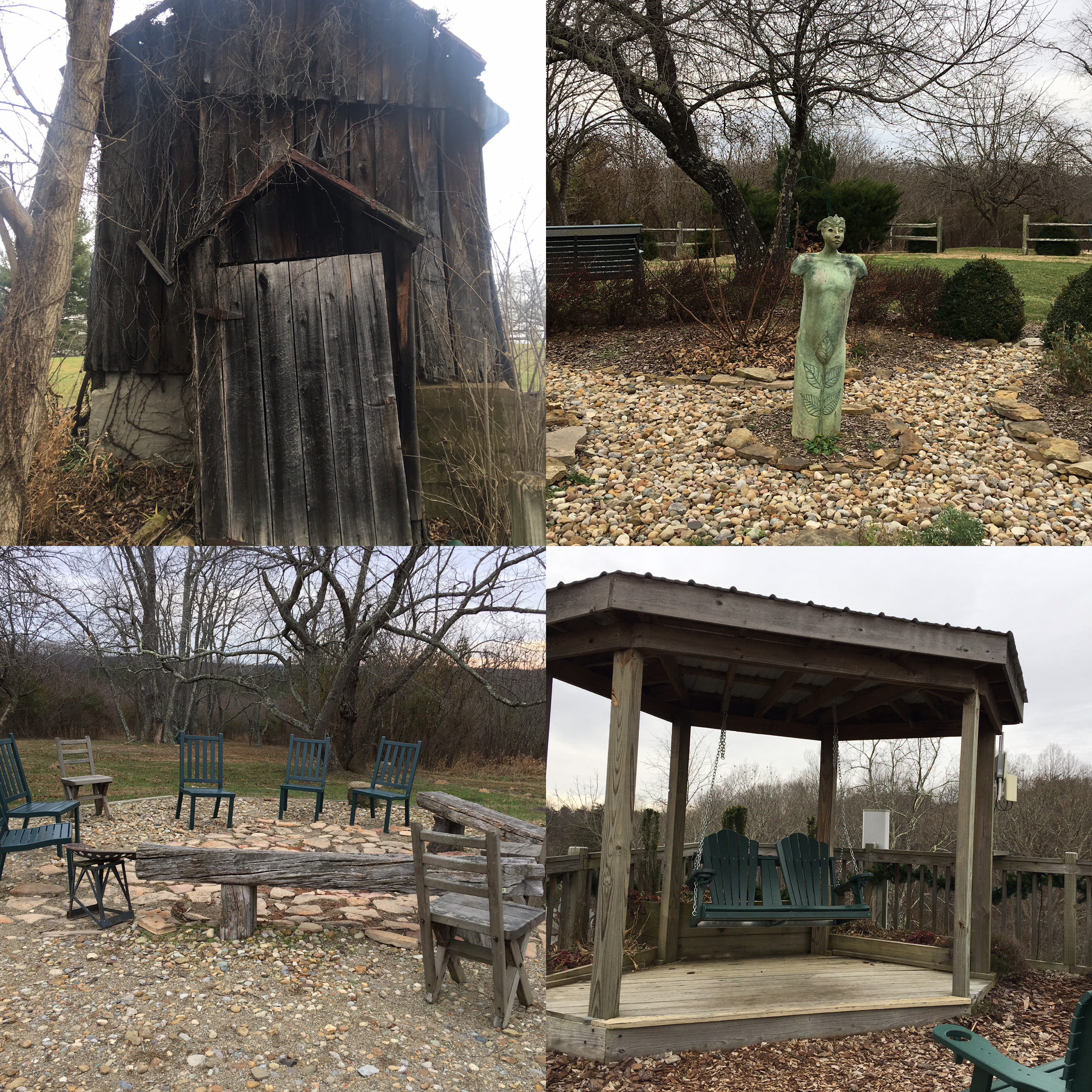 They have a few different lodging options you can choose from. They have queen and king cottages, a room in the inn or a cabin. Depending on your needs, they offer lodging that is  handicap accessible, as well as dog friendly. It was just my husband and I, which meant we didn't need a great deal of space, leading us to chose to spend our two nights in a cottage.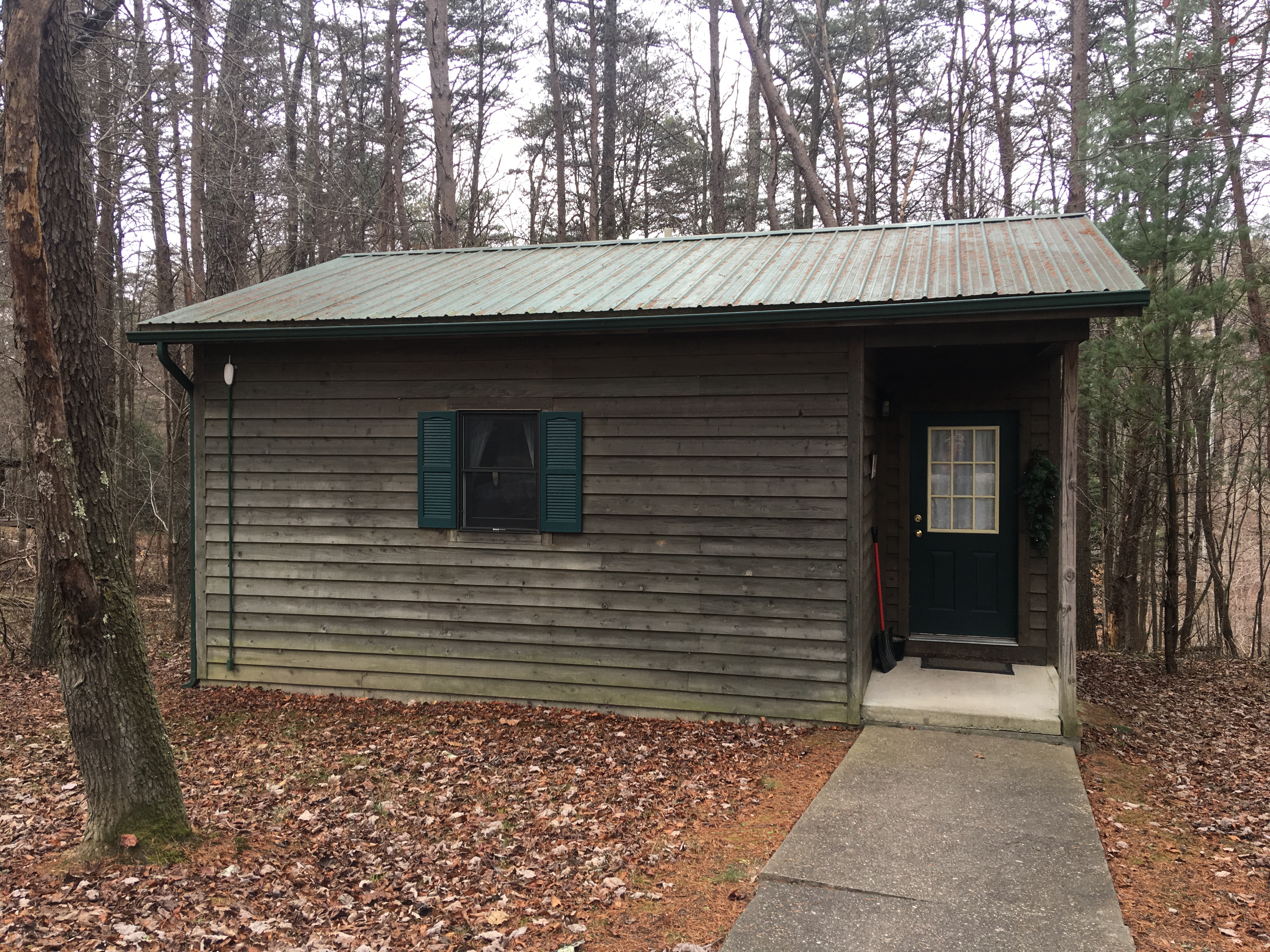 Our cottage had wonderful ammenities. There was a gas log stove, microwave, and private deck, whirlpool hot tub, plush robes, quality coffee, fine soap, lotions, lip balm, a towel warmer and a hair dryer to name a few!
The view from the back of our cottage was beautiful and brought instant peace. We had neighbors on each side of us, which we could see because the lack of leaves, but, they weren't close enough to make us feel crowded. There was no one behind us. All we saw was trees and trees and more trees.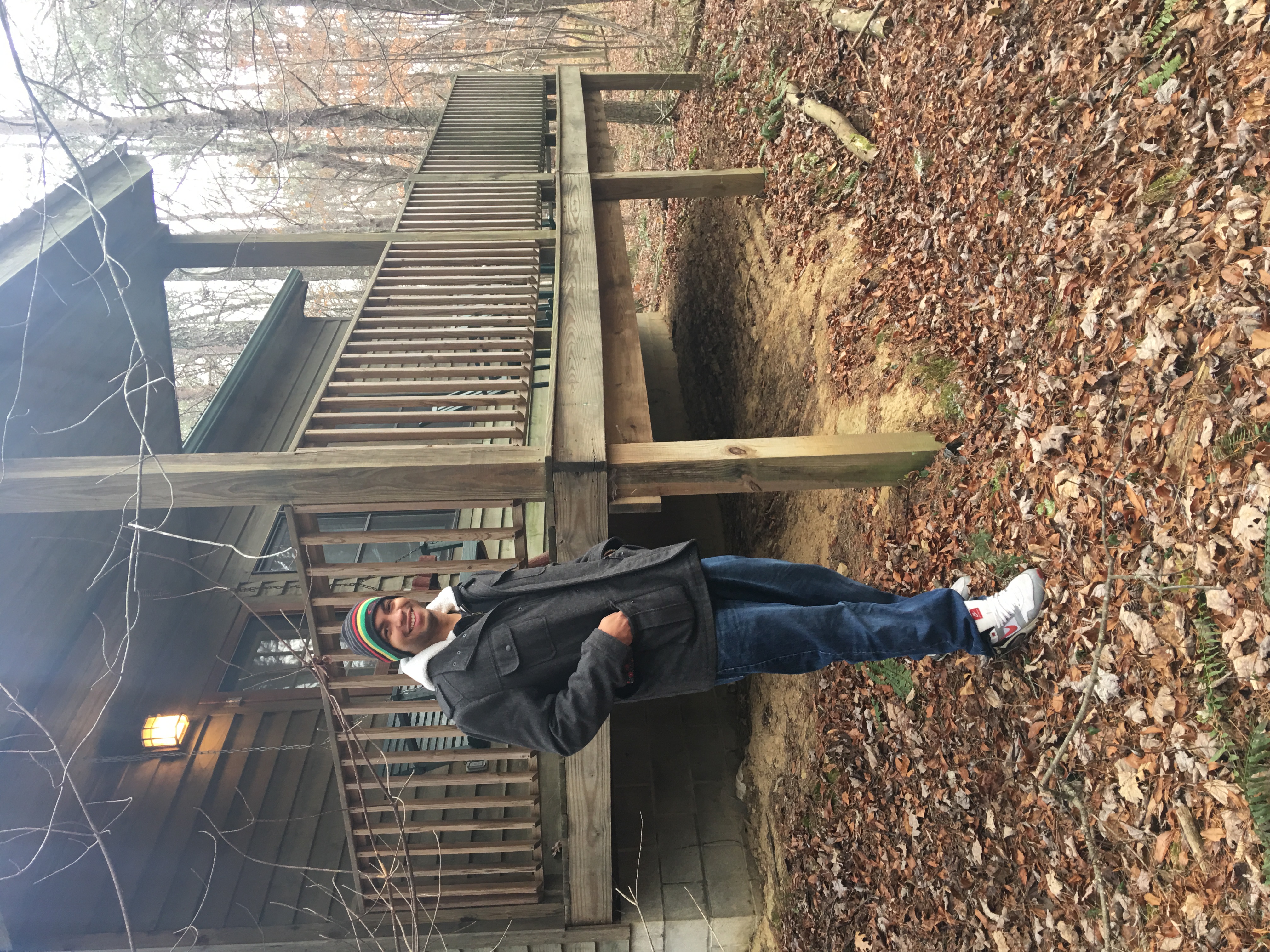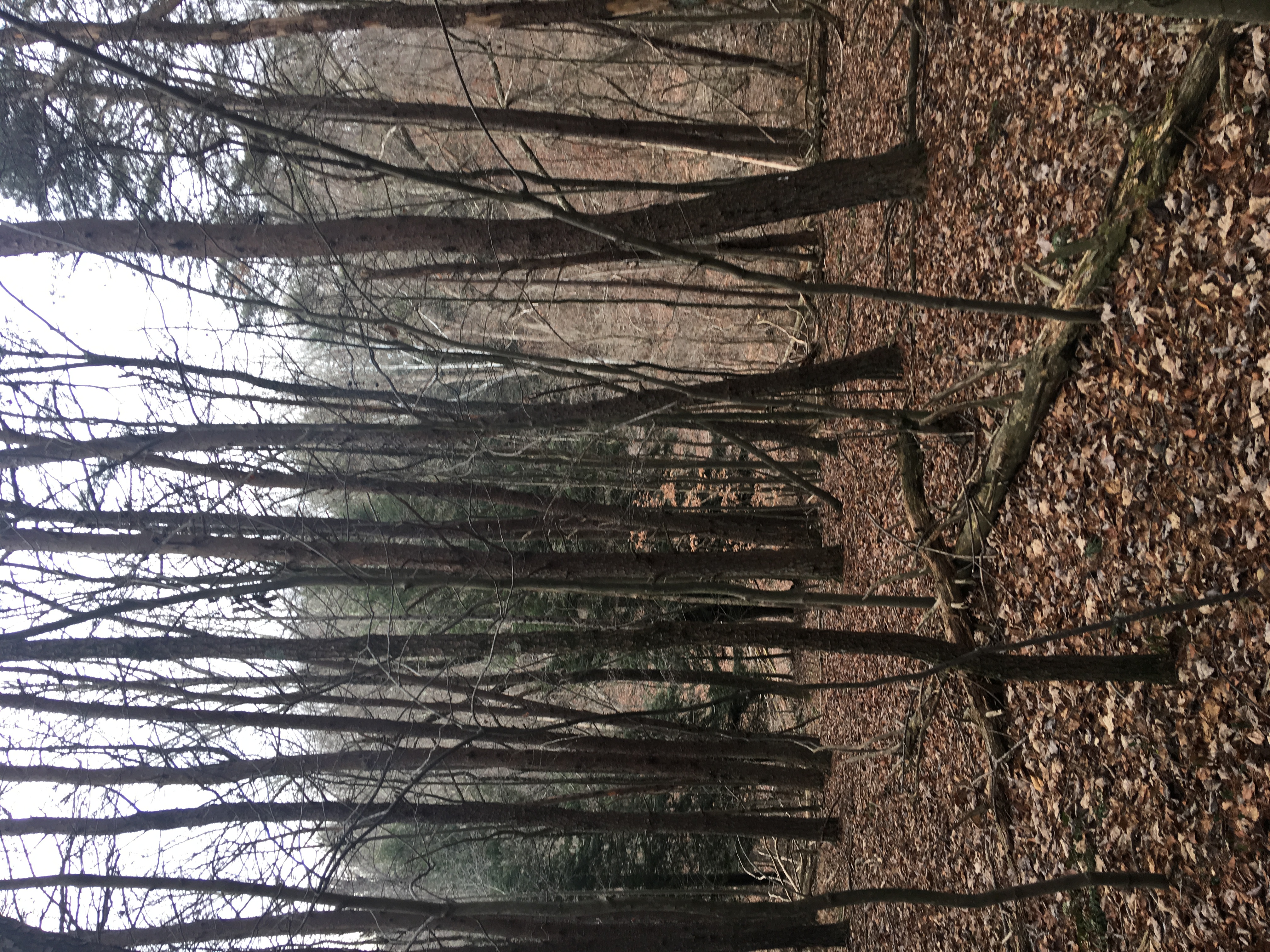 Just a short walk (or drive because it was cold and my husband doesn't do cold well) from the cottages is their restaurant, Kindred Spirits, one of the most sought after Hocking Hills restaurants. They offer a delicious casual fine-dining experience, including breakfast, lunch and dinner. However, from now until May, they will only be serving breakfast and dinner, with the exception of 12/26/16 thru 12/31/16 from 11:30AM to 1:30PM.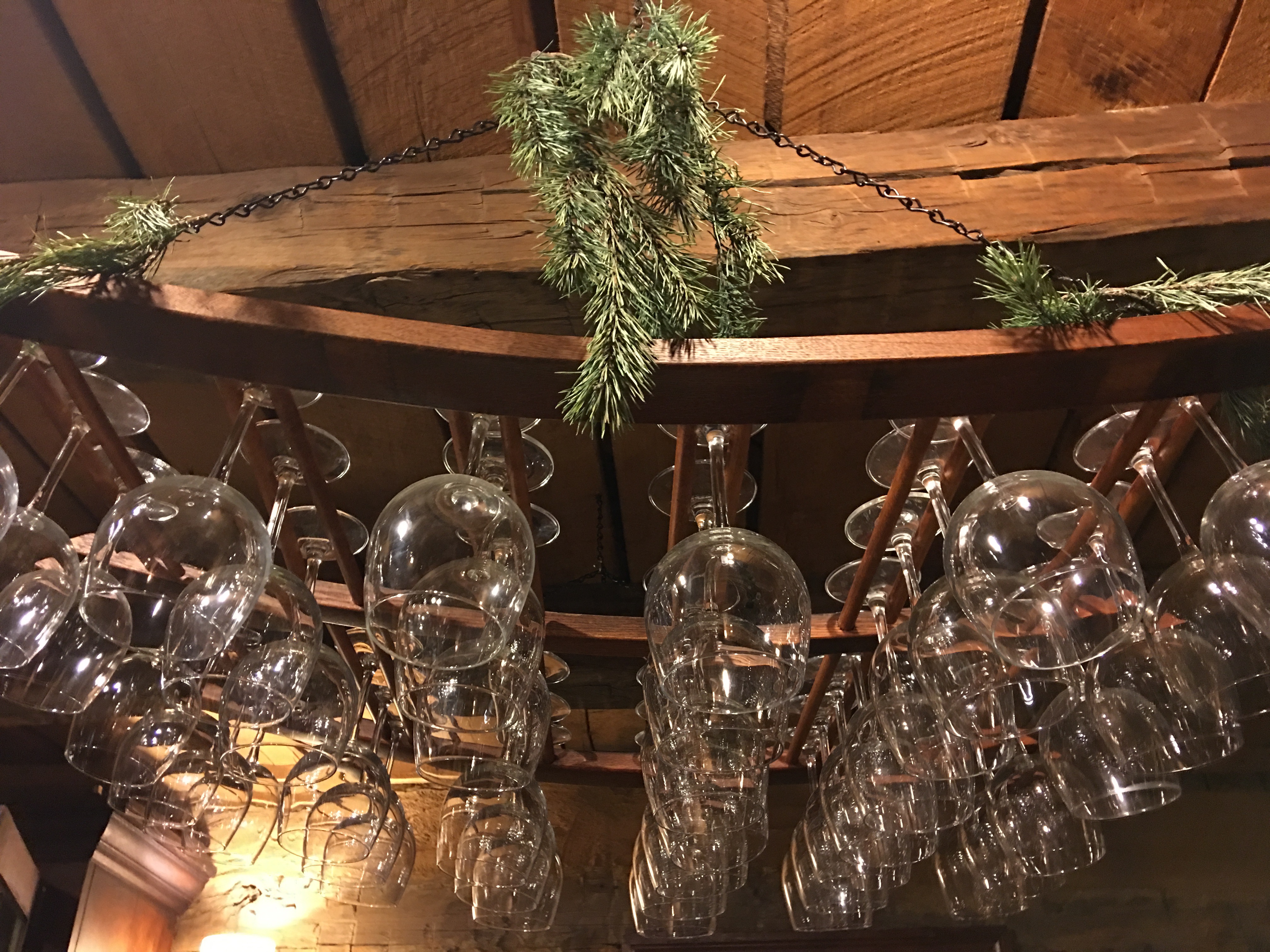 On our first night, we had dinner reservations at 8 pm. We decided to arrive a little early to check out the gathering room. We are happy we did. The bartender, Libby, suggested we get our drinks and go sit by the fire in the back room. It was wonderful. We ended up playing a game of checkers while we waited. It was the perfect start to our weekend.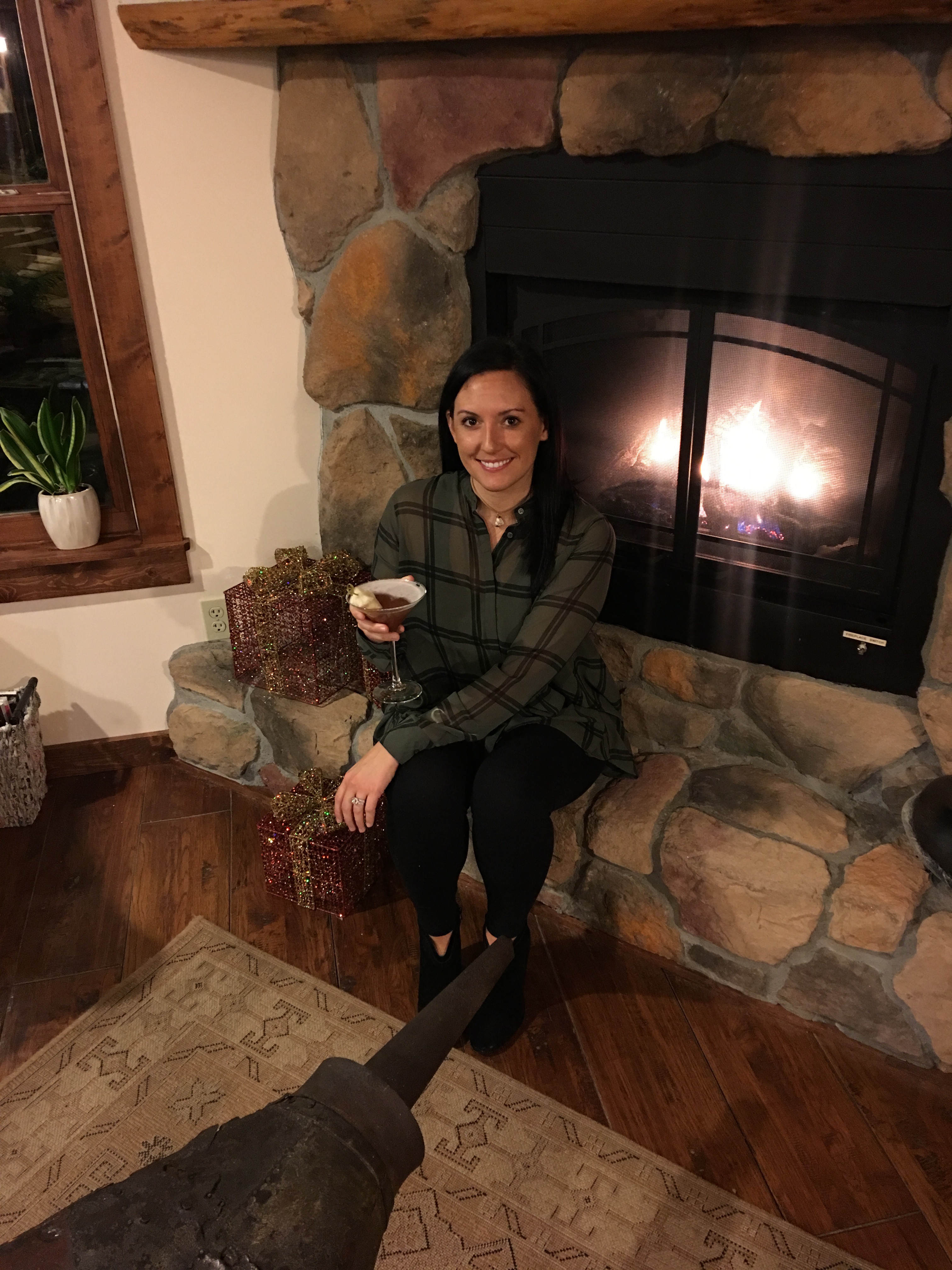 The breakfast is set up a bit different from dinner. You do not need a reservation, but, there is a certain time frame that it is served. It is included with your stay, which is nice. You have the option of paying $25 to have it delivered to where you are staying. We chose to go down to the restaurant each morning because it was great way to connect with other guest and staff.
Another great feature to the Inn is their wonderful spa located on the same path as the cabins. From traditional massages to body mud wraps, they offer many different services to help take away the stress of everyday life. The Spa is surrounded by the fresh air and natural environment, making it a wilderness retreat inspired by the land it borders.
I enjoyed my 50 minute, full-body massage with Kim. She was wonderful. Her calm demeanor made me feel at ease and helped with the relaxation. In fact, we were supposed to go hiking after (not sure what I was thinking) but ended up taking a hot bath in the whirlpool, followed by another nap!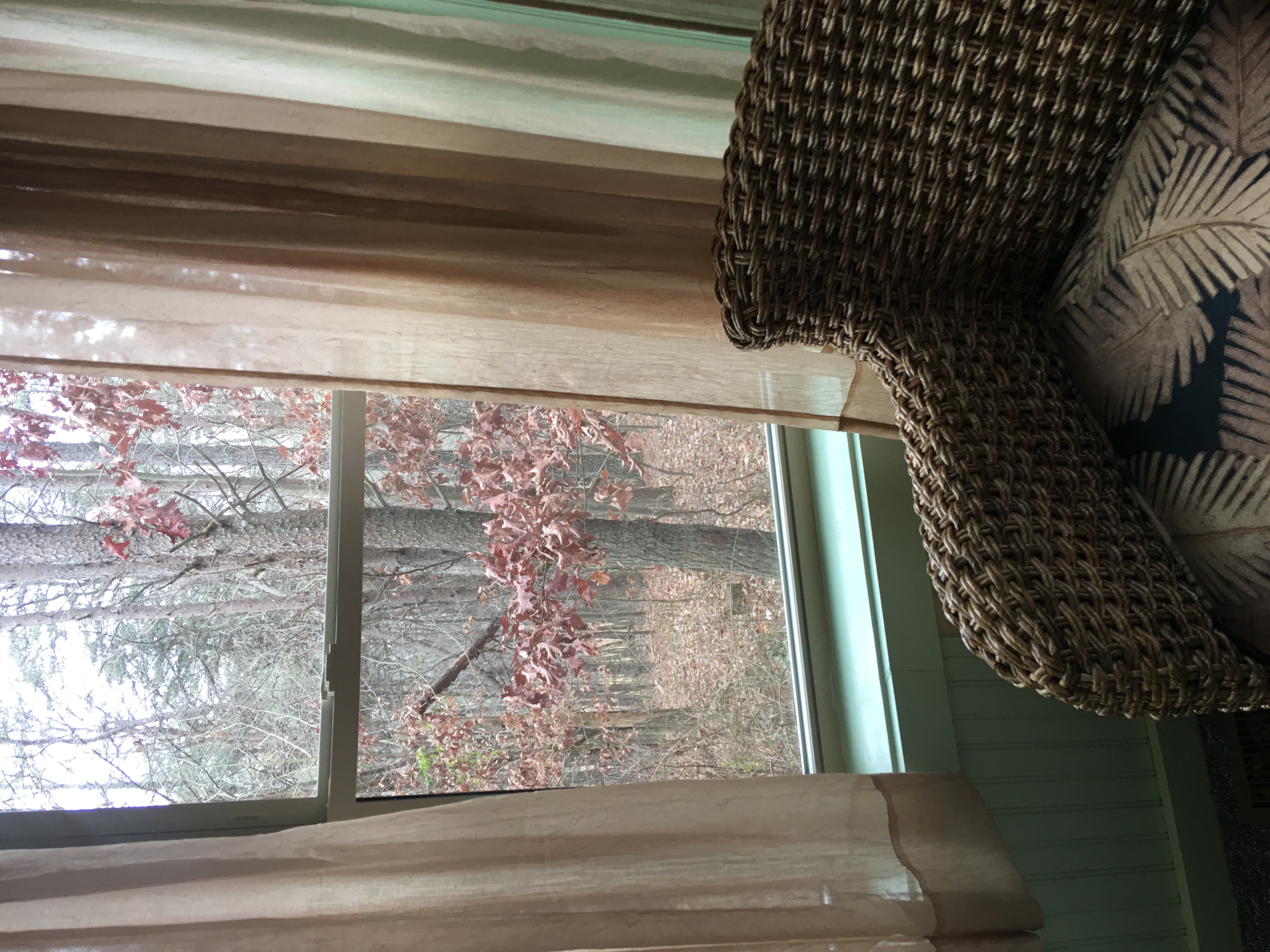 I loved that you don't need to leave the property to have an amazing weekend. They offer everything you might need, even selling Camelot Cellars wine in the gift shop! However, the adventurous soul inside of me had to do a bit of exploration . After our nap and massage, we spent 4 or 5 hours out and about in Logan – doing what we do best – eating and drinking!
Our first stop was the Urban Grille at Hocking Hills Golf Club, primarily because they offer a Saturday happy hour. We knew nothing about it, but, had a good feeling. We were right! The food was delicious and our bartender, Mike, was awesome. He shared wonderful stories of growing up around Logan, giving us insight on where to go next and indulging in a few serious conversation with my husband like why someone wouldn't know the difference between DC vs. Marvel.
Our next stop was the Hocking Hills Winery. As a wine lover, I wanted to be blown away by their wines, but, I wasn't. I'm not sure their was a wine I loved besides the wine   slushies. What I did love was the lively atmosphere, the delicious truffles, the attentive staff and the incredible people who were there. One lady even invited us to join their "wine possy" which meets every week for the live music. Another fun aspect as the ability to enjoy a winery tour without reservation.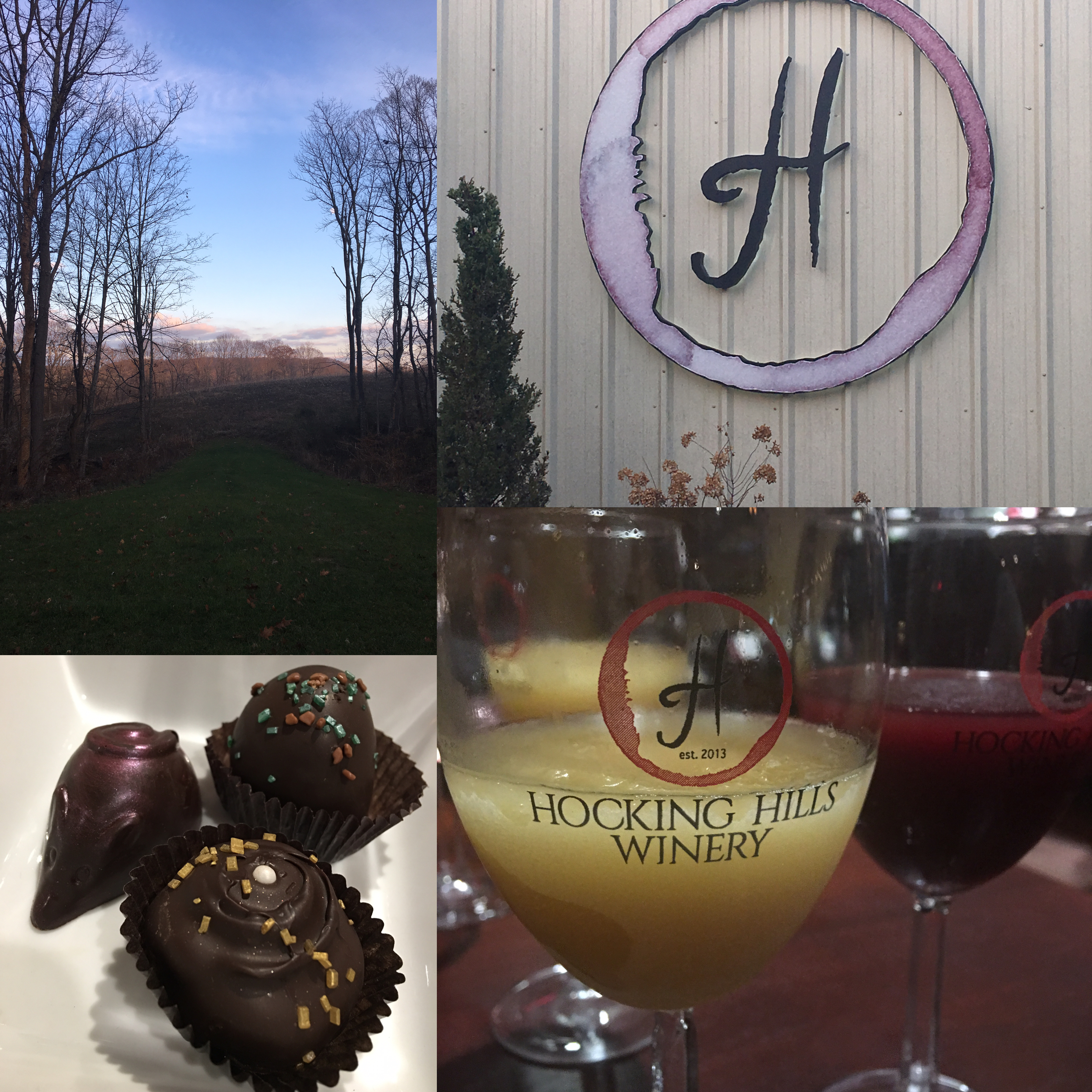 After the winery, we knew we needed to grab dinner to take back with us. We had enlisted the help of Mike from the golf club on which pizza shop to choose. Without hesitation, he suggested Pizza Crossing in Logan. As soon as we pulled up, we saw a full parking lot and got the vibe that we were sent to the right place. When we walked in, we were greeted by smiling faces which got more excited when they realized it was our first time. They suggested doing half and half on our pizza. We chose half supreme meat and half Mexican (which is their top seller). After we ordered, they sent us to the back bar to wait.
To end the weekend, we spent our last day hiking at Old Man's Cave. It was a bit chilly outside, which meant we were one of the few people out hiking. It was perfect.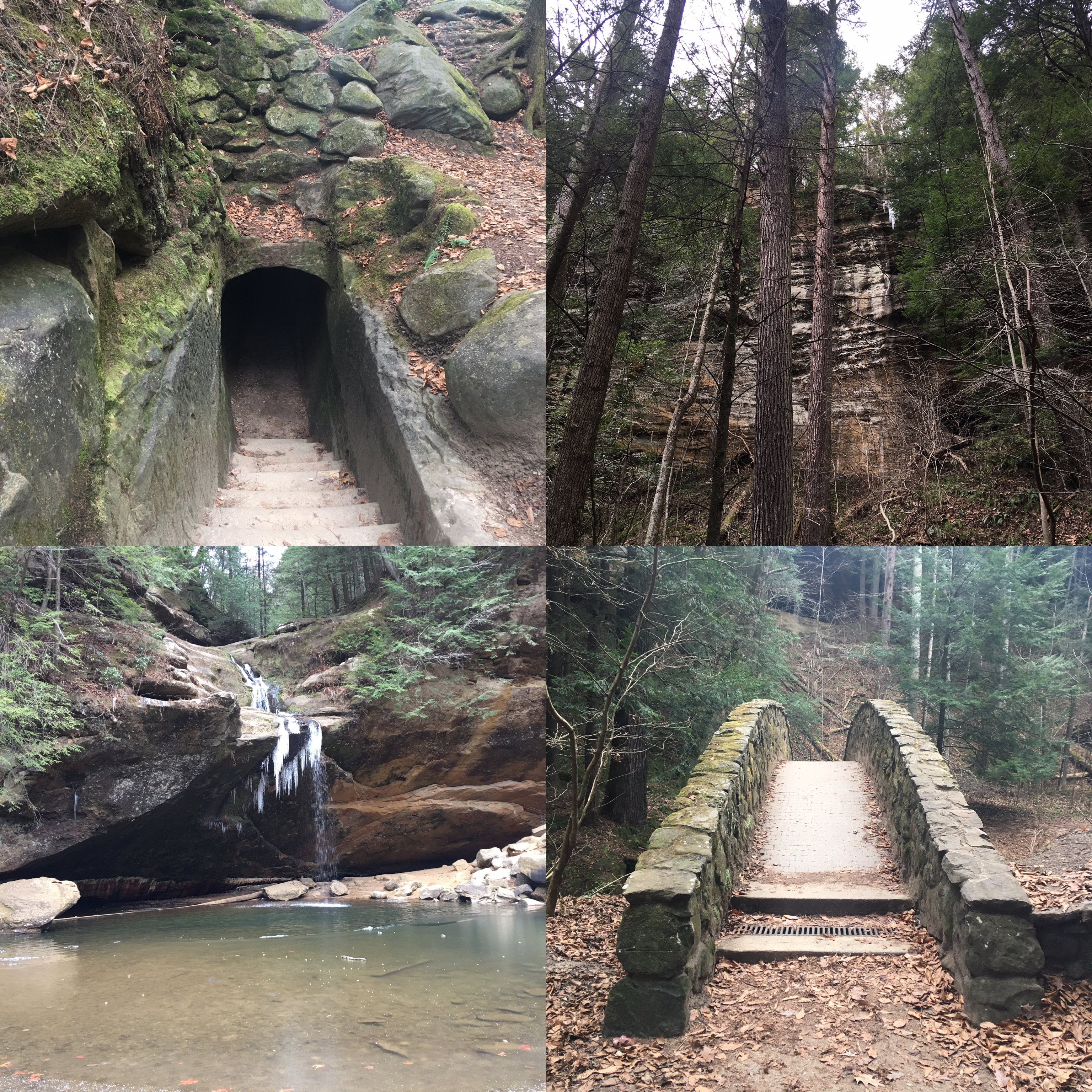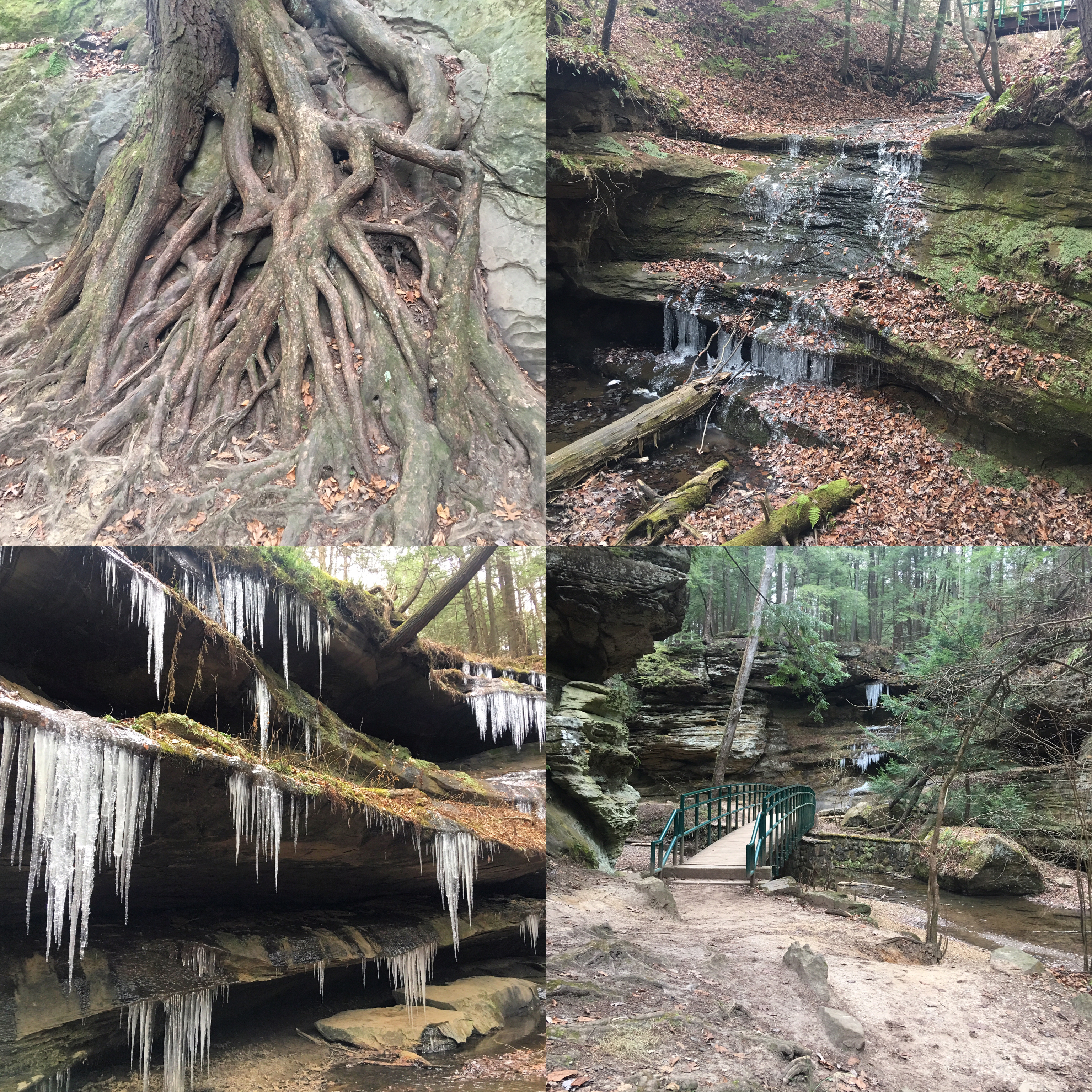 This was one of the most relaxing weekends of my life. It definitely served its purpose and more. One of my favorite parts of the entire weekend was reading the stories of families who had stayed in our cottage previously. Some entries dated back to 1992. It was like a flash back in time. In one book we read the story of an older couple stating that they think a war may be starting and how worried they were. A few entries later, a couple was there for a special weekend before the husband left for war. It got intense at times reading the progression of the stories.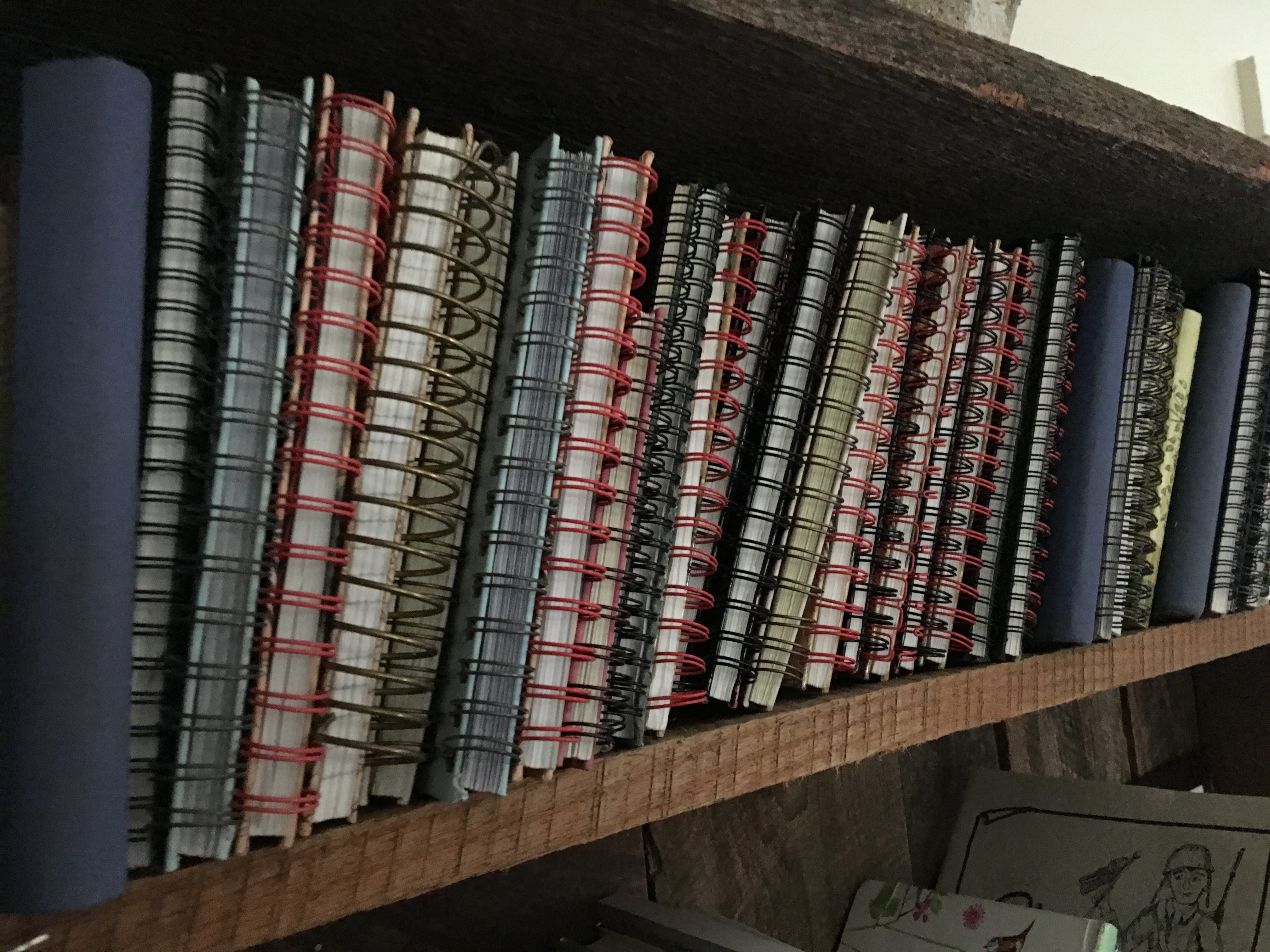 I also loved reading the love stories. There were couples their spending their first anniversary together and there were couples who have been married for 3o or more years. There were stories of individuals going there for a weekend away from reality. There were stories of their search for serenity after heartbreak. Everyone had a story.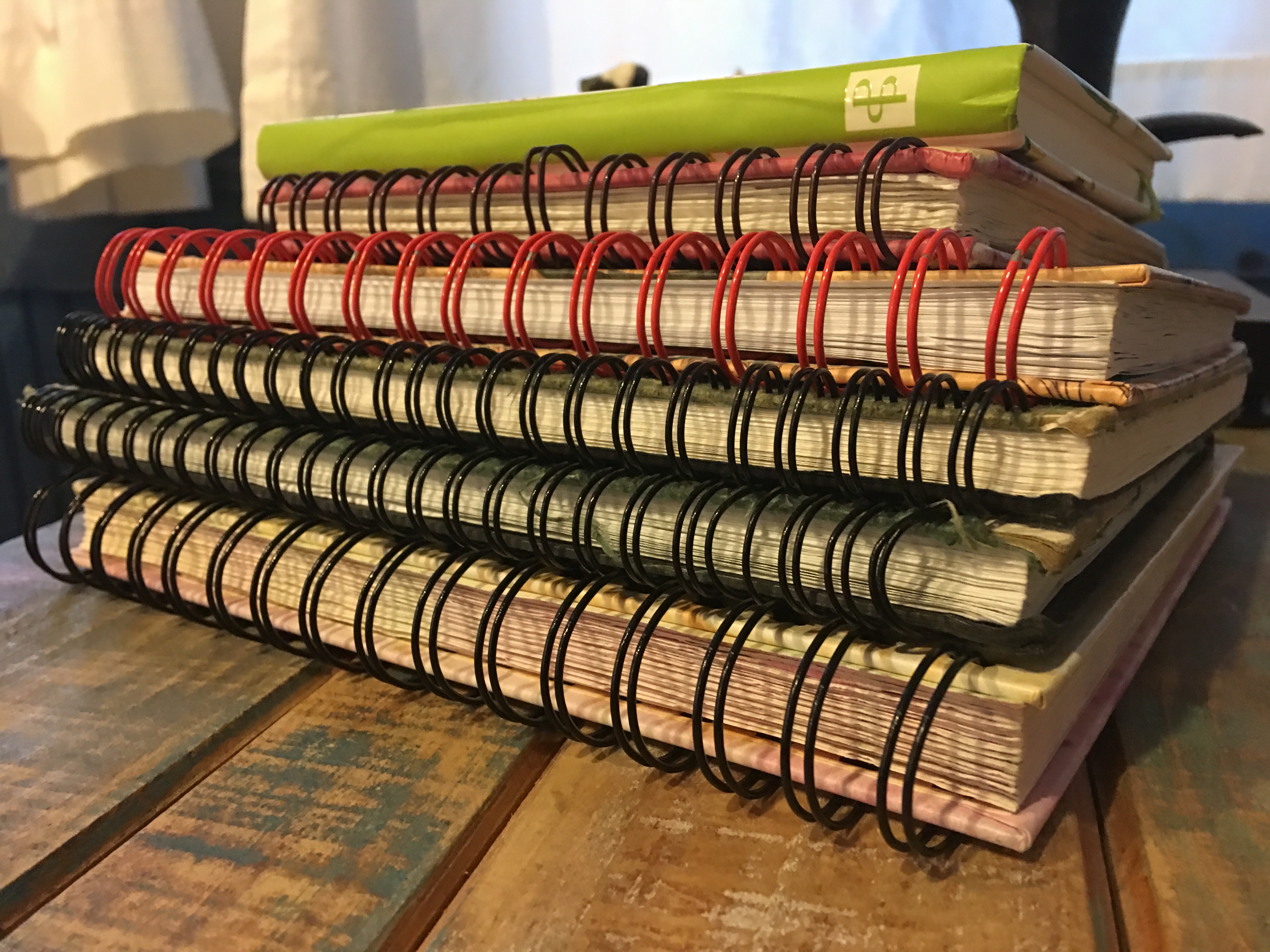 I learned that the cottage serves many purposes. Whether you need to reconnect, unplug, or just want to enjoy nature — I highly suggest spending the weekend (or even a night) at the Inn & Spa at Cedar Falls.
---
21190 State Route 374
Logan, Ohio 43138
Phone: 740.385.7489
info@innatcedarfalls.com