Did you think festival season was winding down? It's not and this weekend is proof of that. I am already trying to figure out how I am going to make it to all of them.
Details: The 10th annual Park Street Festival is a two-day event featuring entertainment, delicious food and great music for all ages. Whether you're a food lover eager to taste an eclectic mix of the best food trucks & carts in Columbus, or a music fan looking to hear great live music and enjoy camaraderie among 20,000 friends, Park Street Festival is one event that offers something for everyone. For more information, visit www.parkstreetfest.com or check out their Facebook page. 
Date/Time: Aug 26 at 12 PM to Aug 27 at 6 PM
Location: 525 Park St, Columbus, Ohio 43215
Details: Urban Scrawl is a two-day arts festival organized by the Franklinton Arts District featuring the live creation of murals at 400 West Rich by talented artists from Columbus and beyond. Since 2007, Urban Scrawl has provided artists a way to showcase their talent while participating in Central Ohio's largest ongoing urban renewal project. Each year the number of participants, murals, sponsors, and attendees grows making this a landmark summer event in Columbus.
Date/Time: Saturday: 12 PM to 10 PM and Sunday: ​12 PM to 6 PM
Location: 400 W Rich St, Columbus, Ohio 43215
Details: Enjoy a full day of fun with climbing clinics (for beginners), climbing competitions, a slackline walk, yoga, food vendors and crash pad sumo wrestling. They'll end the first day by showing the Hollywood blockbuster movie, "Everest" (2015), outdoors after dark on a big screen. Meet at Climbing Wall. Check out the Facebook page for more details.
Date/Time: Aug 26 at 12 PM to Aug 27 at 12 PM
Location: Scioto Audubon Metro Park – 400 west whittier st., Columbus, Ohio 43215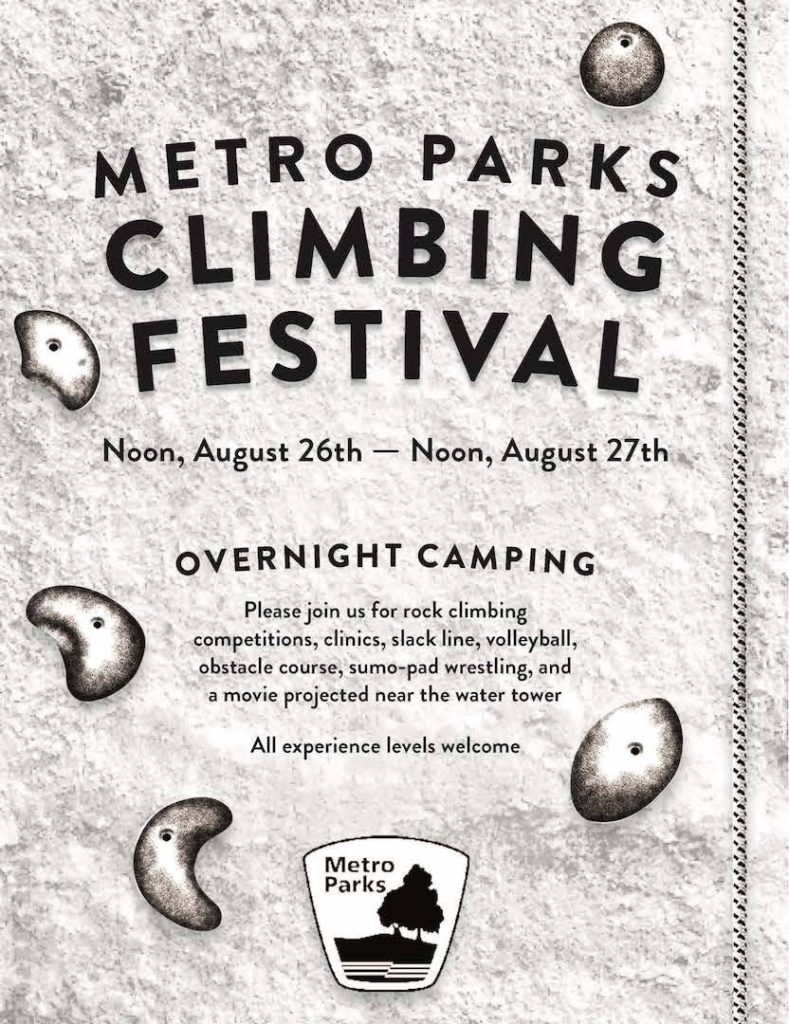 Details: The 2nd Annual Columbus VegFest gives you the opportunity to learn more about the health benefits of a plant-based lifestyle. Good for you, good for our community and good for the world. This free festival will feature more than a dozen speakers, veg-friendly vendors, music, food trucks, kids activities and more. Free parking is available adjacent to the Park of Roses in Clintonville. For more details visit their website CbusVegFest.com or check out their Facebook page.
Date/Time: August 26 from  10 AM – 5 PM
Location: Whetstone Community Center – 3923 North High Street, Columbus, OH 43214
Details: Every year, India Festival is hosted by FIA, to create awareness about the Indian culture, adding to the cultural diversity of Ohio. India festival attracts the largest gathering of the Indian community in a single event in Columbus from Ohio and surrounding states. Join in to celebrate their culture, their food and Bollywood night with thousands of people from all parts of India. There will be 300 vendor booths selling and displaying gourmet Indian cuisine, fashion garments, henna, handicrafts, artifacts, books, music cassettes and CD's, videos and DVD's, horoscopes and astrologers, state and federal agencies, travel agencies, businesses and many others.
Date/Time: August 26 from 9 AM – 10 PM
Location: Ohio Expo Center-Celeste Building– 717 E 17th Ave, Columbus, Ohio 43211
Details:  The 8th Annual Columbus Summer Beerfest will feature 130+ Breweries, Food Trucks, & Live Music, all over TWO DAYS at at Express Live! You can purchase tickets here.
Date/Time: Aug 25 at 6:30 PM to Aug 26 at 11 PM
Location: 405 Neil Avenue, Columbus, Ohio 43215
Details: Join in on the celebration of  the Somali culture! This will be Columbus' first Somali festival. For over 2 decades, Columbus has been home to America's 2nd largest Somali-American community. There will be live performances, artifact exhibit, poetry, plays and arts from various regions, prizes, showcasing local Somali artists and much more. There will also be a special performance by local somali dance groups and live preformances.
Date/Time: August 26 from 5 PM – 9 PM
Location: 4411 Tamarack Boulevard, Columbus, Ohio 43229
Date/Time: Aug 25 at 5 PM to Aug 26 at 11 PM
Location: St Anthony Parish School – 1300 Urban Dr, Columbus, OH 43229
Details: Enjoy 100-plus street vendors, food carts, live entertainment, kids' activities, extended hours in the Uptown shops and much more! This weeks theme is 'Dog Days of Summer' – with vendors selling all manner of dog-related products and services, a doggie carnival and opportunities to become a registered Canine Good Citizen, there will be plenty of pleased pooches. Dogs will be able to bob for treats, bowl for treats, learn a trick and more during the Doggie Carnival in the parking lot of Union Savings Bank. For a list of other fun things for the pups, check out their website.
Date/Time: August 25 at 6:00 pm
Location: Uptown Westerville – 84 S State St, Westerville, OH 43081. This is the address to the Dairy Queen, which is located towards the North End of Uptown.