Wake Nation. Just the name of it sounds cool, right? This summer, my husband and I were invited down to explore Butler County – ya know, where the Donut Trail is? Weeks later, what I am still blown away by is everything they offer. From local food to sculpture parks to outdoor water sports, they have something for everyone.
When they initially emailed me, they asked if I wanted to go Skydiving. Right away, I said, "YES!" That was the adrenalin junky in me. A few days later, I emailed her back and said, "Actually, I don't think my husband really wants to go." That was the realistic, freaked out side of me.  She responded and suggested wakebaording instead. Adrenalin junky in me responded, "YES!" Freaked out side of me, well, freaked out. However, there was no turning back. I couldn't blame my husband twice. Plus, he always tells me stories of his wakeboarding days. I had to see it in real life. Spoiler alert – he was pretty good!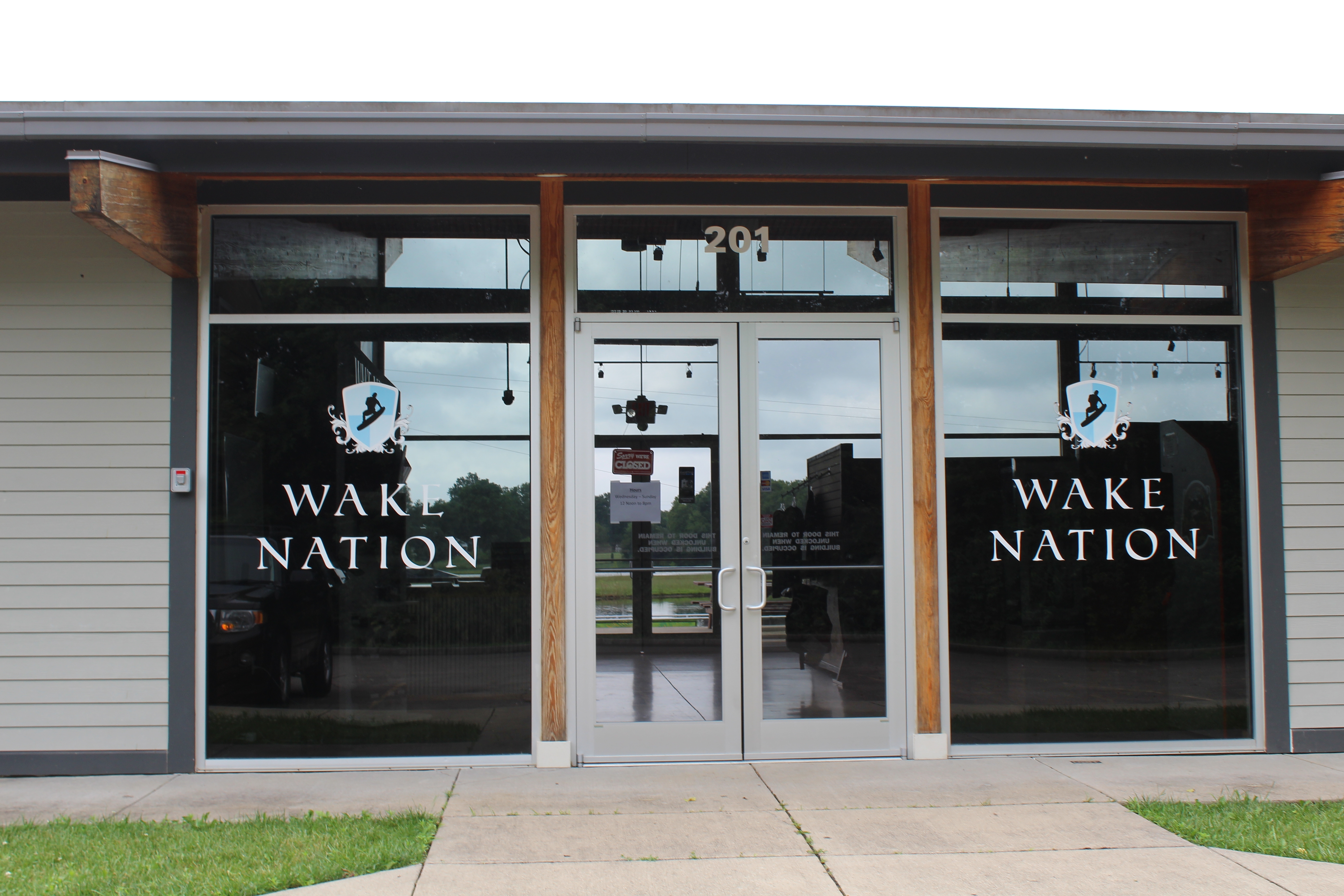 Wake Nation, located in Fairfield,  is the very first and only cable wake park in the tri-state area. From beginners to experienced riders, they give you the opportunity to wakeboard, water ski, kneeboard, and wake skate on their 10-acre lake all without a boat. On top of wake boarding, they have a floating Aqua Park.
Wake Nation has a wakeboard cable system suspended 30 ft above a 10 acre lake that can tow up to 6 riders at a time. You don't even need your own equipment to ride! You're welcome to bring and use your own equipment or you can just come in your bathing suit because Wake Nation has everything else you need on site. Wake Nation Cincinnati provides the ultimate ride experience to both first timers and experienced boarders. Beginners love that wakeboarding at Wake Nation is fun, easy to learn and allows everyone to progress at their own pace. Advanced riders love that they can amp up their adrenaline by doing air tricks they can't usually do behind a boat and by boarding off floating jumps and obstacles! - GettotheBC.com 
I have to first mention, while we were SUPER IMPRESSED, they are under brand new ownership and have BIG things planned for the park. Next summer it is going to be the go-to summer adventure spot – I am calling it now!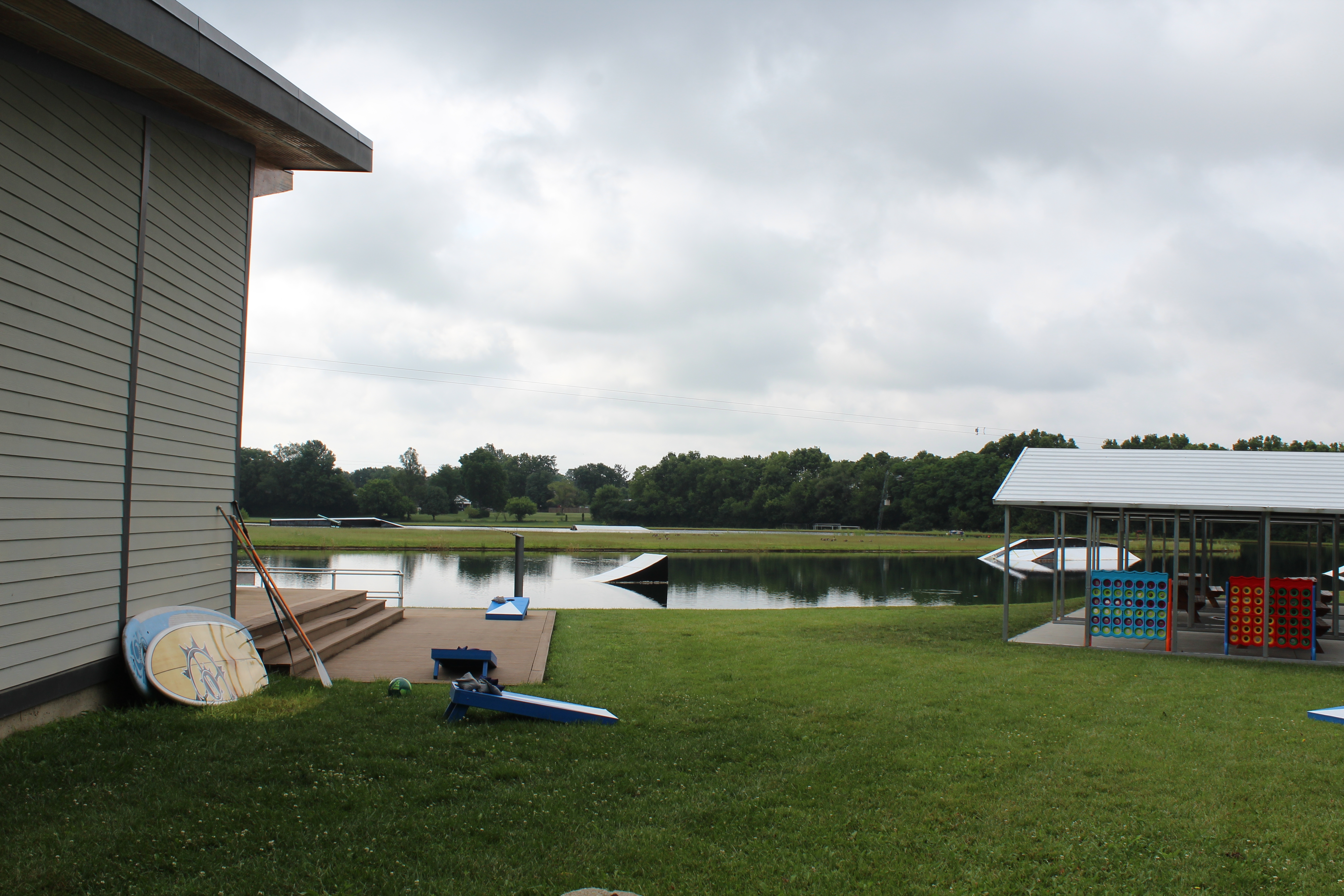 Not really knowing very much before arriving, I was excited to learn (and hoped it would be easier) that we were going to be wakeboarding by an overhead cable-pulley system instead of a typical motor boat. What got me even more excited was the fact that he can control it. You'll see further down that falling does occur…more than once…and it hurts a lot less when someone is experienced and can tell you're about to fall. He would 'break my fall' by stopping the pulley.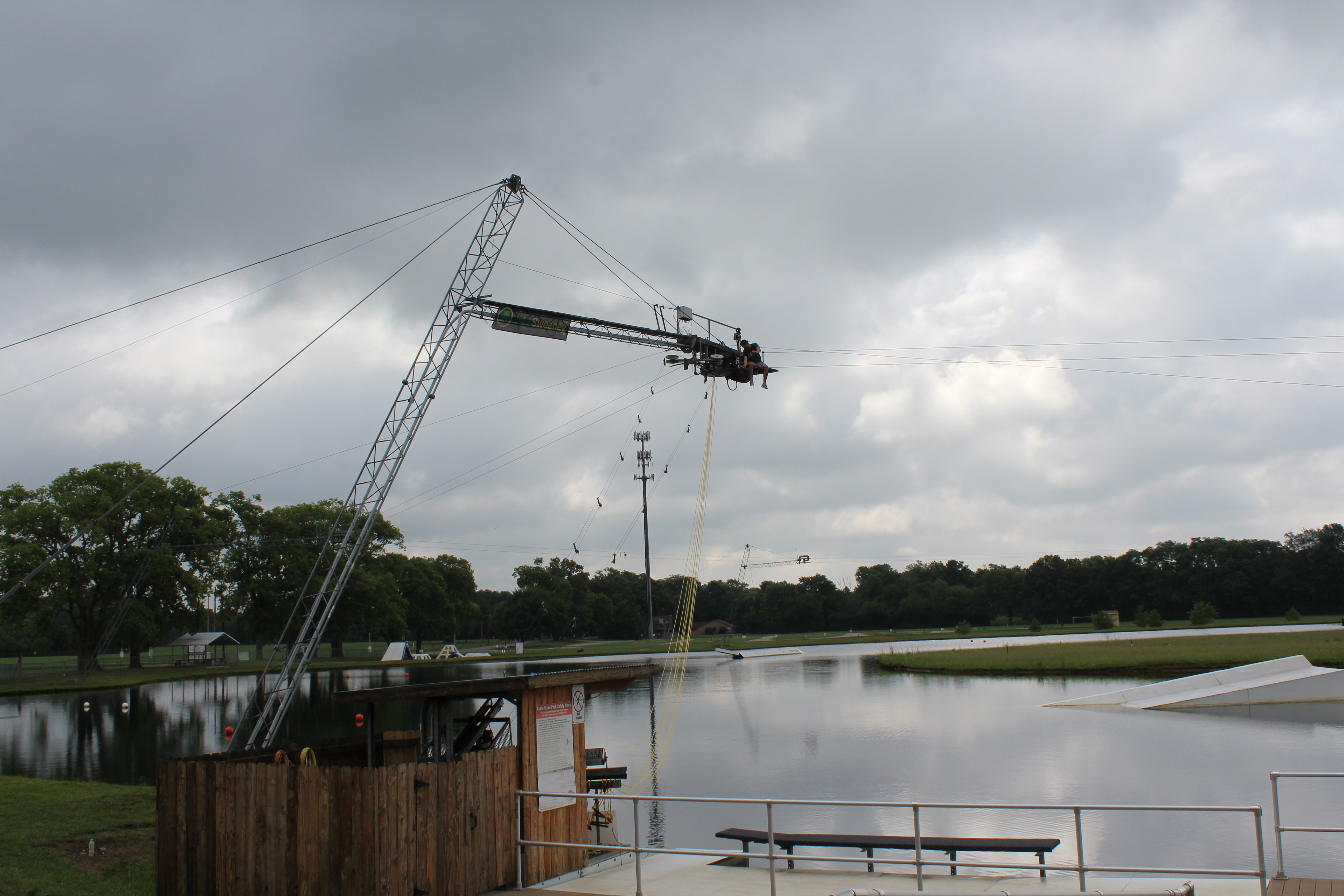 The first thing we did after finishing the tour of the grounds was learn a few basic moves. The most important was how to 'get up' in the water. Our instructor, aka the new owner aka Steve Jones aka a professional wakeboarder – was INCREDIBLE. His patience. His knowledge. His passion. Everything about him was fantastic and took 99% of my nerves away. He truly has a way with people and makes you feel comfortable and confident. He wants you to love wakebaording and feel safe. Such contagious energy.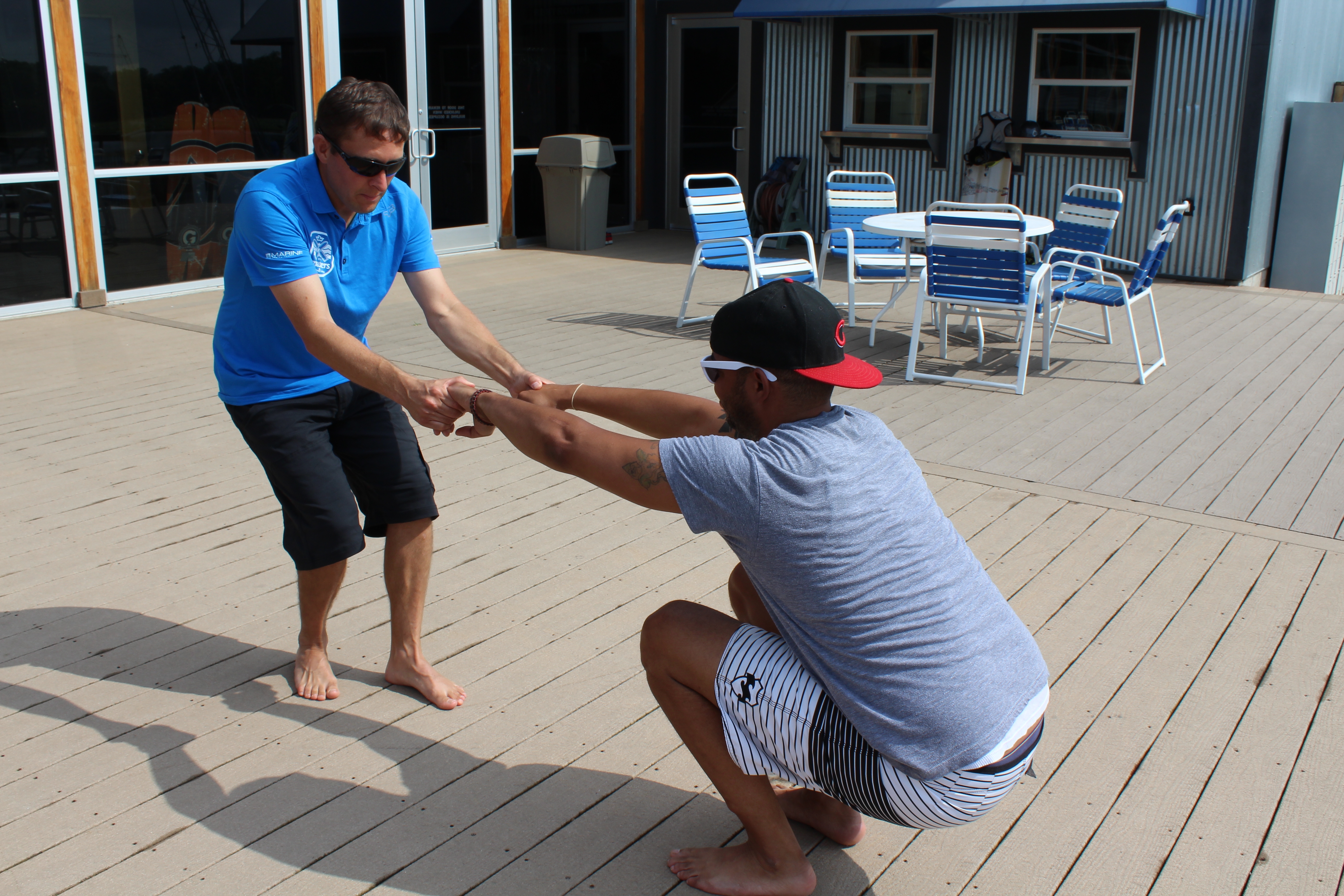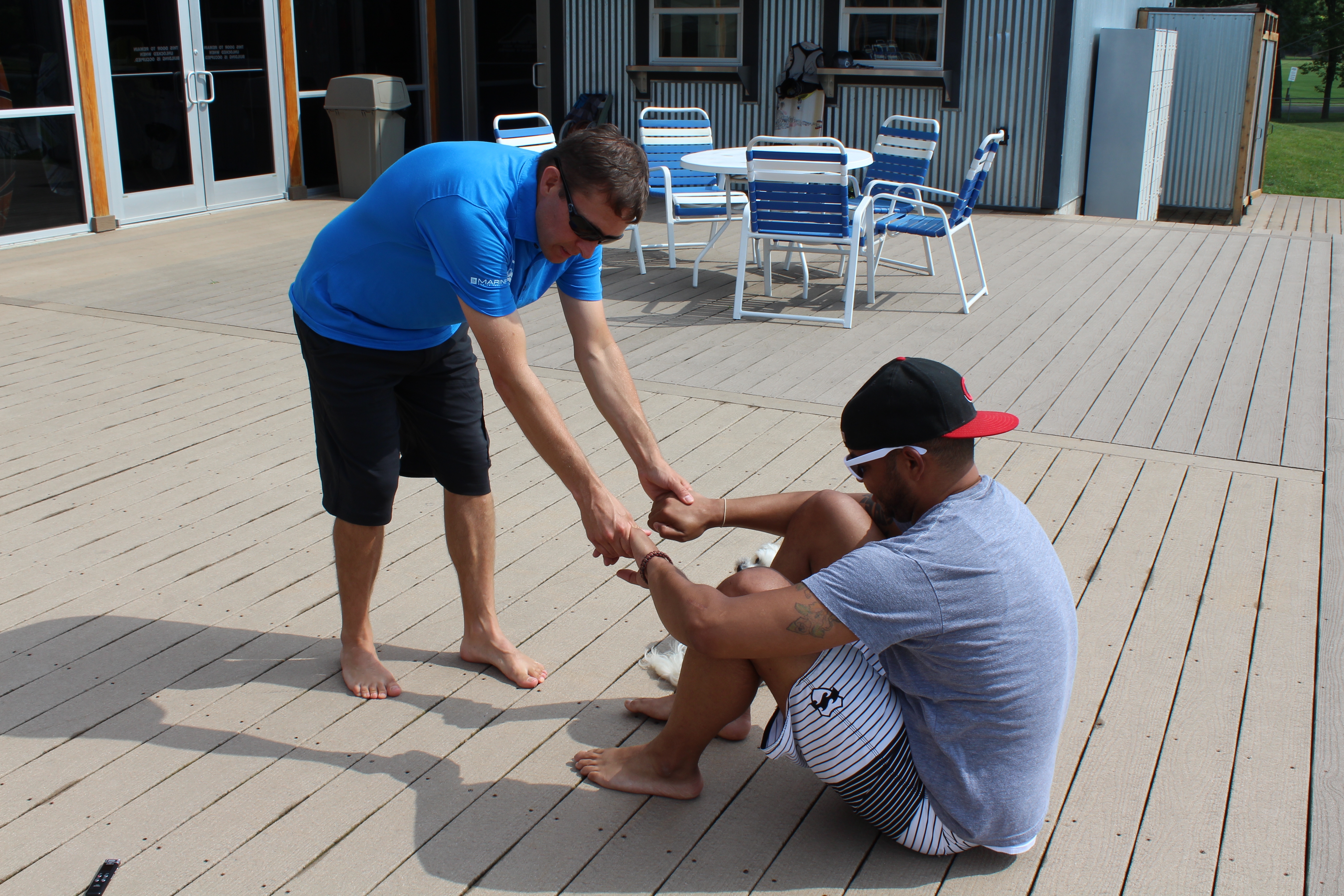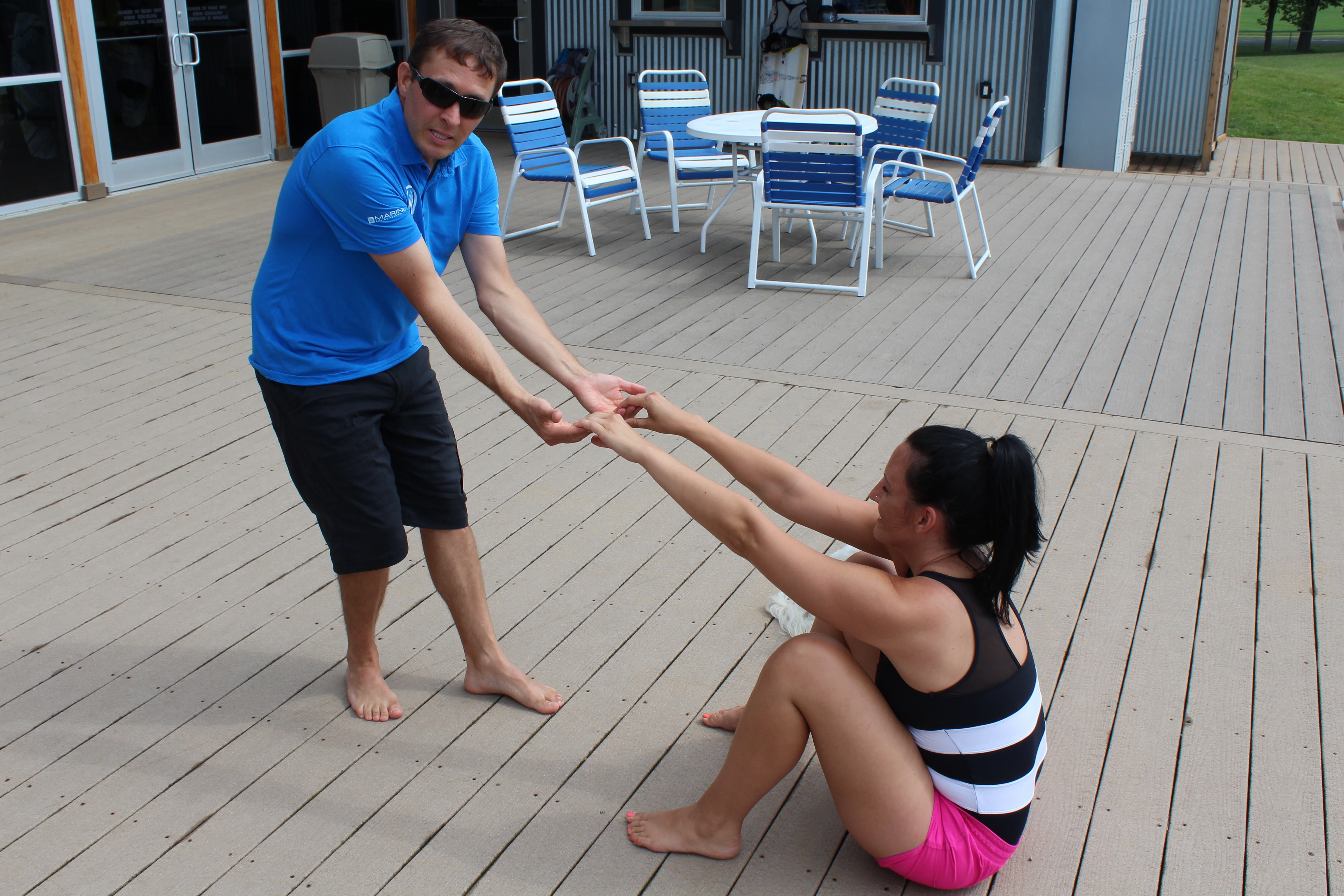 After we practiced getting up and learning a bit more on wakebaoridng, we headed inside to get suited up. This meant finding a helmet, board and life jacket. This is where I started to get a little nervous again, but, also feel a little like a bad@$$.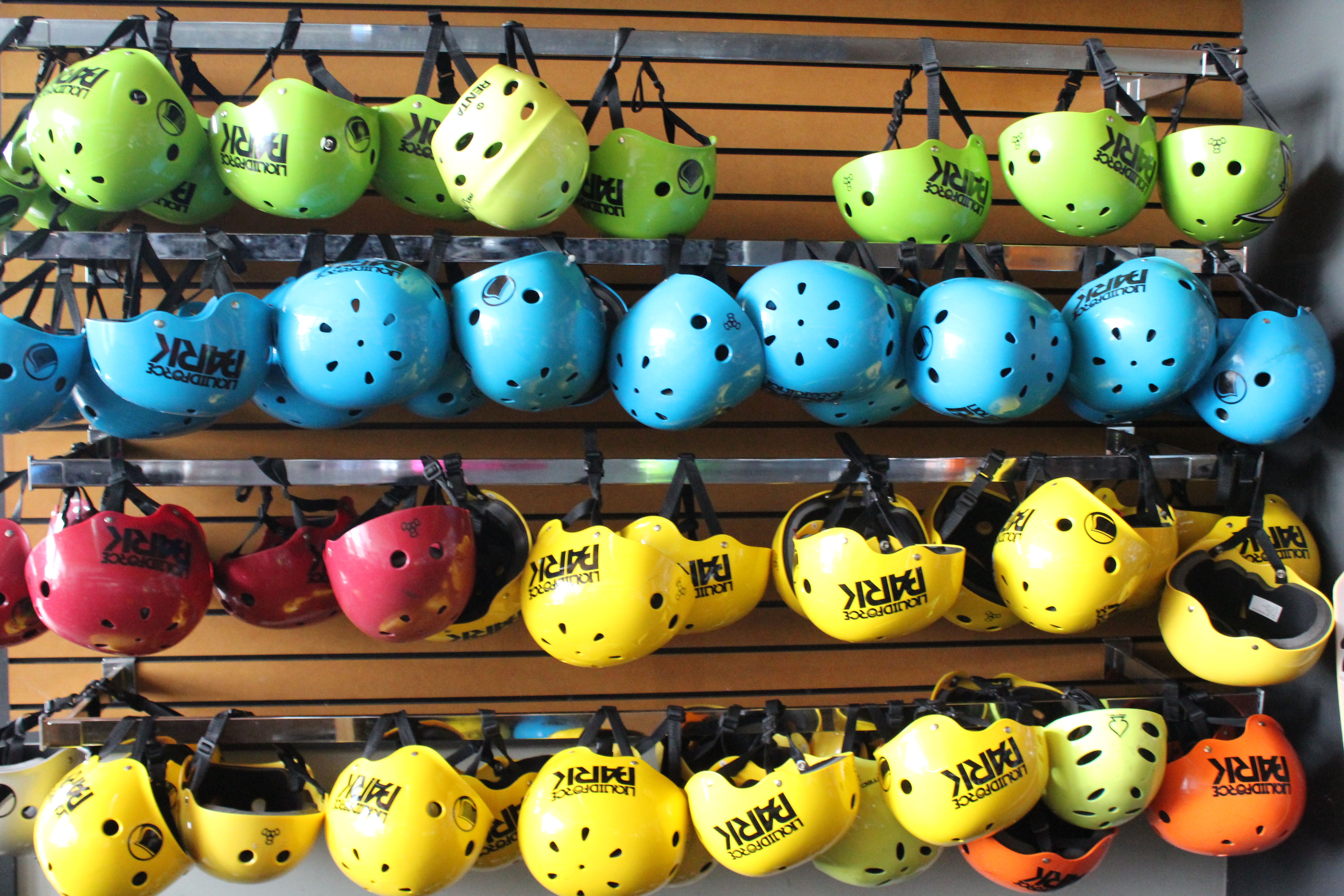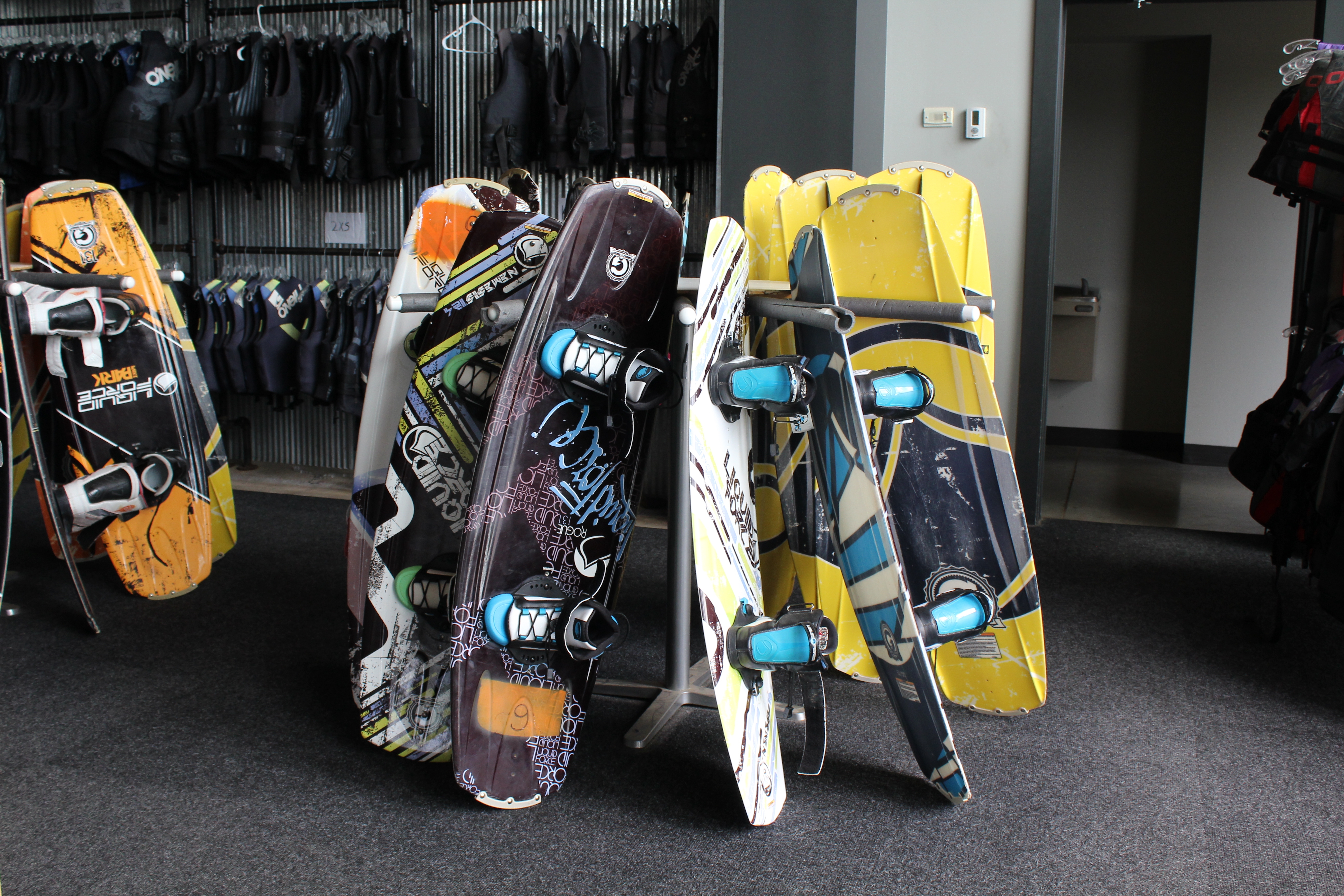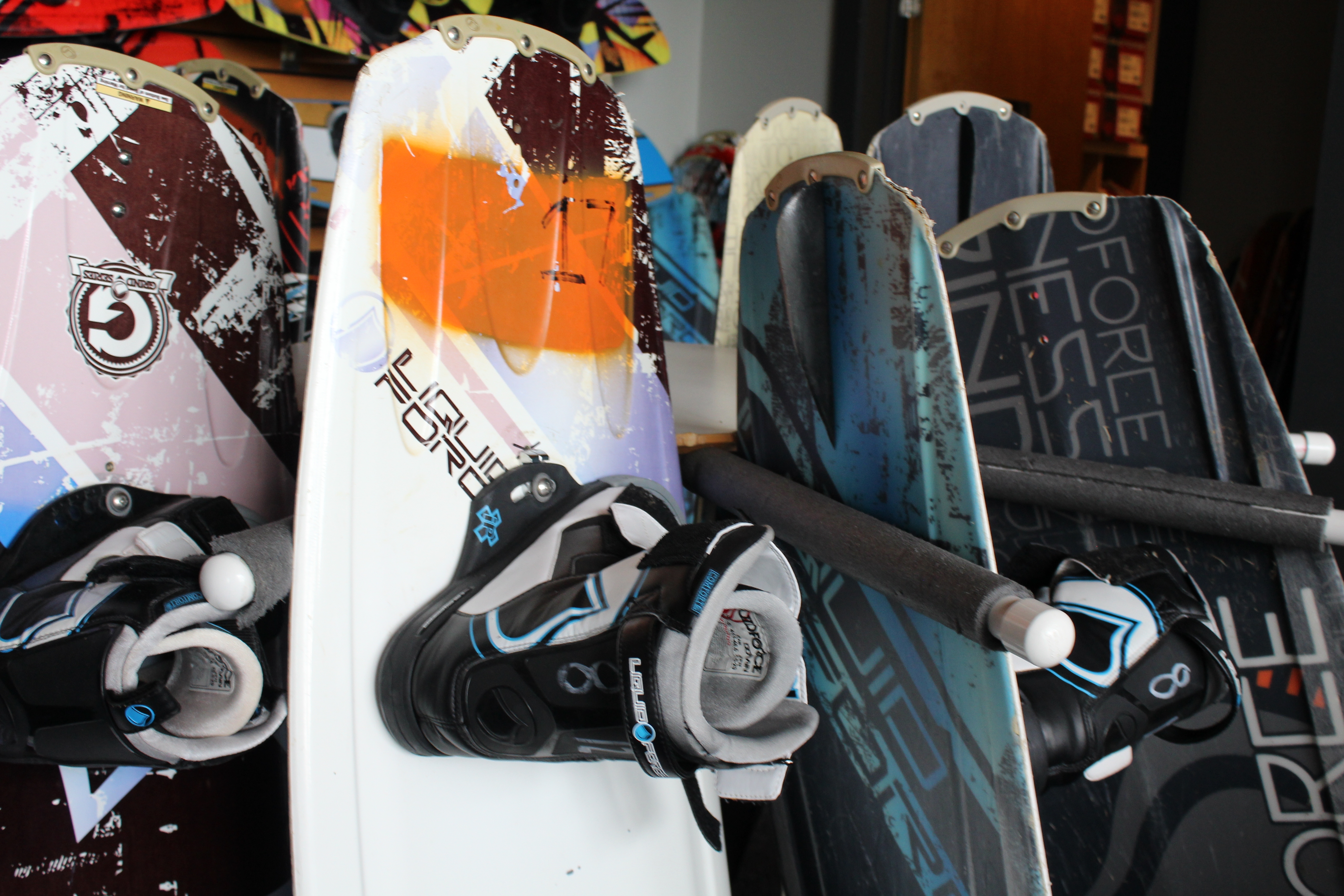 After we were suited up, we walked back to the smaller lake. If you're a first timer, this is where you start out at. You learn the basics and gain confidence before getting out with the full size cable on the other water. This didn't seem intimidating at all, which was nice. If you can't tell yet, I was kind of nervous.
Know anyone that quit snowboarding after one try? We sure do, and we are here to say that when it comes to wakeboarding and wakesurfing, it won't happen on our watch! Developed over several years, our wakeboard instruction program is one of the best in the industry. From learning the first-day basics in the best possible learning environment to coaching you through advanced jumps, inverts, and spins, to wakeboard training and preparing you for a contest, our professional wakeboard coaches can ensure you learn safely and in a fun environment. With students of all skill levels, ranging from ages 3 to 84 (no kidding), all you need is a willing attitude, and we'll handle the rest. - Wake Nation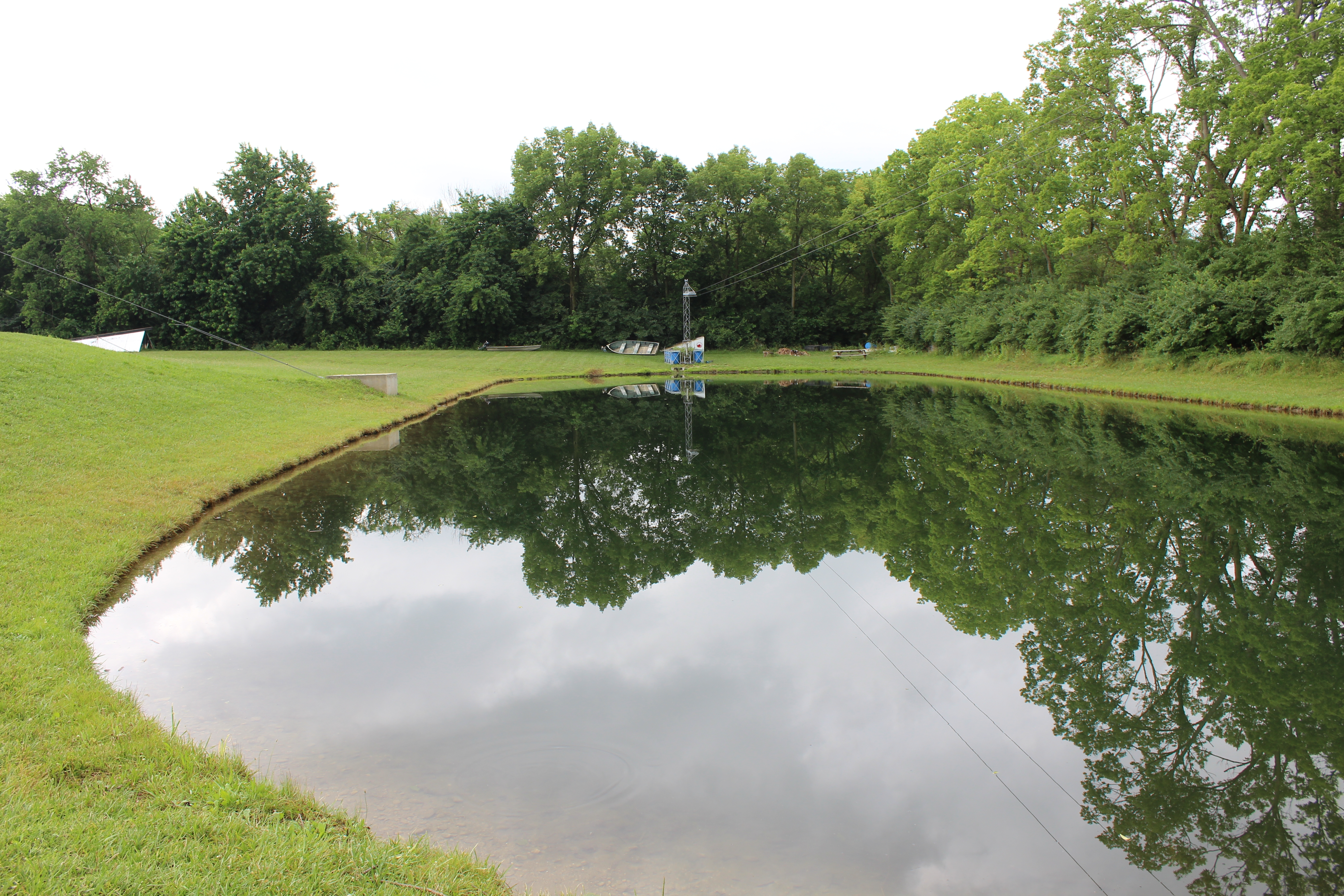 While I wasn't scared Stephen went first. I think he was a bit excited to show off his skills.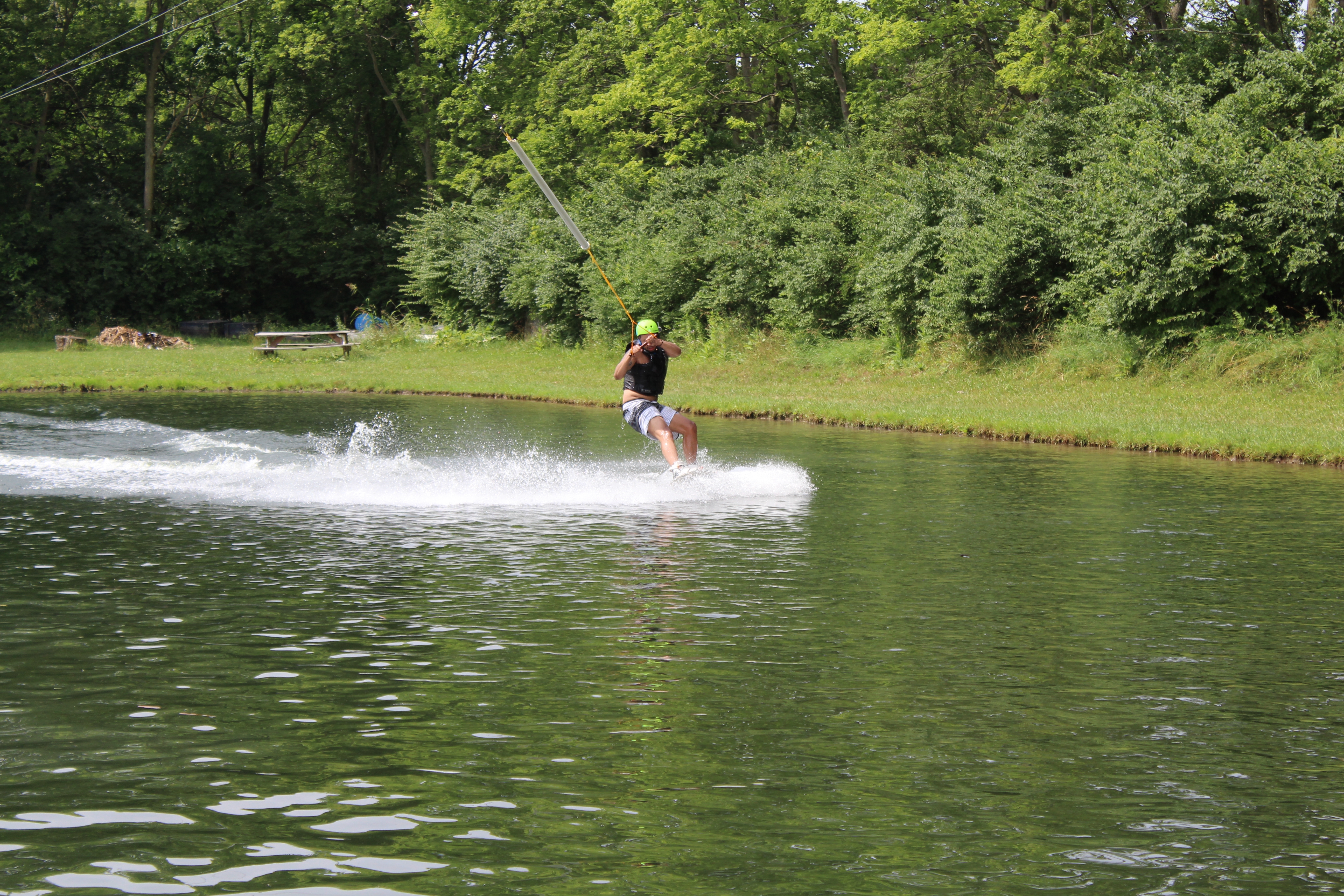 Now it was my turn. "I'm not nervous. I'm not nervous." Just like Stephen, I started in the position we practiced before heading out to the  water. It actually is far less intimidating than it seems. Plus, like I mentioned before, we had a great coach. Another bonus, there is a headset type of thing connected to the helmet. Just in case you forget everything you learned (like me), someone is on the other end coaching you through every move.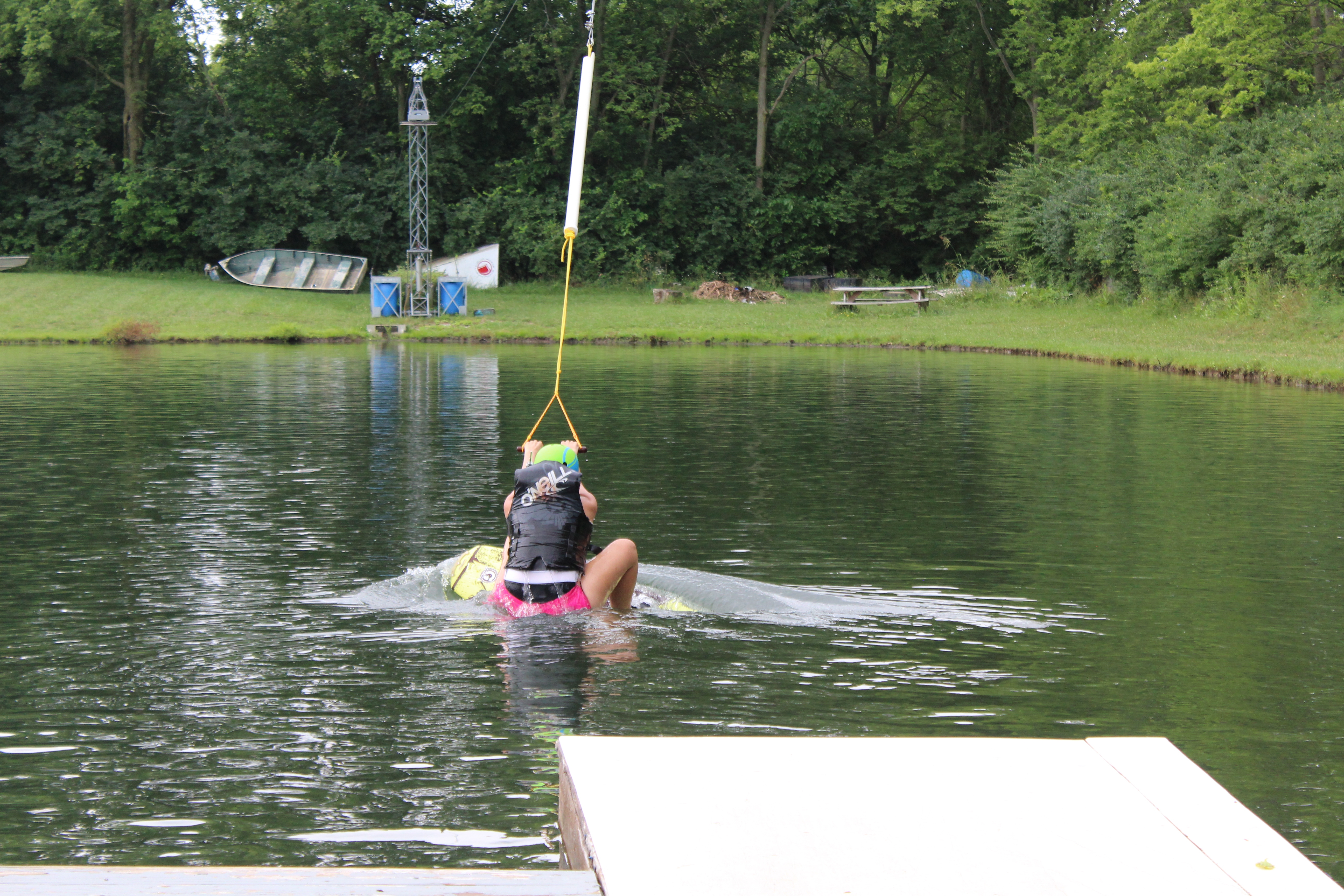 Not to brag, but, I got up on the FIRST TRY.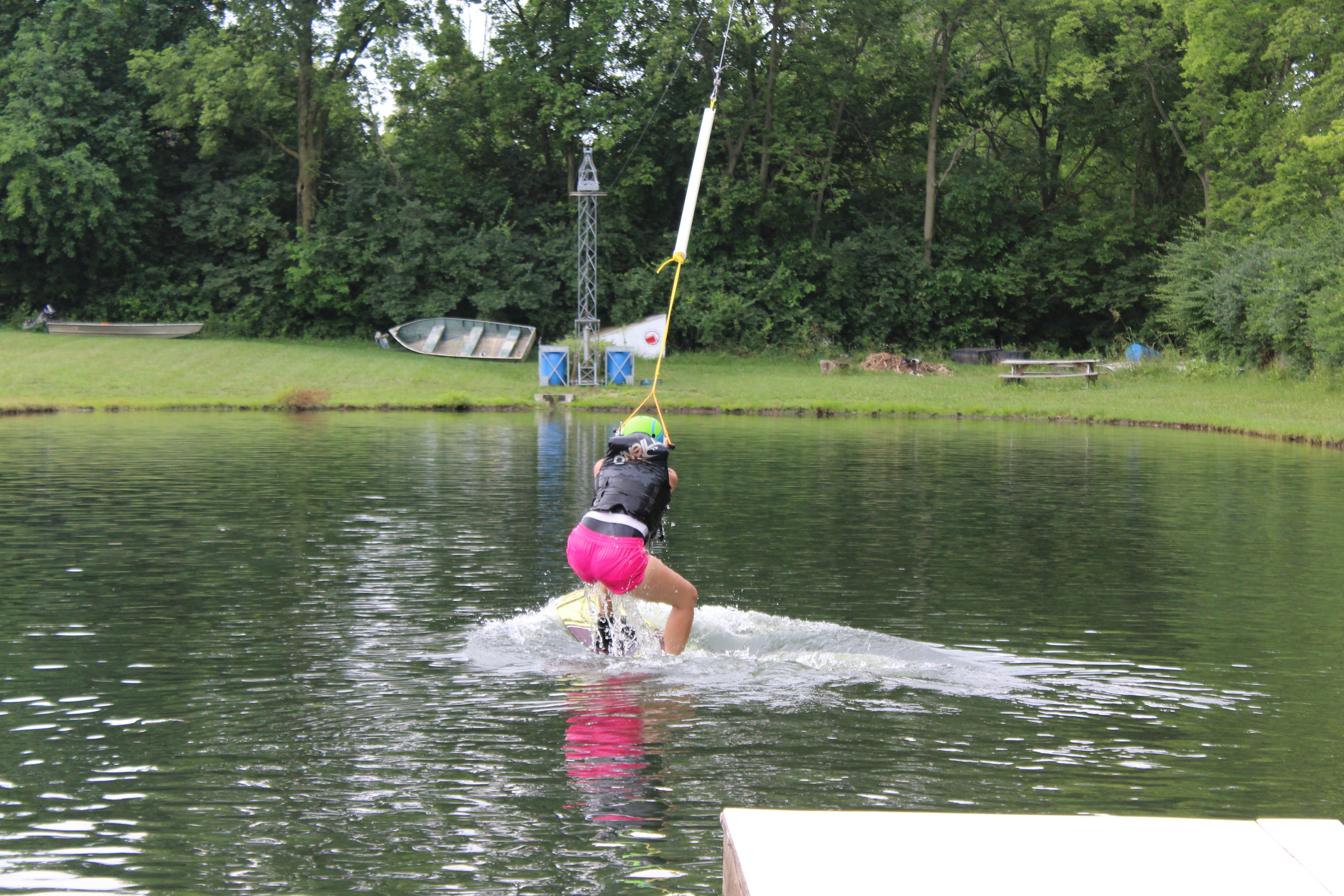 Yep, stayed up.

And then I fell down. Straight down because like I said, they are controlling the pulley for you. Steve was so good, he could tell when we were about to wipe out – allowing us to fall gently.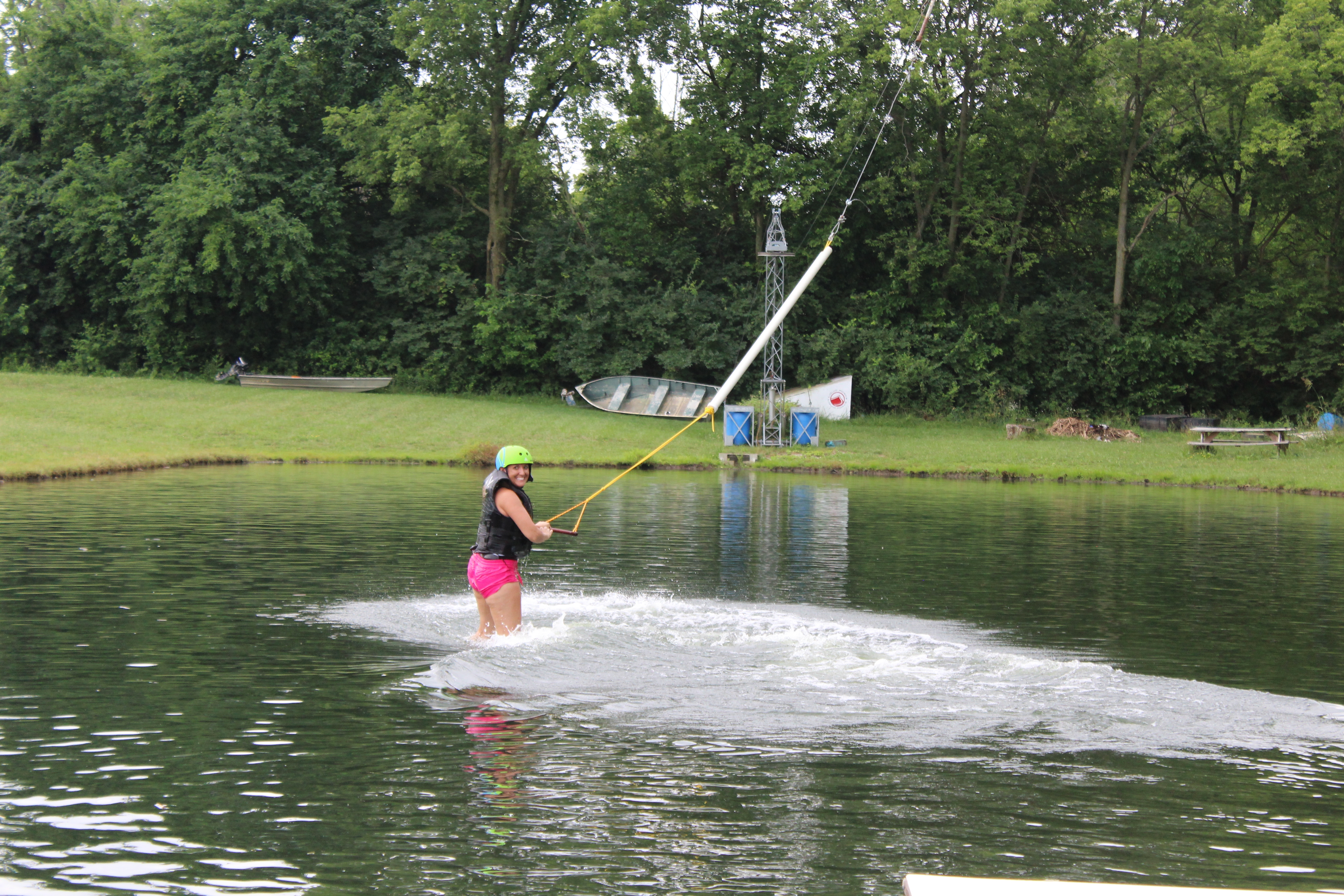 Don't worry. I wasn't defeated. I got back up again.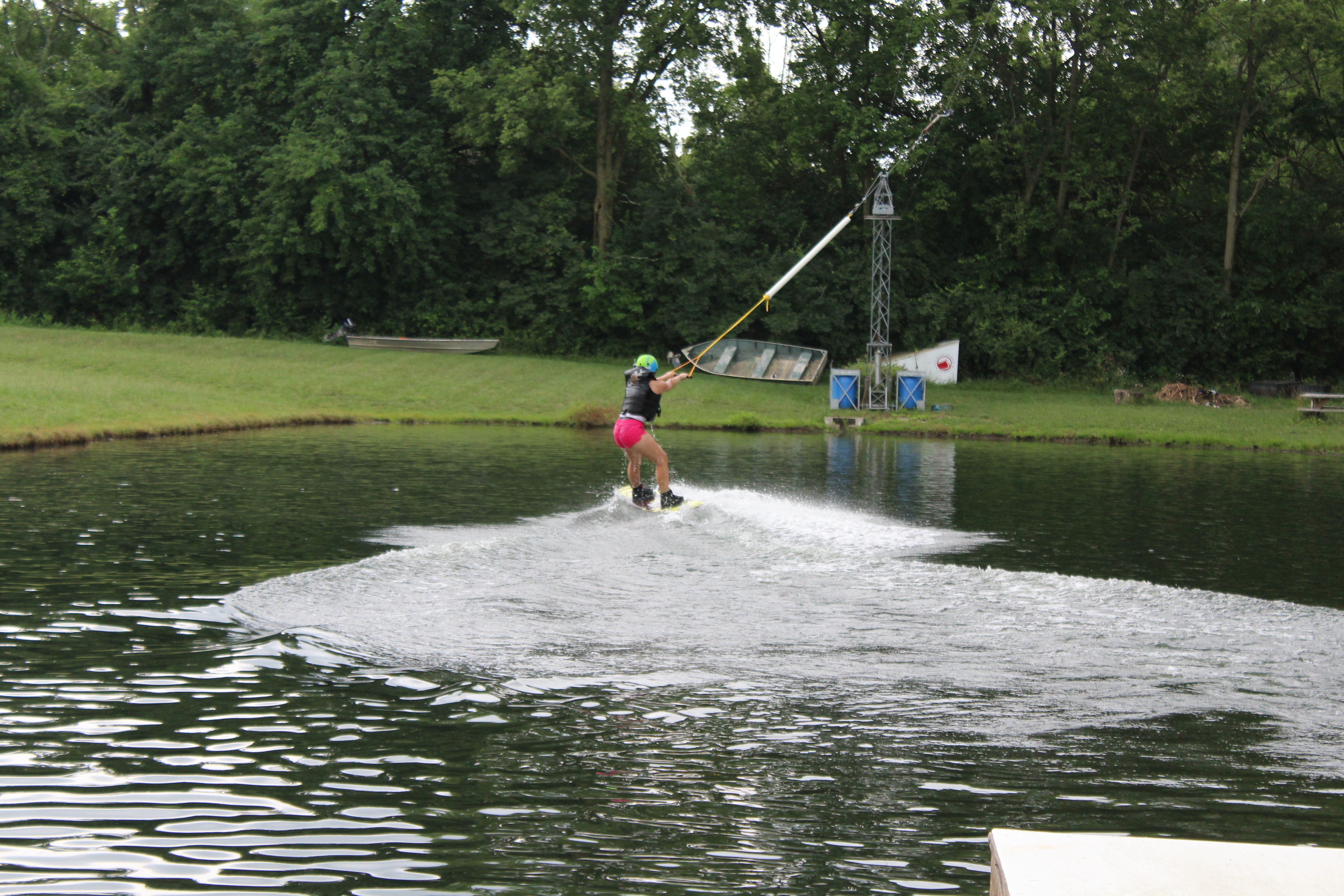 Even on the way back, I stayed up.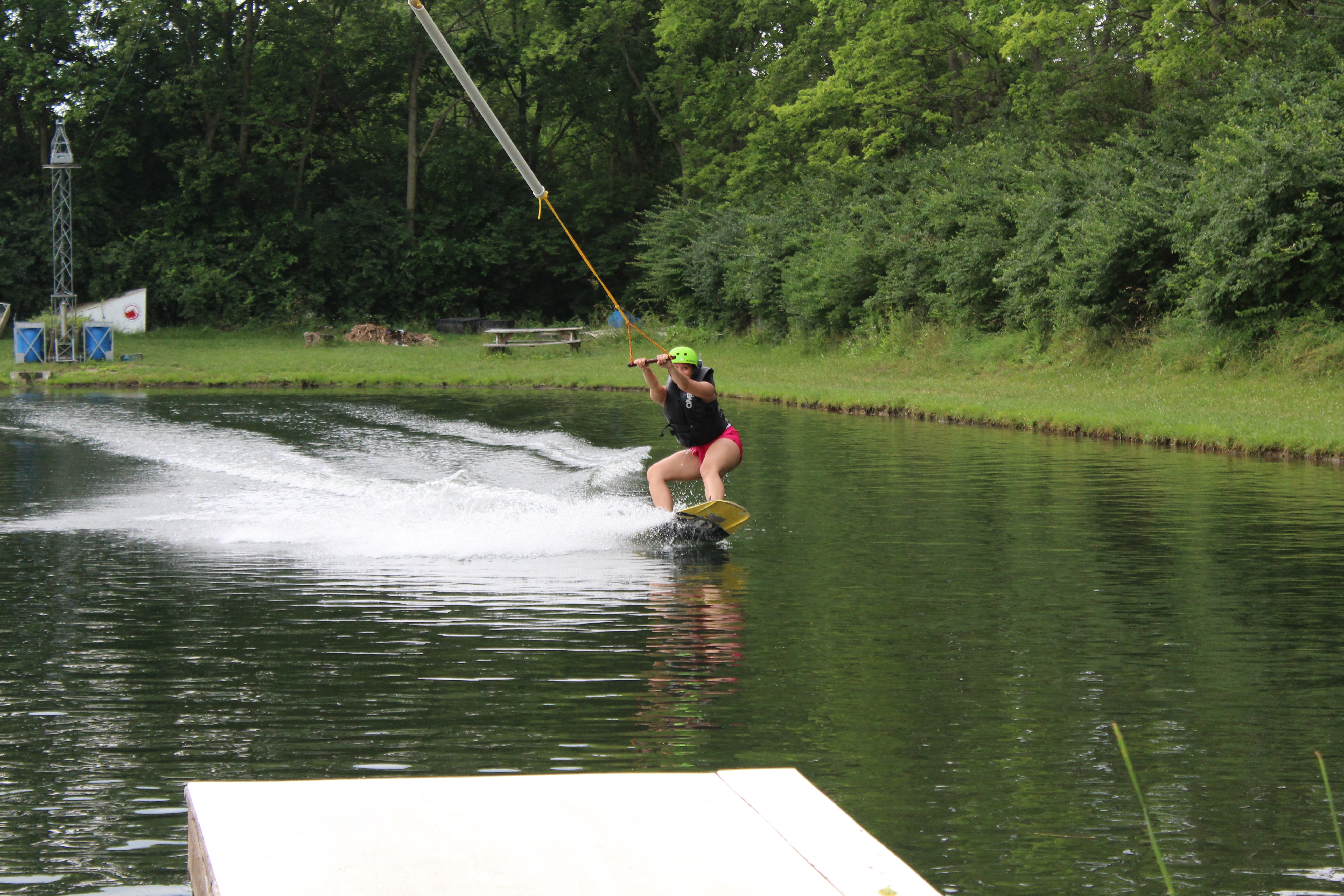 Until I fell down again.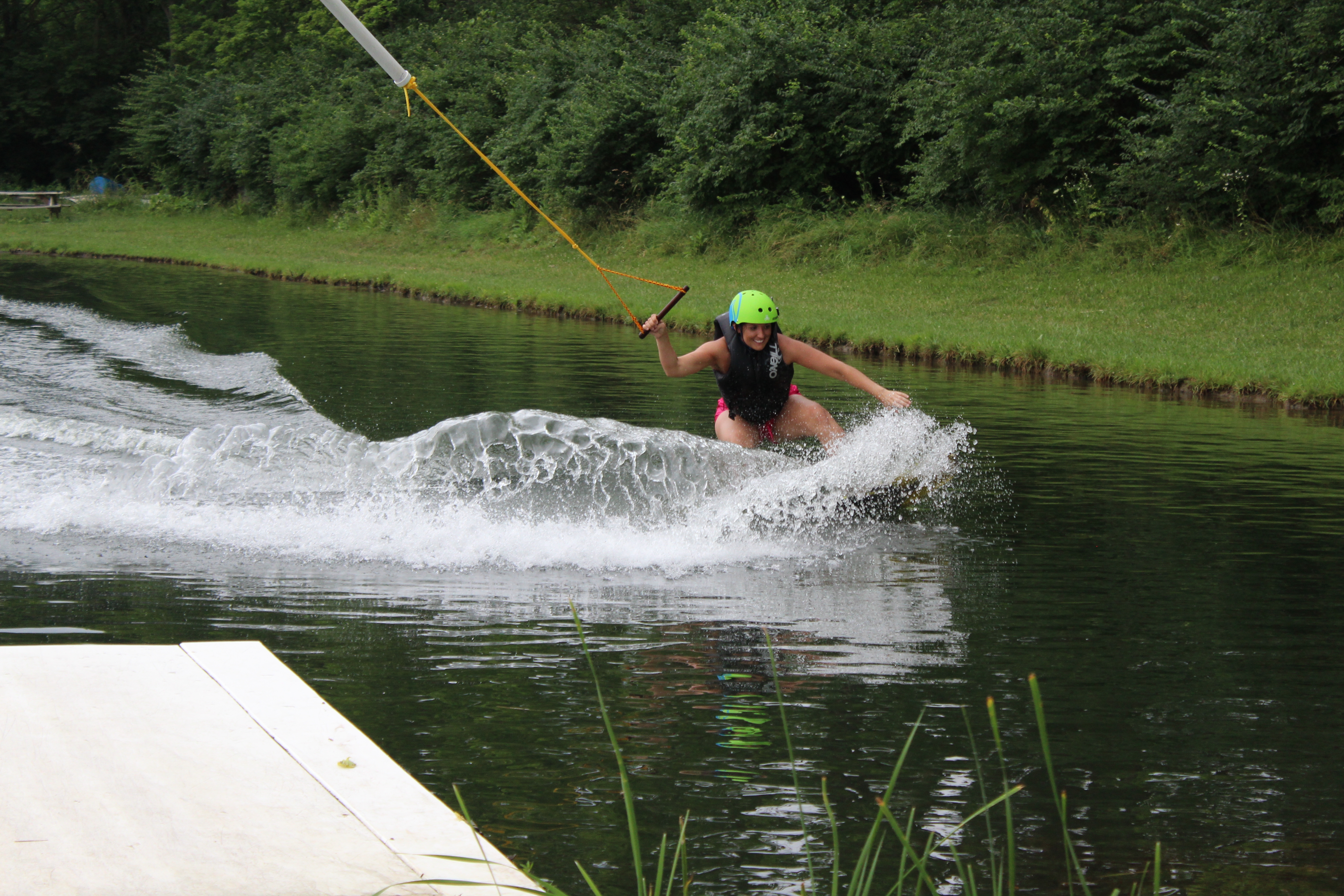 Down…down…down…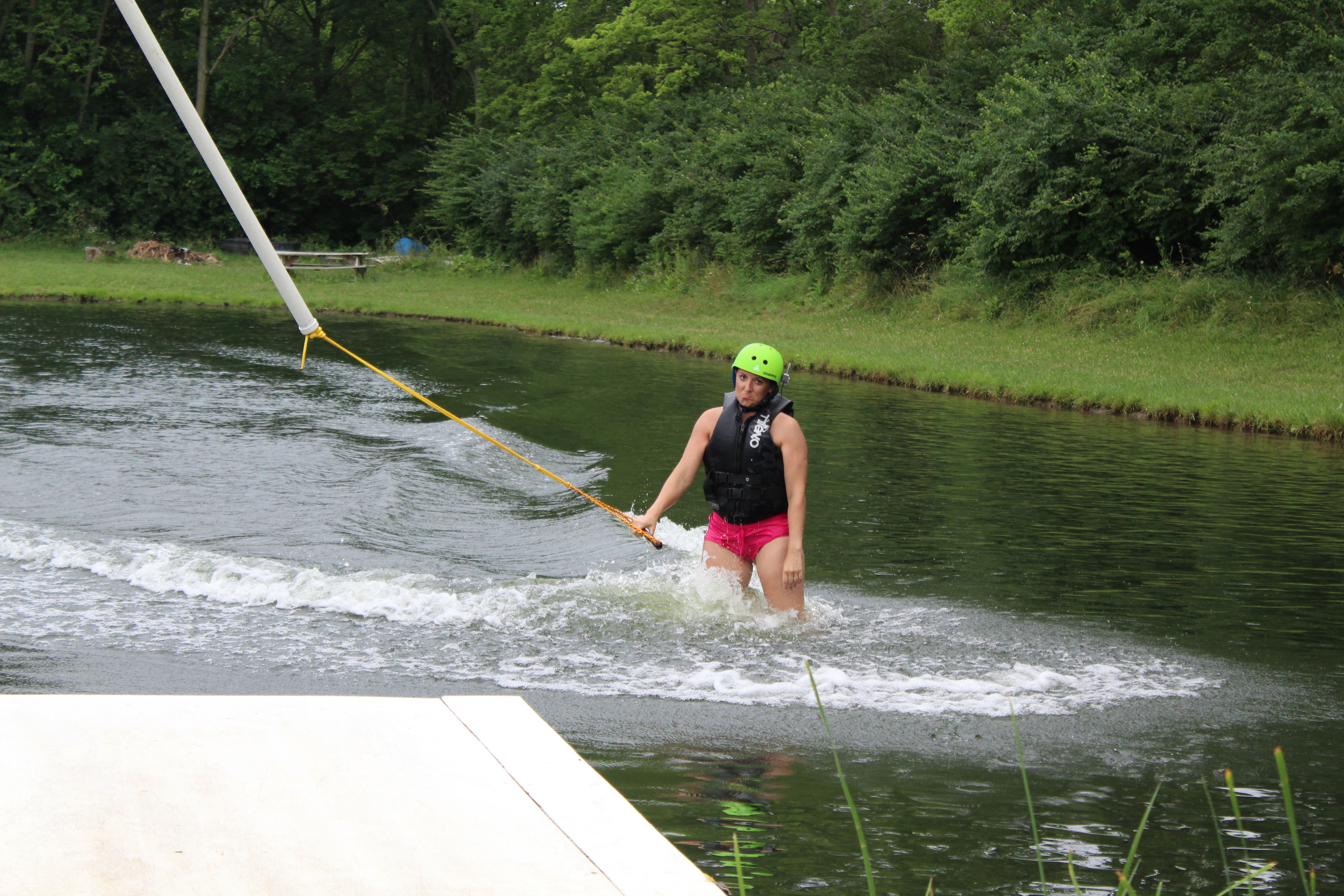 Yep, my husband captured the entire fall….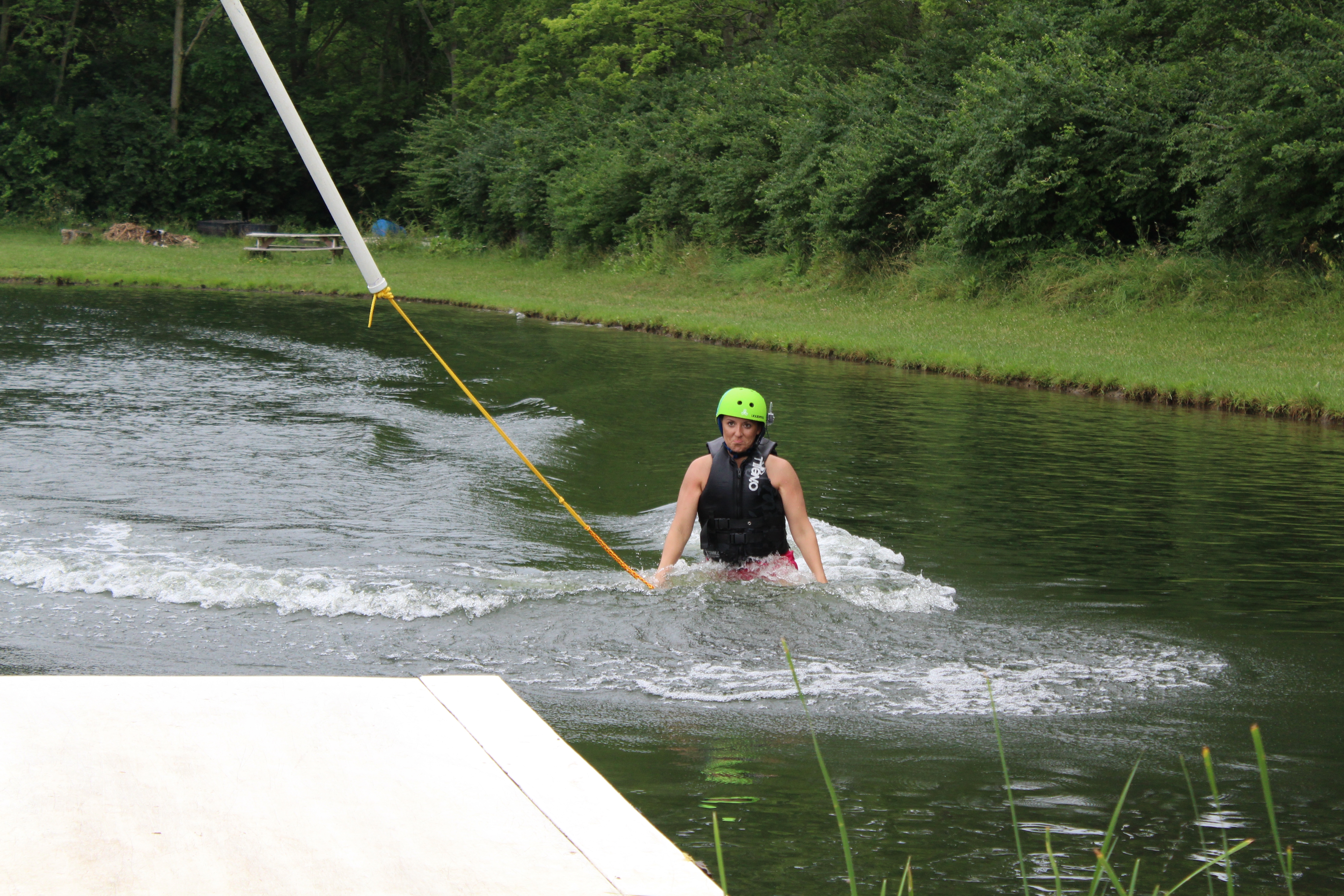 Until the very end…..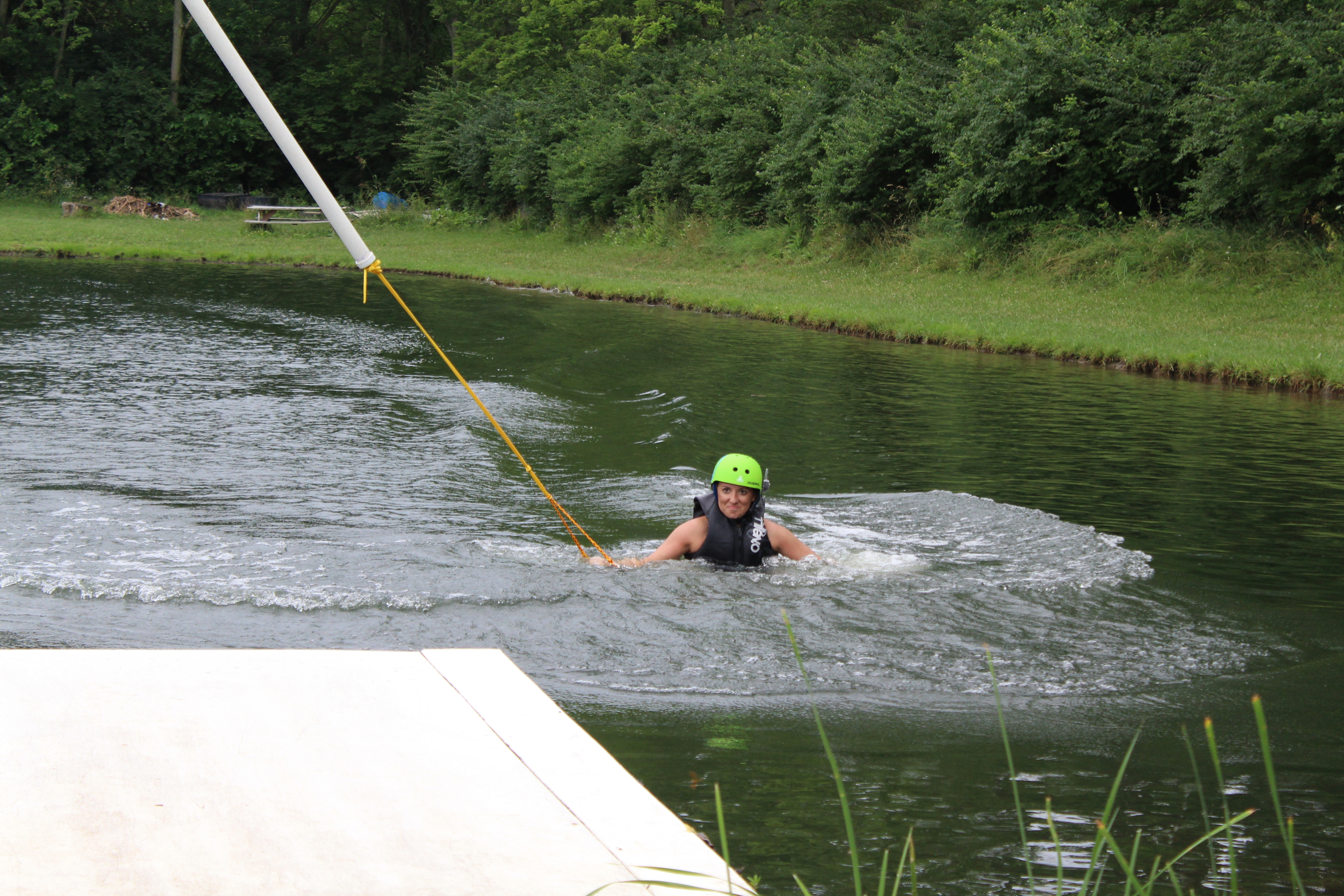 Forgot to add in this fall from earlier in the day…..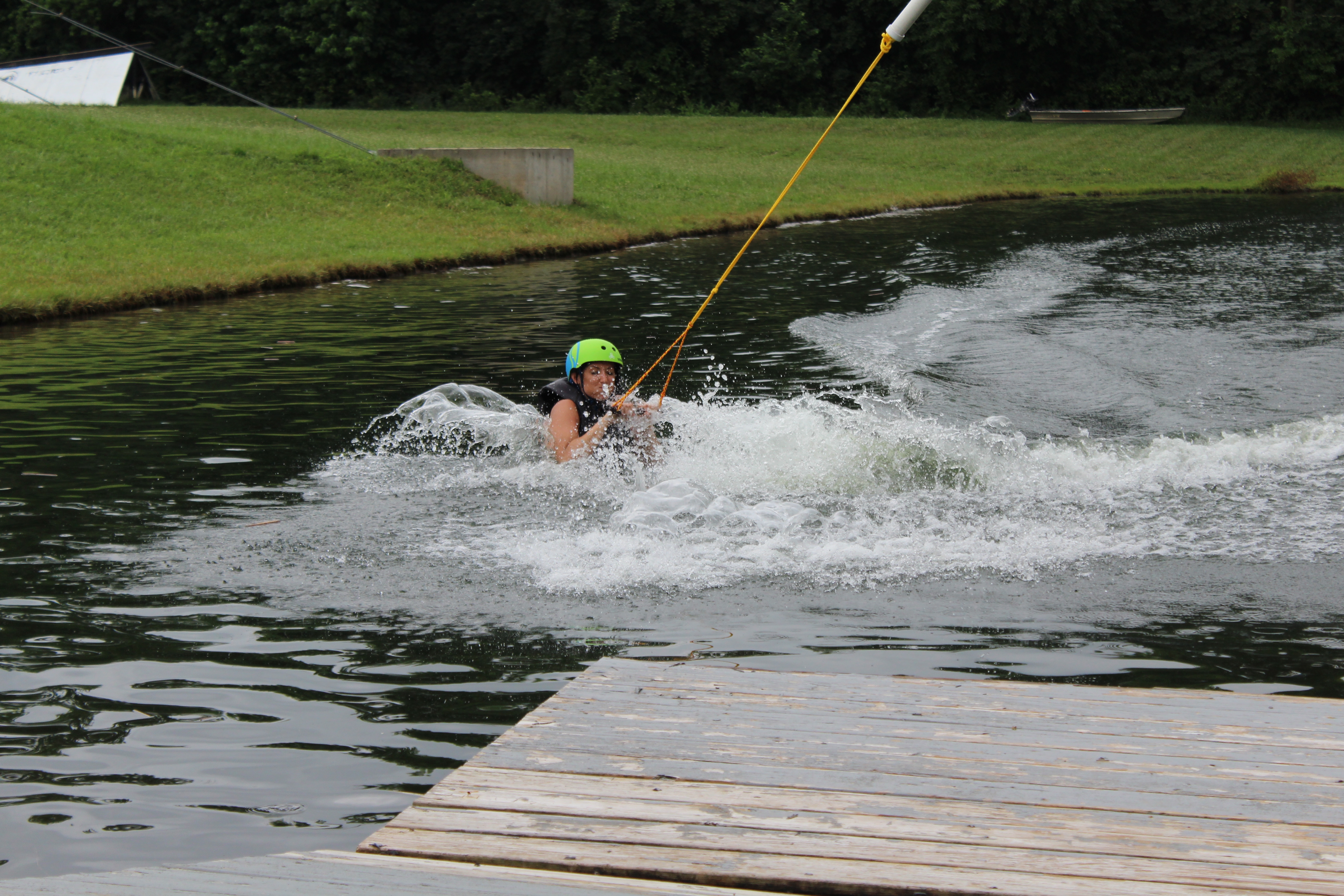 But, its okay because I got back up again because……
I get knocked down, but I get up again
You are never gonna keep me down
I get knocked down, but I get up again
You are never gonna keep me down
I get knocked down, but I get up again
You are never gonna keep me down
I get knocked down, but I get up again
You are never gonna keep me down
-Chumbawamba
Plus, like I've said one hundred times – I had GREAT coaching the entire time. I never thought I would love wake boarding as much as I did. I can't wait to see what they do with the space. They have some fun plans and the only downfall I can find? The fact that it isn't in Columbus. Luckily, its not a far drive. Follow along on Facebook to keep up with their updates and progress.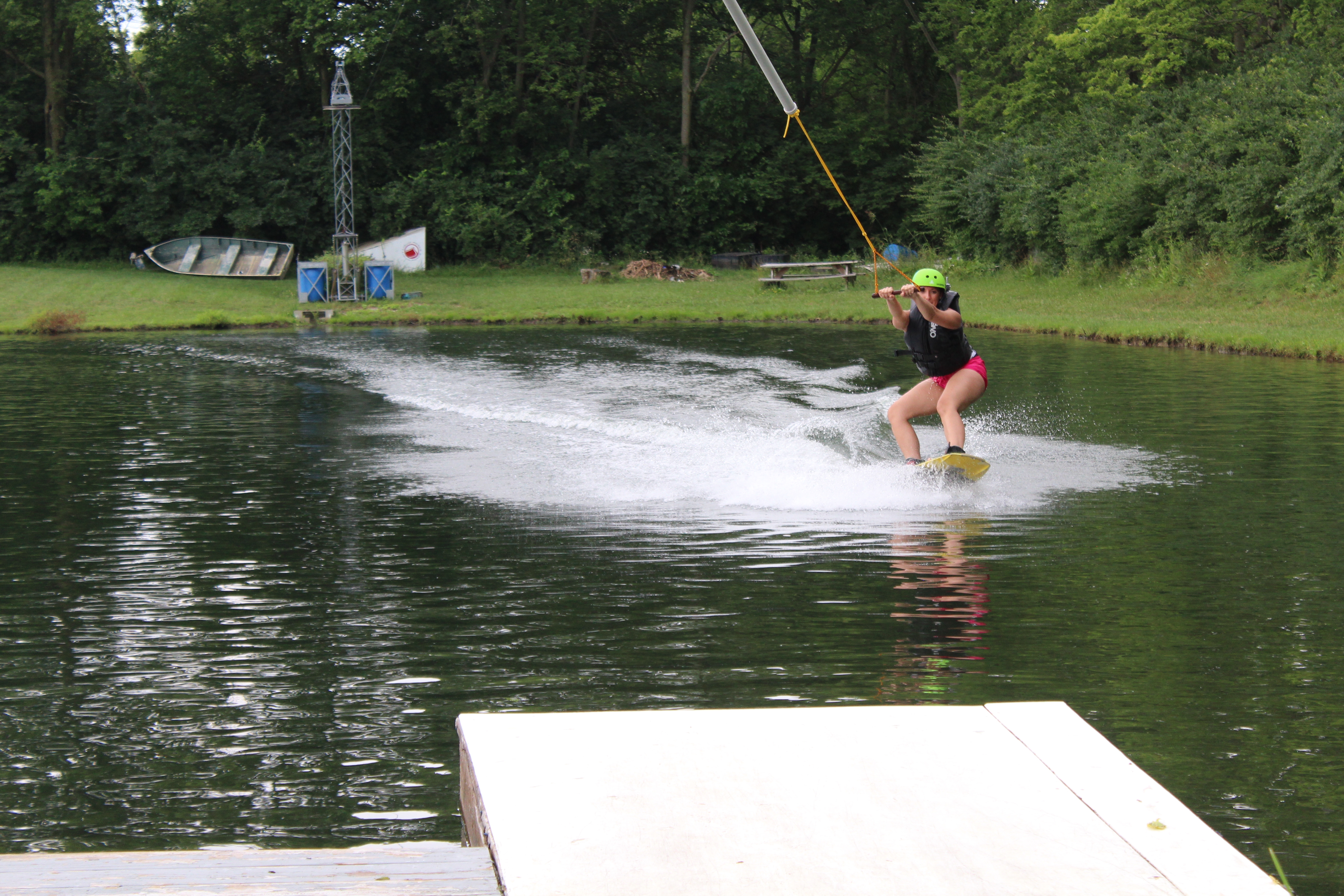 We absolutely loved our visit to WakeNation. It was completely new to me and they walked through every step with patience and excitement. If you're looking for a new adventure, I highly suggest checking them out. Head to their website to see everything they offer!