The Candle Lab only gets better and better as time goes on. There newest location in Grandview is just proof of that. While the concept is still the same, they've added a few new touches. Main one? They have acquired a liquor license – meaning they serve beer, wine and fancy cocktails made with the help of their neighbors down the street – Watershed (aka my favorite). The other main thing you'll notice is how big the space is. I mean its HUGE. Most of the other locations are pretty small – not this one – its open and airy with an industrial chic sense about it (which is similar to their other stores). If you are familiar with Grandview, you may know that their used to be a dance studio in this building. One you know that, you can "see" it.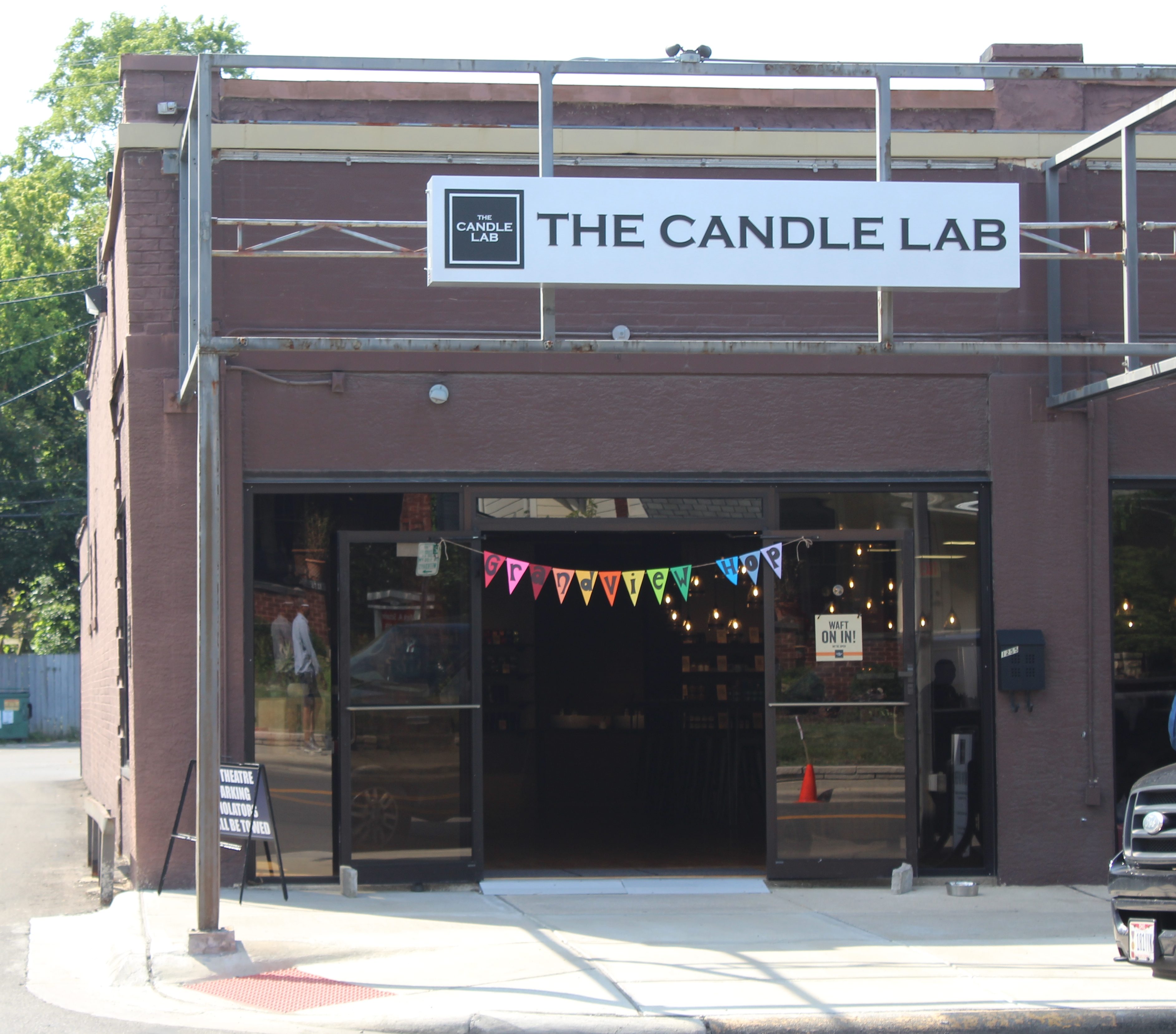 We actually stumbled upon it, if I am being honest. I saw something posted online about a tasting going on and knew we had a few minutes to spare before heading down to Urban Scrawl – not far from the store.  What I didn't know is, we would end up falling in love with the new space – leading us to drink cocktails and make a candle!
Now – on to the unexpected candle making. I have made candles before. Stephen hadn't. It was fun to see him go through the process.
The first step of the candle making process is to experiment with the different scents. This means smelling each and every candle they have. Don't worry, they have coffee beans to help "cleanse the nose." They have a clipboard you carry around with you, taking notes and making your favorite candles. You feel like an official candle maker with it – at least I did.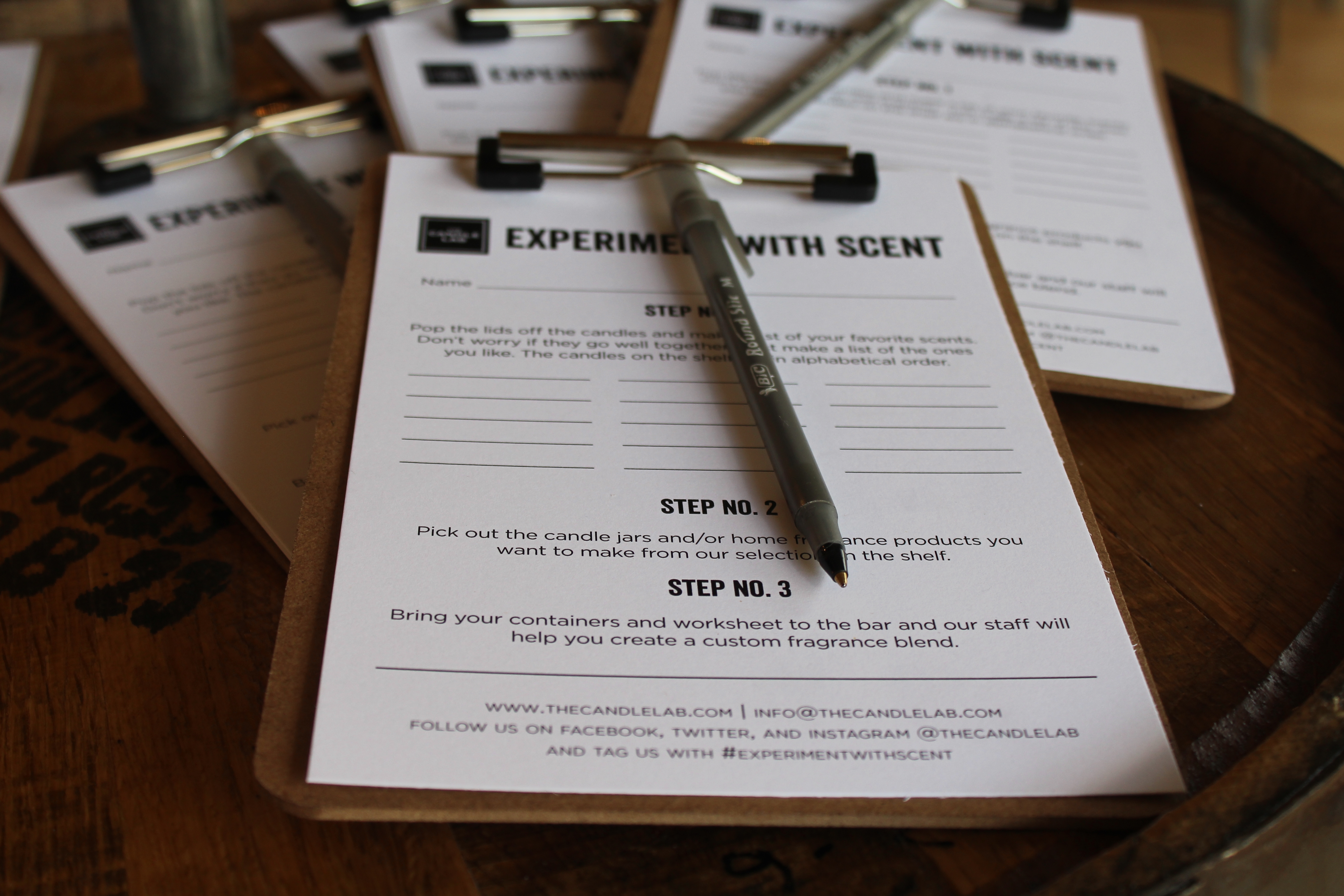 When I said they have tons of scents, I wasn't lying. So. Many. If you don't know what you're looking for, you may be 'sniffing' for a bit.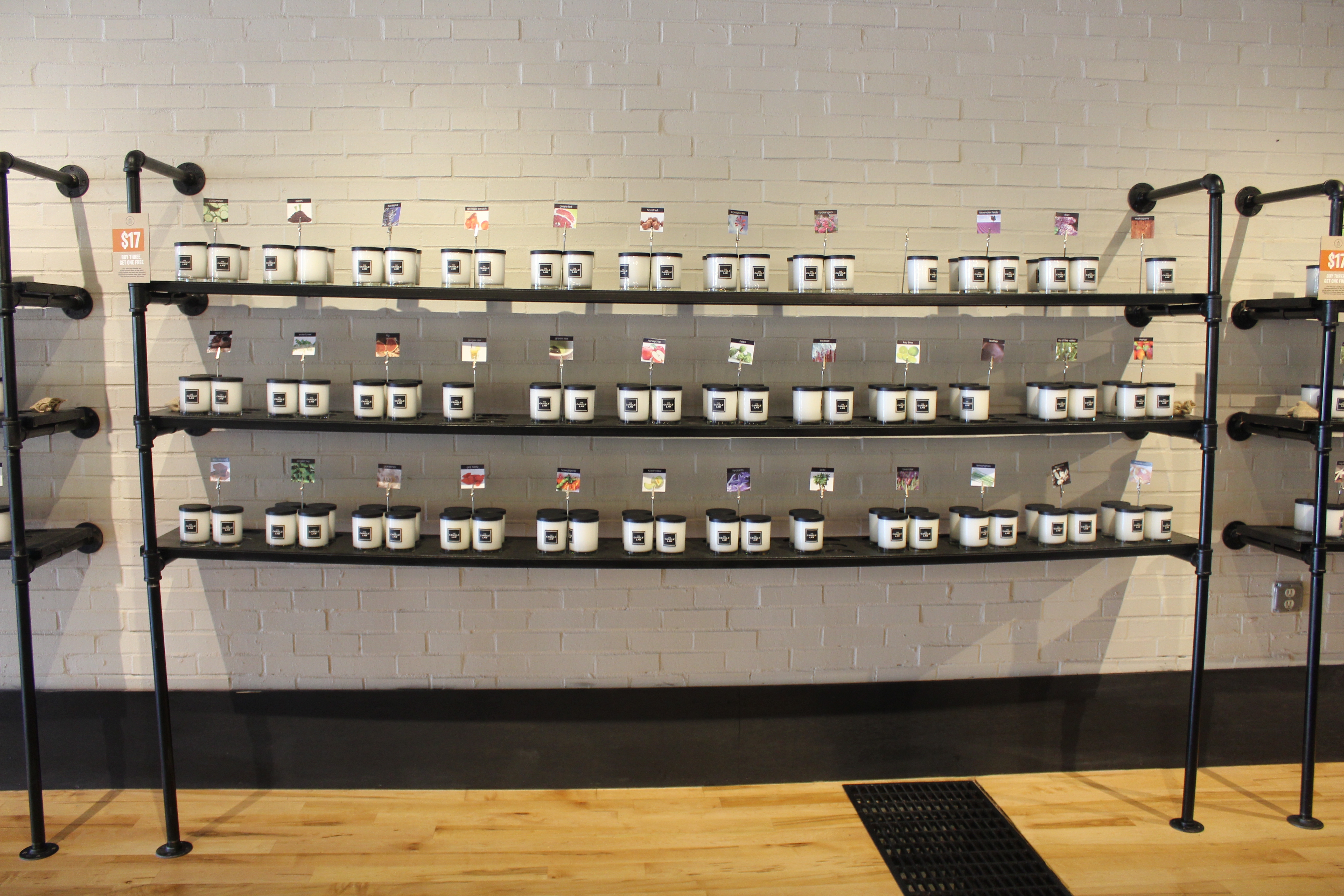 If you've ever wondered what that wonderful smell is in the bathrooms at The Pearl in the Short North – well, here it is! I LOVE THIS CANDLE! Also, I see now that it sounds weird telling you that one of my favorite scents comes from a bathroom……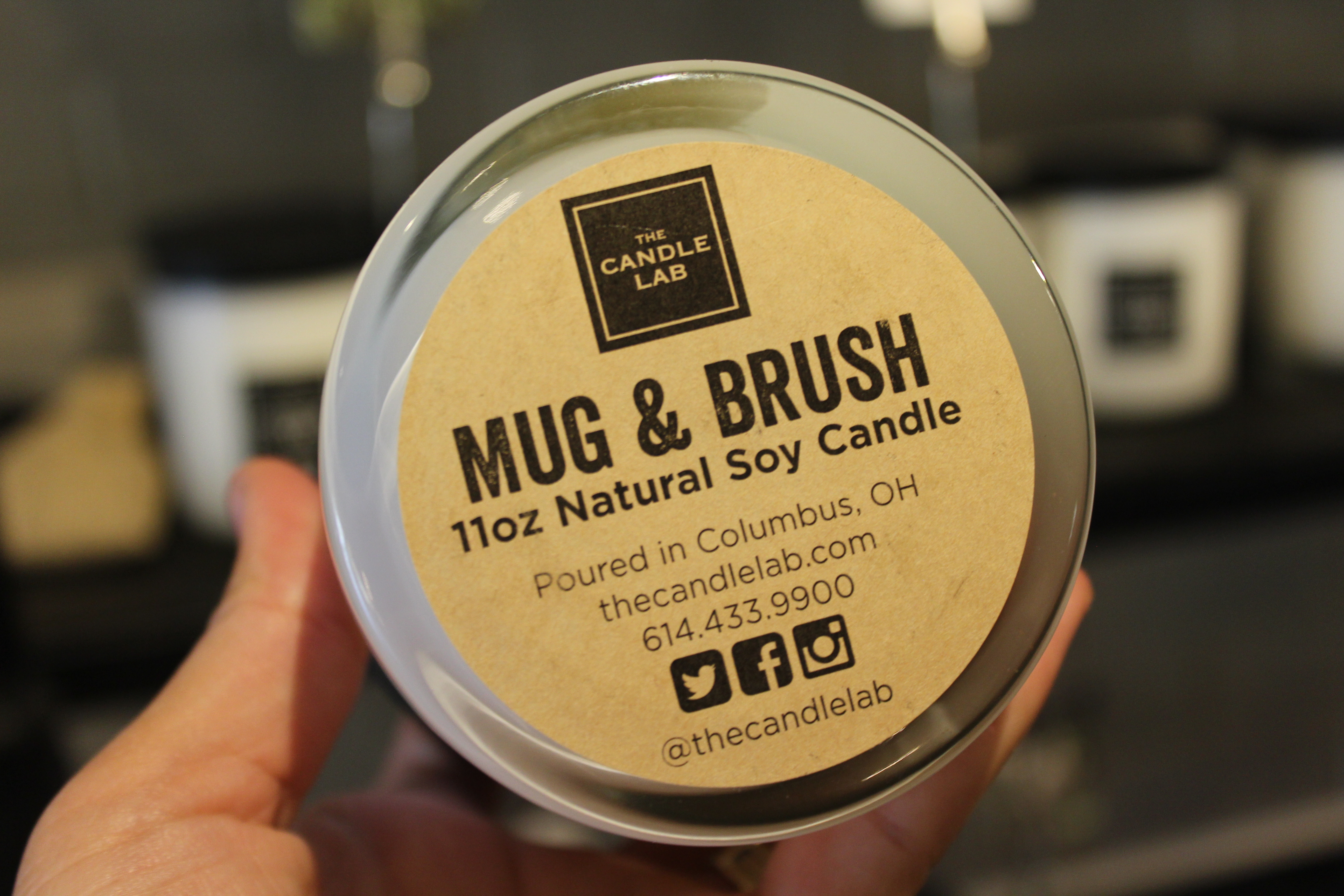 If you look at our notes, you will notice some big variations. I like the musky, cologne  smells, while my husband likes the softer, clean scents.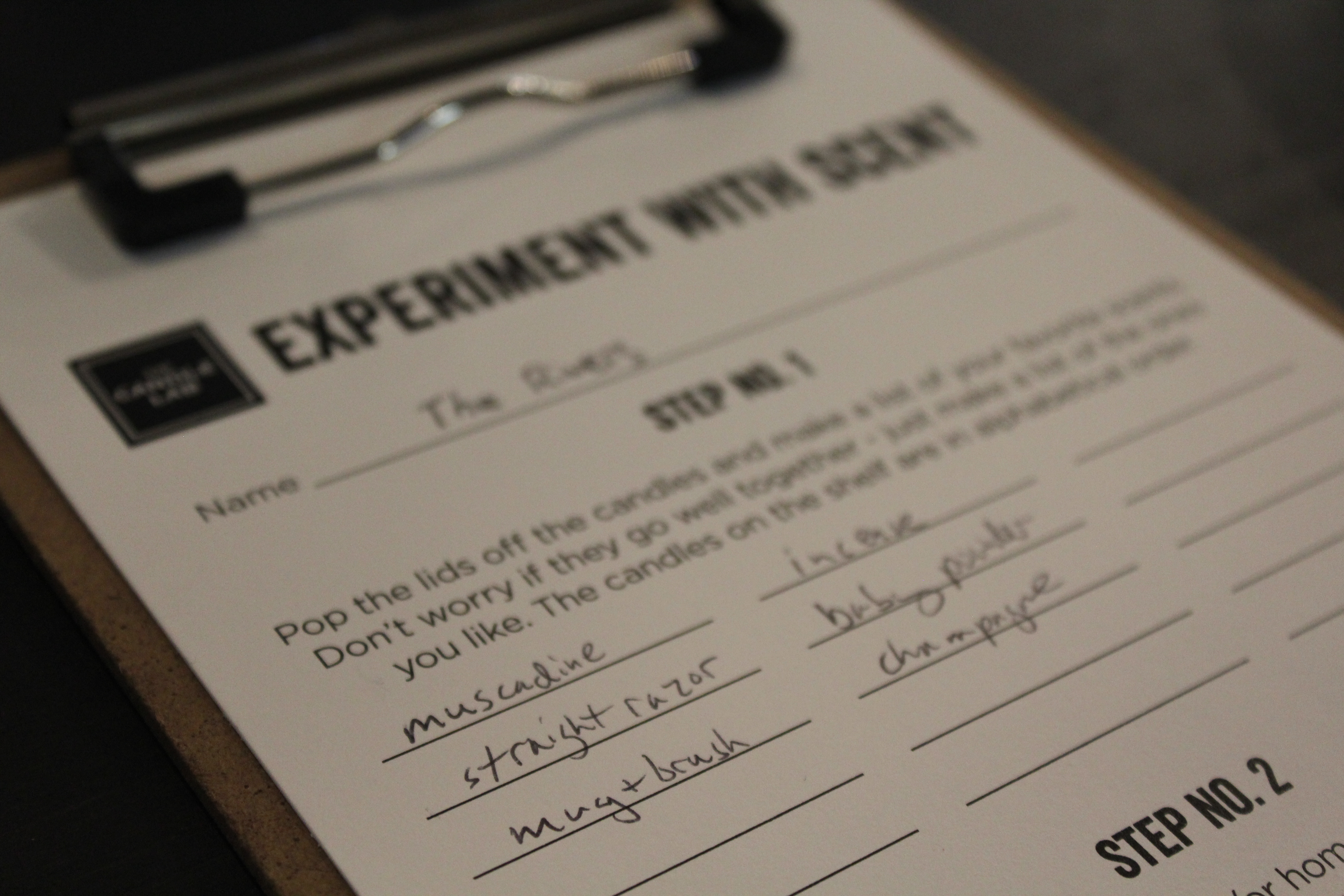 After we picked our scents we liked (and container), we went and found a seat at the bar. Like I said in the beginning, the reason we came was to sample the cocktails. I actually had no idea they had a liquor license. I didn't realize it until they told us mid way through the samples. For some reason, I thought they were just having a pop-up day with Watershed. Another thing I was surprised by, was how affordable the drinks were!
I went with the blueberry lemonade – made with blueberry lemonade and watershed vodka. Very simple. Very delicious.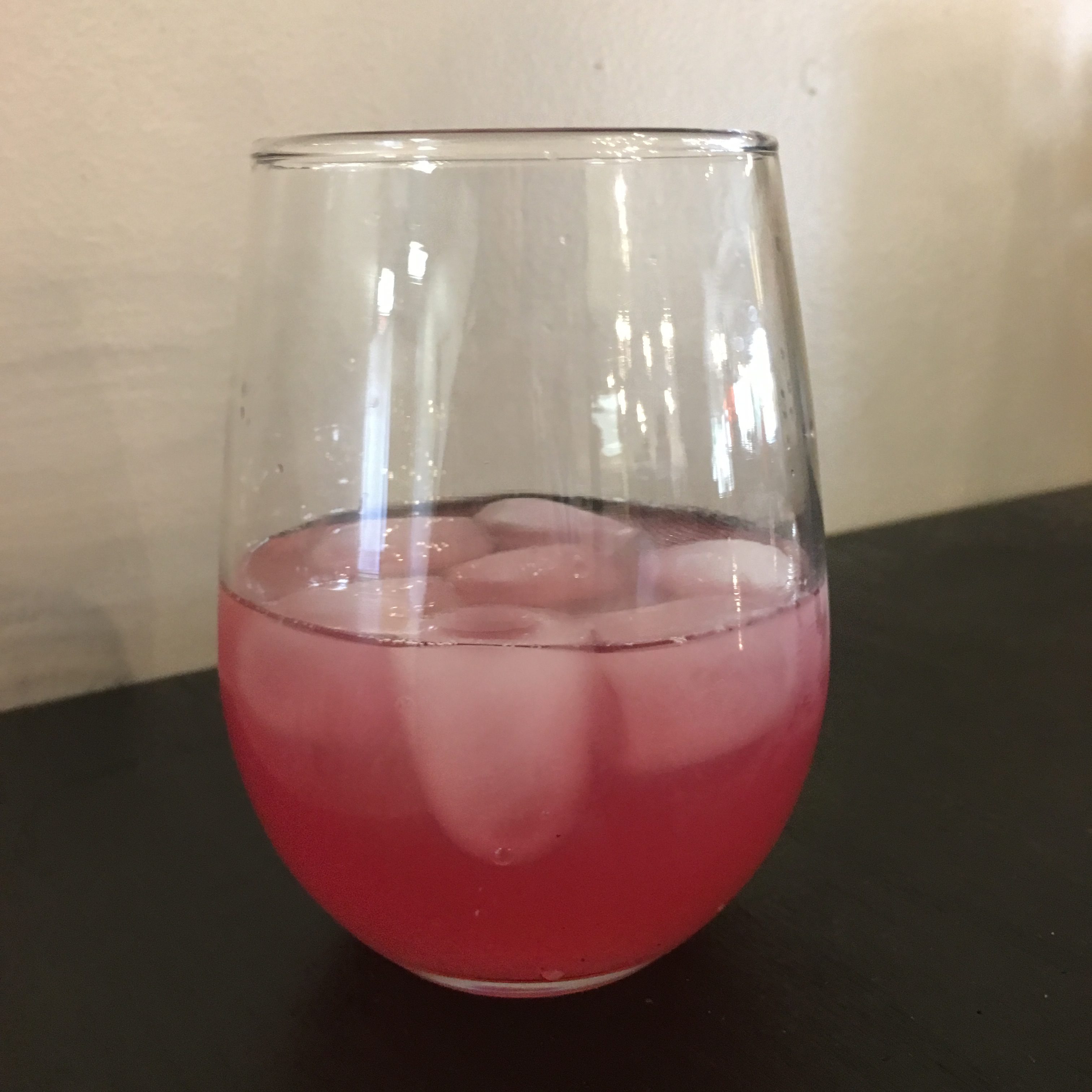 Husband chose one of his favorite summer beers – Bell's Oberon.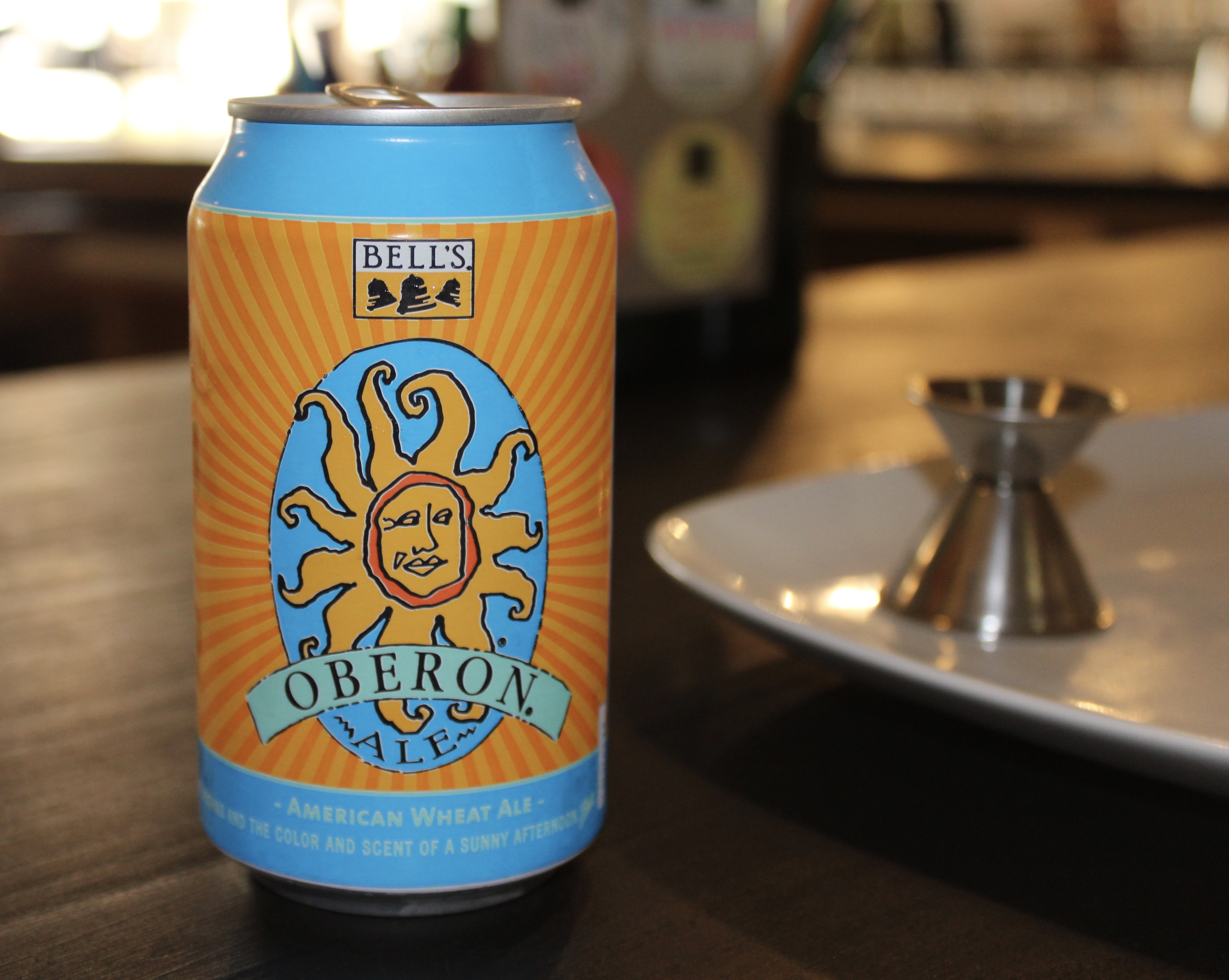 While we enjoyed our drinks, they brought over the different scents we selected. In order to figure out the best scent we would hold three up together and smell them. After a few different tries, we ended up with a  pretty good combination.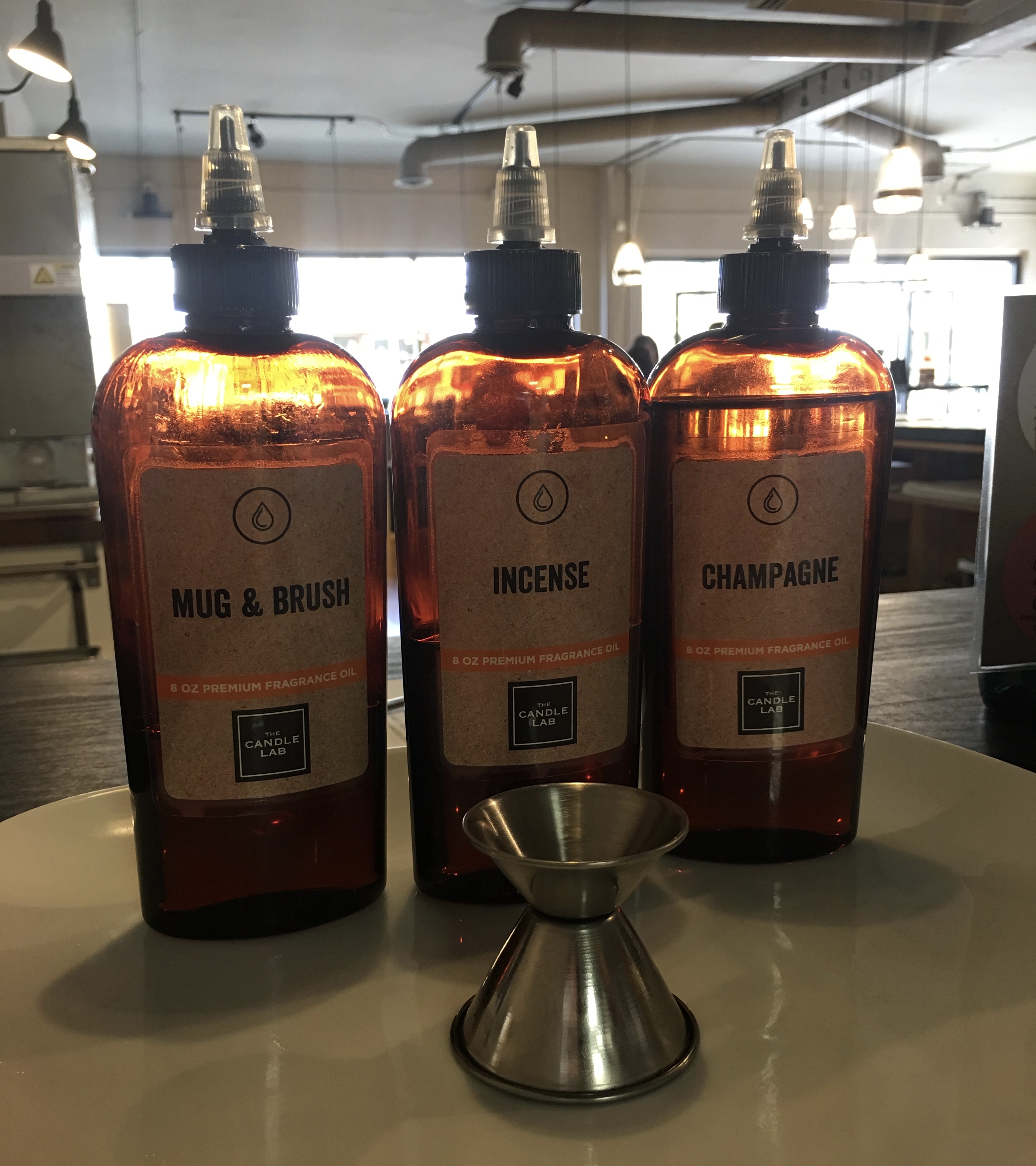 Now, we had to create the perfect combo. You do this by adding SMALL amounts of oil into the container  – smelling/sniffing as you go.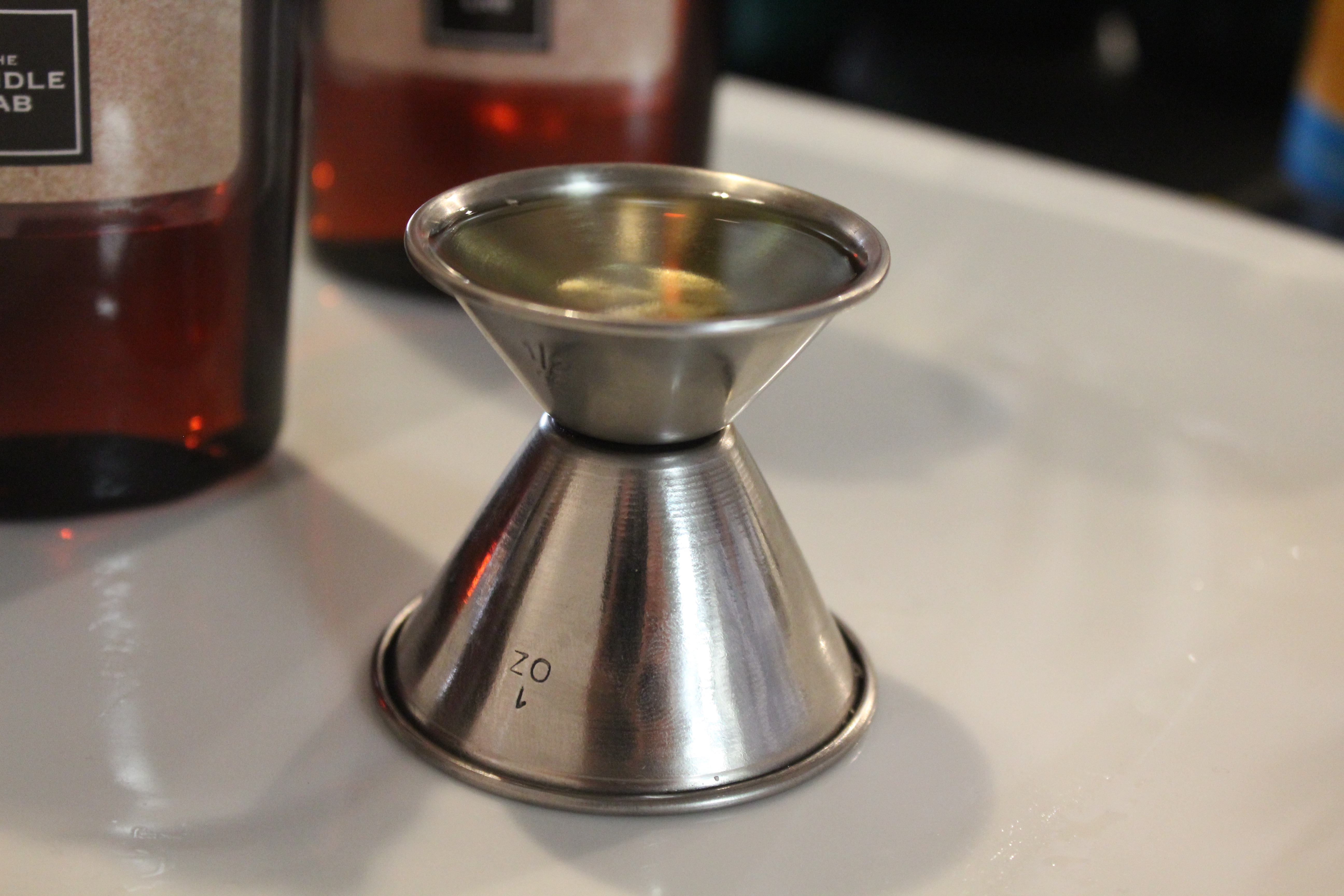 When you done, make sure you take the opportunity to head over to the sink and use their sugar scrub to get off any extra oil or wax! It smells and feels amazing.
You can even create your own sugar scrub with your favorite scent!
Once they take your candle away to set, you have the option of waiting an hour – hour and a half or coming back another day. Since it was Grandview Hop and a beautiful night, we decided we would go walk around and explore – coming back in an hour or two. We chose Grandview Cafe, just down the street. If you aren't familiar, Grandview Cafe was recently re-opened by the owners of your favorite spots  – Hadley's, Bodega and Balboa.
After about an hour and a half, we headed back to The Candle Lab. As soon as we walked in, they greeted us (remembered who we were) and gave us our candle. We had already pre-paid. They had it bagged up and ready to go. Easy!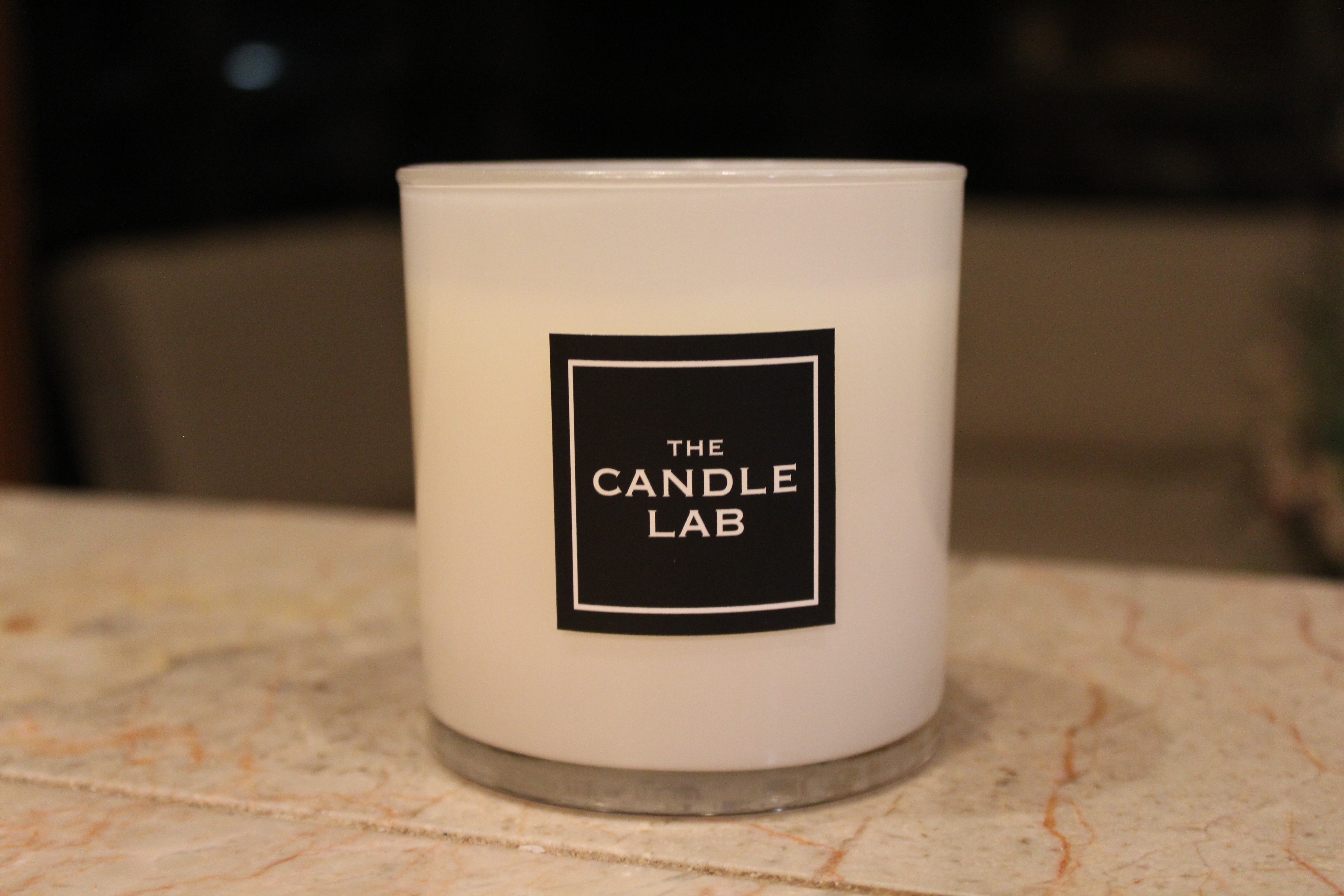 Our candle smells AMAZING. I am trying not to burn it 24/7 because I want to keep it forever! Luckily, they give you your design card – that way you can remember everything you did. Seriously, guys. Candle lab is the best. It was the perfect date night, but, is also the perfect girls day/night. Make sure to keep an eye on their social media – they have a TON of fun plans for this space. Think girls night with blowouts and mixology night with candles and cocktails. Plus, so much more.
•••
The Candle Lab – Grandview
1255 Grandview Ave.
Columbus, OH 43212
Open
Monday
to
Saturday
11am to 8pm