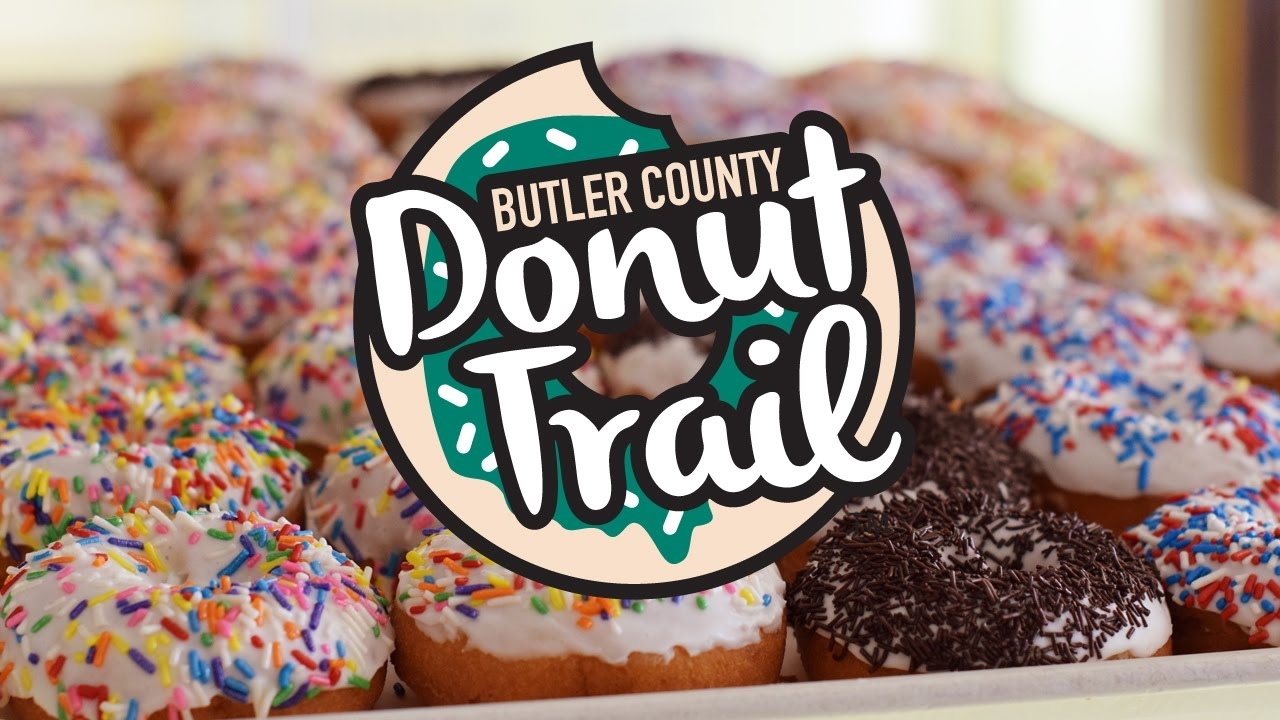 I am sure you have heard of the Columbus Coffee Trail, the Capital City Wine Trail and the Columbus Ale Trail, but have you heard of the Butler County Donut Trail?  With 10 family owned shops on the trail (no chains allowed), the donut trail is a unique way to explore Butler County. Why Butler County? Wait, first. Where is Butler County? It is located between Cincinati and Dayton and is home to more fun adventures than you can imagine. Second, why Butler County? Well, with one donut shop for every 20,000 residents, Butler County has one of the highest number of donut shops per capita in the Midwest. Makes sense to why they have one, right?
What is a donut trail you ask? Similar in style to the trails mentioned above, you visit 10 different locally owned donut shops. Eat a donut and get a stamp in your passport. Once you've collected all ten stamps, you're eligible to get a shirt. Easy enough, right? What is most excited about the trail is – in the first year alone – over 4,700 people from 39 states and 6 countries completed it, bringing nearly $1 million in economic impact into Butler County, according to the visitor's bureau. AWESOME! We were happy to hear shop owners say the Donut Trail has been great for business.
The donut trail has been on our mind for a few months. We just hadn't made the time to sit down and plan when we were going to go. Well, a few weeks ago, we were invited down to explore the trail by Butler County by Butler County Vistors Bureau. What perfect timing! Working with them was a breeze. They took all the work out and planned an entire weekend for us. As for completing the trail, we didn't do it all, just three stops, but, that was perfect because we had a day filled with adventures ahead of us. (More to come out that.)
---
Our first stop was Mimi's Donuts and not to spoil it, but, it was my favorite stop. Between the donuts and Mimi's genuine personality, there was nothing missing. A retired cop of THIRTY years (yes, you can giggle because I did as soon as she told me she used to be a cop. Donuts & Cops, get it?), she decided she wasn't done! She was going to do something else in her lifetime. While she has always loved to bake, donut making wasn't her speciality, but, why not? Once you taste her donuts, you will think she has been making them for years. Not only does she own her own bakery, she is a private investigator. Donut maker by day. PI by night. She is one cool lady. My husband and I could have sat and talked to her for hours. Not only did she let us know buttermilk is the secret to keeping cake donuts moist, she reminded us to find something we love and make a career out of it. That's how you have a happy life.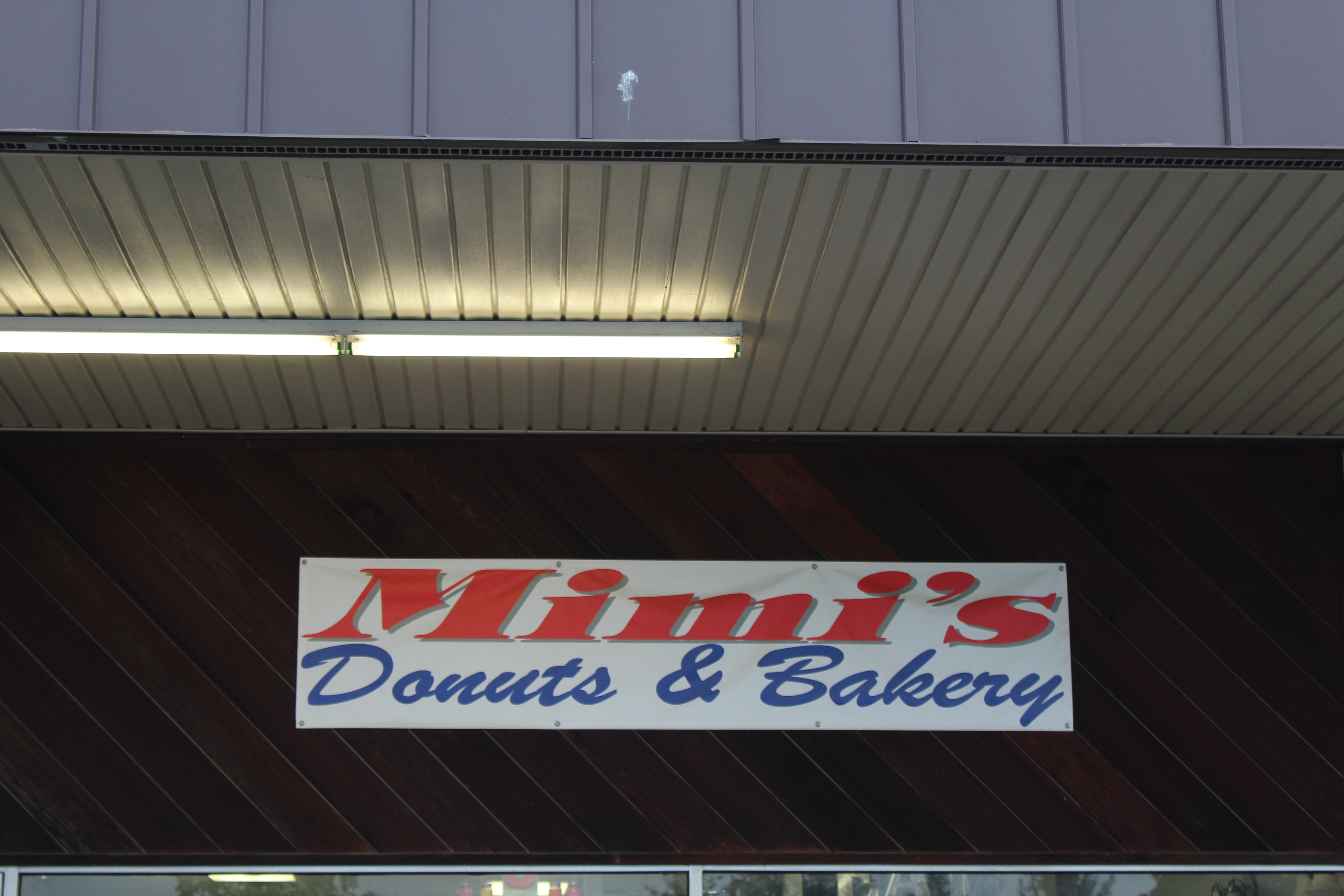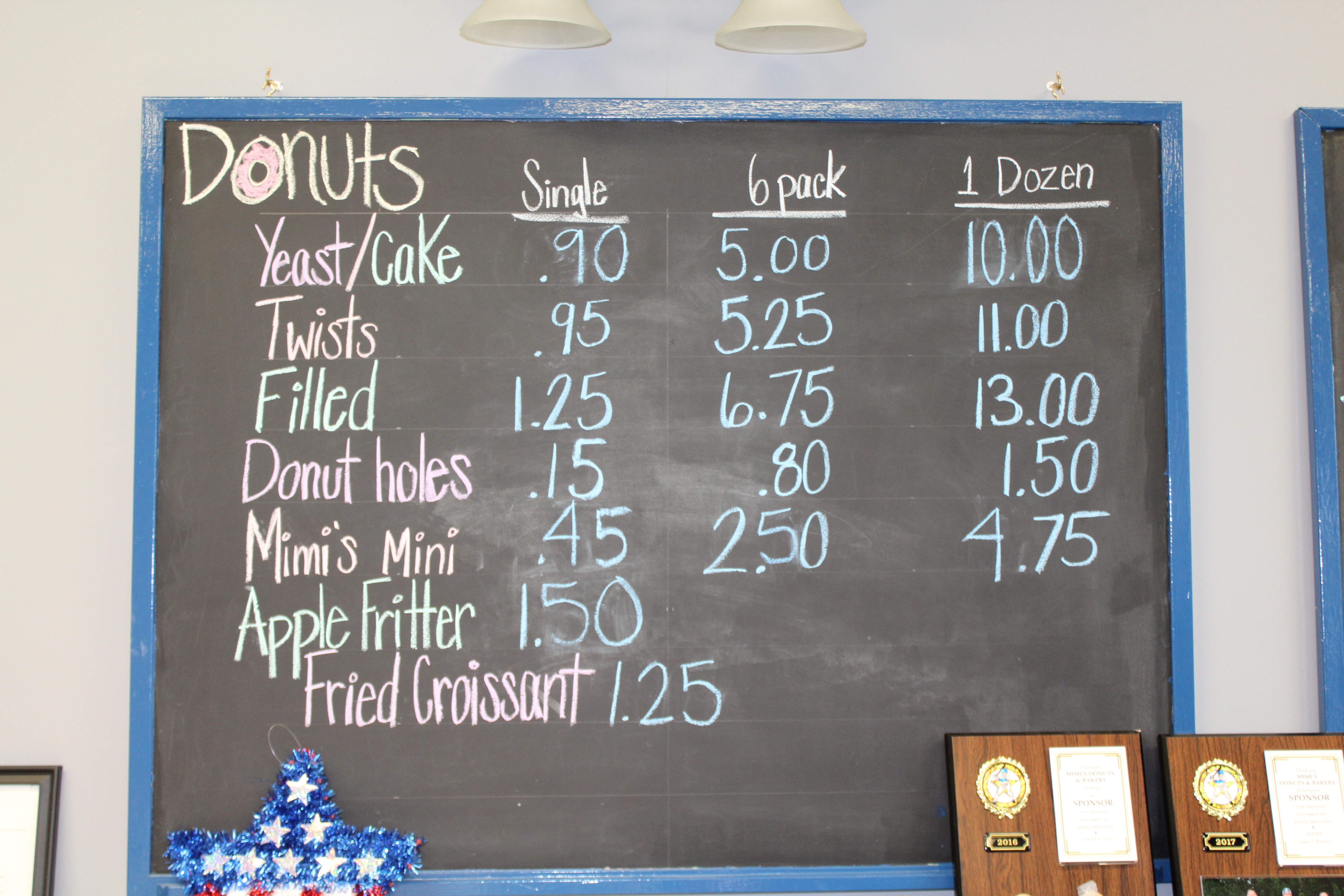 Location: 2267 Millville Ave, Hamilton, Ohio
Parking: Yes, parking lot
Phone: (513) 280-1911
Seating: Indoors (minimal, few bar seats) and outdoor tables
---
Kelly's Bakery
When you walk into Kelly's Bakery, you are met with retro decor, a giant chalkboard with Wonder Woman (it changes) and a line out the door. Oh, can't forget to mention the smiling faces behind the counter. Diana, the owner, and her daughter Kelly were both out, but, that didn't stop their co-workers from letting us in on their story, which was told with much excitement. You could tell they love working their and believe in the donuts!
The bakery is named after the owners daughter, Kelly. I love that. Even though her donuts taste like she has been perfecting and working in the shop for years, she hasn't. While she has always loved to bake, spending the holidays baking all sorts of sweets with her family – she didn't work in the food industry. She spent 20 years in a  completly different field, where her co-worekrs happily enjoyed her bringing in her homemade goodies. On the other hand, her daughter, Kelly, actually worked in the donut field – for her Aunt, Diana's sister, at the Donut Spot – also featured on the donut trail. Eventually, she asked her sister if she wanted to open up a second shop. Her sister told her she was just too busy and that's what led her to open her own shop. Now you might be wondering if there is any 'bad blood' because of the competition. Nope! None! Her sister actually helped her open the bakery. I wonder how I can get a seat at their Christmas dinner?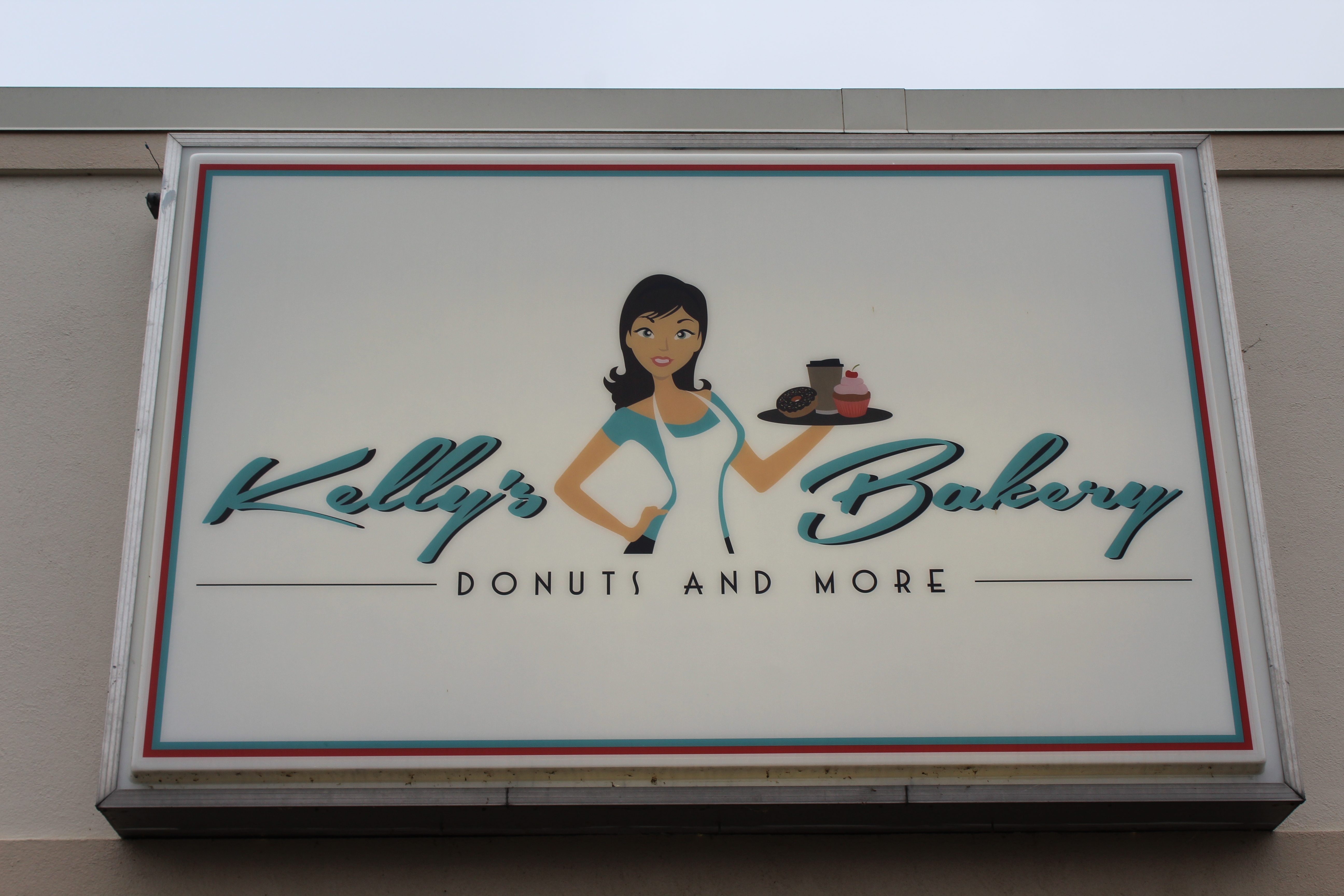 Location:  1335 Main Street, Hamilton, Ohio.
Parking: Yes, parking lot.
Seating:  Indoors, 2 small tables with 2 chairs at each
Phone: (513) 285-4040
---
Jupiter Coffee & Donuts
While we didn't spend nearly as much time at Jupiter as we did the other shops, one thing that really stood out was the fact that they had a huge coffee selection. They actually roast their coffee weekly on site – truly a one-stop shop for everything we need to get our day started. You could tell they have a big following. I can't count the number of times customers came in and either new what they wanted right way or one of the employees already knew what they would want!
Location: 5353 Dixie Highway Fairfield Ohio 45014
Parking: Parking lot
Seating: Multiple tables and chairs + bar seating.
Phone: (513)-829-7674
---
Now you're probably wondering what happens when you finish the trail and complete your passport, right? Don't worry. You not only get the bragging rights that you finished, you get this super cool shirt verifying that you devoured the trail.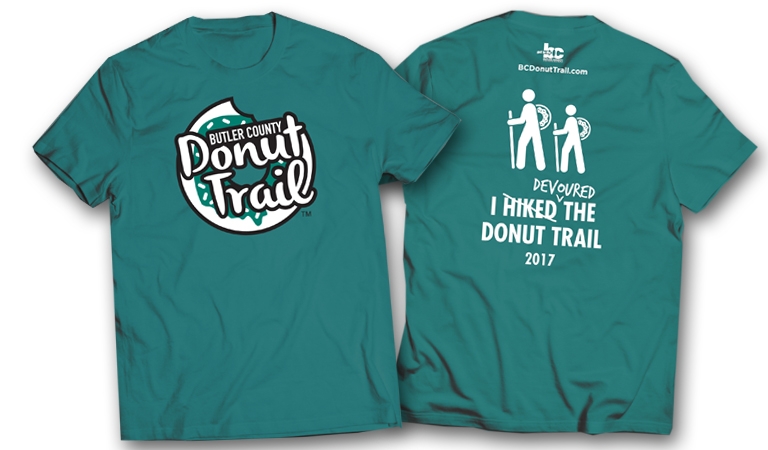 ---
Tips
While the first shop might have the most delicious donuts you've ever tasted, pace yourself! We fell in love with Mimi and her donuts on our first stop. We ate as many as we could and it left us a bit stuffed for the rest of our journey.
Check the hours of the shop prior to going. Many of the shops will close for the day once they sell out, even if its before their normal closing time. You may want to check Facebook for any daily updates.
Don't wear jeans or anything with a button! You need SPACE for all the donuts. I suggest elastic pants and/or a dress!
Plan your trip out before (map below). You do not have to complete the trail in one day or even one weekend. No reason to rush it! Well, unless your really want the shirt! I suggest taking some extra time to explore Hamilton. They have made great improvements over the last five years. Lots of cool shops to explore.
Once you finish the donut trail, throw that shirt on and you will receive discounts throughout Butler County, including EnterTRAINment Junction, InsideOut Studio, Pyramid Hill and The WEB.
JUST DO IT! Get it on the calendar. This is the perfect road-trip for families, couples, friends, etc.. Less than two hours away from Columbus. I guarantee you'll be surprised at everything Butler County has to offer. I know I was.
---
Donut Shops
Jupiter Coffee and Donuts | 5353 Ohio 4, Fairfield, 513-829-7674
Kelly's Bakery | 1335 Main St., Hamilton, 513-285-4040
Martin's Donuts | 4 W. State St., Trenton, 513-988-0883
Milton's Donuts | 3533 Roosevelt Blvd., Middletown, 513-422-8612
Mimi's Donuts and Bakery | 2267Millvile Ave., Lodder's Hanover Township, 513-280-1911
Oxford Doughnut Shoppe |  120 Locust St., Oxford, 513-523-9911
Ross Bakery | 4421 Hamilton-Cleves Road, Ross Township, 513-738-3129; and 1051 Eaton Ave., Hamilton, 513-894-9016
Stan the Donut Man | 7967 Cincinnati-Dayton Road, Lakota Shopping Plaza, West Chester Township, 513-759-0016
The Donut Spot | 5148 Pleasant Ave. (U.S. 127), Fairfield, 513-863-7033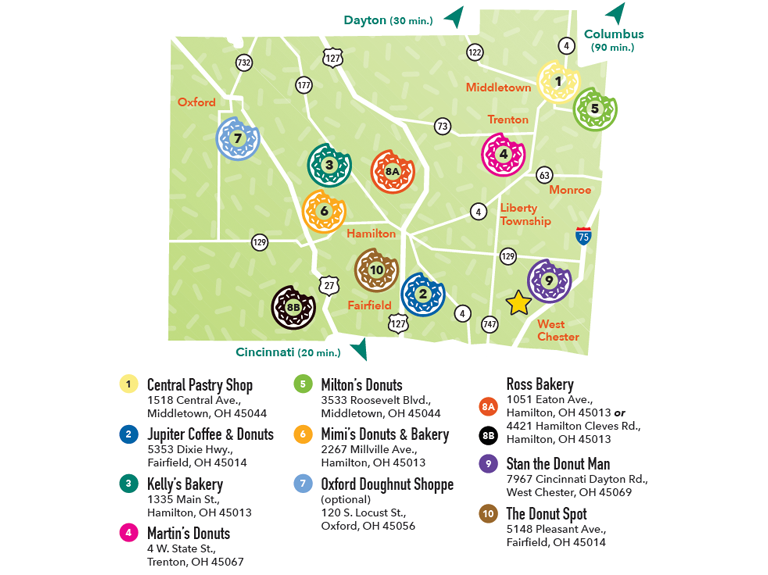 We can't wait to go back and visit the other shops. Anyone up for a road trip? I promise it'll be sweet.
For more ways to explore Butler County, check out the Butler County Visitors Bureau website. It is filled with a ton of resources to get your trip planned, whether its a day or a weekend.
I received compensation in exchange for writing this review. Although this post is sponsored, all opinions are my own.