IKEA. A name we all know. A store we've never had. Well, until NOW. This Wednesday, June 7th, all of our shopping (and some food — hello Swedish meatballs) dreams come true when their 44th store opens right here in Columbus. I have to admit I am a bit nervous. Not only are we less than 10 minutes from IKEA, we are also on the house hunt (meaning we will need to fill it with EVERYTHING from IKEA). This could be BIG trouble for my wallet.
While walking around, it wasn't hard to picture all of it in our future house. They do such a good job at staging things that make sense for you and your family. It's not like when you walk into Target and you think you could use something. IKEA shows you HOW to use everything and WHY you need it! Their marketing is on point. Everything they do (and say) is so well thought out.
Last week, I was lucky enough to get a Media sneak peek invite and luckier that my boss moved around his schedule to allow me to go to it. The first thing they did when we arrived was give us our badges. Second thing they did? They fed us an INCREDIBLE spread. Leave it to me to whisper the obvious question, "Where did this food come from? Is this IKEA food?" Well, yep, (duh), all the food was from IKEA. While I have been to IKEA a few times, I have never tried the food. BIG MISTAKE. It was INCREDIBLE!!
Let's talk about how gorgeous the dining area is, ya know the space where all the delicious food came from. It is seriously swoon worthy. Simply gorgeous. I wasn't kidding when I said it may be our next date spot. Listed below are a few perks of the restaurant from the press release.
The IKEA Restaurant opens 30 minutes earlier than the store for a full hot breakfast, including scrambled eggs, potatoes, turkey sausage and Swedish pancakes for only $2.00.
The 450-seat restaurant also offers a diverse menu featuring lunch, dinner, snacks and dessert, including Swedish specialties such as the popular IKEA Swedish meatballs (as well as chicken or veggie versions), seafood plates, pasta, chicken, salads, sandwiches, and vegetarian dishes too.
Menu choices for kids include a child's portion of Swedish meatballs, chicken fingers or macaroni and cheese, while baby food and bibs are available for even younger visitors.
The Swedish Food Market offers Swedish delicacies, snacks and treats, and frozen Swedish meatballs (the same ones available in the Restaurant) to purchase and then prepare at home.
The Exit Bistro serves hot dogs, pizza, cinnamon buns, frozen yogurt, sundaes and beverages.
Now, lets head back to the entrance. You walk, well, go through revolving doors. Let me just tell you, they totally build up the suspense. They are huge and they are SLOW. I found myself wanting to push through them to get inside. They definitely build up the anticipation.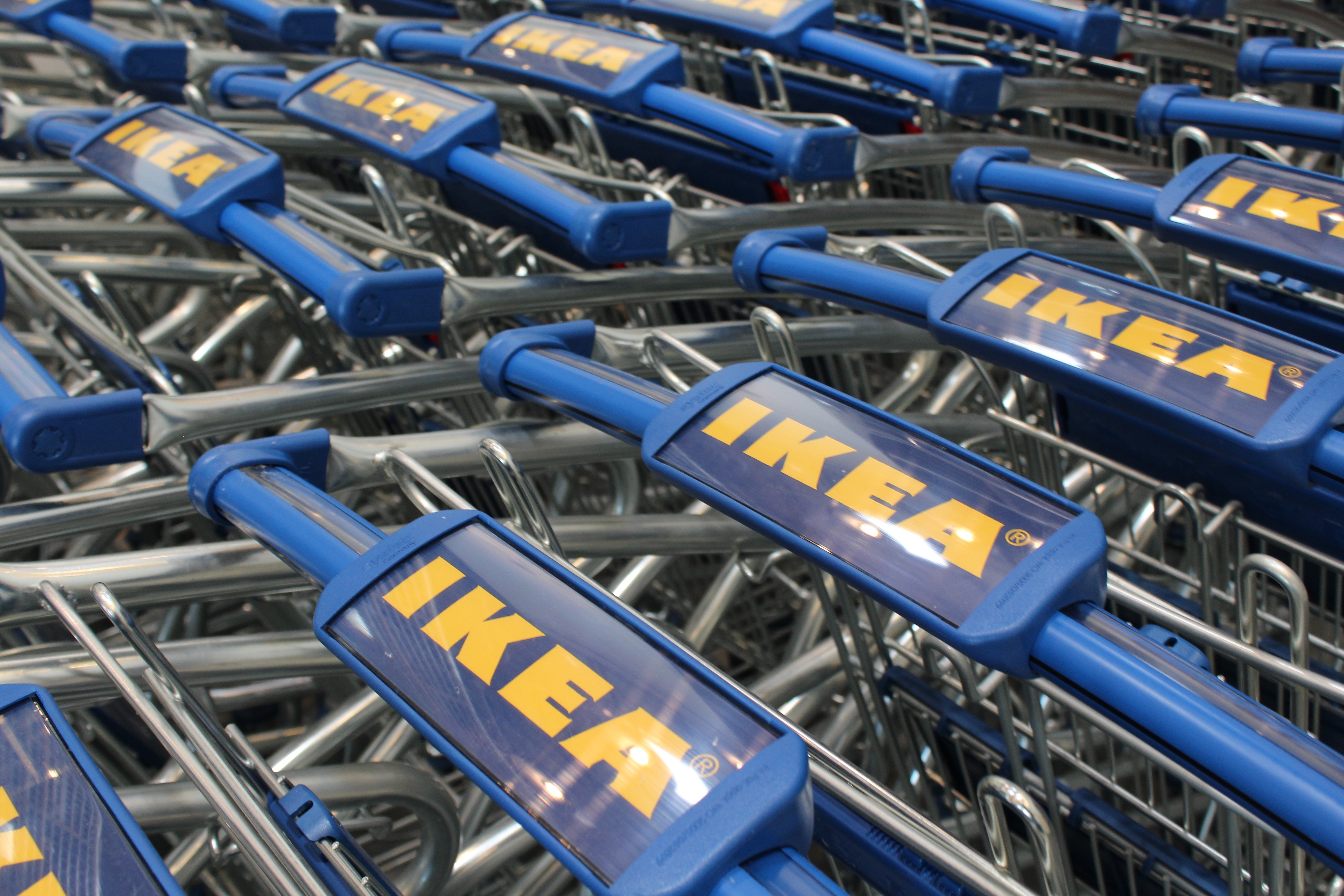 Before you walk upstairs/go up the escalator/take the portal to all of your housing dreams, you will find the kids area, known as 'Småland,' to your right.  This space had me wishing I was a kid (37″ – 54″) again! The entire area replicates the look of a typical Swedish farmhouse and forest, where kiddos can play and climb on make-believe rock walls, pine trees and a wooden shoe, and join puppet shows and other interactive activities.
Filled with fun activities for the kiddos, it serves as a tool to help parents shopping trip become a little bit easier. Each kiddo can stay in their for 60 minutes, unless you have an IKEA family card (FREE loyalty program, click on the link to join or do it at the store), you get an extra 30 minutes of care. That means 90 minutes of FREE (well, unless you count the cart full of stuff you purchase) childcare.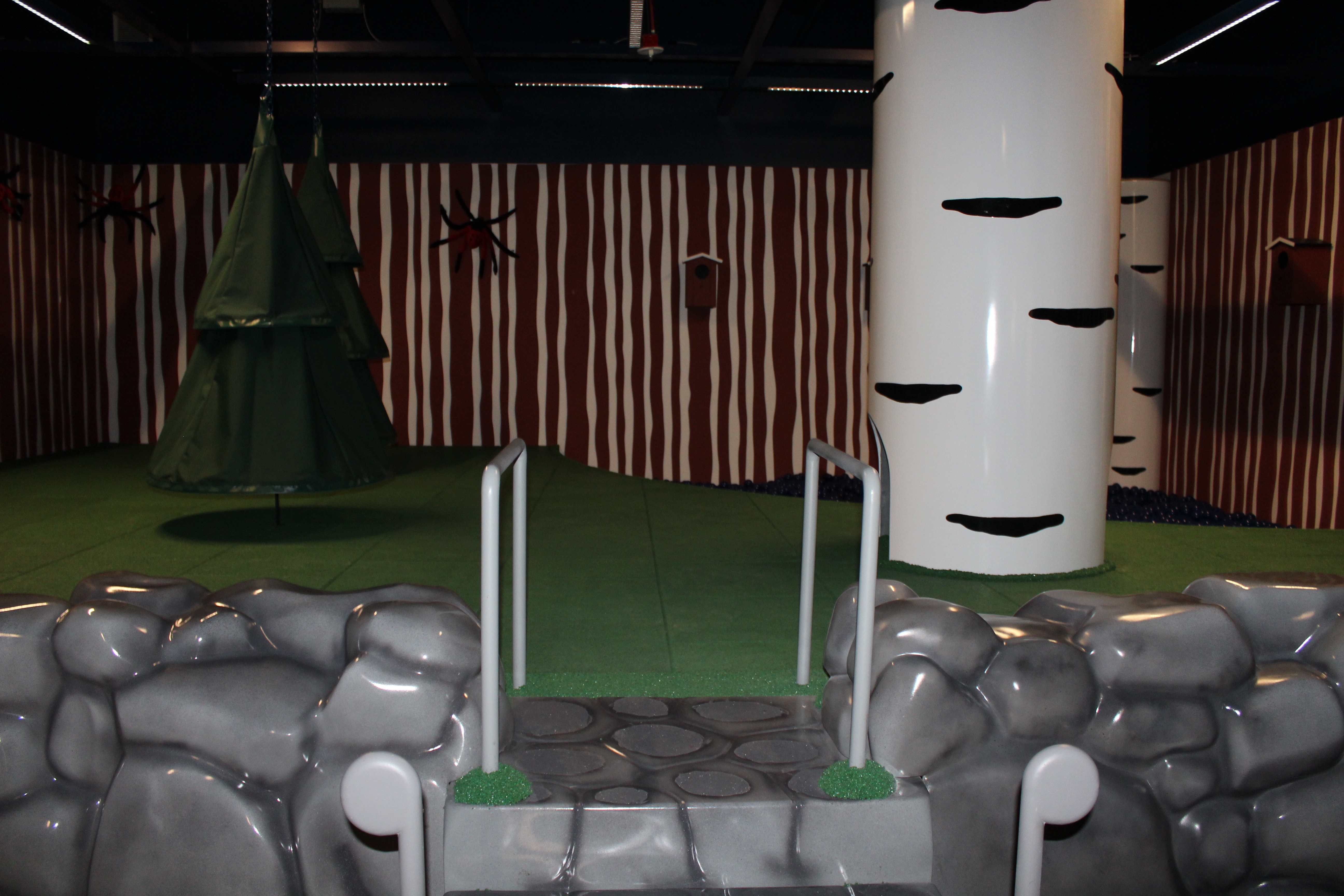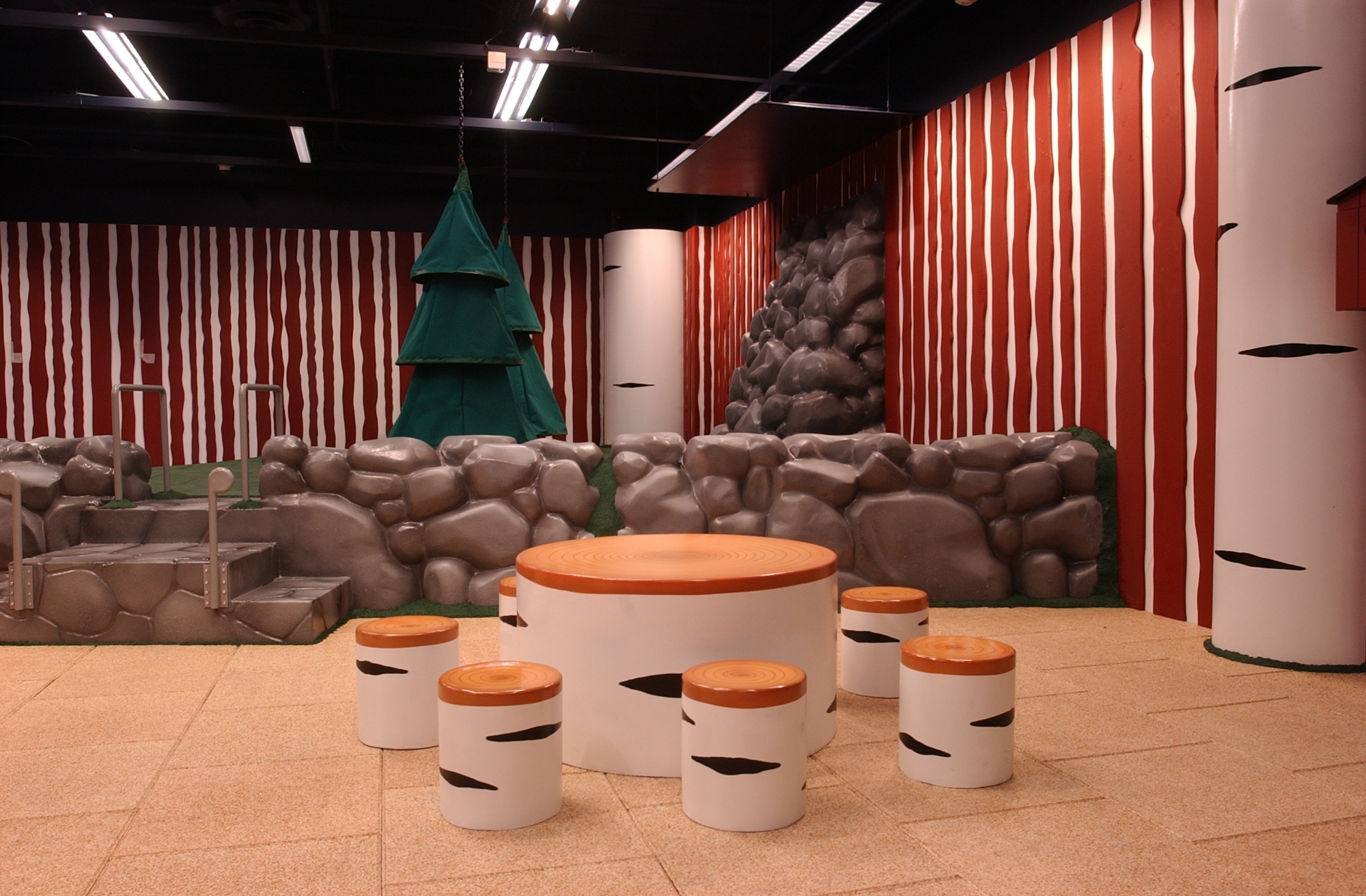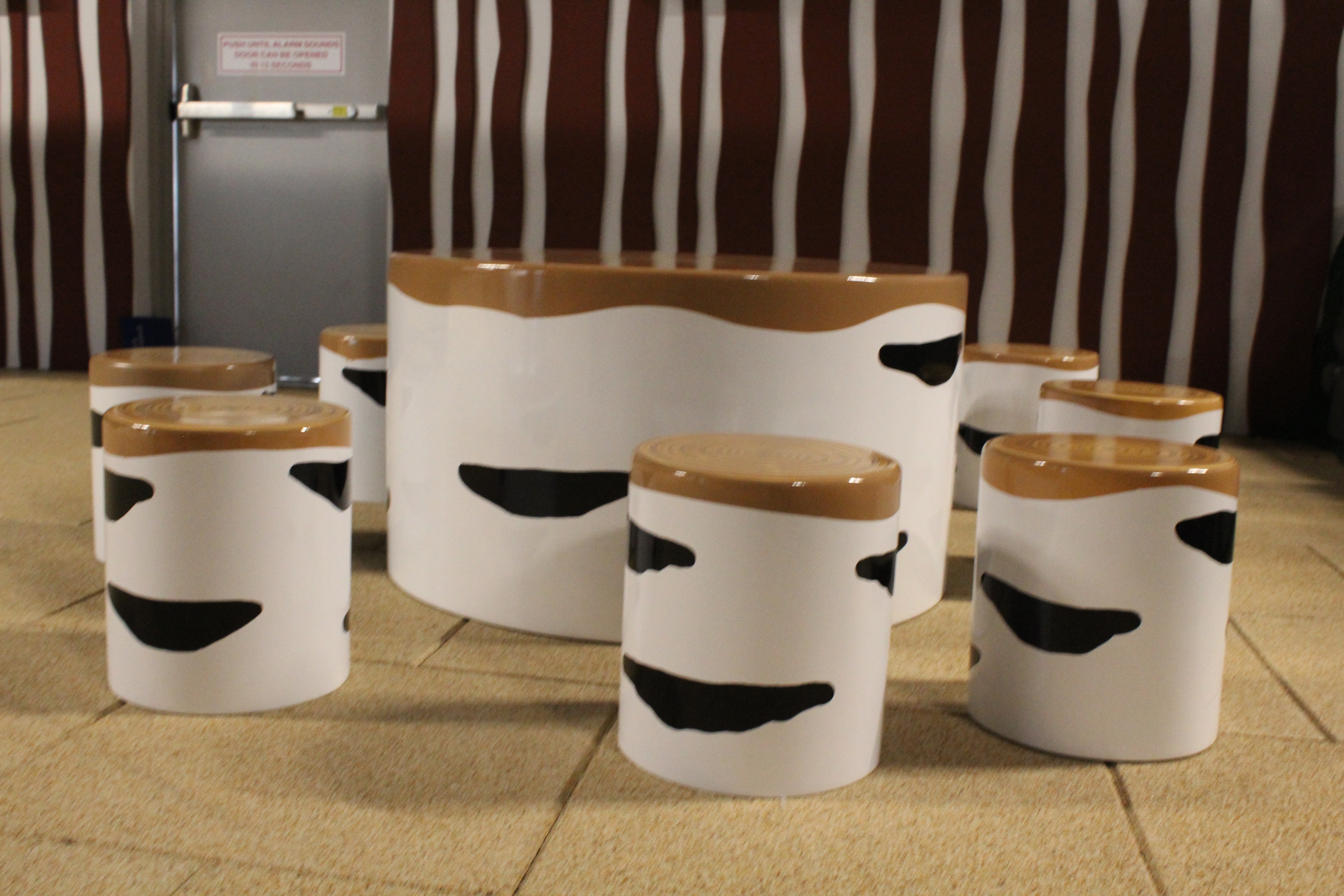 In case your kiddos want to participate in the shopping experience (or are a bit too small to stay), don't worry, they have additional play areas throughout the store. Something I thought was really well thought out was the play areas near the "decision making" stations (kitchen plans, blinds station, etc). Helps to keep the kiddos distracted. 😉
(Insert picture I didn't take because I was in awe of everything around me.)
One of my favorite parts of IKEA is the fact that the create rooms for you. Sometimes its hard to picture everything going into your house or to pair different things together. They take all the hard work out of it for you. Even better? Lets say you're getting married or having a baby, you can add an entire room onto your wish list. Forget Target and Bed, Bath & Beyond. Their wish lists having nothing on IKEA! Basically, you add that you want a certain room (everything in it) and people can donate to the room. Once the price is met, it's yours! How cool! Like I said, taking all the hard work out.
If you've been to an IKEA, you know the pre-designed rooms aren't the only shopping experience. Below, on the first floor, you will find the marketplace. This (and the warehouse) is where everything you just saw upstairs is located of purchase. This is where you start putting everything into your cart. This is where your bank account starts disappearing. Just remember those $.99 items ADD UP and they add up very quickly.
I had to leave a bit early, which meant I didn't finish the tour. If you haven't been to IKEA, on the main floor, you will also find the self-serve furniture area. This is where you  collect flat packages that are easy to take home!
I wish I could share EVERYTHING with you that I saw in  the store, but, I don't want to take away from your first visit to the new location. Learning first hand everything that goes into the planning of IKEA, learning they what/why/when/where/how of it all has deepened my love and appreciation of the store.
They did an incredible job and while the traffic may be insane the first few weeks, it will be well worth it.  The store is GORGEOUS and I guarantee you will get lost in it. Whether on purpose or on accident, well, because its HUGE. I suggest grabbing a map when you walk in to help navigate. Also, don't fret, they have LED lights that shine arrows on the ground to help keep you on the right path. Plus, an employee is never far away to help you along your IKEA journey because well, it is a journey!
•••
•Details on Store Opening•
"Customers may begin lining up at 9 a.m. on Monday, June 5 – 48 hours before the store's opening at 9 a.m. on Wednesday, June 7. Ohio Lieutenant Governor Mary Taylor, Columbus City Council President Pro Tem Priscilla Tyson, Deputy Chief of Mission for the Swedish Embassy Göran Lithell, IKEA U.S. president Lars Petersson and store manager David Garcia will officially open the store." – IKEA
"The June 7 ceremony also will include Delaware County Commission President Jeff Benton raising the U.S. flag, Honorary Swedish Consul General for Malou Monago raising the Swedish flag and Westerville Mayor Kathy Cocuzzi raising the state flag of Ohio. Individual store coworkers will sing the respective American and Swedish national anthems, and "America the Beautiful" prior to the opening remarks. Entertainment for customers waiting in line will begin at 6 a.m. EDT on opening day. "Just as the IKEA store concept will introduce a new way of shopping for the home, we want customers waiting in line to visit our store to enjoy the unique experience too," said David Garcia, IKEA Columbus store manager." – IKEA
Wednesday, June 7
Rest Assured – The first 44 adults (18 & older) in IKEA Columbus on June 7, 2017 will receive a free EKTORP three-seat sofa, honoring our 44th U.S. store.
Take a Seat (And We Mean Take It!) – The next 100 adults (18 & older) in IKEA Columbus on June 7, 2017 will receive a free POÄNG armchair.
For the (Truly) Young at Heart – The first 100 children (17 & younger) in IKEA Columbus on June 7, 2017 will receive a free FAMNIG heart-shaped soft toy.
Pick a Card, Any Card – The first 2,500 adults (18 & older) in IKEA Columbus on June 7, 2017 will receive a random prize envelope with IKEA Gift Cards ranging from $10 to $250, or a "Buy One, Get One Free" cinnamon bun, hotdog or soft-serve frozen yogurt voucher.
Happy Birthday to You and Us – The first 100 adults (18 & older) bringing proof to IKEA Columbus on June 7, 2017 their birthday is the same as the store's will receive a gift card in the amount of $44, a tie-in corresponding to IKEA Columbus as the 44th U.S. IKEA store.
Enter our Home, Enter to Win – From June 7 through June 11, 2017, visitors to IKEA Columbus may enter a drawing to win one of ten $1,000 IKEA Gift Cards through the IKEA FAMILY loyalty program. IKEA is matching the prizes (a total of $10,000) with a donation of home furnishings to The Homeless Families Foundation, a local organization that housing assistance and educational services to homeless families living in Columbus.
 Thursday, June 8
Sleep Like Royalty – The first 44 adults (18 & older) in IKEA Columbus on Thursday, June 8, 2017 will receive a free queen-sized HAUGESUND mattress.
Cozy Comfort – The next 100 adults (18 & older) in IKEA Columbus on Thursday, June 8, 2017 will receive a free ALINA "sleep set" of bedspread and cushion covers and two FJADRAR pillows.
Kid's Best Friend – The first 100 children (17 & younger) in IKEA Columbus on June 8, 2017 will receive a free GOSIG golden dog soft toy.

Friday, June 9
Cook (& Store) Like a Pro – The first 44 adults in IKEA Columbus on Friday, June 9, 2017 will receive a free 365+ 6-piece cookware starter set and a FORTROLIG food container storage set.
It's in the Bag! – The next 44 adults (18 & older) in IKEA Columbus on Friday, June 9, 2017 will receive freezer bags filled with five different Swedish meals, complete with beverages and desserts, from the store's Swedish Food Market.
A Cold Sweet-ish Treat – The first 100 children (17 & under) in IKEA Columbus on Friday, June 9, 2017 will receive a voucher for a soft-serve frozen yogurt that day at the Exit Bistro.

Wednesday, June 7 – Sunday, June 11
• Play Big If You're Little – Balloon artists, entertainment and face-painting will enhance the family-friendly fun at IKEA Columbus from June 7 through June 11, 2017.
•••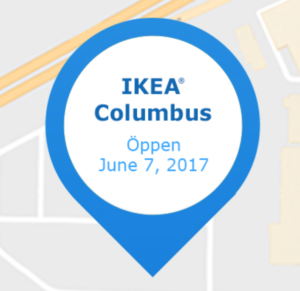 1900 IKEA WAY, Columbus, OH 43240