Each Most years, my family and I pick a Thanksgiving day 5k to participate in. It's such a fun way to kick off the day, donate to a charitable cause and burn a few calories. According to Running USA, in 2016, there were 726 races on Thanksgiving day – with over 961,882 finishers. So, see, it's not just my crazy family who love getting up and getting a run in before the day of watching football, devouring your grandmas pumpkin pie and indulging in the post-turkey snooze.
Lucky for us, there are a decent amount of races sprinkled throughout Columbus – meaning you won't have to drive too far! Also lucky, registration is STILL open, including one which is donation based!
---
"The 'Original'  Chase Thanksgiving Day Turkey Trot will take place on November 23rd at The Shops at Lane Ave in Upper Arlington. Proceeds of the event will benefit Easterseals and and their Early Intervention program which provides hands-on, comprehensive support to help children reach their full potential--regardless of challenges, needs or disabilities"
Location: The Shops at Lane Avenue, 1675 W Lane Ave Columbus, OH US 43221
Price: $40 or grab your family & friends and register together — groups of four or more participants qualify for the $5.00 off (per person) discount. That's $35 per entry!
Register: Click here. Ends on November 22nd at 5:00pm
Start Time: Tot Trot – 8:30am, 5k – 9:00 am, Walk & Talk – 9:10a
Prize: EVERYONE takes home a pumpkin pie! The top three age group finisher's in the 5-mile race will receive handsome finisher awards. 15-under, 16-19, 20-29, 30-39, 40-49, 50-59, 60-69, 70+. Awards will be send by first class mail with your name engraved. Award winners can check our website following the race to where you placed. All finishers receive a custom Chase Columbus Turkey Trot medal to commemorate race day. 
Kids Race: Tot Trot – 100 Yard Dash for Young Racers—Tot Trot participants are also invited to run or walk with adults at no extra charge in the 5 mile or 2 mile events! Start Time: 8:30 Price: $5
Parking: There is limited parking at The Shops on Lane Avenue as well as neighborhood side streets. Look for "flaggers" to assist you when you arrive.
Packet Pickup: Click here for details.
---
This is the one my family and I are participating in this year! See you there?
Location: Use the address for Office Max (1000 Sunbury Rd, Delaware, OH). The main gathering area will be just behind it.
Price: Nov 2 & after $40, Nov 20-22  $44
Register: Click here to register.
Start Time: Course Opens- 7:30 a.m. Move to Start Line- 8:15 a.m.
Prize: The top 3 females and top 3 male finishers will receive an award, and the first 800 finishers receive a pumpkin pie!
Kids Race: Little Gobbler – ages 8 and under A short race, led by our mascot "Gobbler," is for kids ages 8 and under. Each child will receive a race number, a ribbon, and a t-shirt (if registered by Nov 14th). We will have 2 Little Gobbler Races, one for ages 4 and under, and one for 5-8.  $15 since it safe nov 2
Parking: Park in the Kohl's/Office Max plaza at Glenwood Commons in Delaware, OH.
Packet Pickup: November 20-22 during these times: 6:30am-8:30am, 11am-1pm and 4pm-7pm. Packet pick upper all of these time slots is held at New Beginnings UMC at 385 E. William St, Delaware OH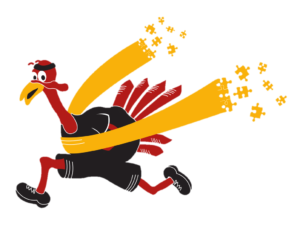 ---
Location: The Club at Corazón, 7155 Corazon Dr, Dublin, OH 43016. The Flying Feather Four Miler winds around a brand new loop course through the Glacier Ridge Metro Park It is an accurate four (4) mile course that is sure to please all!
Register: Click here.
Start Time: Start Times: 8:30 — Gobbler Chase / 9:00 — Four Miler
Prize: All runners and walkers 21 and over receive a race shirt, finisher's medal, hat, gloves, and a bottle of Villa Pozzi Wine for the Thanksgiving Table!
Kids Race: The Kids' Gobbler Chase, which begins at 8:30am, is a short gallop (less than a quarter of a mile) for children age 10 and under. Former Ohio State Buckeyes football players will start the race. Parents are encouraged to participate and run with their kids. Each participant receives a Official Event T-shirt, Official Finisher's Medal and a "Hog Mollies" book courtesy of the Second & 7 Foundation, the official benefitting charity of the Flying Feather Four Miler.
Parking: They have three parking lots available for parking on race morning. Shuttles will be running from all three parking lots from 7am until 11am. Dublin Jerome High School, Deer Run Elementary/Willard Grizzell Middle School and Manley Road Grass Parking Lot. See parking map
Packet Pick-up: November 19th through November 22nd during regular business hours at Fleet Feet Sports, 1270 East Powell Road, Lewis Center, OH 43035, 614-846-5625. For directions please visit www.fleetfeetcolumbus.com or call 614-846-5625.
Sunday, November 19th, Noon–5pm
Monday, November 20th, 10am–8pm
Tuesday, November 21st, 10am–8pm
Wednesday, November 22nd, 10am–8pm
---
"Each Thanksgiving we look for opportunities to give back. The Powell Turkey Trot is no exception. In addition to our book drive and making a financial donation to the A Kid Again organization, we will also be supporting the Olentangy Elementary School's art program. Upon completion of the Wobble 'Till You Gobble kids race the kids will be rewarded with a finely crafted award, created by our local elementary students." - Powell Turkey Trot
Location: Village Green Pavilion, 47 Hall St, Powell, OH 43065
Register: Click here. Fashionably Late Registration Available Through 11/14 $45, Race Week Registration
Available Through 11/22 $50
Start Time: 7:15am – Book Drive Opens 7:15am, Wobble 'till you Gobble Kids Fun Run 8:00am, Powell Turkey Trot 4-Miler Starts 8:30am
Prize:  To show their appreciation for your attendance and in honor of your accomplishment, each participant 21 and over will receive a large bottle of Sideswipe Brewing's tasty fall beer offerings. Participants in the 4-miler under 21 will receive custom socks.
Kids Race: Wobble 'till You Gobble Kid's Fun Run: Brought to you by Gillespie Law Offices – they're providing a spectator friendly .25mi Kids Fun Run to start of our day.  The race is completely contained within the Village Green Park, and is viewable for spectator the entire way.  The race is geared towards our younger participants (ages 10 and under), and they will receive a shirt, finisher award, and snack upon completion.
Parking: Parking 47 Hall St. Lot is open. South Lawn at Village Green Park (Weather dependent like Powell Festival). Village Academy – They have graciously opened their lot to participants. Neighborhood Parking – Any legal parking location within the city.
Packet Pick-up: There will NOT be any race day registration or packet pickup. You must register online by Tuesday, November 21 or in person during the packet pickup on Wednesday (If event has not sold out) Location: Yabo's Tacos, 4046 W Powell Rd, Powell, OH 43065 Date: Wednesday 11/22 Hours: 11:00am – 8:00p
---
"We are hosting a Thanksgiving Day family 5k race as a fundraiser. This race is being held in association with Life Impact for Eternity as a fundraiser to support Camp Monty, which is a faith-based day camp for underprivileged youth in the country of Montenegro. The camp has been held for 11 years, and the campers look forward to this one week every year. It has provided a positive environment for the inner-city youth, as well as hope for a country that has been without hope for many years. This camp would not be possible if not for the volunteers that run it. All proceeds will be used to send staff to Montenegro to support the camp and ministry there." - Montenegro Fund Run
Location: Groveport Recreation Center, 7370 Groveport Rd, Groveport, OH 43125
Register: Click here. Registration ends November 23, 2017 at 7:45am EST
Price: $25 Adult/$10 Kids (8-14), Under 8 runs free with a parent but no timing or prizes
Start Time: 8:00am
Kids Race: Same as adult race.
Packet Pick-Up: 7:15 – 7:45am day of race
---
"Our race is all about family, giving back, and having fun.  There is no official race fee.  You can give as much or as little as you want. 

Our goal is to feed as many families in Central Ohio as we can – and you can help.  You can help by running our race, spreading the word, and by making a donation.  You decide on the donation – and how many meals you want to provide. 

Let's make a difference."
Location: ​Both events take place at Market Square in New Albany, on Thanksgiving day morning (November 23rd, 2017)
Register: Click here to register.
Price: There is no official race fee.  You can give as much or as little as you want.  In order to get a t-shirt, you have to make at least a $20 contribution (registration fee's and/or donations are considered 'contributions').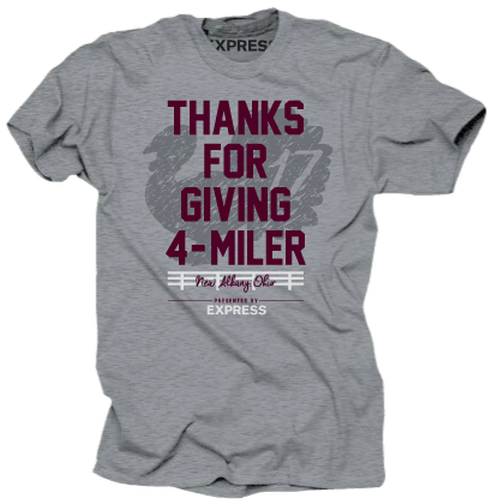 Start Time: Opening Ceremony : Starts promptly at 8:00, Kids race (200 Meter) : Starts promptly at 8:15 a.m., The Thanksforgiving 4 Miler : Starts promptly at 8:30 a.m.
Prize: Top three overall men and top three overall women receive a Second Sole gift certificate. Top three overall men and women in each age group receive a pumpkin pie. Every participant of (only) the kids race receives a finishers medal! 
Kids Race: The kiddos will start right at 8:15am. All kids are encouraged to bring canned goods
Packet Pick-Up: They've partnered with Second Sole for their events packet pick-up. Please note Second Sole does have modified business hours due to the holiday, packet pick-up hours are as follows: Tuesday, November 21st : 10:00 a.m. – 8:00 p.m. Wednesday, November 22nd : 10:00 a.m. – 6:00 p.m.
---
"This is the 6th Annual Thanksgiving Wattle 5K Run/Walk in Grove City, Ohio on Thanksgiving Day Morning, November 23, 2017, 9am. The 5K Run/Walk was established to allow families and friends to come together on this special day to celebrate and give thanks for life and all that comes with it. At the same time we selected the Grove City Food Pantry as our local charity to support. We wanted to help collect food and raise monies for the hungry of the community. Last year this event raised $21,000 and helped collect 1500 lbs of food items for the Grove City Food Pantry on Columbus Street."

NEW THIS YEAR IN 2017: Turkey Leg 100 (ADAPTIVE COURSE RUN FOR THOSE WITH DISABILITIES PREVENTING THEM FROM PARTICIPATING IN THE 5K)

Location: The 5K Run/Walk Event will Start/Finish on Lamplighter Drive, Grove City, OH.
Register: Click here. Registration ends November 22, 2017 at 9:00pm EST
Price: 5k: $35.00 Race Fee + $3.00 SignUp Fee, Primrose Children's Run: $15.00 Race Fee + $2.50 SignUp Fee
Start Time: 5k – 9:00am, Children's Run – 8:30am, Turkey Leg 100 yard run/walk 9:05am
Prize: Finisher Medallion to first 2000 sign ups who finish. Pumpkin Pies to top Male and Female Finishers and more. Kiddos will receive a T-shirt, Cookie, Juice, Happy Meal coupon, and a medal.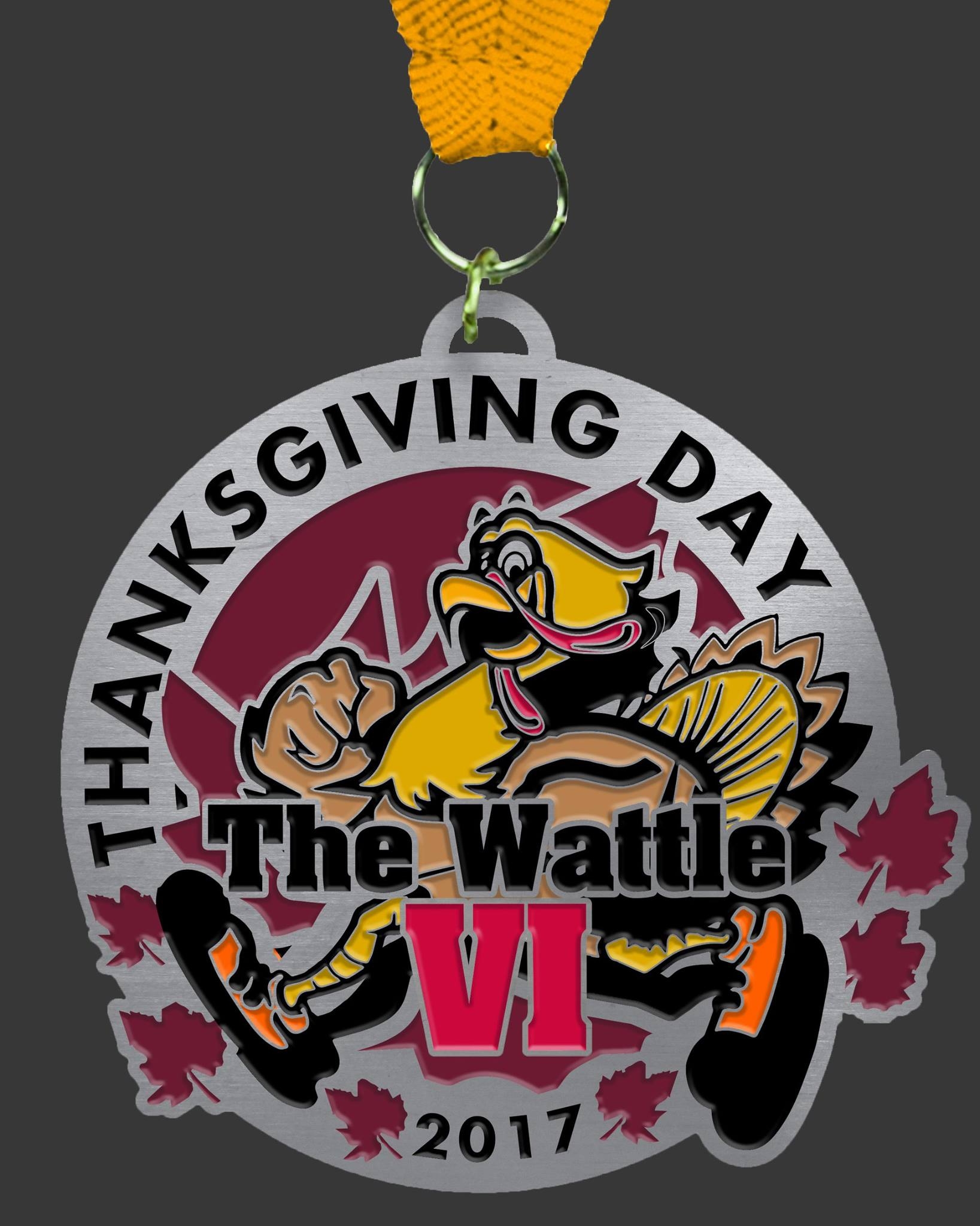 Kids Race: Primrose Children's Run 100% of Primrose Children Run Race fees will be donated directly to the Grove City Food Pantry. On the day of the event, finishers will receive a medal, a juice packet, and a cookie. There are two different races for them – split up between ages.


Packet Pick-Up: Starts on Sunday evening, November 19th through Thursday morning, November 23rd at AMC T heatres 14, 4218 Buckeye Parkway, Grove City, Ohio. Sunday, November 19th through Wednesday, November 22nd evenings will be from 6-8pm. Thursday morning, November 23rd, Thanksgiving will be from 7-8am. There will be race day registration also. Cash Only. $40/entry
Facebook Event Page
---
If you've never participated in a Thanksgiving Day race, I suggest it. The environment is filled with such great energy. Everyone is out there with their closest friends and family, thankful for the time they're getting to spend together and the happiness is contagious! Plus, you get a medal at the end and hopefully a pumpkin pie.
Will run for pie? Yes, I will!
I hope everyone has a Happy Thanksgiving!!