We decided we need a quick overnight trip and lucky for us, Ohio is filled with tons of different options. We went with the easy option and chose Cleveland. Easy drive and we knew we wouldn't have to to work hard to fill our time with unique spots and more than likely we would stumble upon most of them. The only real work we had to do was find a spot to stay.
We only had 26 hours, but, we made the most of it!
Drury Plaza Hotel 
I went to Expedia and quickly found a spot – Drury Plaza Hotel. I chose this because it looked gorgeous, had a great history and well, it was pretty affordable for everything we were getting. The hotel is housed in the former Cleveland Board of Education building. and is one of the most beautiful hotels we have ever stay in.
Early that morning, before leaving, I received a notification from Expedia that our reservation had been cancelled. I was confused, but, re-booked. Everything was fine. When we got to the hotel, the employee at the front told us that he could see both reservations, but, we didn't actually have a reservation because Expedia had canceled. Grrr. That was frustrating. Lucky, the staff is AMAZING and they took care of us (and then some). He re-booked us, at a lower rate, in a KING SUITE. Forever a Drury customer. Exceptional customer service.
I highly suggest staying at this hotel. It was gorgeous. The staff was wonderful. Did I mention everyday, during HH, each guests receives 3 drinks (beer, wine, mixed drinks, pop, etc.) + food (normal hotel food, nothing fancy, but, great snack before going out). The location was perfect. We took a Lyft to Little Italy for $12. We walked to 4th street, where you will find food from chefs like Michael Symon, Jonathon Sawyer, and Zack Brue. You will find some of the best craft brews and cocktails in the city. Shopping. Entertainment. Everything.
You can see more pictures (and details) of the hotel here.
1380 East 6th Street | Cleveland, OH 44114
Phone: 216.357.3100
Ohio City is one of our go-to stops each time we are in Cleveland. We stumbled upon it last time we were visiting and fell in love. You will find restaurants, the famous Westside Market, micro-brewies to the well-known Great Lakes, art, culture and much more.
Ohio City, located just west of Downtown Cleveland and the Cuyahoga River, sits at the center of the City's Near West Side. Home to 9,000 residents, Ohio City is a complete urban neighborhood that can meet all your needs.
We didn't plan this, but, Ohio City was only 6-7 minutes from our hotel. I am not very familiar with Cleveland and it seems intimidating because the don't have 270 (which gets you everywhere at some point), but, the more times we visit – the less confusing it gets.
About a year and a half ago, we ventured up to Cleveland and stumbled across Townhall – giving us locally sourced & innovative bar bites, including great vegan options – and fell in love. Mostly with the milkshake you will see below.  Bonus: they have an amazing space, featuring a front and back patio in a very open environment.

Town Hall
1909 W 25th St, Cleveland, OH, 44113
Mon-Fri 11AM-2:30AM, Sat & Sun 10AM-2:30AM
(216) 664-1101
Mimosa flights and Scotch eggs are what bring us back to Market Garden Brewery each time. I feel like I do need to mention that they have a lineup o tasty, session beers like their award-winning Progress Pilsner, an organically hopped Citramax IPA, as well as Prosperity, their Bavarian style Hefeweizen, since 2011.  They also have a 35,000 square foot  Production facility that offers tours every hour, on the hour. However, with that being said, we don't really go for the beer – which seems like sin! But, their Scotch egg is perfect and I am a big fan of Scotch egg's. It is perfectly crispy and flavorful. While we haven't ever had incredible service, the Scotch egg is worth the trip! How many times can I say Scotch egg in one paragraph?
Mon-Thurs 4PM-2AM, Fri-Sat 11AM-2PM, Sun 10AM-3PM
1947 W 25th St, Cleveland, OH, 44113
(216) 621-4000
Stephen (husband) loves Great Lakes Beer. Last time we were in Cleveland, we went on a Sunday and weren't able to get a tour because they're closed. What do ya know, once again, we are going up on a Sunday and won't be able to check it out. I decided to check their website anyway. Well, much to our luck, Ohio City was having their very first 'Ohio City Festival' and that meant that Great Lakes was having a special, fall tour. Even better, they still had spots available and it was FREE! This was meant to be!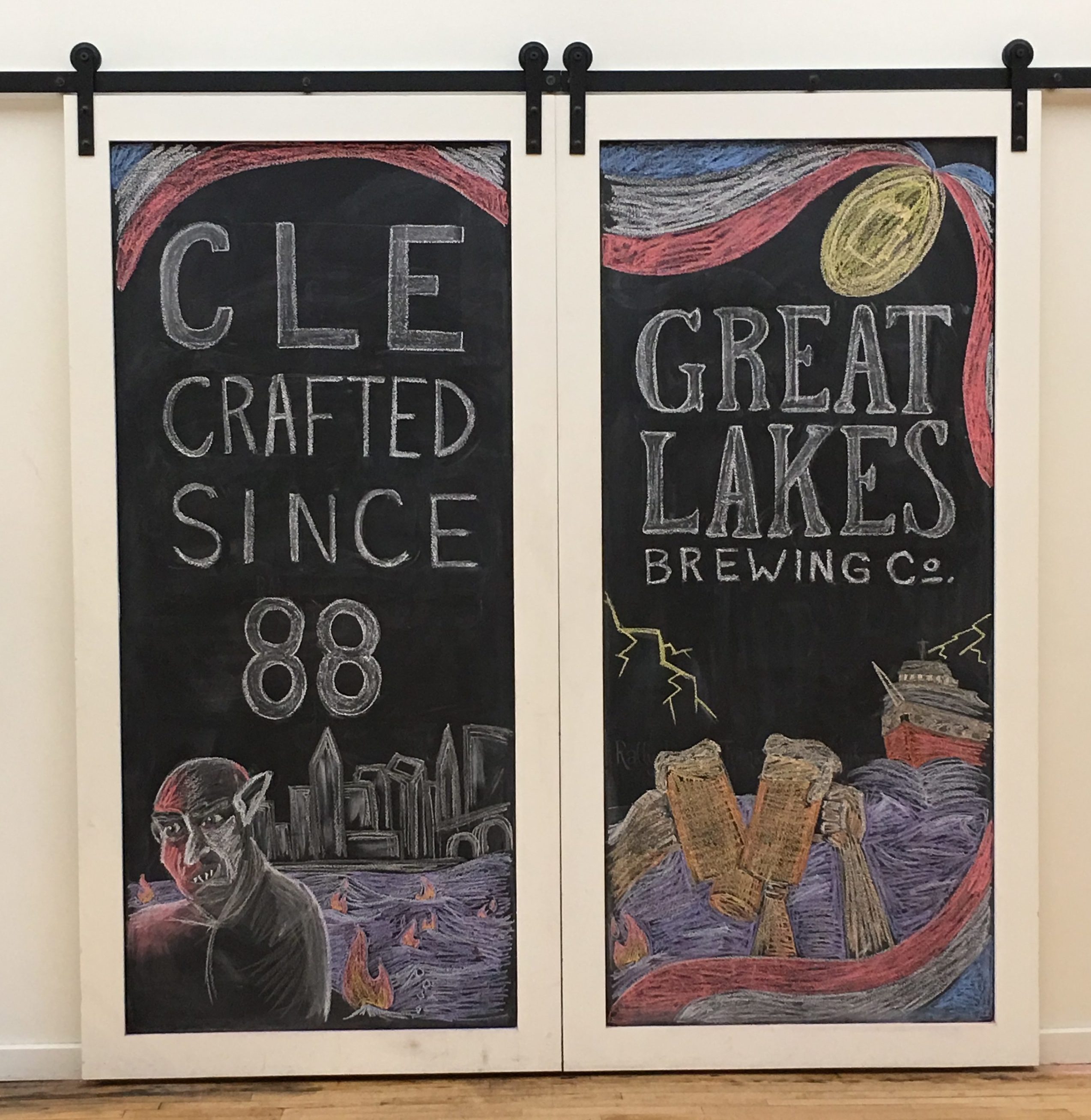 The tour was awesome. We started off in there Beer Symposium. They had fresh beer on tap for us to enjoy while all the guests arrived. In the Beer Symposium, you feel as if you're in a  mini museum with displays that showcase their heritage and unique company culture. Before heading over to the brewery, we met our tour guide and watched a short video on the history. While I am not a beer fan, I instantly became a huge fan of Great Lakes.
Two Irish brothers with limited brewing experience. A city that shuttered its last production brewery in the early 80s. A neighborhood in serious need of a facelift. In 1986 when Patrick and Daniel Conway opened their fledgling operation in Cleveland's Ohio City neighborhood, the odds were stacked against them. Fortunately, they surrounded themselves with a staff of passionate, knowledgeable people, and from the start committed themselves to bringing a sophisticated, diverse selection of craft beer to their home state. Two decades, multiple awards, and a whole lot of stories later, Pat and Dan Conway celebrate over two decades of brewing exceptional beer for their adventurous and discerning customers.
You can read more about the history and their company here.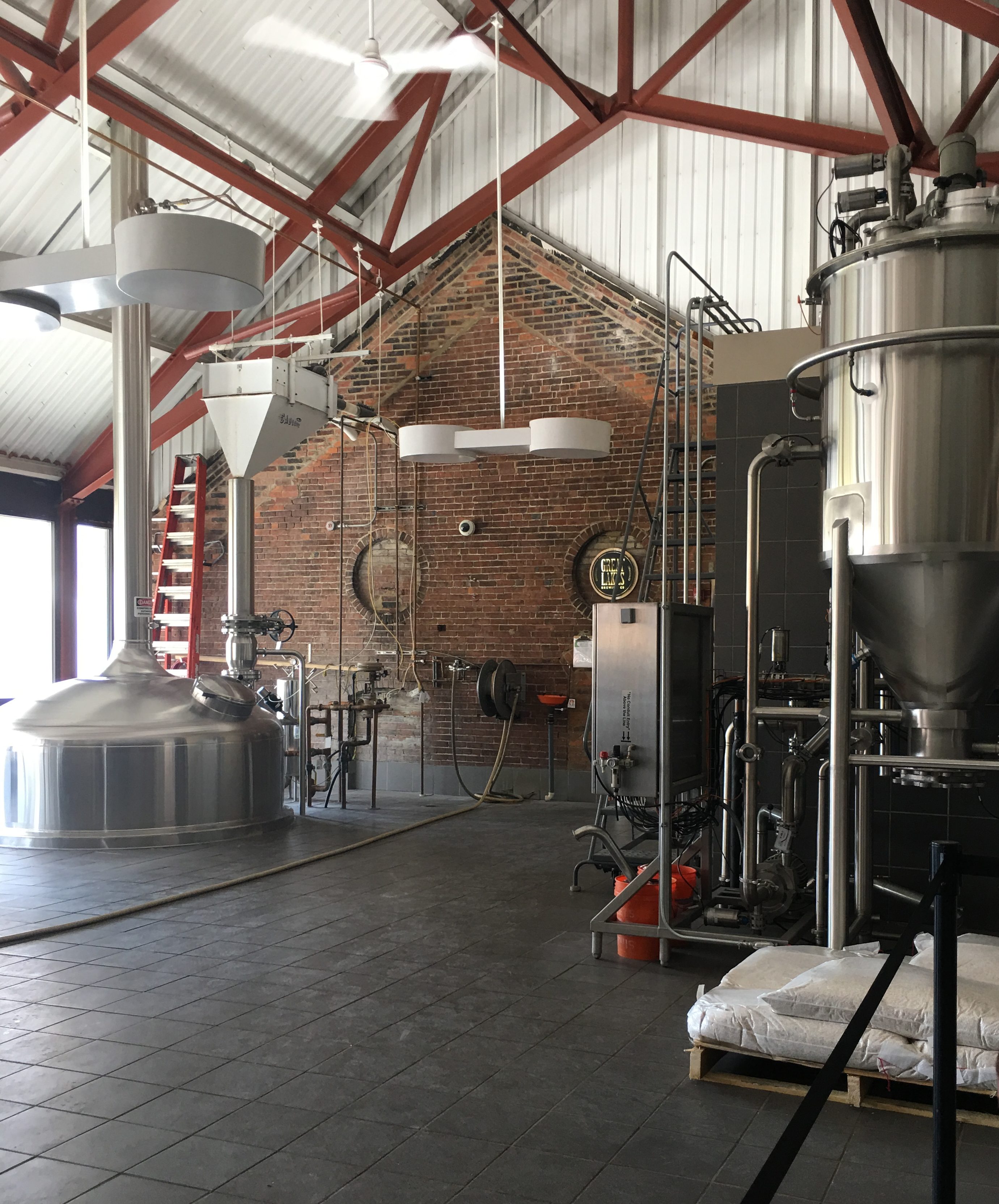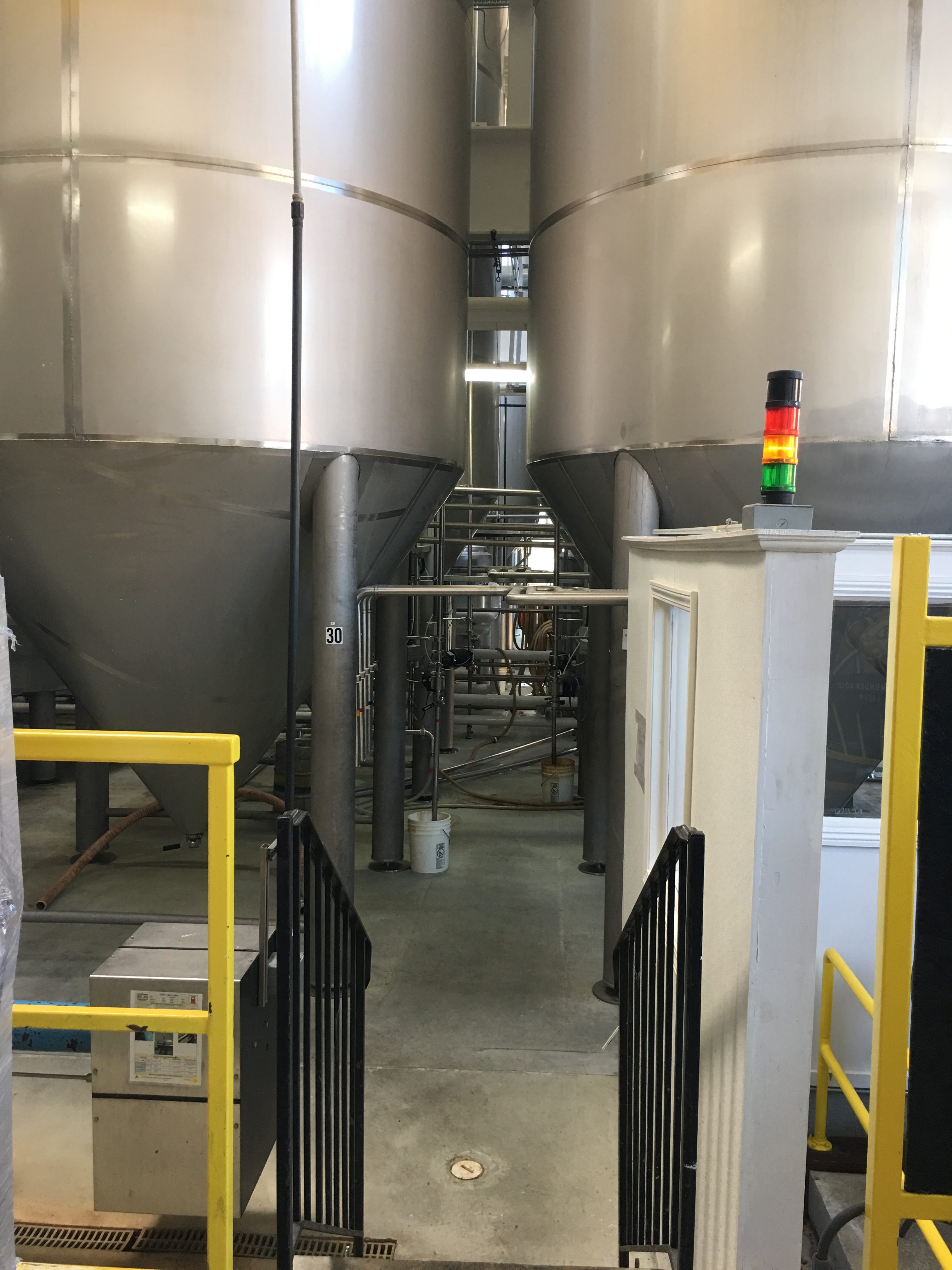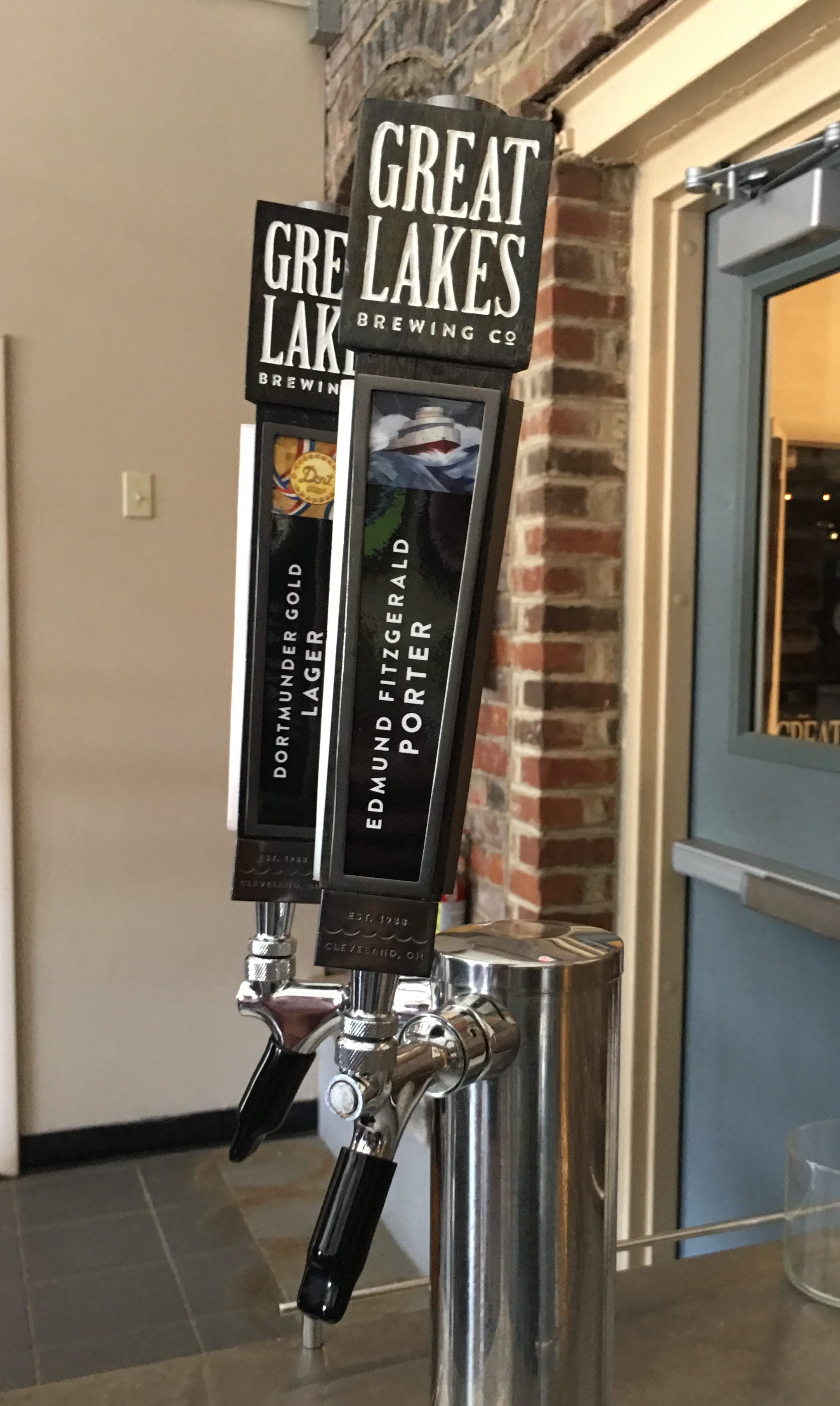 Tours are offered Fridays and Saturdays from 12PM to 8PM (hours vary). Tours are $5 and include four 5 oz. beer samples of your choice, so make sure to bring your ID! Tour groups are limited to a maximum of 15 guests. Walk-up registrations are taken in our Beer Symposium, but online registration is preferred. Please note that they have a reduced tour schedule January through April but they do offer some select holiday tours. For current hours, please contact glbcinfo@greatlakesbrewing.com.
You can book a tour here.
When you're done with your tour, I suggest heading over to their Brewpub. One thing I learned during the tour is, they literally have beer running through the streets of Cleveland. This means, when you order a beer form their pub, you are getting it directly from the keg. It doesn't get much fresher than that.
Located in Cleveland's vibrant Ohio City neighborhood, our brewpub is full of history and charm. Order a pint at our taproom's beautiful Tiger Mahogany bar, where the "untouchable" Eliot Ness once sat. Our 7-barrel brewhouse is right next door, where our pub brewer creates classic pub exclusive beers and experiments with new styles. Next door, our eco-friendly beer garden features a canvas retractable roof, a radiant-heat floor and fireplace, and a straw bale wall. In warm weather, seating spills out onto our cobblestone patio. It's a great spot to people-watch or chill in the shade with your well-behaved pooch. Our brewpub's basement beer cellar holds the brewpub's fermenters and our new small-batch barrel-aging operation. We also offer overflow seating upstairs in our Market and Rockefeller Rooms. Have a seat at the bar or a table crafted from reclaimed Cleveland wood, or at a booth under our barrel wall.
Monday – Thursday: 11:30 AM – 10:30 PM (bar open until 12:00 AM)
Friday and Saturday: 11:30 AM – 11:30 PM (bar open until 1:00 AM)
Sundays: Closed
Happy hour is available Monday – Friday from 4:00 PM – 7:00 PM
Brewpub Address: 2516 Market Ave, Cleveland, OH 44113
Last time, we attempted to go to Westside Market last visit, but, ended up in their outdoor market only. When we saw where Westside market was in comparison to where we were last time, we were a bit embarrassed we didn't see it. We made much bigger effort to get there the time.
With origins of the land dating back to 1840 the West Side Market is Cleveland's oldest publicly owned market. Beginning as an open air marketplace on a tract of land donated by two Ohio City landowners, Josiah Barber and Richard Lord, at the corner of West 25th (Pearl) and Lorain it has undergone much growth and many improvements to arrive at its current form. The centerpiece of the market, the yellow brick markethouse with an interior concourse, was designed by the architects Benjamin Hubbel and W. Dominick Benes who also designed other famous buildings in Cleveland, such the Cleveland Museum of Art and the Wade Memorial Chapel in Lakeview Cemetery. The markethouse was dedicated and opened to the public in 1912. Its 137 foot clock tower has stood as a Cleveland landmark for over a century. The last major renovation of the West Side Market took place in 2004 when the arcade portion of the market was enclosed and heated and major interior and architectural renovations were completed in the main building.

Today the market is home to over 100 vendors of great ethnic diversity. You can find not only fine meats and fresh vegetables, but also fresh seafood, baked goods, dairy and cheese products, and even fresh flowers. There are also booths that sell ready-to-eat foods, herbs, candy and nuts. Tourists from all over the world tour the market every year drawn by television programs produced by the Travel Channel and Food Network featuring segments on the West Side Market. Last year it is estimated that over a million people visited the market. Whether as a day-tour destination or a weekly shopping experience, the West Side Market continues to be an interesting and historical Cleveland tradition.
The Market is open year-round on Mondays and Wednesdays from 7:00am – 4:00pm, Fridays and Saturdays from 7:00am – 6:00pm, and Sundays from 10:00am – 4:00pm. The Market is closed on Tuesdays and Thursdays.  Click here for holiday hours.
Address: 1979 West 25th Street Cleveland, Ohio 44113
Parking: The West Side Market parking lot can be accessed from Lorain Avenue just east of the Market and from W. 24th Street which is off Bridge Avenue. View this map for a full list of neighborhood parking options.
Little Italy has been on my radar for quite sometime. If you don't know, I am slightly obsessed with anything mob like. Weird? Maybe? I felt like I was going to walk into an episode of The Sopranos. At first, it didn't feel that way. Later in the night, it did and it was amazing – mostly because the people we met had such a passion for life and it was contagious. They love people, food and life – just like me!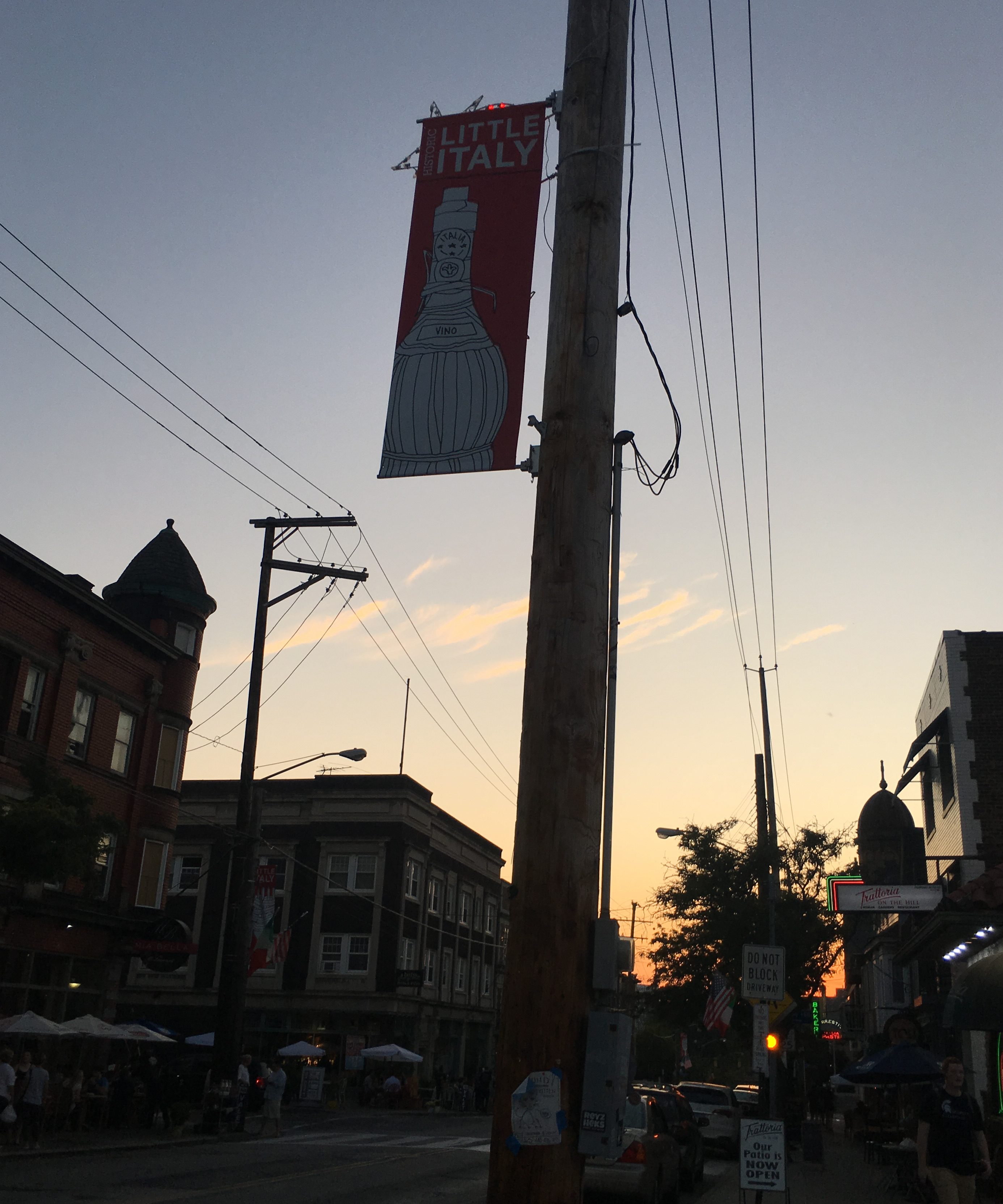 Per the suggestion of a friend, we chose to start our night at Trattoria. It has special significance to them, including where they had there first date, so, it was pretty cool to visit and know that story – felt special.
After dinner, we checked out a couple more spots – Mia Bella and Tavern Of Little Italy. Wish we would have arrived bit early and had time to hit up one of the bakeries.
Monday was a gorgeous day out and we were looking for a great patio. When I asked google, they pointed us to L'Albatros – an upscale, contemporary French spot. I looked at the menu and it looked great. My only tip? Make sure you order what you know when you go to a French spot. To some, it seems like the time to get adventurous, but, for me – it's not. But, what did I do? I got adventurous and didn't ask questions.
Sounds weird to add visiting  cemetery to our list of things to do, right? Well, not this one. While it is a cemetery, it is a nationally recognized landmark with a historic burial ground that creates a is not only a welcoming environment to bereaved families, but, a place that provides education programs in its historic setting.
Not only are there many famous people buried there, it is home to the James A. Garfield Monument – the final resting place of the 20th President of the United States. The building is SPECTACULAR. It combines Romanesque, Gothic and Byzantine styles of architecture.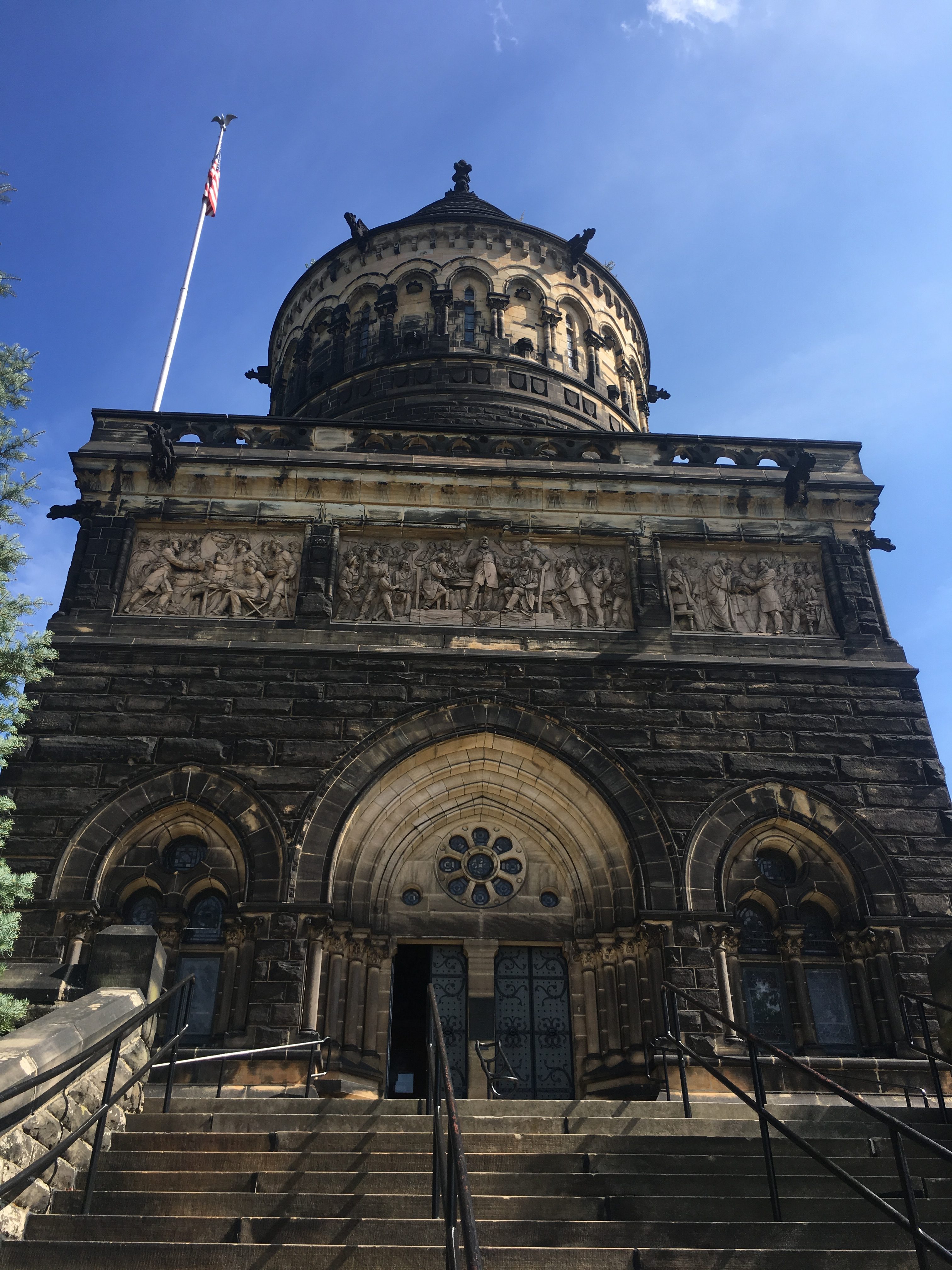 Designed by architect George Keller, the Garfield Monument was dedicated on Memorial Day, 1890.The Garfield Monument stands 180 feet tall and is constructed of Berea Sandstone. Around the exterior of the balcony are five, terra cotta panels by Casper Bubel, with over 110 figures all life size, depicting Garfield's life and death. The panels include Garfield as a teacher, as Major General in the Civil War, an orator, taking the oath of office and lying in state in the rotunda of the Capital in Washington DC.The Memorial Hall includes rich, gold mosaics, beautifully colored marble, stained glass windows and deep- red granite columns. The stained glass windows and window like panes represent the original 13 colonies, plus the state of Ohio, along with panels depicting War and Peace. Standing in the main floor is a statue of the President sculpted by Alexander Doyle.Venture up 64 steps from the lobby to the outdoor balcony. On a clear day you can see 40 miles of the Lake Erie shore. We are called Lake View Cemetery due to the magnificent view that one can see of Lake Erie from the outdoor balcony. - Website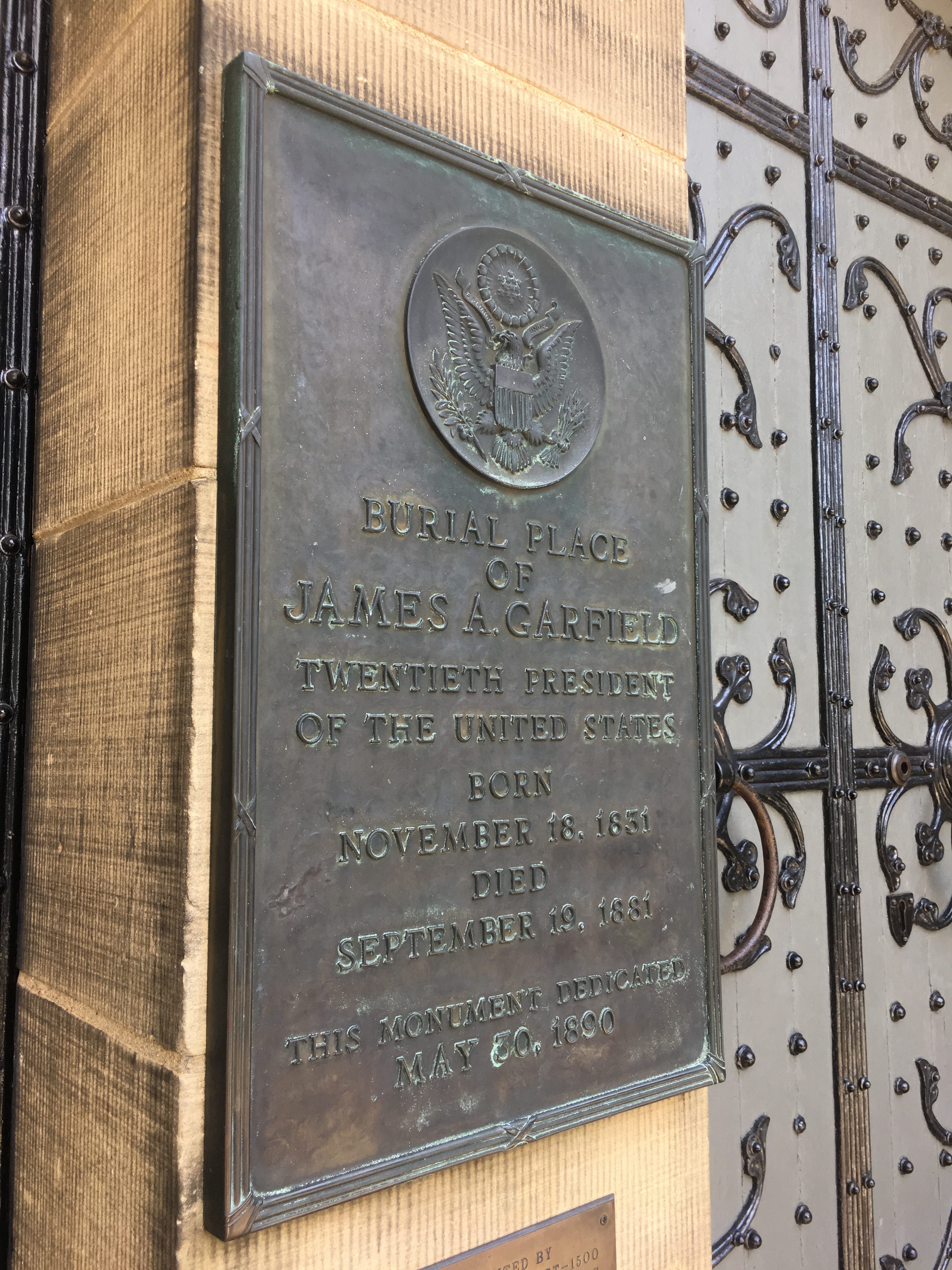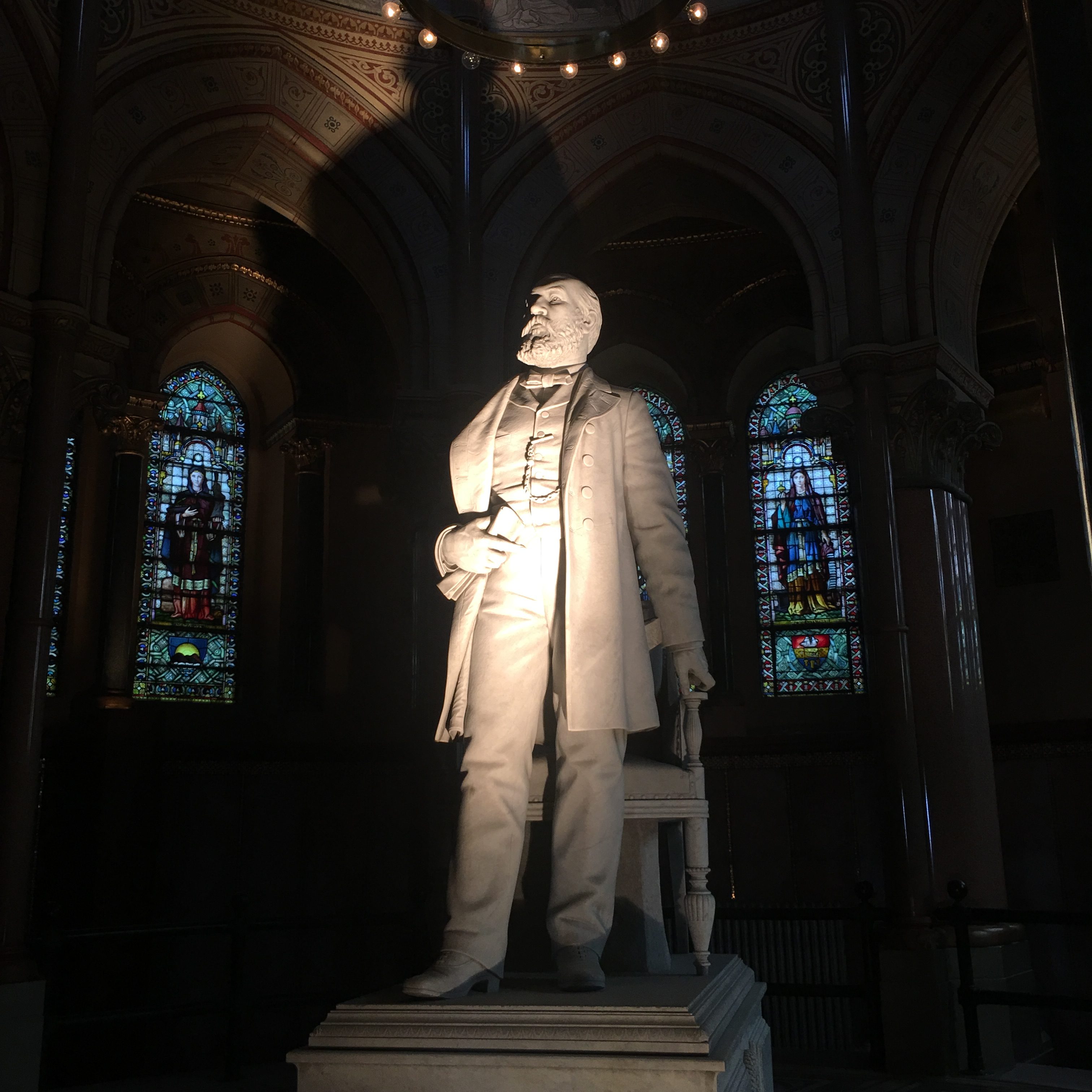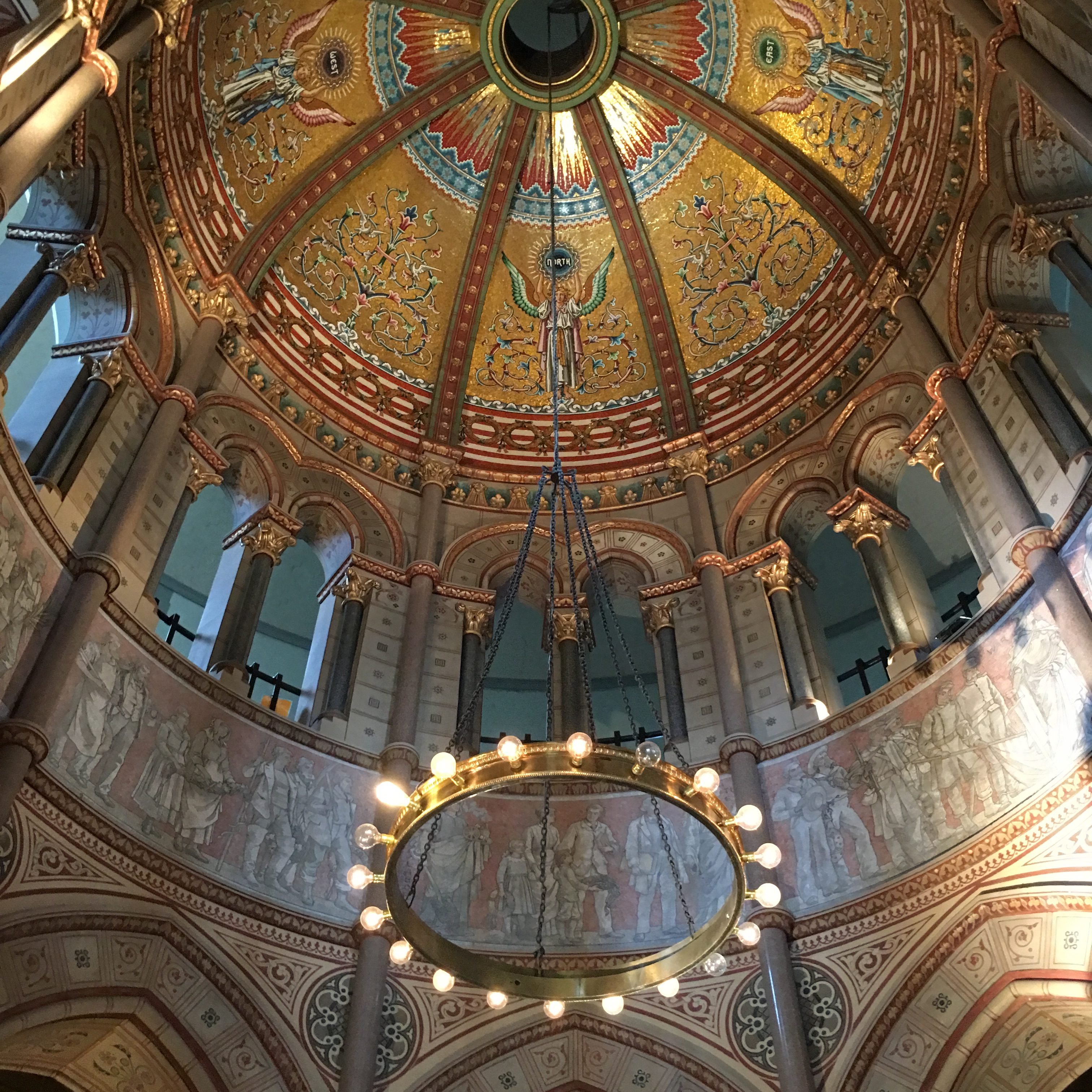 We did a self-guided tour of the grounds, but, you can participate in a guided tour. They also have many events, walking tours, talks and more. You can find the schedule here.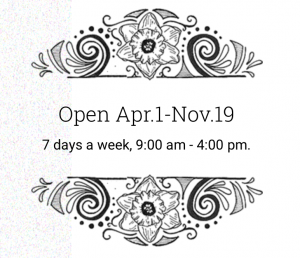 12316 Euclid Avenue, Cleveland, OH 44106
216-421-266
Seeing that it was a beautiful day and we were by the water, we knew we had to find a waterfront spot to end our trip with. Once again, siri + google came to the rescue and suggested Shooters. They didn't let us down. It was perfect. Right on the water, facing The Flats. Since it was such a gorgeous day, there were lots of boats and jet ski's out. I wouldn't say the service was incredible (it took about 30 minutes to get our daiquiris and 40 to get fries), but, it didn't matter because we were really there just to enjoy each other and the outdoors.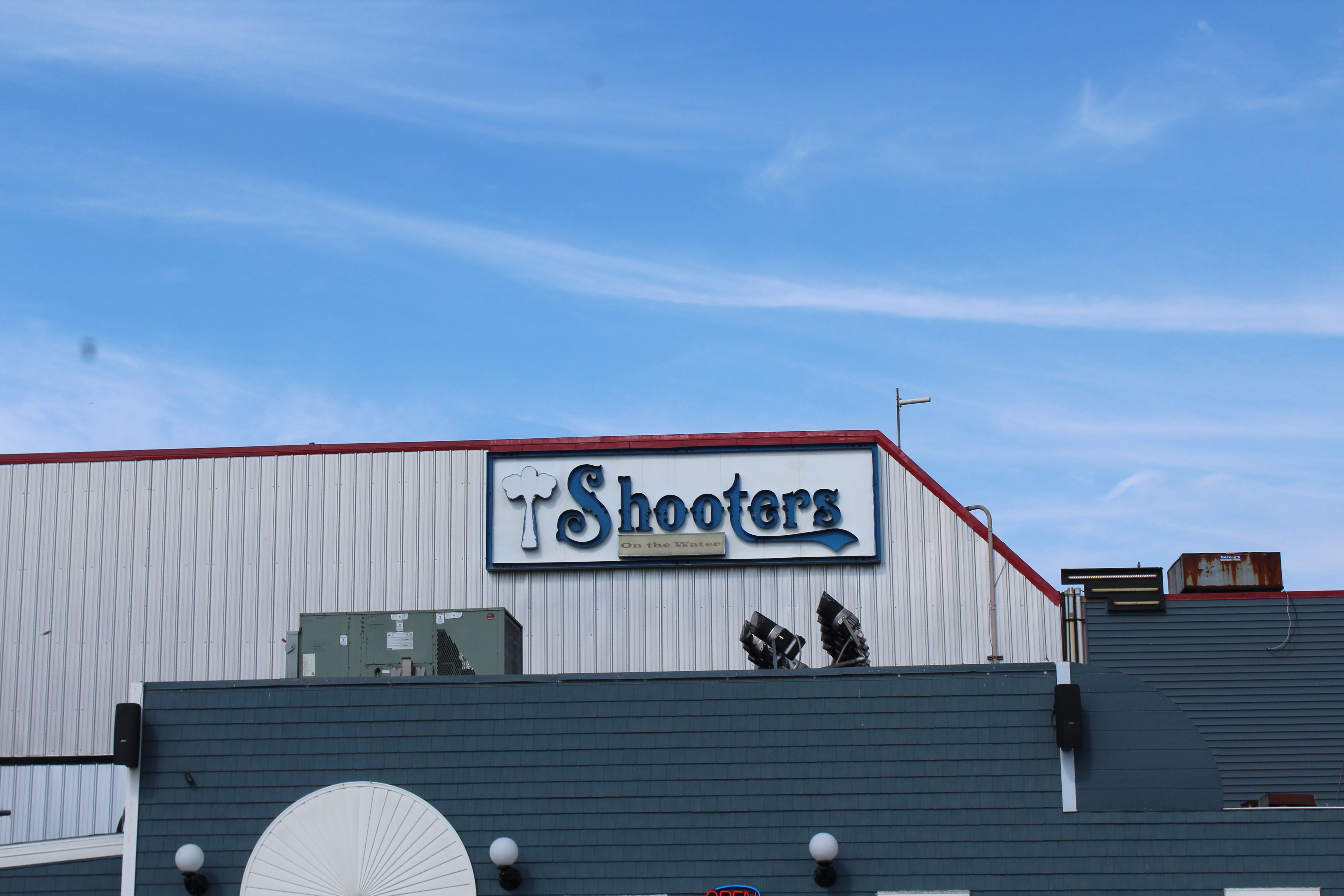 Shooters on the Water, Cleveland Ohio was established in June of 1987. Shooters' inaugural summer season broke all records, as visitors from around the region clamored to share in the spectacular taste of Florida perched on the Cuyahoga. Shooters was one of the first developments on the West Bank of the Cleveland Flats and led the way in the rapid growth and rebirth of the downtown waterfront area. 

Since that remarkable summer, Shooters' has continued to define the draw and allure of Cleveland's Flats. The restaurant has achieved premier positioning within the state, offering stability and a magnet-like draw for the masses in a trend-oriented market. Each year Shooters continues to accommodate over one million guests throughout the summer and winter season. - Website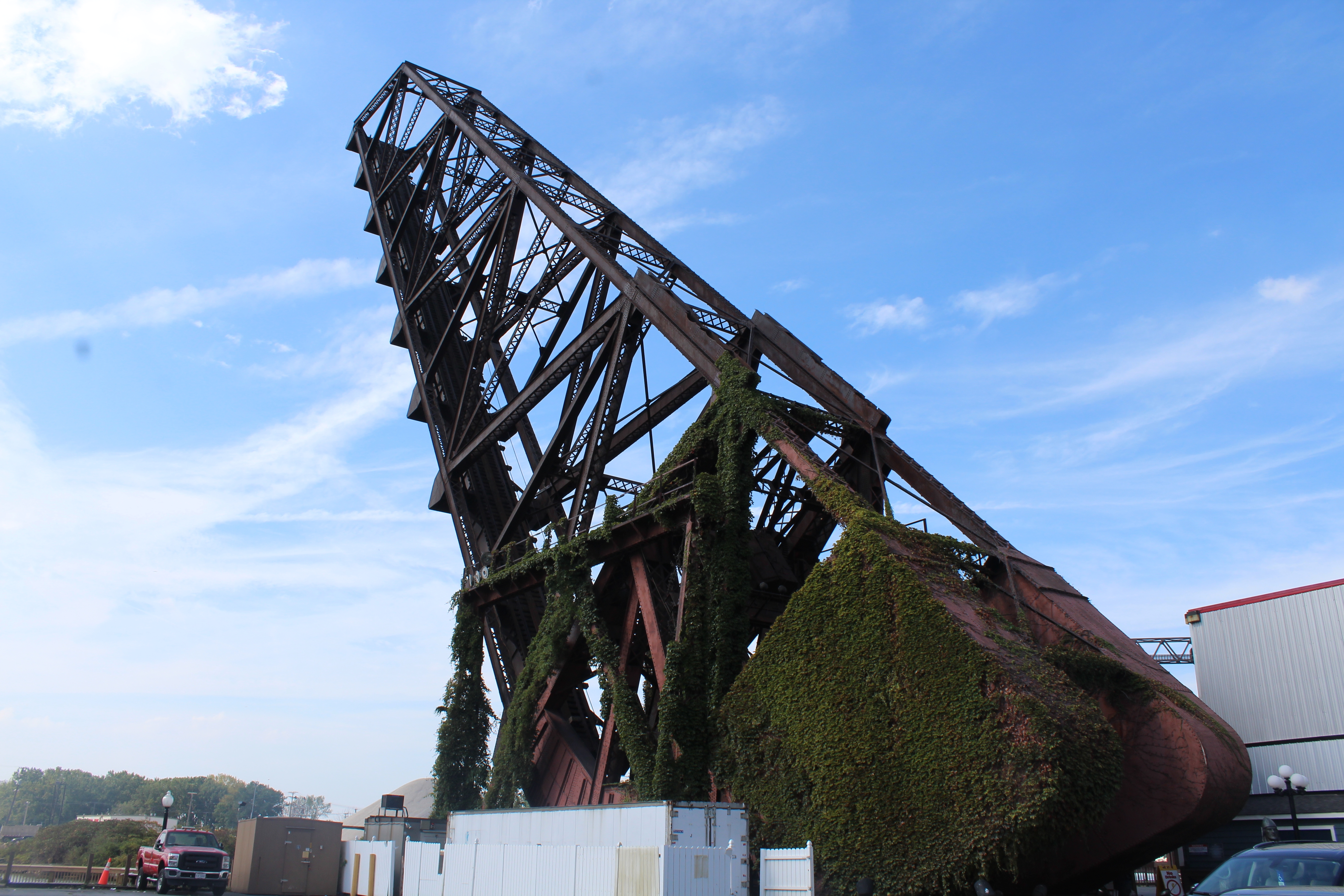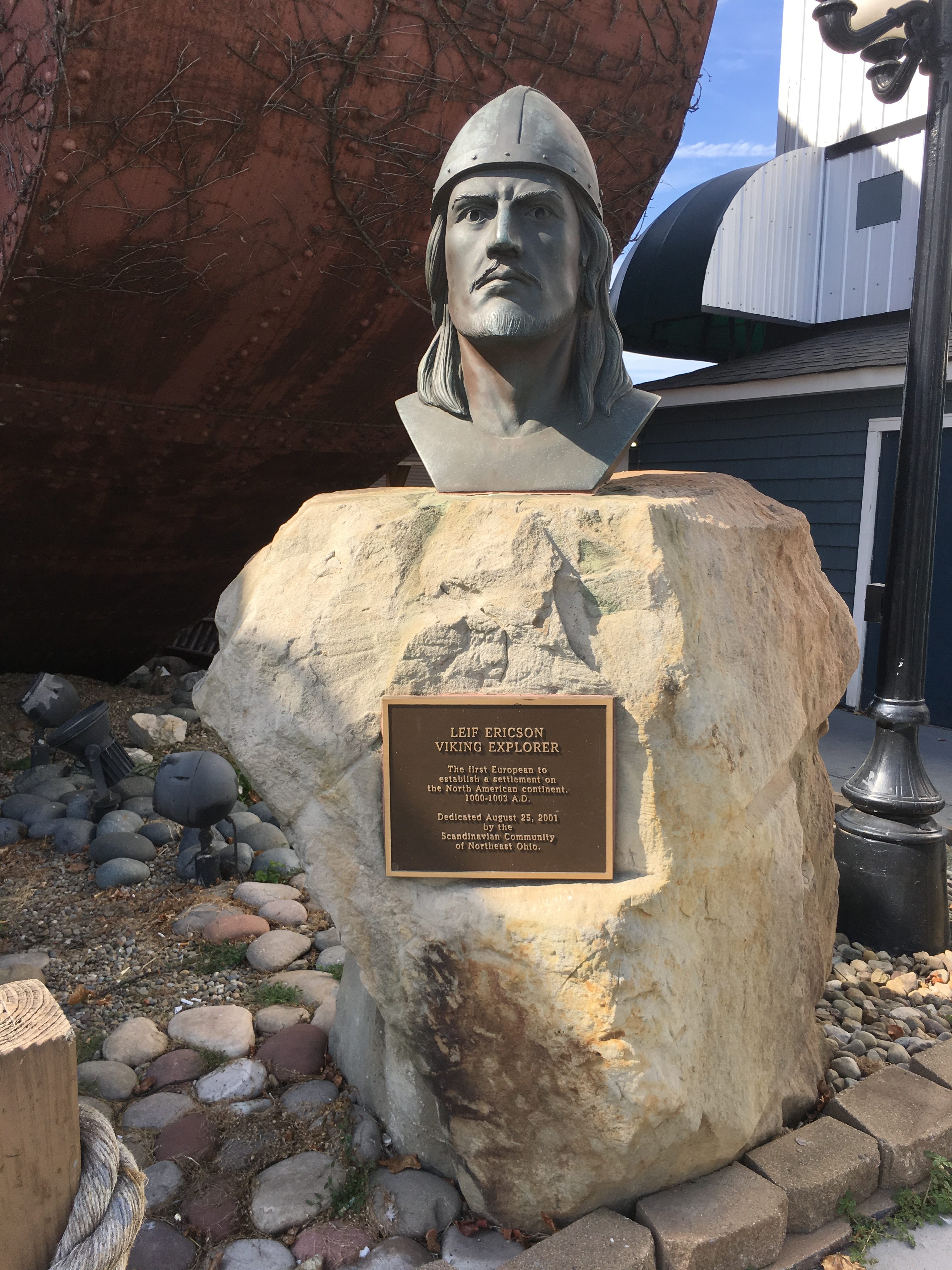 It looks like they are now closed for renovations, until March – open for special events, only. I can't wait to get back in the spring and check out what they've done.
1148 Main Ave. | 
Cleveland OH, 44113
​
216-861-6900
---
We may have only been in Cleveland for 28 hours, but, we sure did fit a lot in those hours. Cleveland, being only 2ish hours north of Columbus, is the perfect overnight trip. There is so much to explore. History. Culture. Water. Incredible Food. Art. Everything. While I probably won't go up anytime soon (cold weather and snow), I can't wait for our next adventure in the spring.
Do you have any favorite Cleveland spots we must visit?