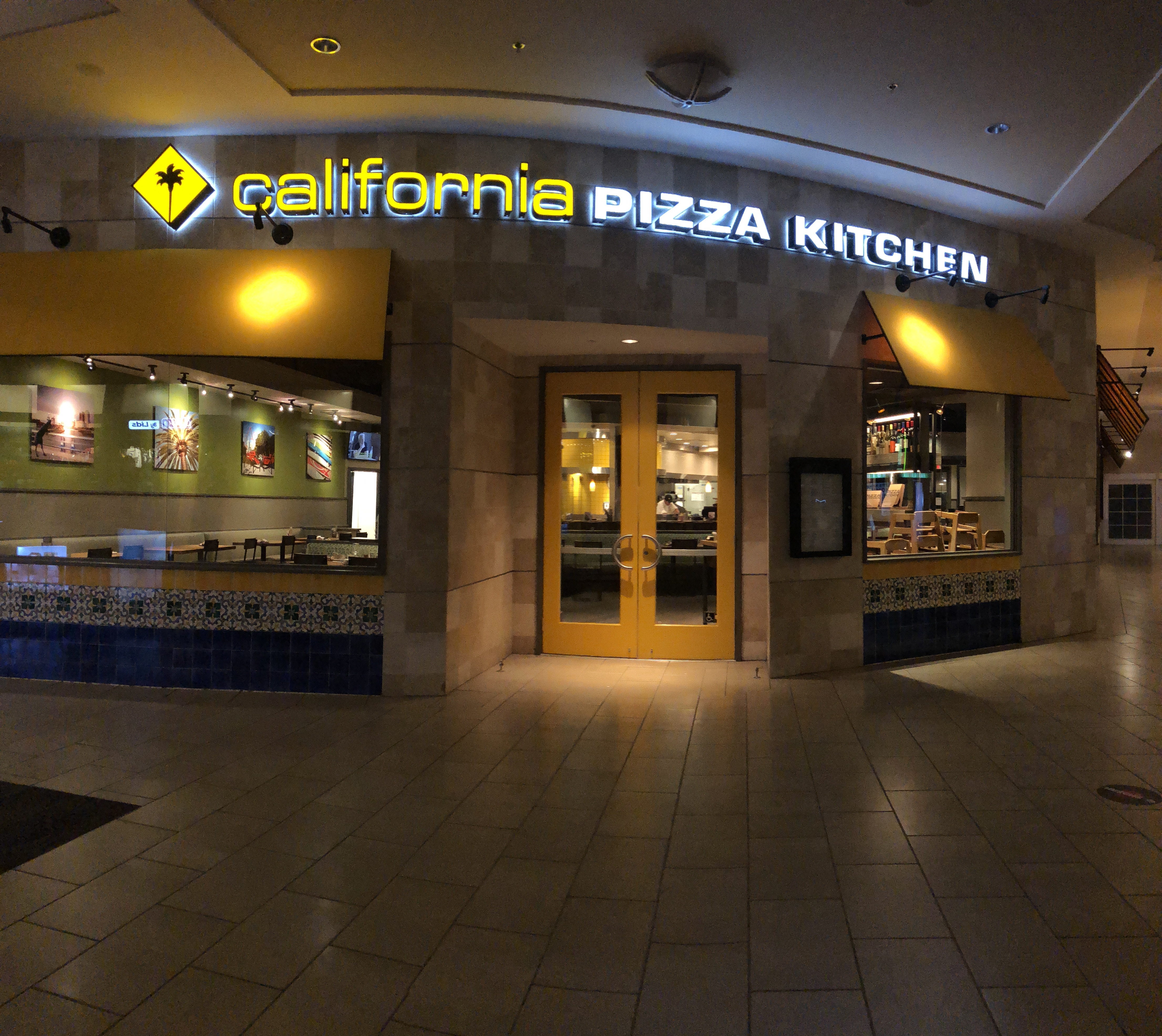 Recently, Stephen and I had the chance to check out the newly renovated California Pizza Kitchen at Polaris. I've always liked CPK, but, if I am being honest, I haven't been in a few years. My, oh, my. CPK has changed or maybe I wasn't remembering what they offer correctly! Their menu was filled with creative cocktails, season, fresh ingredients to mouth-watering pizzas — I was impressed by all they had to offer.
In 1985, California Pizza Kitchen (CPK) opened its first restaurant in Beverly Hills and introduced diners to innovative California-style pizza. Since then, CPK has launched what has become a global brand known for creative California cuisine. Today, CPK is approaching 300 restaurants in 15 countries and 218 cities around the world. Dedicated to a unique dining experience, CPK is now introducing its Next Chapter featuring reimagined menus, open kitchens, and unique renovations in all restaurants across the country.
One of the things I find when people describe their favorite spots, they tend to say they like places because they have "their favorite foods." While that's great that you've found a favorite food – you're limiting yourself! I try my best to try something new when we go out to dinner. One thing I REALLY loved about our visit was learning that they have a 'Menu Adventure Guarantee.' CPK wants you to get adventurous and try something new. So what they're doing is giving you the opportunity to try something new with NO RISK. If you try it and don't like it, they promise to replace it with your favorite. Who knows? Maybe you'll find a new favorite!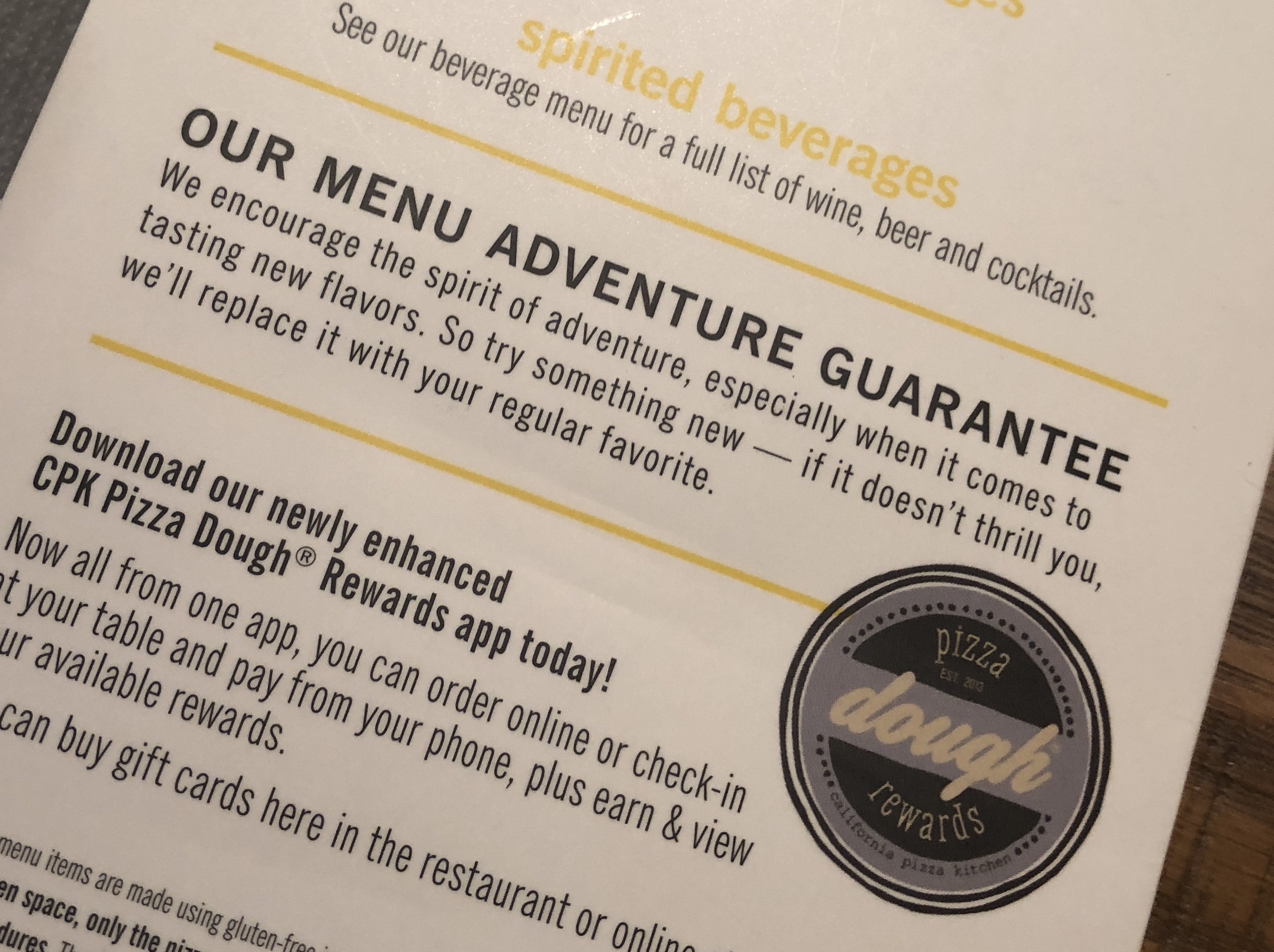 Of course we ordered drinks first. It was hard to chose. I appreciate they don't have a HUGE cocktail menu. They have a well thought out menu – including a few of the classics, mixed in with a few of their own concoctions. Stephen went with the bourbon drink. We are both big fans of bourbon. The combination of ingredients couldn't be more perfect.
Whenever I see a flight, no matter what it is, I have to order it! Just something about getting three for the price of one feels right. Plus, they're a great way to try a few different things. I appreciated the freshness of their sangria. You can tell they've taken out the heavy syrups, which is a big plus for me. I am not sure if I can pick a favorite, but, I did love the comfort of the lavender and honey flavors in the Beehive Sangria.
A lot of times when we go to restaurants we go off of the waiters suggestion. Not the most ordered menu item, but, their actual favorite. 9/10 times we aren't disappointed. This time was no different. The spicy buffalo cauliflower was cooked perfectly. Battered twice and topped with their house-made sauce created the perfect crispy and flavorful combo. A normal addition, their celery had a bit of a twist. It was shaved, compared to coming out as a stick (is that the proper term?). Sort of like a celery salad. We were into it. YUM.
You know how egg rolls sometimes are crispy in some places and soft in others? Bummer, right? This was NOT the case with the Club Egg Rolls. Crispy at all angles. Mixed with the avocado and applewood smoked bacon. Topped with house-made sauce. Yeah, the texture combination was FIRE! We tried not to eat them all because we had more food coming, but, we couldn't stop eating them. ADDICTING.
When you go to CPK, you have to order pizza. Right? We went with the suggestion of the waiter, which was their 'Sicilian.' We are adventurous in our pizza toppings, but, it was nice to get a classic. Word on the street is – it's pretty similar to what you'll find in Italy. I love a thin, crisp pizza. They nailed it. Plus, the addition of fresh parmesan. Killer!
If you didn't know, CPK rolled out a new fall menu and it packs a TON of comfort and flavor. We chose the chile-braised short ribs & chipotle mac n' cheese. There were many things I loved about this dish. My top two favorite things about the dish were how the short ribs just fell apart and melted in your mouth and how the mac n' cheese sauce was made. I don't fancy a thick sauce, but, I also don't like a thin sauce. This was the perfect medium. Not sure how they made it, but, they're cheese wizards. Like everything else we tried, the flavor combination was perfect.
I bet you didn't think the dinner could get any better. I didn't. I was wrong. They insisted we tried their Butter Cake. No idea what that was, but, it had the word butter in it and that meant we needed to have it. I would love to say I loved it, but, I LITERALLY ONLY HAD ONE BITE because my husband DEVOURED it. Sorry babe. Had to spill the beans because that show show delicious it is. I'm not even sure how to describe it. Sort of like a *moist* pound cake that melts in your mouth? You just have to try it. I bet you will be at a loss of words, too.
We had a WONDERFUL and DELICIOUS time at CPK. I am glad that we were invited in to test out their fall menu. Sometimes I get 'turned off' by mall restaurants. Not sure why because I have truly been missing out. If you're looking for your next dinner spot, do yourself (and your family) a favor and head to CPK.
---
California Pizza Kitchen
Polaris Fashion Place
1500 Polaris Pkwy., Ste. 1238 | Columbus, OH 43240
Monday 11:00a – 9:30p
Tuesday 11:00a – 9:30p
Wednesday 11:00a – 9:30p
Thursday 11:00a – 9:30p
Friday 11:00a – 10:00p
Saturday 11:00a – 10:00p
Sunday  11:30a – 8:00p