Columbus Commons is the ultimate summer spot. There is something for EVERYONE and most events are FREE!
Family
Commons for Kids
Fridays, June 1 – August 10 | 10:00 am – 1:00 pm
Friday mornings at Columbus Commons focus is officially on the kids of Columbus. Give the carousel a whirl or hit the bouncehouses free of charge. They've got something for kids of all ages with performances, Imagination Playground, crafts and games. If Mother Nature cooperates, they will even feature an inflatable water slide and kid's swimsuits are welcome.
Movie Night
Saturday, June 29 | 8:15 pm: To be announced
Classic drive-in movies always start at dusk, and so do the flicks at Columbus Commons.  Park your blanket or a chair on the lawn and take in a FREE movie under the stars. Tortilla and Jeni's will be open to accommodate your movie cravings.
Food
Food Truck Thursday
Thursdays | 11:00 am to 2:00 pm
Head down to the south end of Columbus Commons every Thursday to get some of the finest mobile food in Columbus! Aloha Streatery, Cupzilla, The Little Kitchen, Momma Can Cook, Mya's Fried Chicken, OH! Burgers, Phillip's on Wheels, Potabilities will be there each week + during the month of June, Fetty's Street Food. They've got something for every palate!
Taco Tuesday
Tuesday, June 12 | 11:00 am to 2:00 pm
Once a month, head on down to Columbus Commons for some of the best taco trucks in Columbus –  The Burrito Bus, Cazuela's Food Truck, El Sabor Street Food, Holy Taco, Mojo Tago, Taquitos Truck. Don't forget Tortilla Street Food will be there, too! I think Taco Tuesday just got EVEN BETTER! How will you choose?
Fitness
FREE classes through June 9
No contracts, no excuses! Among the park perks at Columbus Commons are free fitness classes. Sponsored by UnitedHealthcare and coordinated by Ohio Fit Club, you'll find SEVEN FREE CLASSES every week. They represent the entire A-to-Z spectrum of exercise; that runs from Aerobics (Cardio Classes) to Zumba! Keep in mind, there are NO classes June 2 or June 6.
Tuesday, 5:15 – 6:15 pm, Commons Cardio
Tuesday, 6:15 – 7:15 pm, Yoga
Wednesday, 5:15 – 6:15 pm, Kickboxing
Wednesday, 6:15 – 7:15 pm, Hip Hop
Wednesday, 7:15 – 8:00 pm, Yoga
Saturday, 9:00 – 10:00 am, Yoga
Saturday, 10:00 – 11:00 am, Zumba
Music
2nd Annual Summer 614 (Tickets $$)
Saturday, June 2 | Doors open at 3:00 pm
Summer 614 brings some of your favorite R&B and hip hop artists from yesterday and today to Columbus Commons. With music, food, drinks and vendors you won't want to miss it.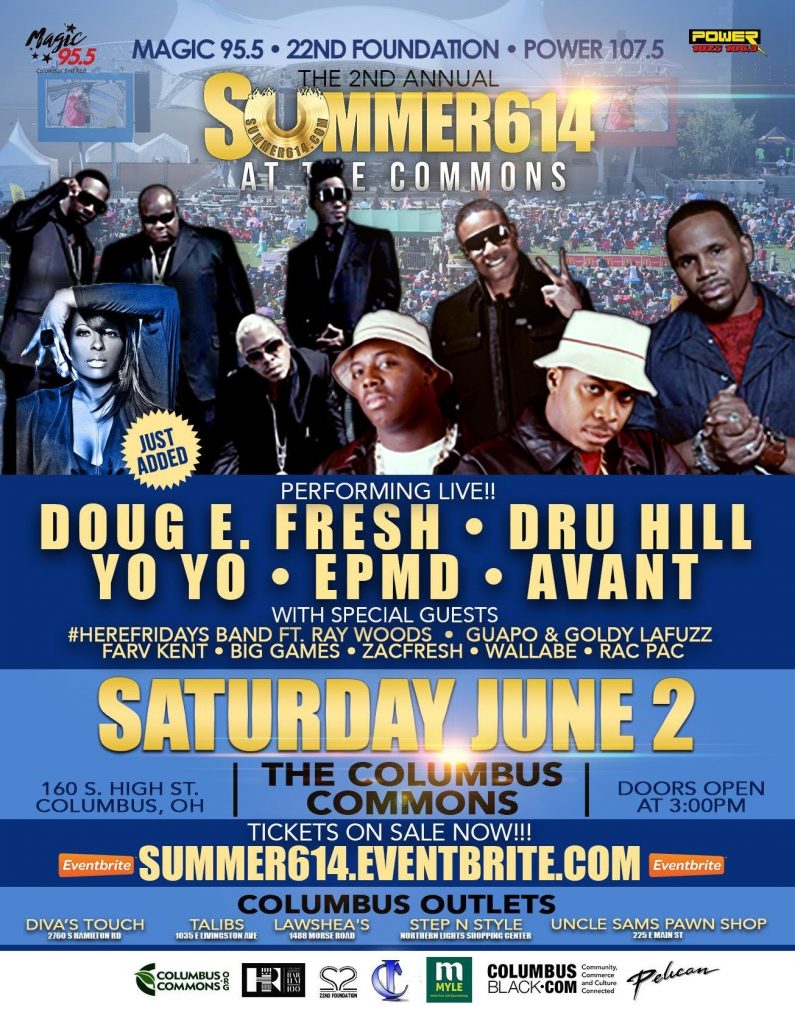 Dubbed "the best singing band in the world" by Eagles founding member Glenn Frey, the Little River Band enjoyed huge chart success throughout the '70s and '80s with multi-platinum albums and chart-topping hits including "Reminiscing," "Lonesome Loser," "The Night Owls," "Take It Easy on Me," "The Other Guy," and "It's A Long Way There."
Tickets can be purchased here. They range from $25 – $45.
More info on Picnic with the Pops can be found here.
Free event featuring The Navigators, a group comprised of Columbus executives and professionals playing high-energy rock tunes from the 1960s to today. Since their formation in 2003, they have helped to raise more than $200,000 to help local and national charities such as the City Year Columbus, United Way, Salvation Army, Mid-Ohio Food Bank, Hilltop YMCA, the American Red Cross, and more.
Grammy-winning singer, songwriter, and musician Rick Springfield has sold 25 million albums and scored 17 US Top 40 hits, including "Jessie's Girl," "Don't Talk to Strangers," "An Affair of the Heart," "I've Done Everything for You," "Love Somebody," and "Human Touch."
Tickets can be purchased here. They range from $25 – $45.
More info on Picnic with the Pops can be found here.
The Columbus Gay Men's Chorus joins the Columbus Symphony's grand summer tradition celebrating the Fourth of July. Enjoy an evening of patriotic favorites and rousing Sousa marches, including "The Stars and Stripes Forever," topped off with a brilliant display of fireworks!
Tickets can be purchased here. They range from $25 – $45.
More info on Picnic with the Pops can be found here.
---
Columbus Commons
160 South High Street Columbus, OH 43215
All outdoor activities are weather permitting.
Please call (614) 603-2560 for questions about Columbus Commons.
Park Hours: Daily, 7:00am – 11:00pm (closed on holidays)
Restroom Hours:  Monday – Saturday: 12:00pm – 8:00pm | Sunday: 12:00pm – 5:00pm
Carousel Hours: Monday – Saturday: 12:00pm – 8:00pm | Sunday: 12:00pm – 5:00pm
Parking:  Columbus Commons Main Garage: 55 E. Rich Street, Columbus Commons Underground Garage: 191 S. Third Street or you can park on the street.
You can bring your pet, providing that you leash it, clean up after it, and supervise it at all times.