After our most recent visit to Butler County, I declared this an annual trip. Why? Easy. They have a DONUT TRAIL. What does that mean? Similar in style to our ale trail and coffee trail, you visit 12 different locally owned donut shops, eat a donut and get a stamp in your passport. Once you've collected all twelve stamps, you're eligible to get a shirt. While the shirt is incredibly cute and awesome bragging rights, did you read that you get to eat donuts from TWELVE LOCAL DONUT SHOPS?!
You can eat all about our first visit and a bit more background on the trail here.
Last time, we visited three stops on the trail.  Since we were spending the weekend in Butler County, we decided three stops would be the perfect number to visit this time, too. Anymore and we would be in a sugar coma for the day! You don't want that because Butler County has so many fun spots to explore.
Fresh, from scratch donuts, and a hot cup of coffee await you at The Donut House in West Chester. Personalize your donut with any cream or jelly of your choice, filled right in front of you! - gettothebc.com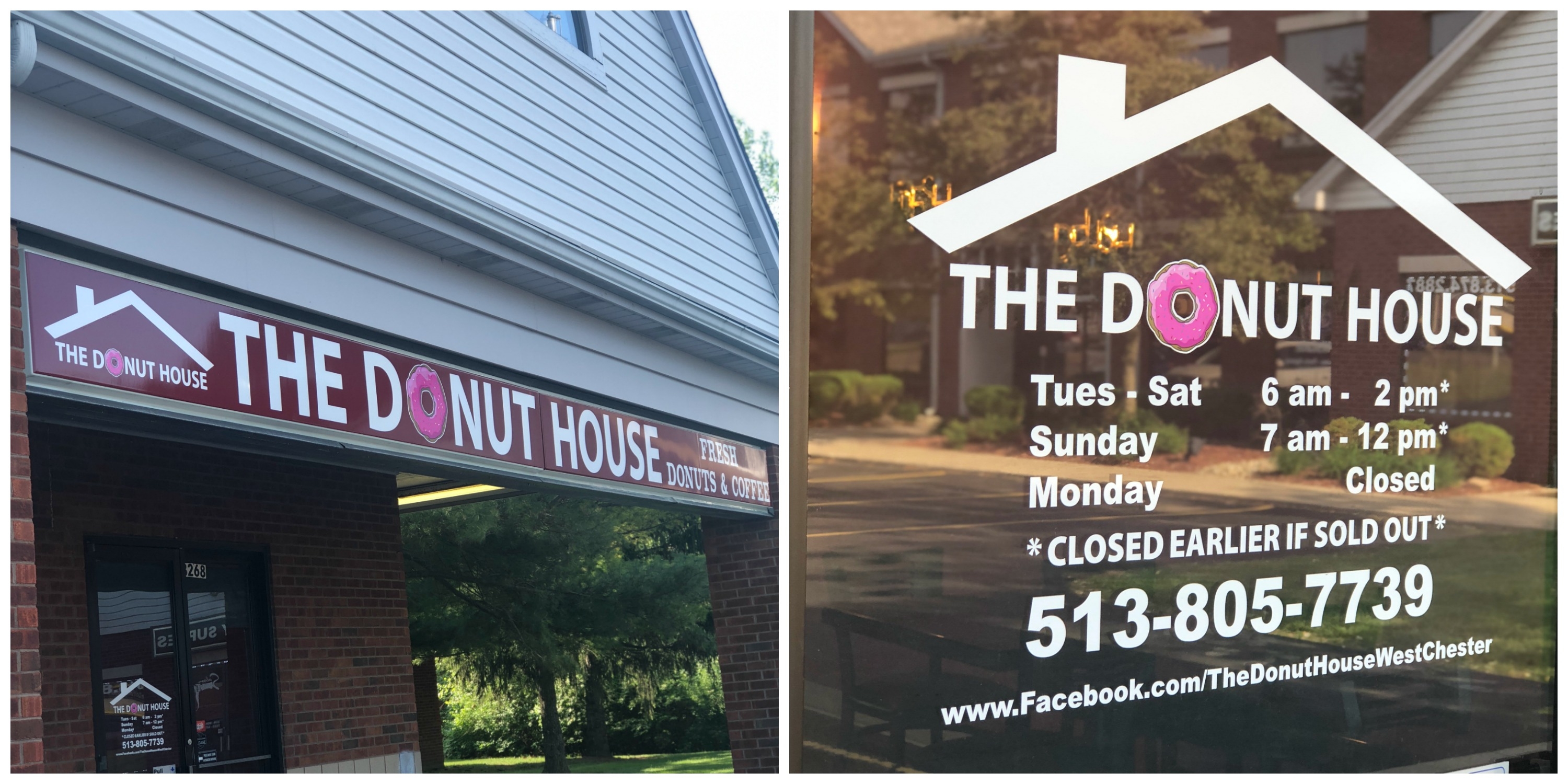 As soon as we walked in, we were greeted by the ladies working at the front – even though they were in conversation with current guests. You could tell they were regulars, as they were joking about not ordering enough donuts last time and making sure to order one for the ride home. That is one thing we noticed, every time someone walked in – they must have been a regular because each conversation was personalized. There customer service was fantastic – just like their donuts.
Most of the donuts at the shops we visit have fresh donuts. However, they take it to the next level. They let you choose the filling, the type of donut you want, and fill it right in front of you. Doesn't get fresher than that, right?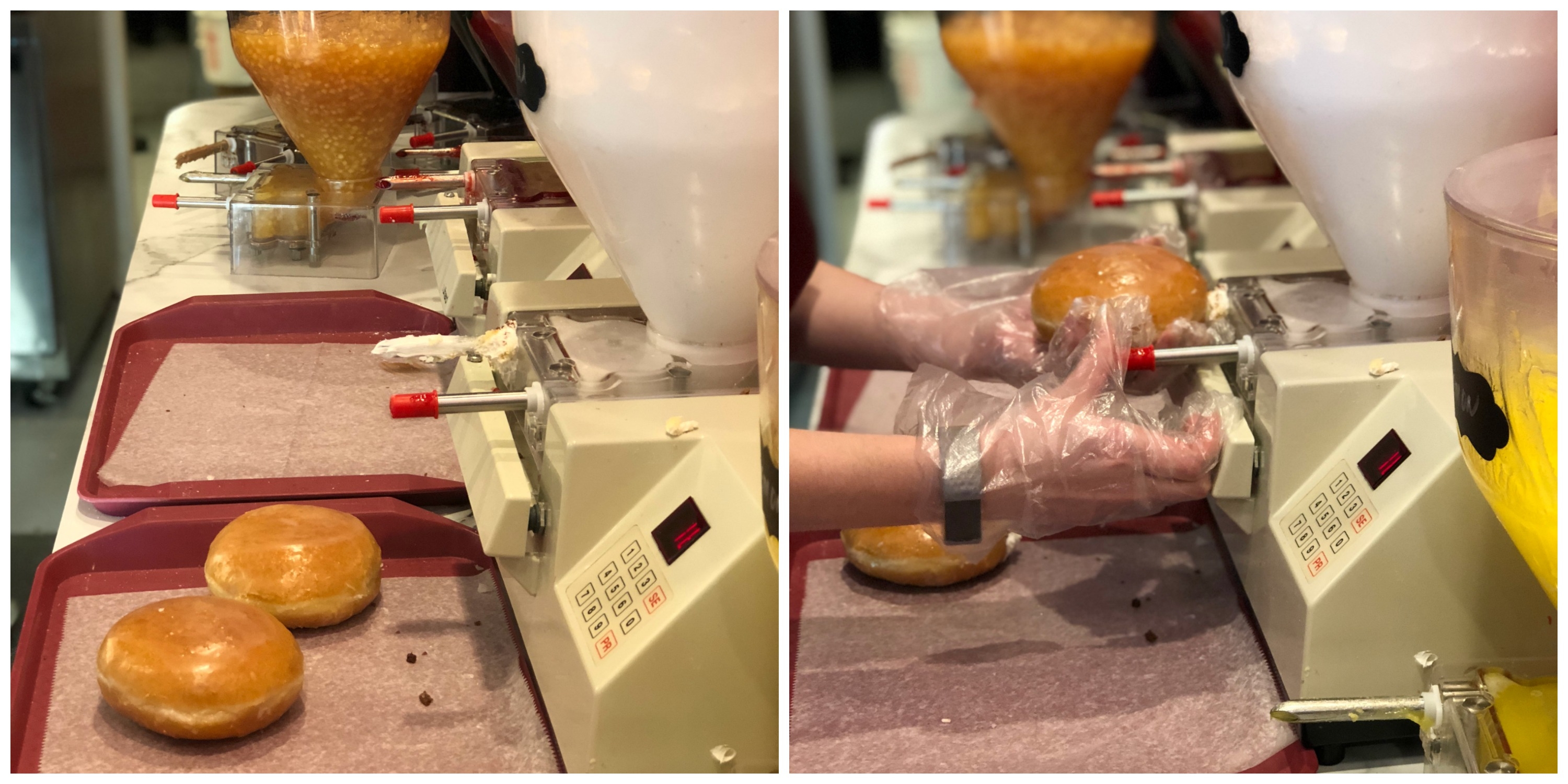 Okay, let's talk about one of my favorite donuts – the delicious apple fritter. Wowza, their version was fantastic. It was warm, crisp and sweet – but, not too sweet.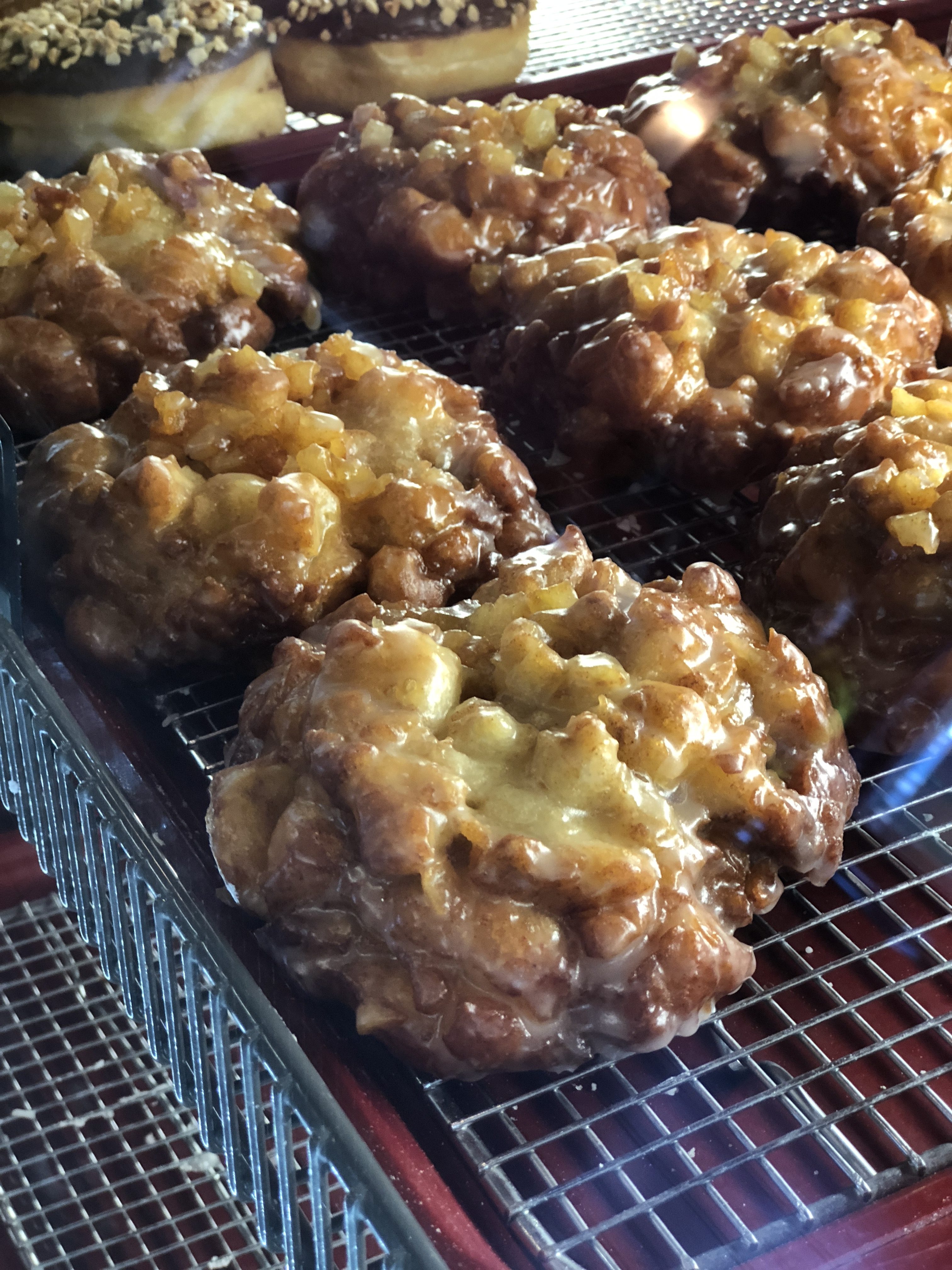 The had a constant line coming in and out, which meant they had to keep up with the demand! While we were there, they brought out a few different trays to re-load. Didn't help my indecisiveness because each donut they brought out looked better than the last. I loved the dough – it was so light and soft, just the way I like the base of my donut.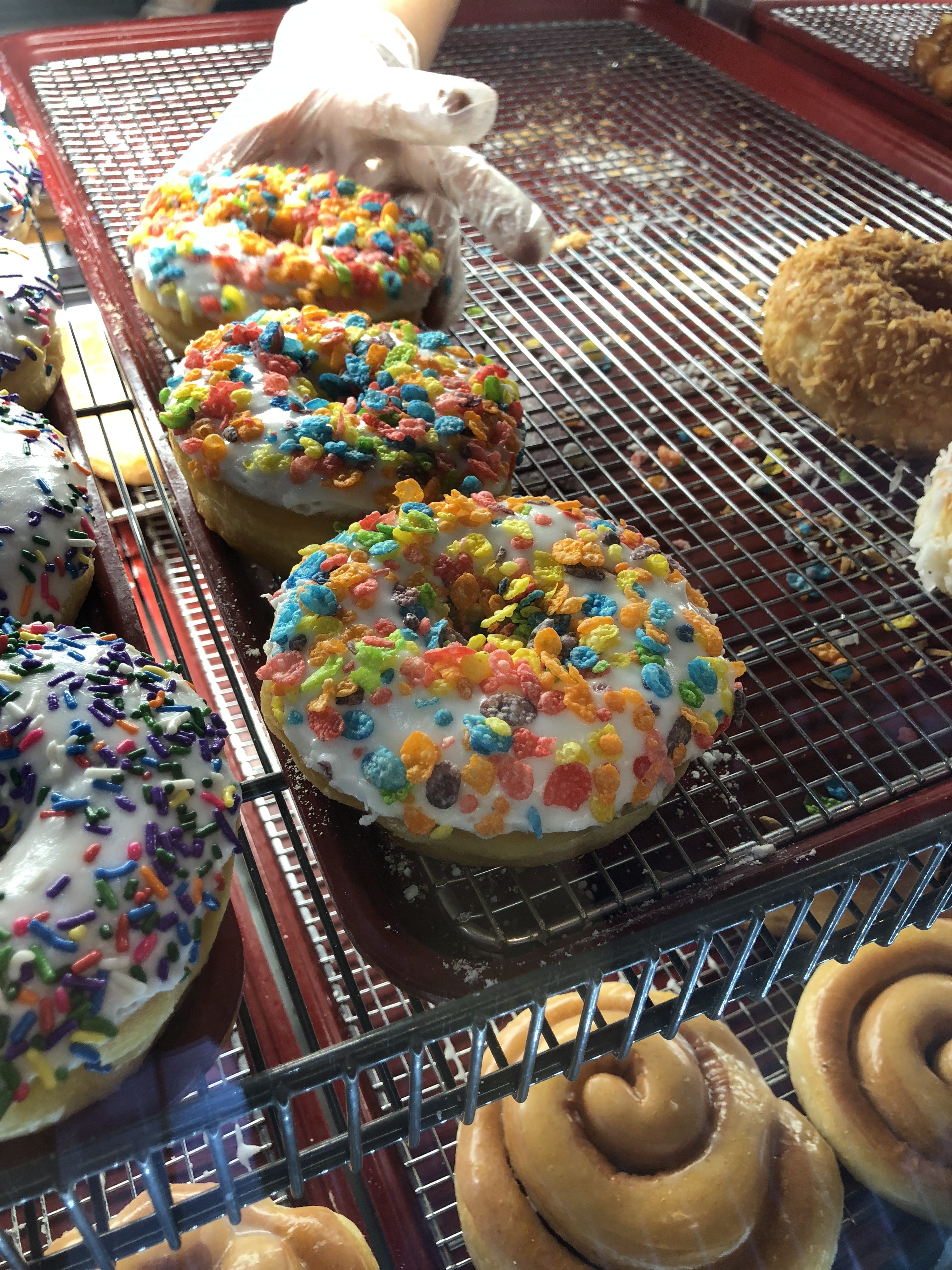 Make sure you snap a picture in front of the #donutrail signs at each spot.
LOCATION: 8268 Princeton-Glendale Rd
West Chester Township, Butler County, Ohio 45069
PARKING: YES, PARKING LOT
PHONE: (513) 805-7739
SEATING: A few tables indoors, no outdoor seating
---
Stan the Donut Man is a stop on the popular Butler County Donut Trail! Stan the Donut Man is a West Chester favorite for delicious donuts. The Crowe family has been making their family donut recipes for over 50 years. Stan's is open 7 days per week for donut cravings. Stop at Stan the Donut Man to figure out exactly why Stan is the man! - gettothebc.com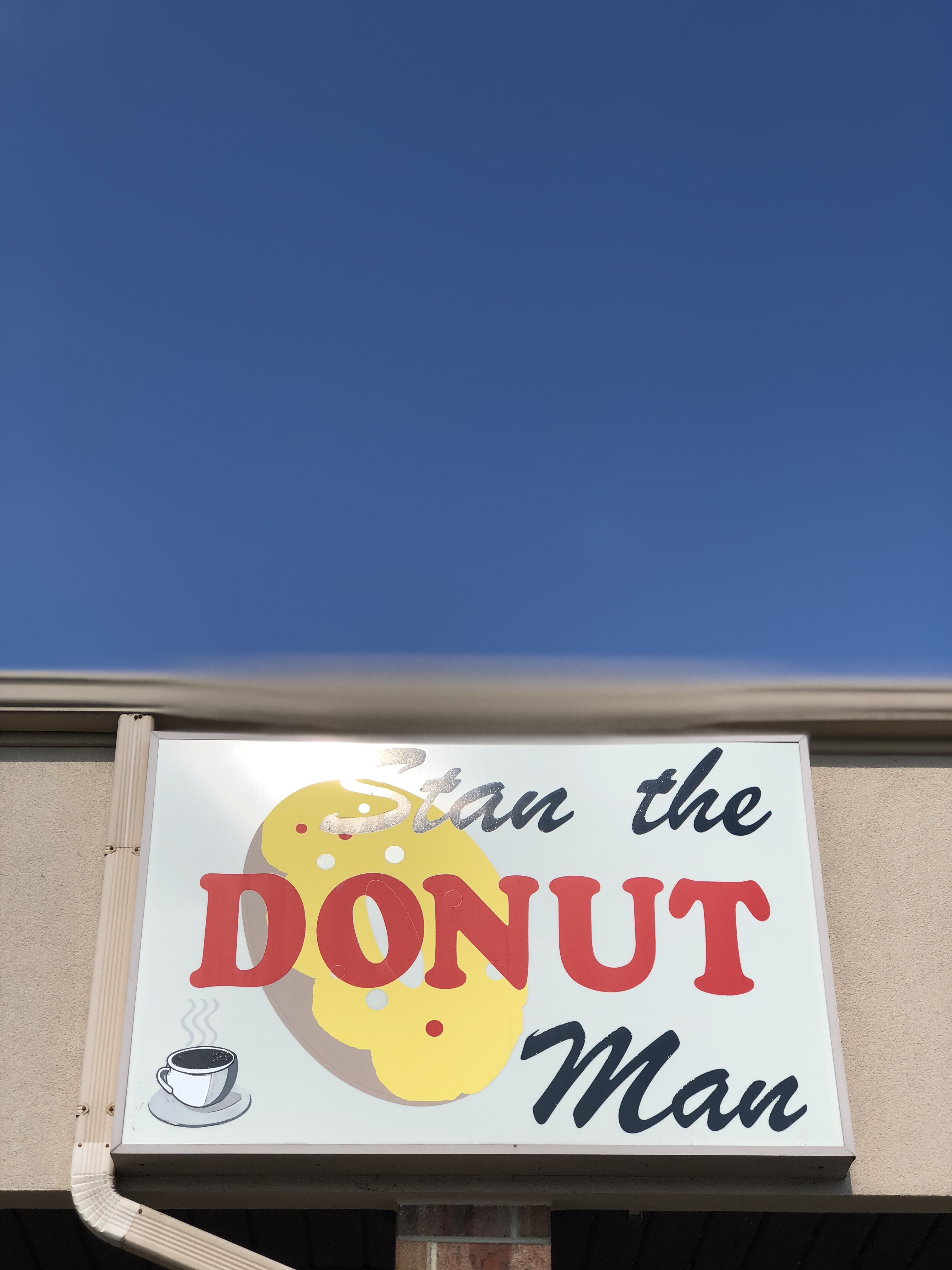 Our second stop was at Stand the Donut Man. As soon as we walked in, we knew this was one of the classic spots. After a few minutes, we found out that they have been there over twenty years! Taking the first bite, it wasn't hard to see why they've been in business that long.
50 years at least one donut shop operated by the Crowe family
2,600 Average donuts sold every Saturday & Sunday
240 pounds of cinnamon used per year
25 average number of preschool tour every Winter
73 age of the main Hobart mixer
38,000 average number of customers a year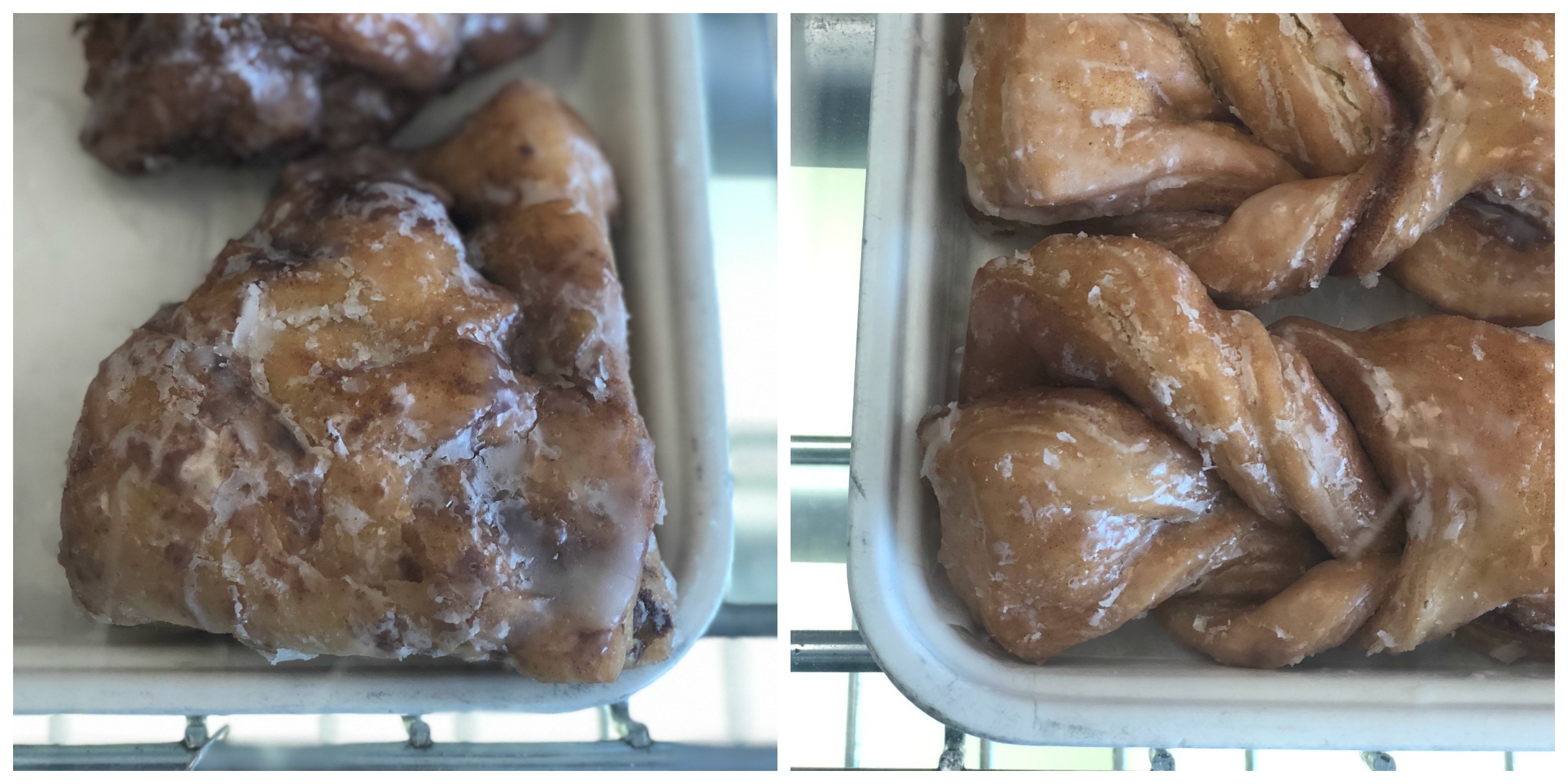 LOCATION:  7967 Cincinnati Dayton Rd
West Chester Township, Butler County, Ohio 45069
PARKING: YES, PARKING LOT
PHONE: (513) 759-0016
SEATING: Yes, Indoor Tables
---
This famous donut shop got its start in 1960 in nearby Newtown, Ohio. Committed to the old fashioned way of donut prep, Holtman's donuts are created from scratch using the highest quality ingredients. See for yourself why  Holtman's is so popular and famous! - gettothebc.com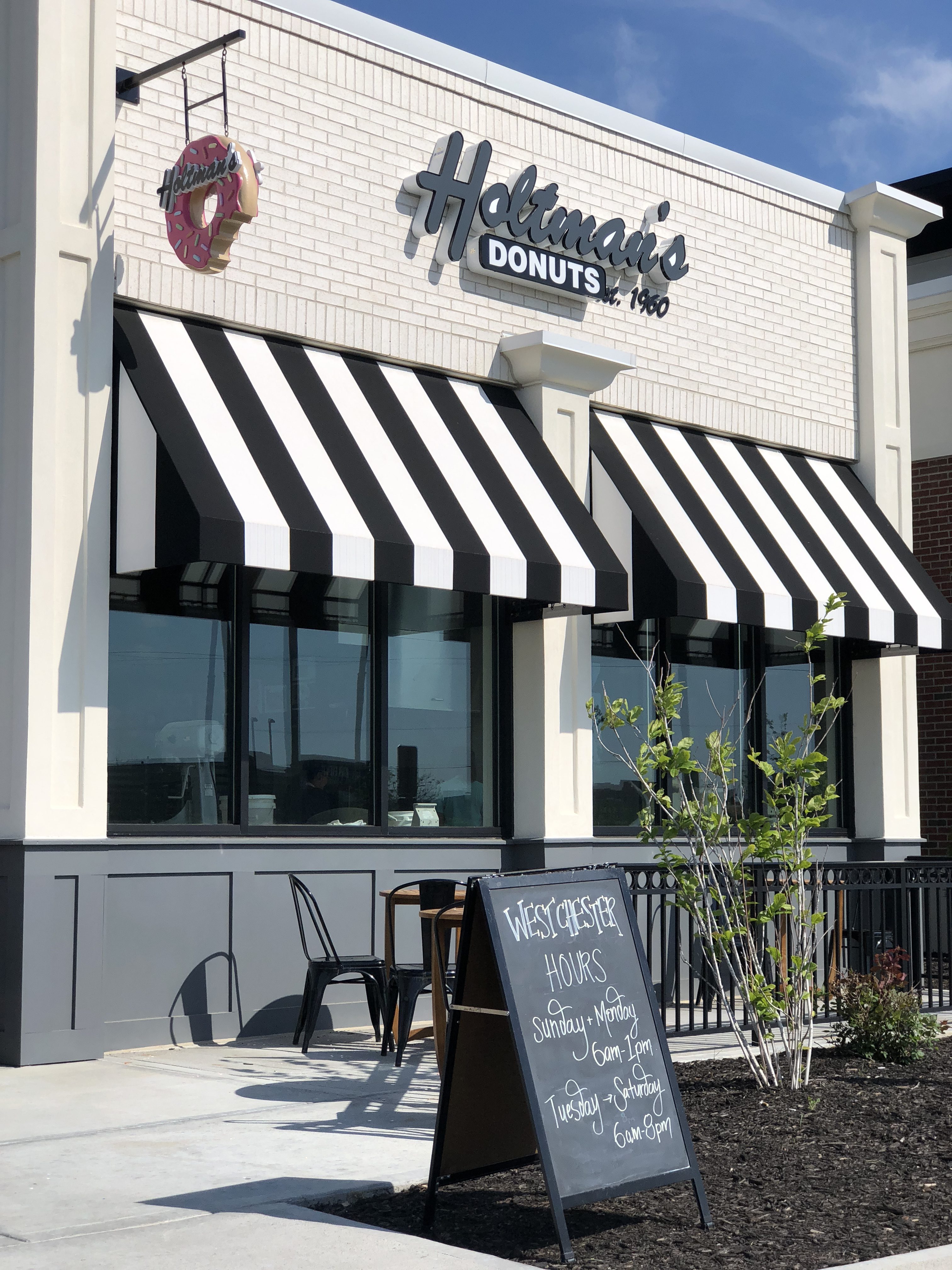 Hultman's donuts was the most modern of all three spots. You may have heard of them before. They have another location in OTR in Cincinnati – just not as big. The space at this location is absolutely stunning.
If you're looking for a donut shop where you can sit and enjoy, this is your spot. They have a few different setting options, including a few long tables for big groups.
We couldn't wait to dive in. As soon as we walked outside, we opened up the boxes and took  bite (or two). Stephen chose the bacon one, of course! Two thumbs up from him.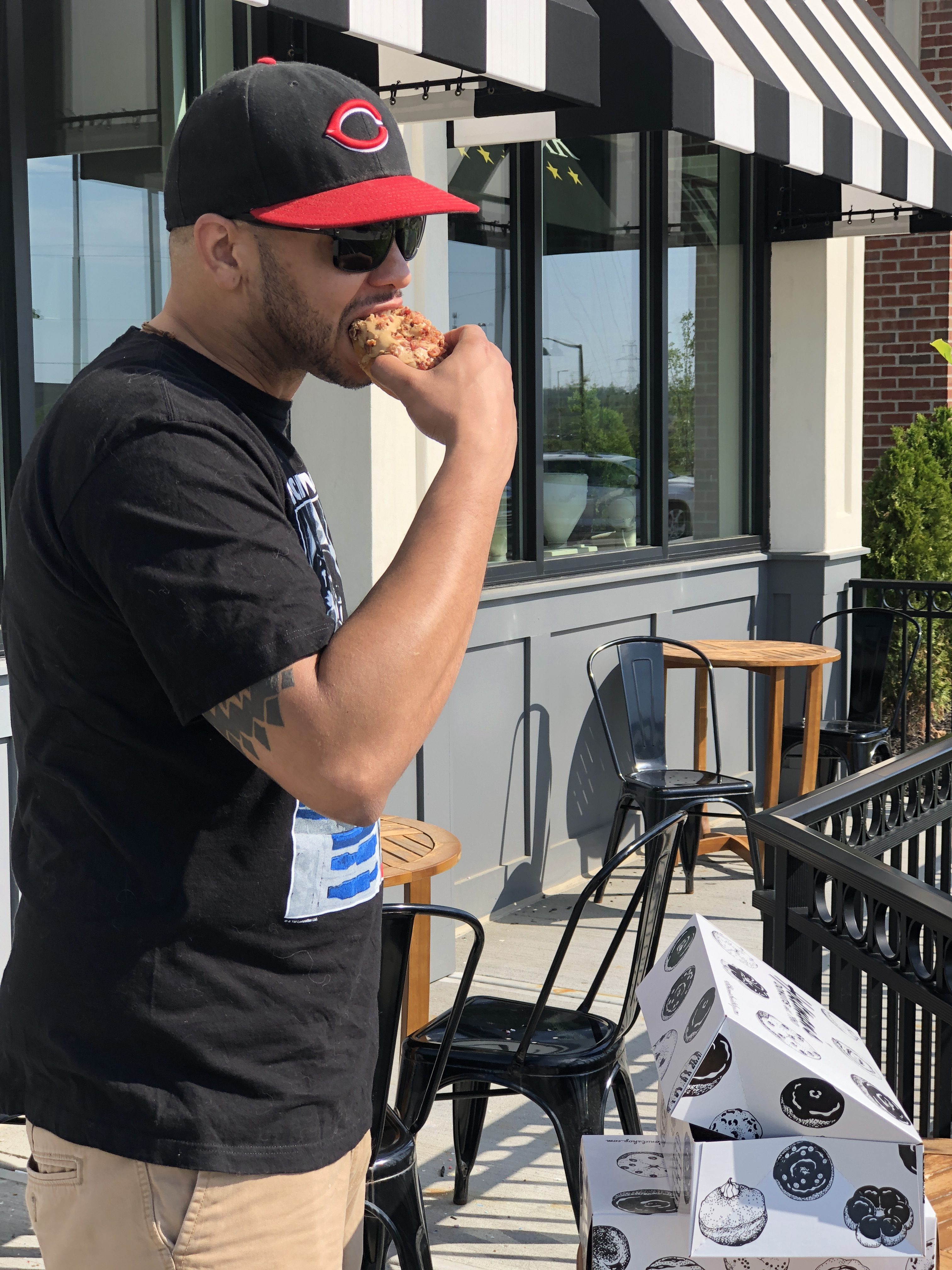 LOCATION: 9558 Civic Center Blvd
West Chester Township, Butler County, Ohio 45069
PARKING: YES, PARKING LOT
PHONE: (513) 755-1261
SEATING: Yes, various options indoor and outdoors. They offer tables for large groups, too!
---
DONUT SHOPS ON TRAIL
CENTRAL PASTRY SHOP | 1518 CENTRAL AVE,
HOLTMAN'S DONUTS | 9558 CIVIC CENTRE                                                                                                                          JUPITER COFFEE & DONUTS | 5252 DIXIE HWY
MARTIN'S DONUTS | 4 W. STATE ST., TRENTON, 513-988-0883
MILTON'S DONUTS | 3533 ROOSEVELT BLVD., MIDDLETOWN, 513-422-8612
MIMI'S DONUTS AND BAKERY | 2267MILLVILE AVE., LODDER'S HANOVER TOWNSHIP, 513-280-1911
OXFORD DOUGHNUT SHOPPE |  120 LOCUST ST., OXFORD, 513-523-9911
ROSS BAKERY | 4421 HAMILTON-CLEVES ROAD, ROSS TOWNSHIP, 513-738-3129; AND 1051 EATON AVE., HAMILTON, 513-894-9016
STAN THE DONUT MAN | 7967 CINCINNATI-DAYTON ROAD, LAKOTA SHOPPING PLAZA, WEST CHESTER TOWNSHIP, 513-759-0016                                                                                                                                                                 THE DONUT HOUSE | 8268 PRINCETON GLENDALE RD
THE DONUT SPOT | 5148 PLEASANT AVE. (U.S. 127), FAIRFIELD, 513-863-7033
---
TIPS
While the first shop might have the most delicious donuts you've ever tasted, pace yourself! We always fall in love with the donuts at our first stop, eating far too many and leaving us a bit stuffed for the rest of our journey.
Check the hours of the shop prior to going. Many of the shops will close for the day once they sell out, even if its before their normal closing time. You may want to check Facebook for any daily updates.
Don't wear jeans or anything with a button! You need SPACE for all the donuts. I suggest elastic pants and/or a dress!
Plan your trip out before. You do not have to complete the trail in one day or even one weekend. No reason to rush it! Well, unless your really want the shirt! I suggest taking some extra time to explore Hamilton. They have made great improvements over the last five years. Lots of cool shops and events to explore. We love Municipal Brew Works.
JUST DO IT! Get it on the calendar. This is the perfect road-trip for families, couples, friends, etc.. Less than two hours away from Columbus. I guarantee you'll be surprised at everything Butler County has to offer. I know I was.
I RECEIVED COMPENSATION IN EXCHANGE FOR WRITING THIS REVIEW. ALTHOUGH THIS POST IS SPONSORED, ALL OPINIONS ARE MY OWN.

SaveSave