Do you ever feel like life is going a thousand miles per minute and maybe you're missing out on the important things because you're giving your time to so many other things? (raises hand) I am one of those people who put's myself last every single time. I put all my focus on what other people need and how I can help other people. I'll admit, I stretch myself far to thin, making sure I am saying "yes" to make to other's lives easier, while putting my needs on the back burner. Guess what? It catches up to you and when it does, you crash!
So, what do you do when that happens? My suggestion is to "check-out" if possible. Un-plug. Take time for you. Connect with the ones close to you. Get out to nature. Focus on the moment and only what is in front of you.
Cherry Ridge Retreat was the perfect spot to escape and do just that. Located in the scenic area of Hocking Hills, their cabins and lodge offer the harmony of nature, the peace of solitude, and the simple joys of the Earth's beauty. An adult only luxury cabin, just miles of Old Man's Cave, Cedar Falls and Conkel's Hollow, is away from the road and hidden within 140+ acres of private forested land. They offer miles of groomed trails, several fishing ponds and stunning waterside gazebos – offering their guests several unique places to relax in a beautiful setting.
The moment you pull up the driveway you'll know you're in for a special weekend.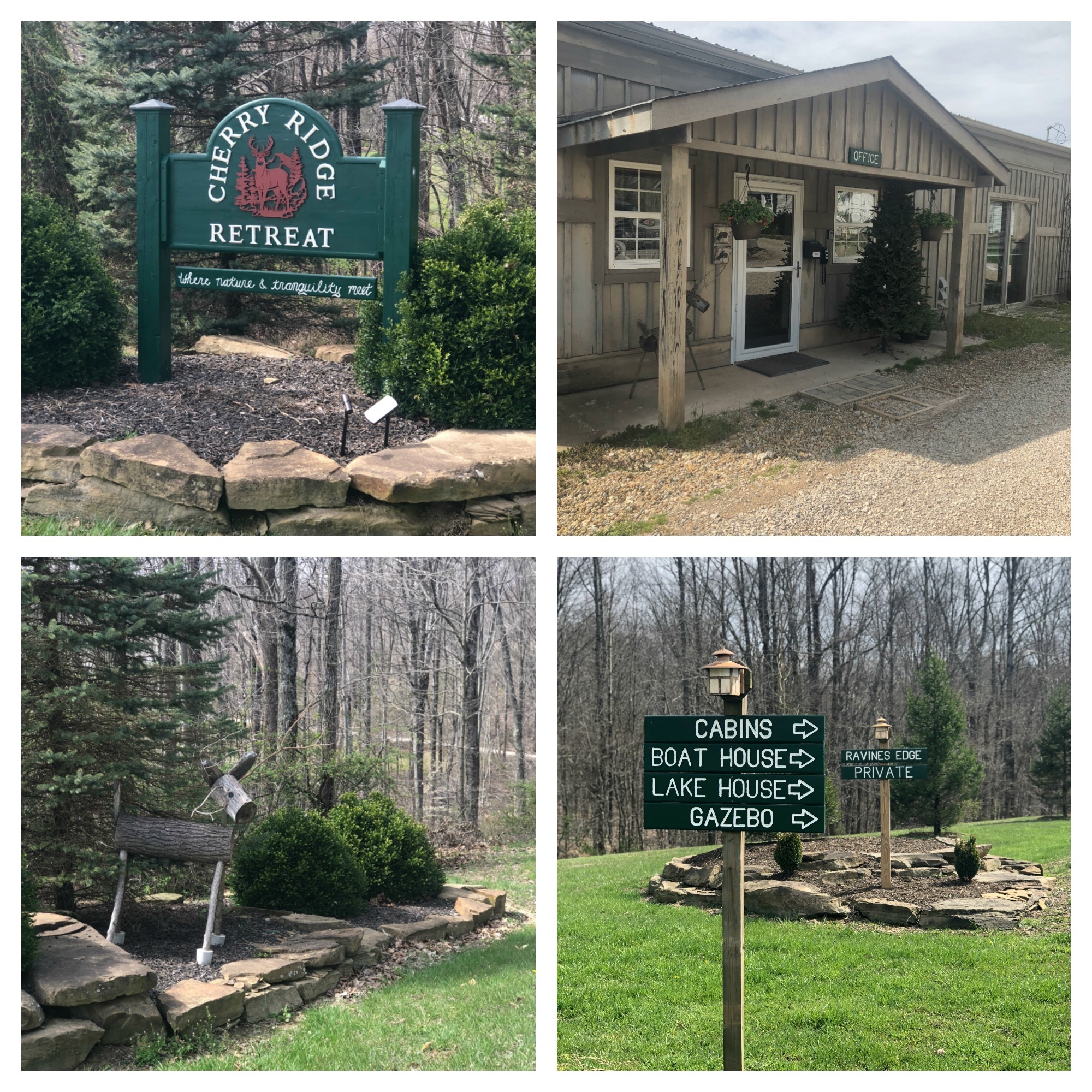 As soon as we arrived, a bit early out of sheer excitement, we pulled up to the office. Don't worry. It is easy to find. They have signs everywhere. Check-in was a breeze. They had everything waiting for us, even offering us the chance to look through their movie collection. Within minutes we had our keys and were directed just down the road.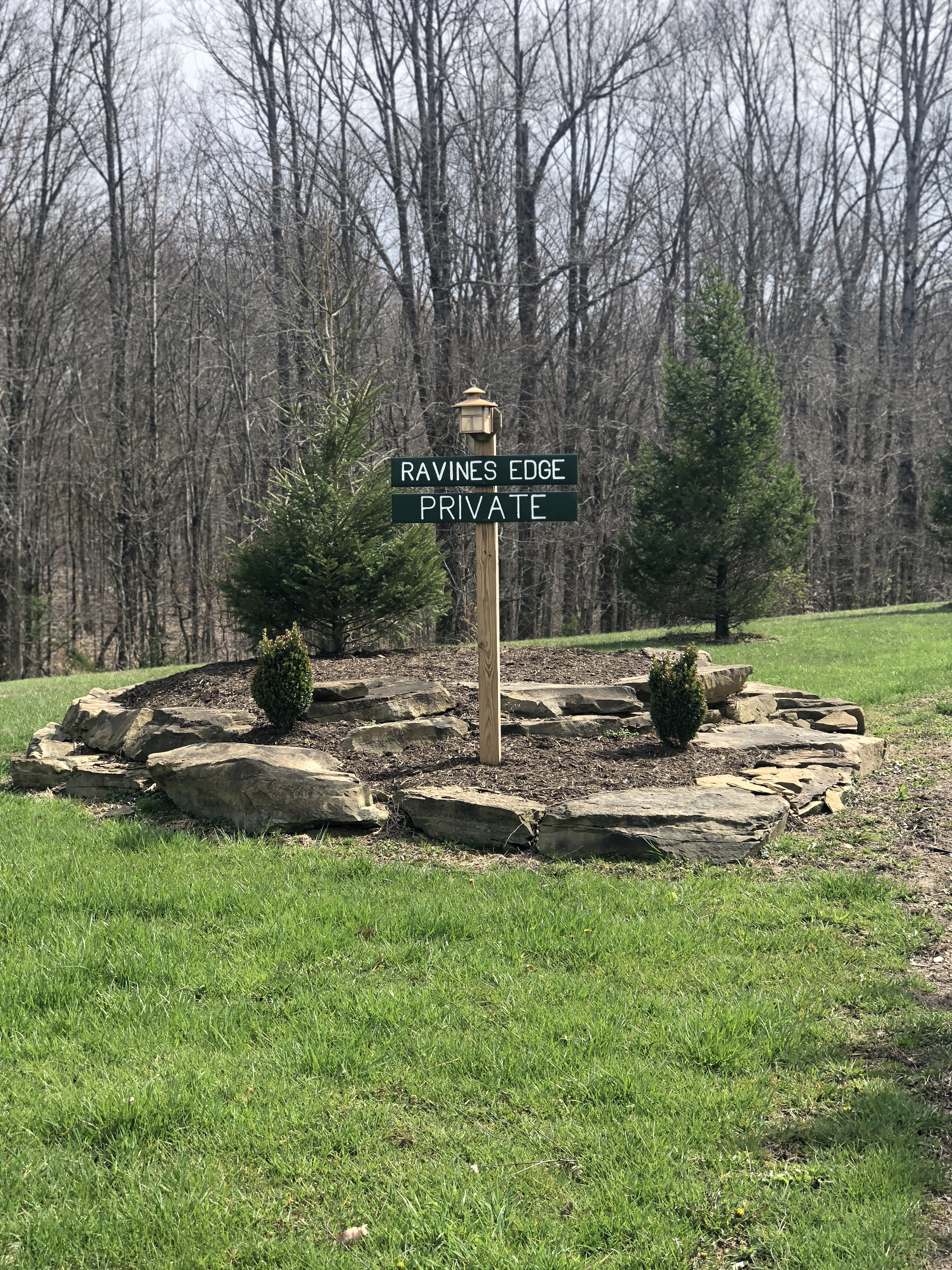 We stayed in Ravine's Edge, a luxury cabin, sleeping 2. This was perfect for us. They have a total of 8 cabins and one lodge. Depending on the cabin, they will sleep 2- 4. The lodge sleeps 10 – perfect for a weekend away with friends!
"We focus on quality, not quantity: each cabin is situated on its own private site and each site is unique. As you sit on your porchor gaze from the great room picture windows, all you'll see is nature: trees, water features, birds, and deer. Isn't this why you wanted to go to Hocking Hills in the first place?"

Surrounding the house are beautiful woods, which you can hike in. It was so nice to have the option to drive a short distance to a few of the Hocking Hills parks, but, also do a bit of exploring in our own "backyard." Outside, you will also find great amenities. There are two patio/decks + a fire pit area. One of of the decks, you will find a grill & dining table and on the other, a hot tub. Yes, a hot tub. Perfect spot to unwind after a day of hiking or drinking champagne by the fire.

After doing a quick exploration of the outside, I, of course, sprinted up to the door. I couldn't wait to get inside. However, something stopped me in my tracks. I heard voices inside and started to second guess if we were at the right spot. What did I do? Sprinted back to the car and told Stephen I thought there were people inside and he should go check. Like a good husband, that's just what he did. What did he find?
REO Speedwagon 'Can't Fight This Feeling' on SiriusXM Love Songs Station.
To be fair, I technically did hear voices! They turned on SirusXM on the TV, instantly setting the tone for our weekend. They also had a bottle of chilled champagne, two classes and a welcome note waiting for us. This is probably the most perfect way to enter a cabin and speaks highly of the quality of experience you have while staying with them. They have left to detail out.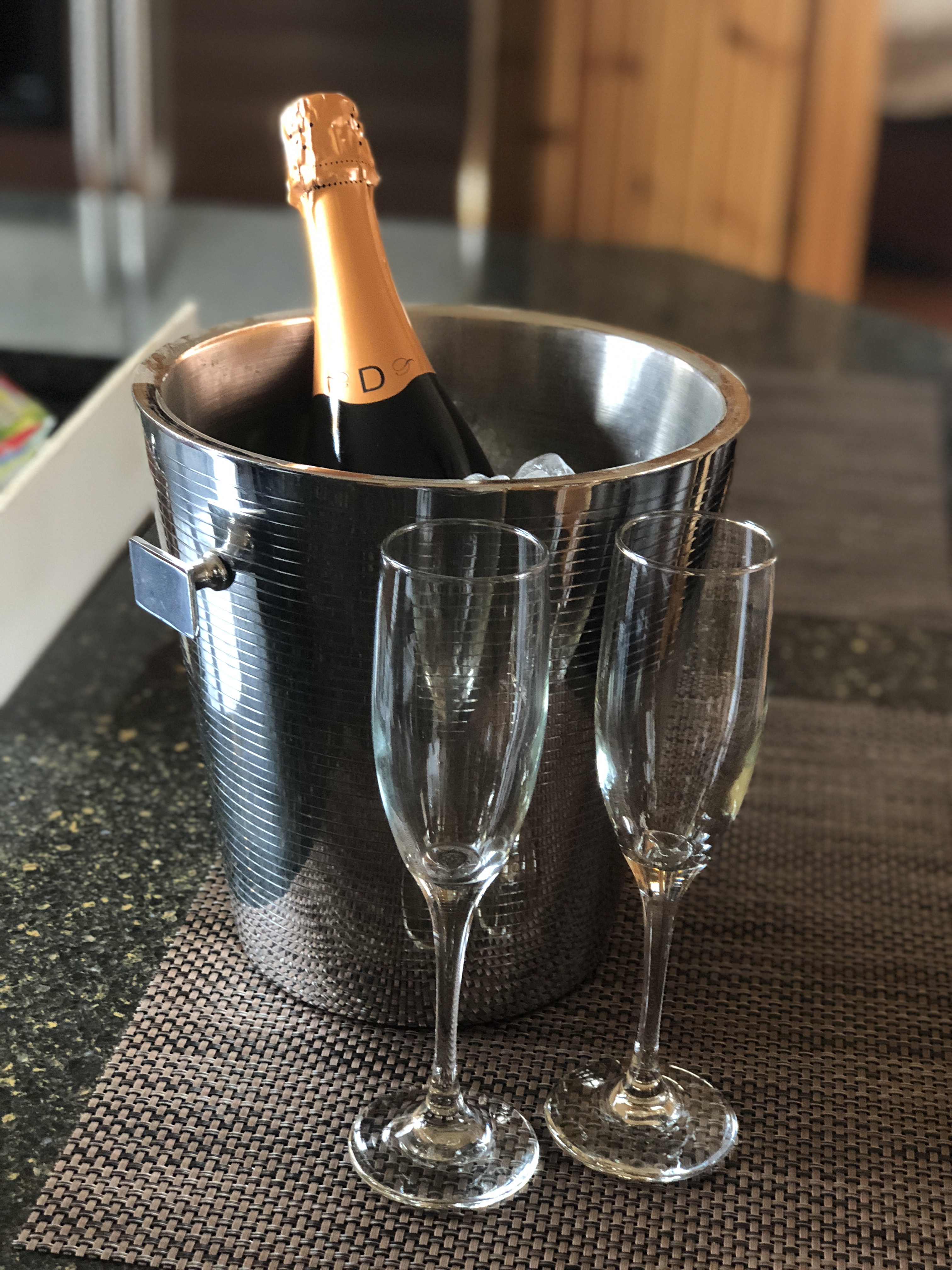 When you first walk into the cabin, you are met with a gorgeous kitchen and bar. Unlike many other places we've stayed, this kitchen had everything you could possibly need. From making a smoothie in their smart power blender to creating a chimichurri sauce in their food processor to top the steaks you grilled out on the deck – they have it all. You have the tools  to make a six course meal if you wanted to, just make sure you bring all the ingredients because there isn't a store close by!
When we walked in, of course I looked left to the kitchen/bar/champagne, but, if you look to your right, you will see a gorgeous living space. Beautiful woodwork filled the floor and the walls of the open concept, complete with a fireplace and impressive furnishings. The two chairs near the window were very comfortable. I spent a lot of my time in them! The only thing I would wish for is a bigger, more comfortable couch. It was only big enough for Stephen and if we wanted to do cuddle up for a movie, the only place to do so was the floor! However, like I said, I was plenty happy in the oversized, leather chairs.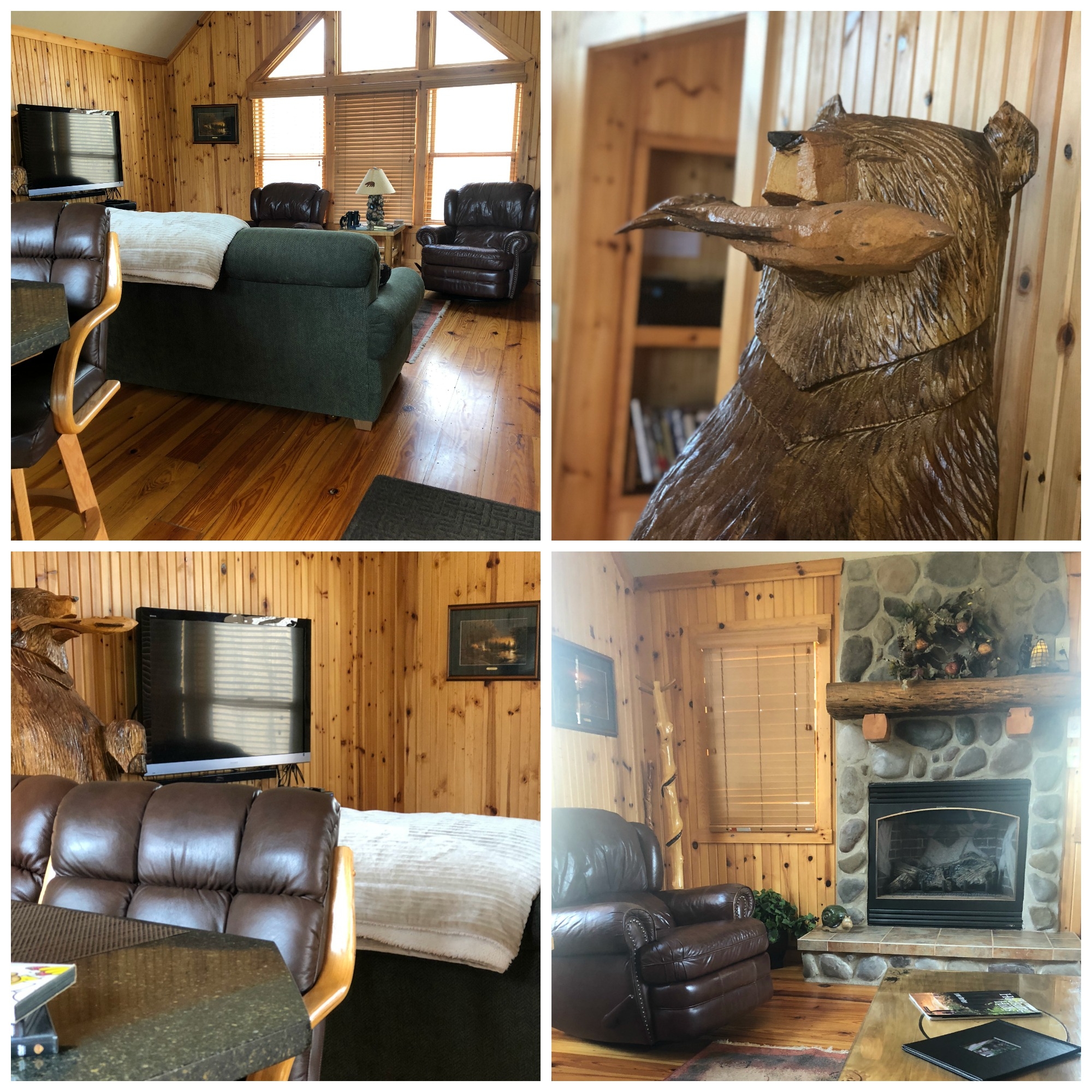 Through an oversize, open doorway – you are led into the master suite. *jaw drops to floor* Taking one glance at the bed, I knew I was in for a good night's sleep. The darkness of the solid wood they used to craft the sleigh bed, the warmth of the pillows, the softness of the blankets – all of it was the perfect combination. Throughout the cabin, I noticed many details they added to make our stay a bit more comfortable. Look to the right nightstand, they added a sound machine to play while sleeping. Definitely aided in our good nights sleep.
Okay, so, we thought the bedroom was gorgeous. Then we looked to our right. HOLY SMOKES. The most divine shower was in front of us. All glass. Bamboo floor. Waterfall shower heads. Plus, a stained glass window just outside of the back glass? Glorious. The perfect shower. I didn't think it could get any prettier, that was until nighttime and we turned the light on to it. The detail in this bathroom were over-the-top and amazing.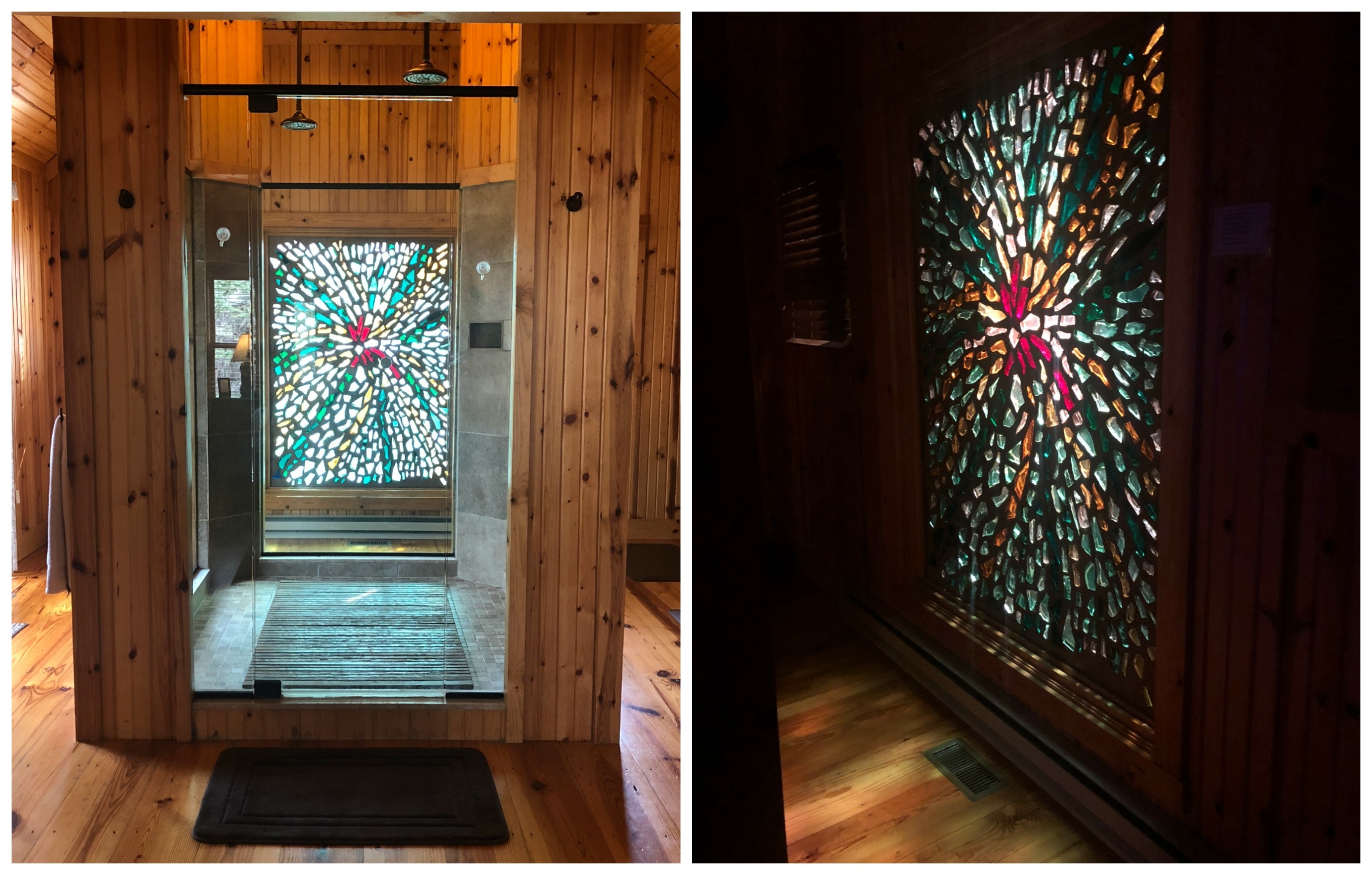 As soon as we were done "oohing and aahing" over the cabin, our official "un-plug and check-out" weekend could begin! What better way, than exploring the outdoors? Wait. No. We went to the kitchen to grab the champagne and THEN went outside to explore.
After a short exploration, we headed back up to get a closer look at the fire pit.
If you notice in the picture, there is wood in the wood holder. That does not come with the cabin, but, you can add it on for a small fee. You are not allowed to bring your own wood. Firewood, by county mandate, may not be brought to Hocking County under any circumstances.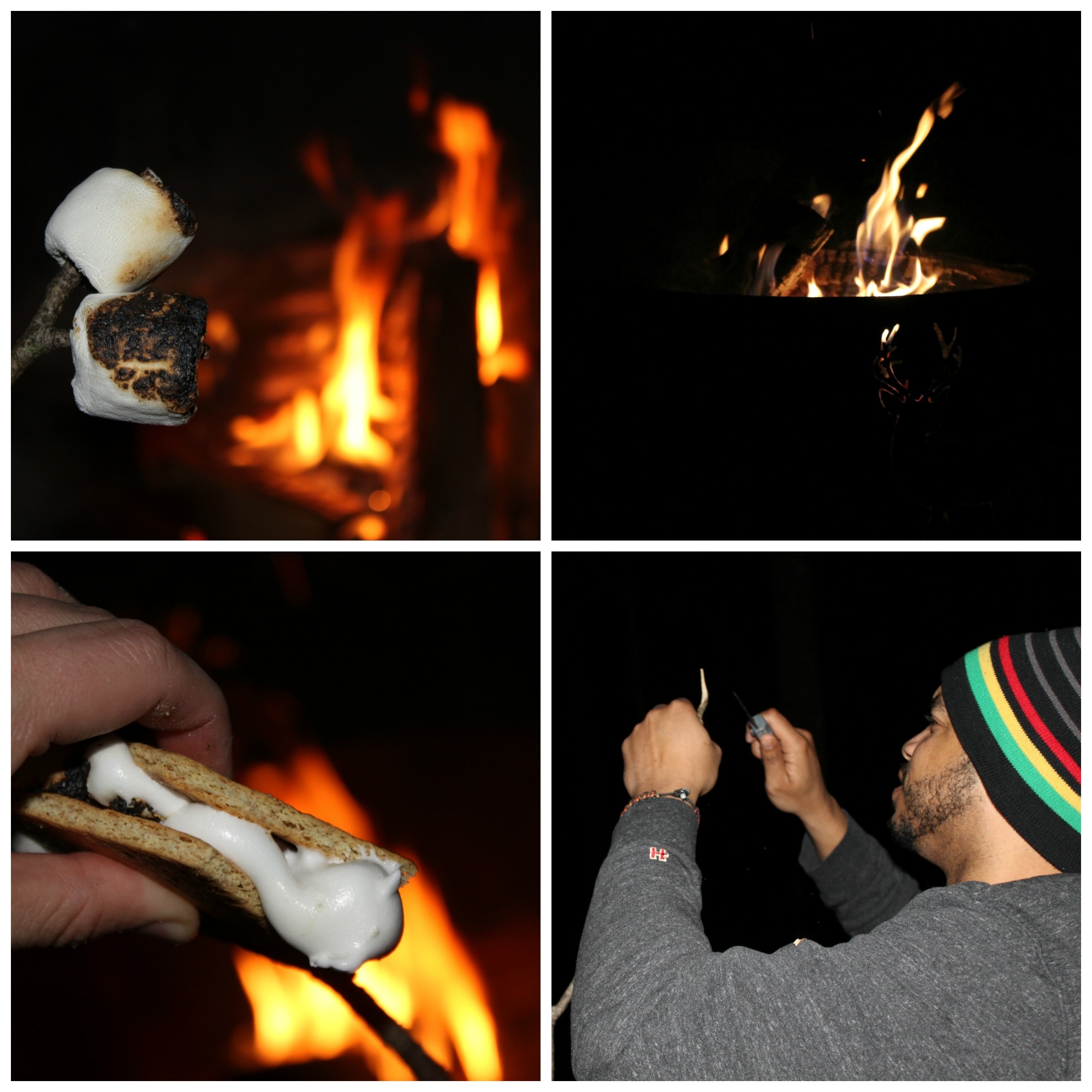 If being indoors is a better way for you to relax, they have you covered. They have a few books, the option to check out movies, puzzles, bird guides & binoculars, and more.
Were you wondering when we were going to eat?! It wasn't long after our hike and attempt and puzzle making.
What goes better with a luxury cabin than cheap champagne, boxed pancakes and frozen pizza? Pretty much nothing. We wanted to focus on relaxing, which meant we didn't want to have to do a ton of dishes or have to prep a big meal. Just kidding. If I'm being honest, these are some of our favorite foods we eat on a regular basis and normally, we leave the big meal prep to special occasions!
While eating breakfast out on the patio, Stephen and I were thinking how cool it would be if they partnered with a local farmer to bring some sort of "blue apron" type meal option? They could partner with the locals to create a "pre-made" meal or "pre-created meal" with all the ingredients in your cabin? How fun would that be? You would get to create a delicious meal together without all the extra work of having to think of the meal or buy (and bring) the exact ingredients.
After breakfast, before checking-out, we took our mimosas out to the hot tub. We loved the convenience of it. Right outside of the shower, there is a door which leads you to a short pat right to the hot tub, which is covered.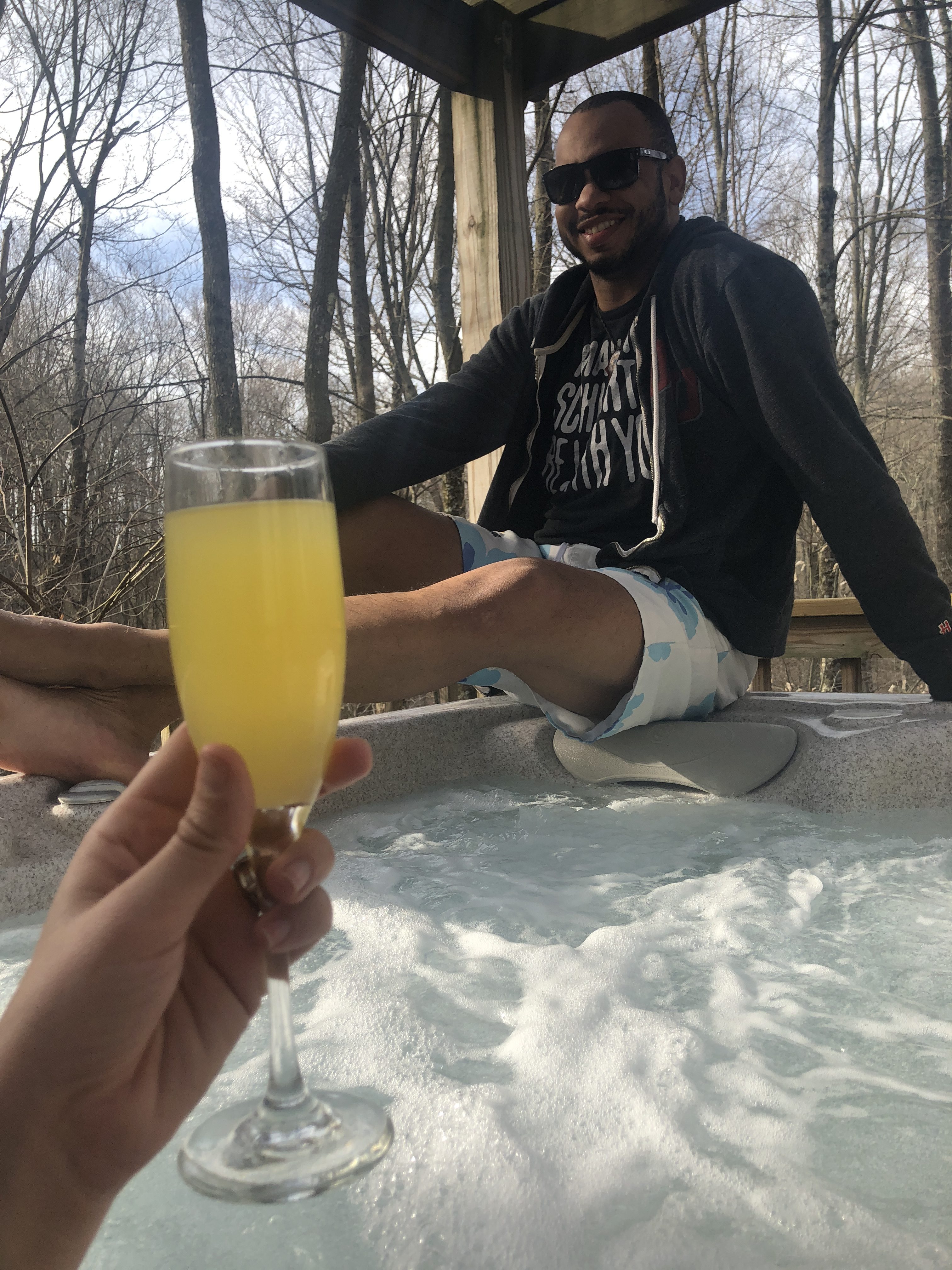 Whether you need to reconnect, unplug, or just want to enjoy the peace and quite of nature — I highly suggest spending the weekend at Cherry Ridge Retreat.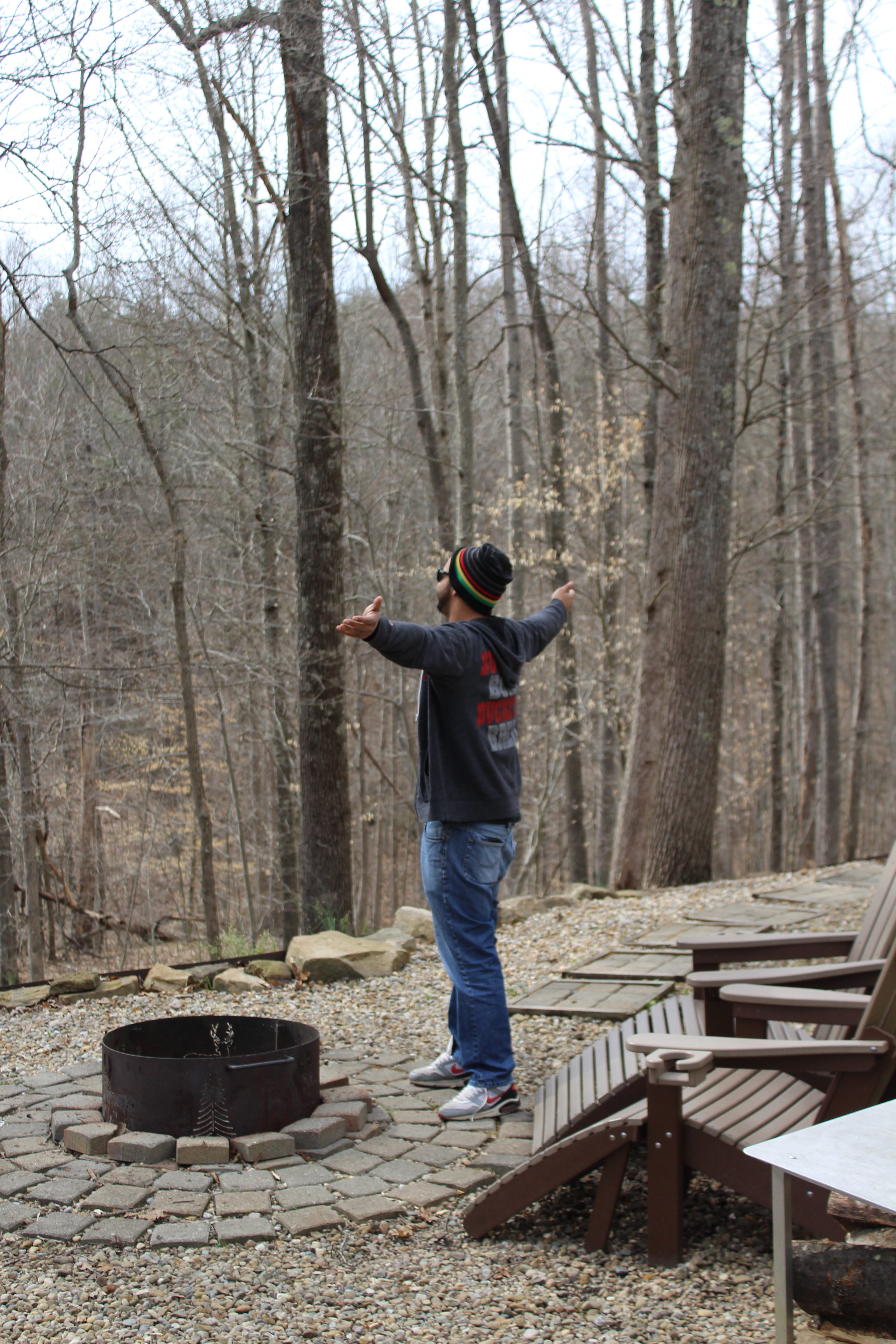 Of course we couldn't leave Hocking Hills without exploring the beautiful trails just miles from our cabin. We drove over to Conkles Hollow State Preserve and spent the afternoon soaking in the beauty  and calmness of the woods.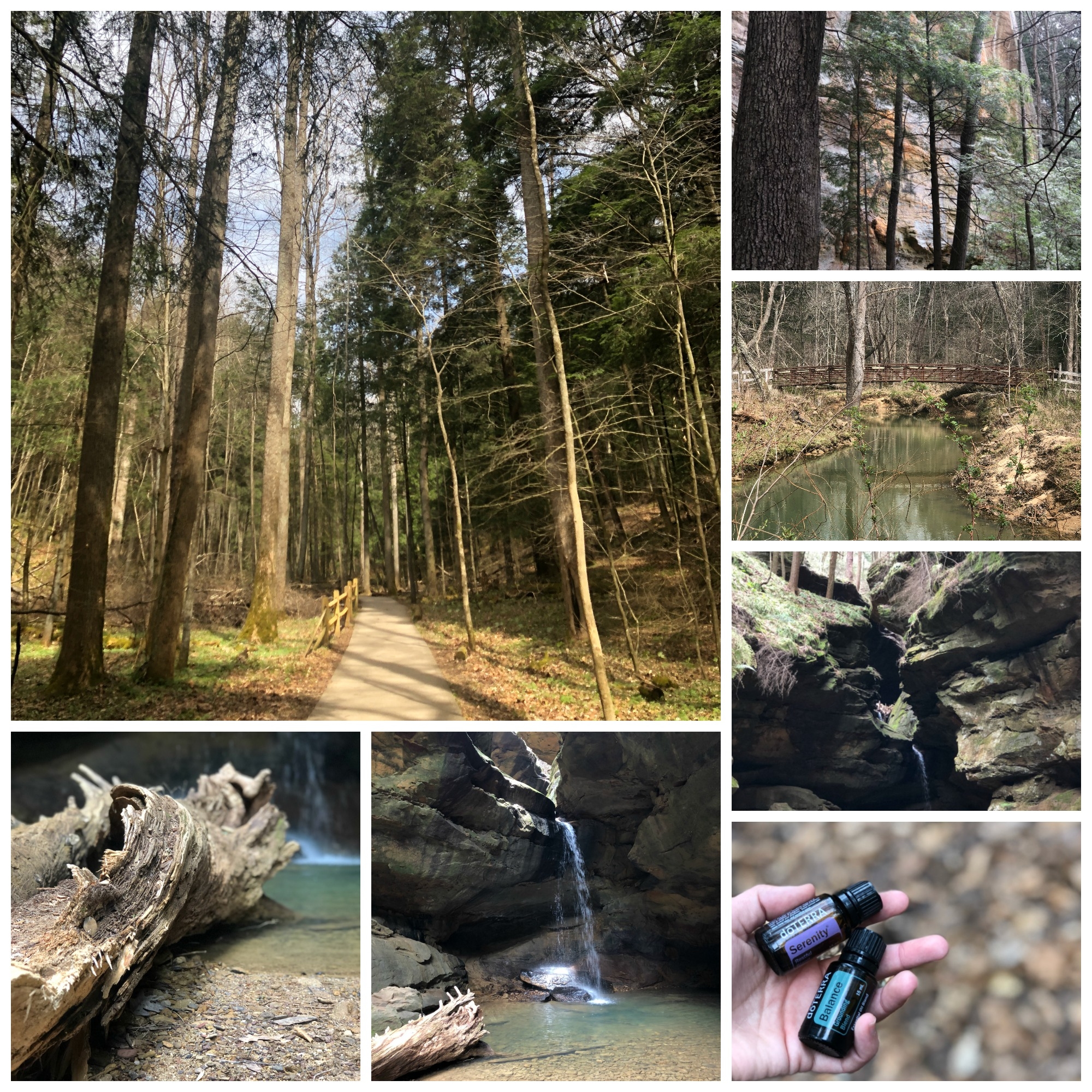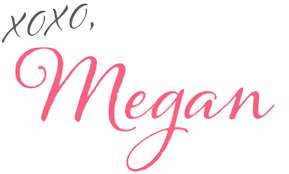 ---
Cherry Ridge Retreat
22097 Cherry Ridge Rd
New Plymouth, OH 45654
Amenties: Massages in cabin, ultra-soft linens, pillow-top mattresses, natural aveda bath products, plus towels, access to 140 forested acres and miles of serene woodland trails (trail maps included), fishing on a 2.5 acre Angler's Paradise (boat included), firewood package, Seasonal mix of flowers and greens and/or champagne delivered to your accommodation and more.
Guest Comments | Why Stay with Them
---
SaveSave
SaveSave
SaveSave
SaveSave
SaveSaveSaveSave
SaveSave
SaveSave
SaveSave
This is a sponsored post for Cherry Ridge Retreat. All opinions remain my own and I was in no way influenced by the company.
SaveSave
SaveSave
SaveSaveSaveSave
SaveSaveSaveSave
SaveSave
SaveSave
SaveSave
SaveSave
SaveSave
SaveSave
SaveSave
SaveSave
SaveSave
SaveSave
SaveSaveSaveSaveSaveSaveSaveSave
SaveSaveSaveSave
SaveSave
SaveSave
SaveSave
SaveSave