This blog post is written in partnership with and sponsored by Big Lots.
I am so excited to share with you that I've partnered with Big Lots to show why they are one of my favorite stores, as well as a few of my favorite things to buy for our house. I am not lying when I say I visit Big Lots at least once a week. We bought a house end of December and while that is very exciting – it is also very expensive to buy everything we want at once! Luckily, I have been able to find so many great deals at Big Lots. Just last week, I was able to create the perfect work nook and pick up a few items we needed for the patio.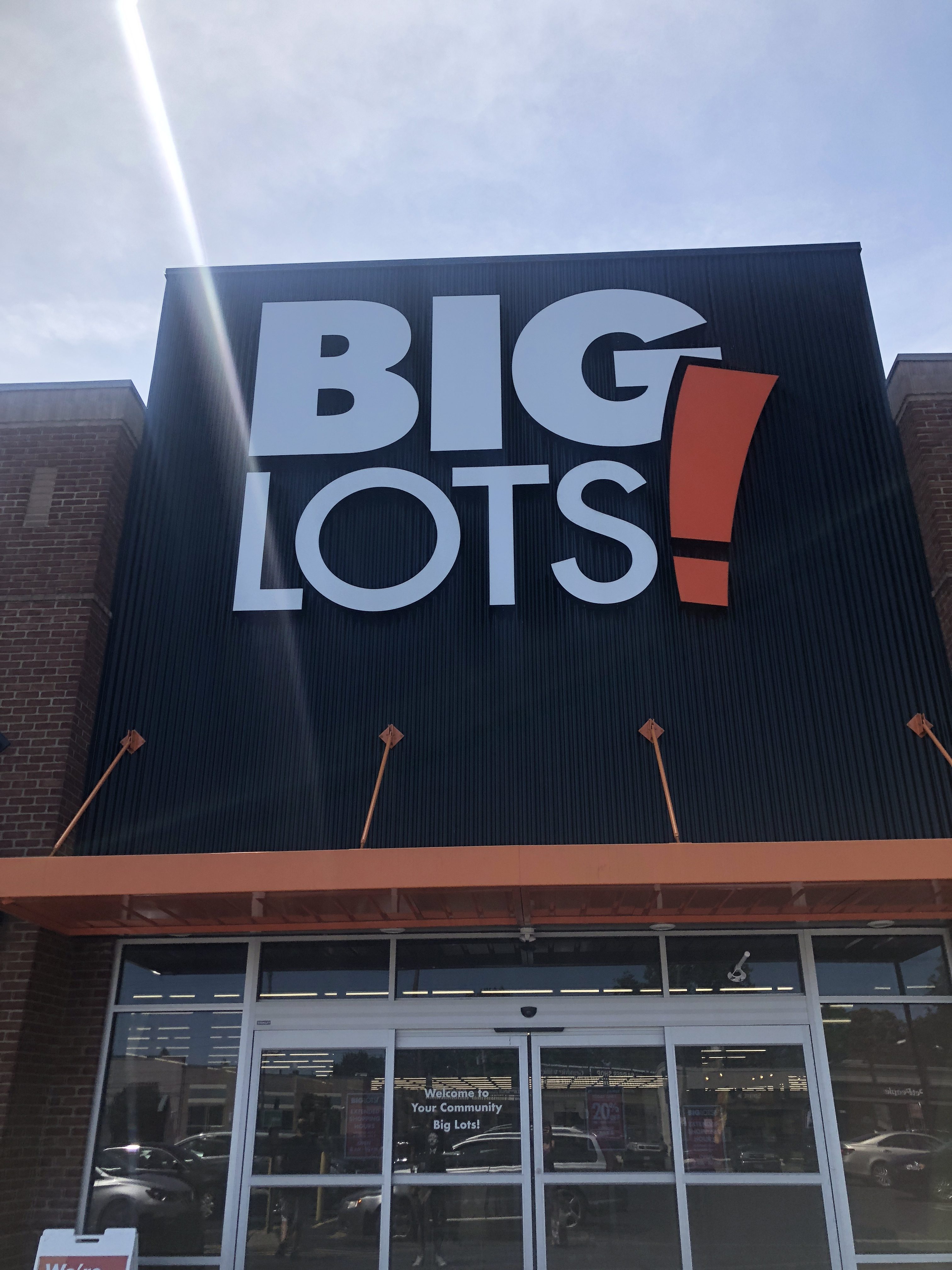 My first memories of Big Lots were growing up. We spent a lot of time shopping there because they had such great deals. Whether it was snacks, house decor or random items for the house – we sure knew we would be able to afford it at Big Lots! However, when I went into my first updated Big Lots – the layout sure didn't match my memories. Wow! I was blown away. BRIGHT. OPEN. INVITING. It sure didn't feel like the discount store I remember. Same great deals – just a new feel!

Fun Fact: Did you now​ Big Lots​ is headquartered in Columbus, Ohio and has more than 1,400 Big Lots stores in 48 states? My favorite locations in Columbus are Grandview and Polaris.
Now you're probably wondering, "Why does she visit every week? Does she LOVE it that much?" Well, I do, but, also – Big Lots is the one stop shop for literally anything and everything you need. With life being so crazy (and busy) right now, I don't have time to run all over the place while doing errands. That's where Big Lots comes in. They take the hard work out of it all.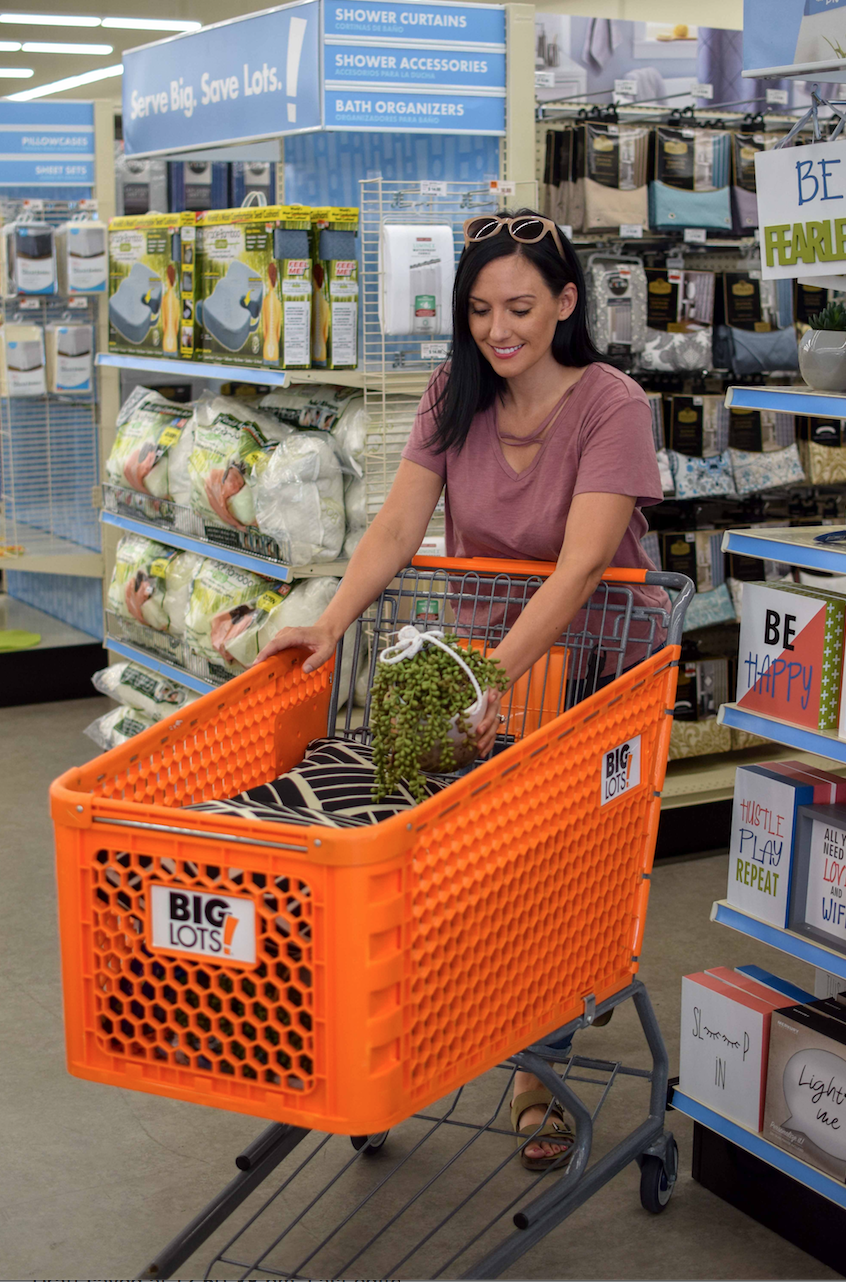 Like I said, we bought a house at the end of last year and have had so much fun decorating. However, I've learned – it is much more expensive to furnish and decorate an entire house than it is a 2 bedroom townhouse. If you didn't know, interior decorating is something I really enjoy and am pretty good at! I am constantly changing things up and creating new spaces. But, like I said, it gets more expensive when you have more space to fill. This is one (of the many) reasons I love Big Lots. It makes it affordable to update, decorate and re-decorate.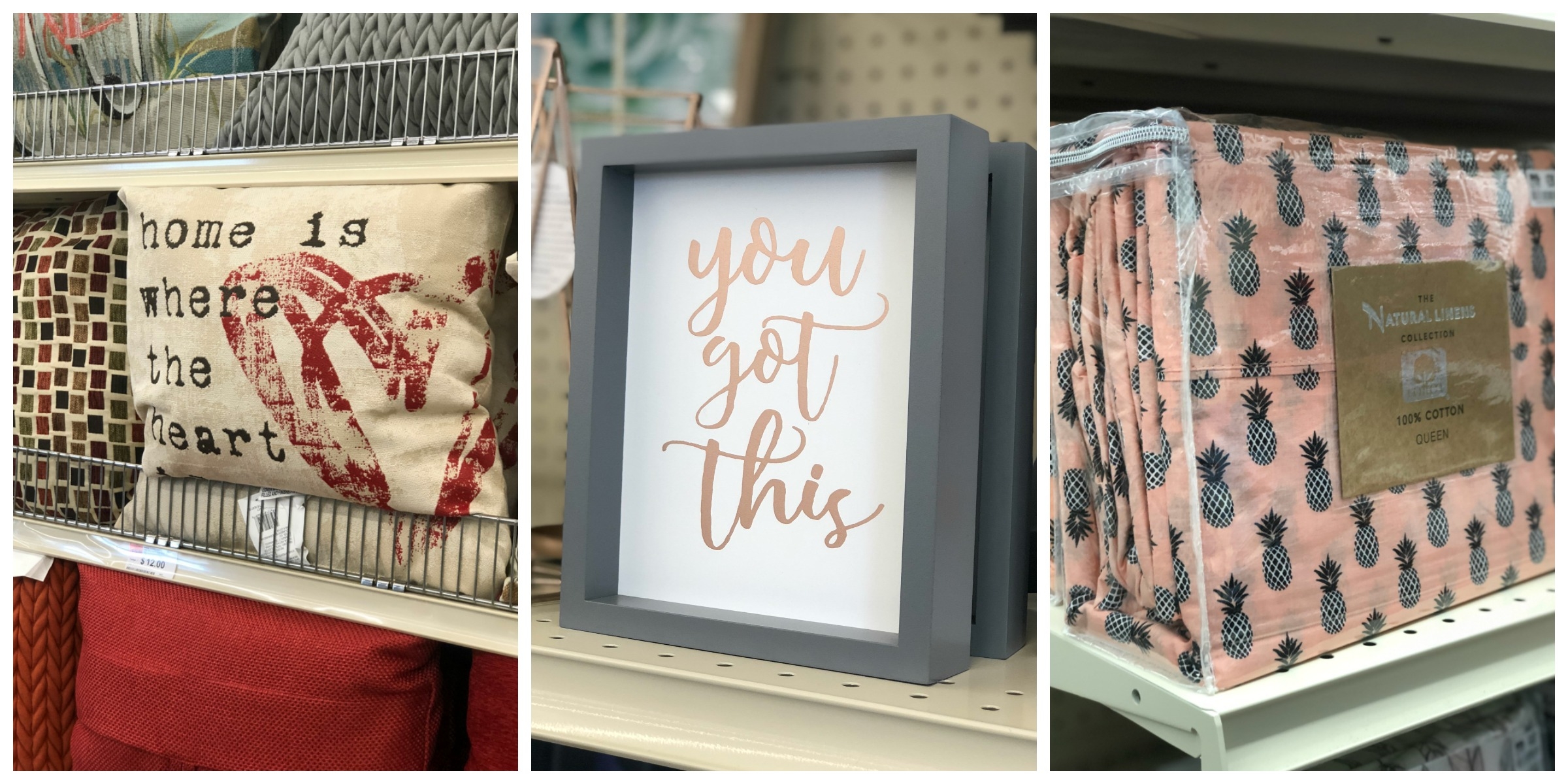 They have EVERYTHING – from pillows to sheets to artwork to decor, I am sure you will find something you love. I mean how cute are these pineapple sheets? Oh, and how hard is it to find the perfect throw pillow? You're in luck, they have a TON of great options.
I love these ​hand towels.​ Simple, yet add a great message to my master bath. Plus, they were $5. A steal, right? Speaking of bathrooms, on my last trip, I picked up a bath mat for the inside of the bathtub, new bathroom rugs and a shower liner. Each of these things were on my list of things to pick up for at least the last two months. I finally remembered when I walked by on my way back to the snack session. See. They do have everything!

This is what I remember most about going to Big Lots for growing up – the food. It was affordable, but, I don't ever remember getting my favorite foods. That has all changed. Mini Nutella cups? Bob's Steel Cut Oats? Beanitos? I seriously scored big time. I am always impressed by Big Lots' selection of organic and healthy foods.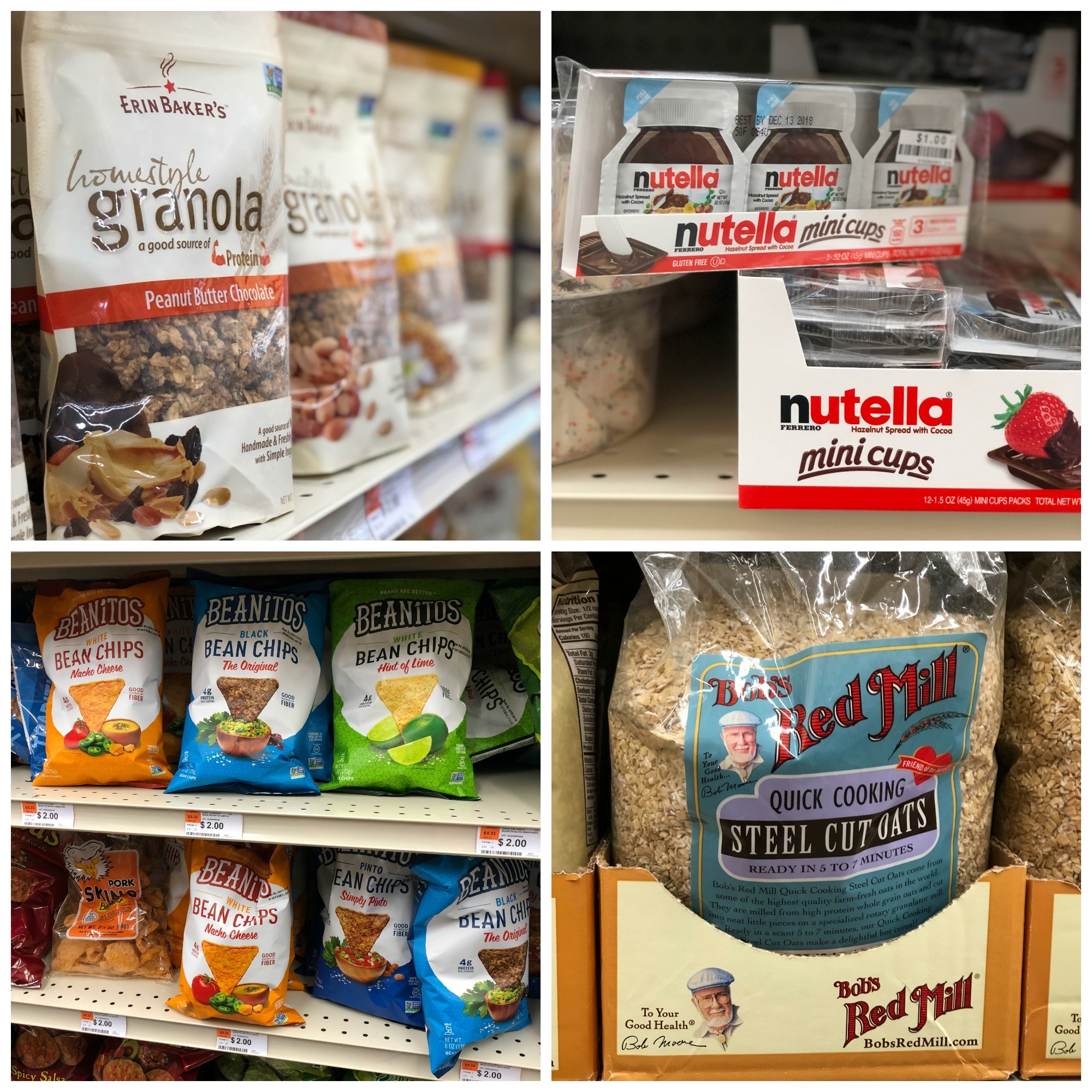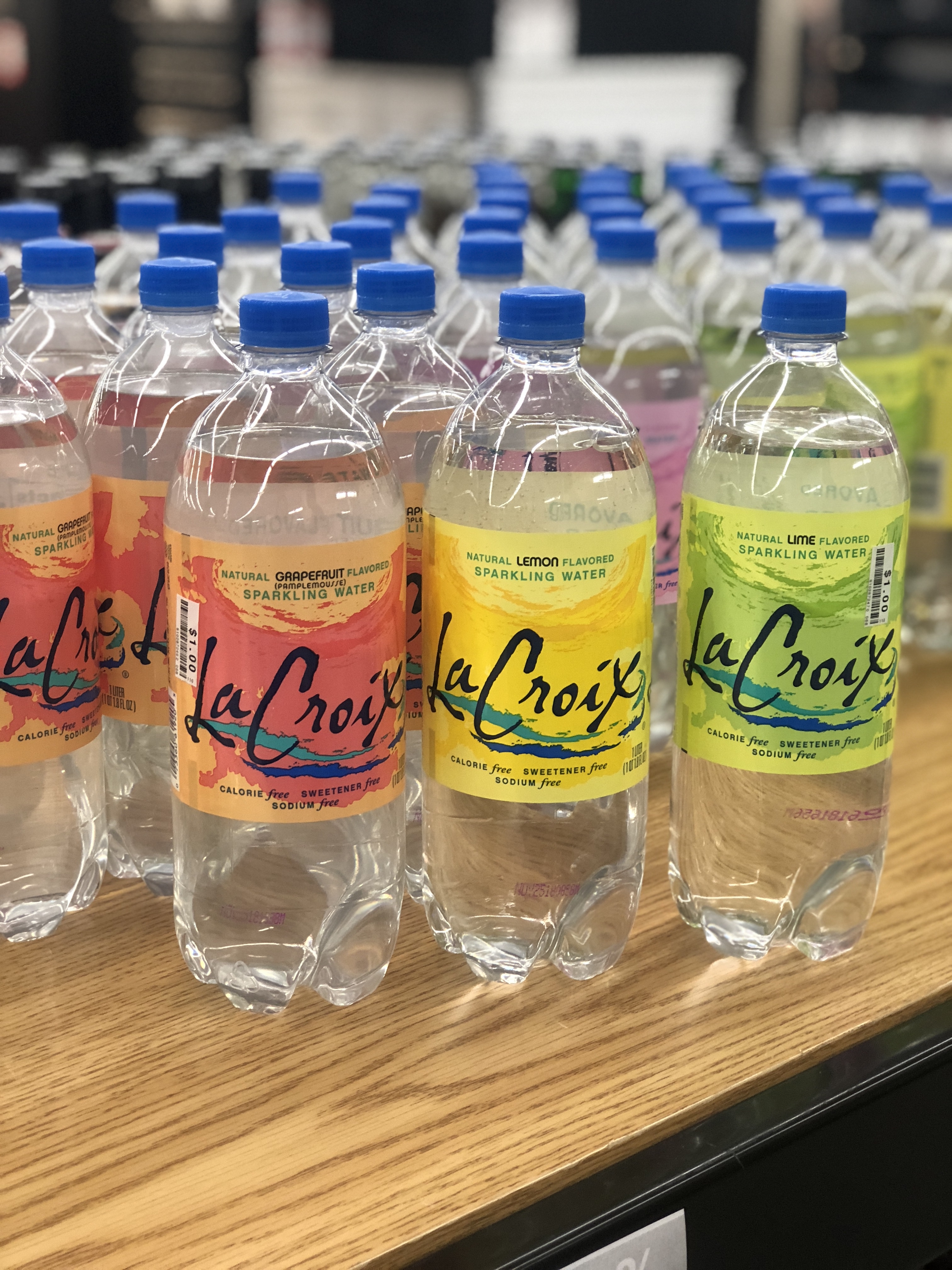 Two of my FAVORITE finds were La Croix in a bottle for .80 and Kodiak Cakes all-purpose baking mix and PUMPKIN pancake mix for $1.95. MUST-HAVE items a steal of a price!
After filling my cart with necessary ​snacks, I always pop over to the cleaning supplies section. No, they aren't in the same aisle, but, they are next to each other. One of my go-to items to pick up is laundry detergent and swiffer products. You can find BIG discounts.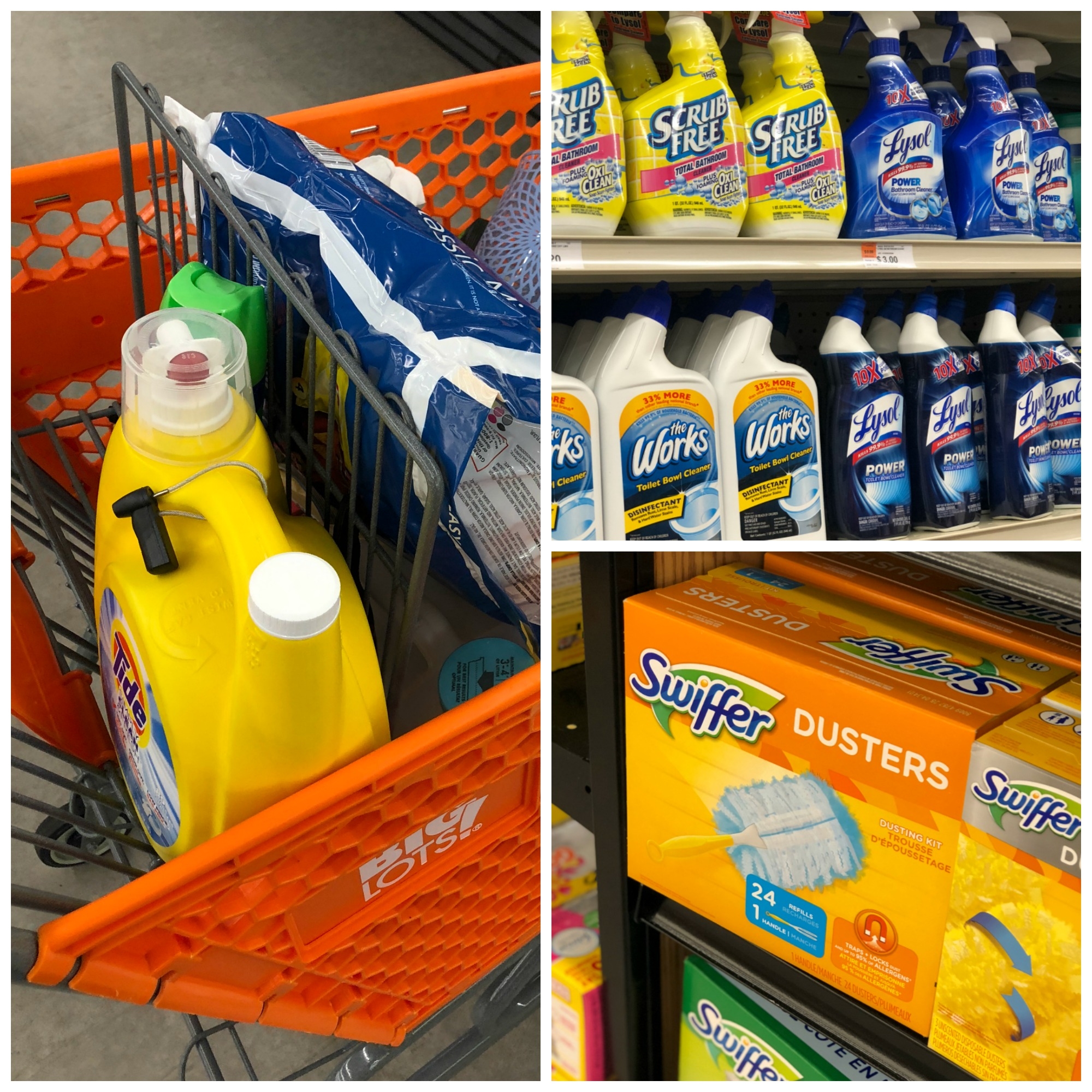 Big Lots also has the cutest items you don't really need, but, really actually need. Floral slip-on shoes and cute water bottles. For sure necessities. Oh, and an ice cream beach towel? How could you pass that up!?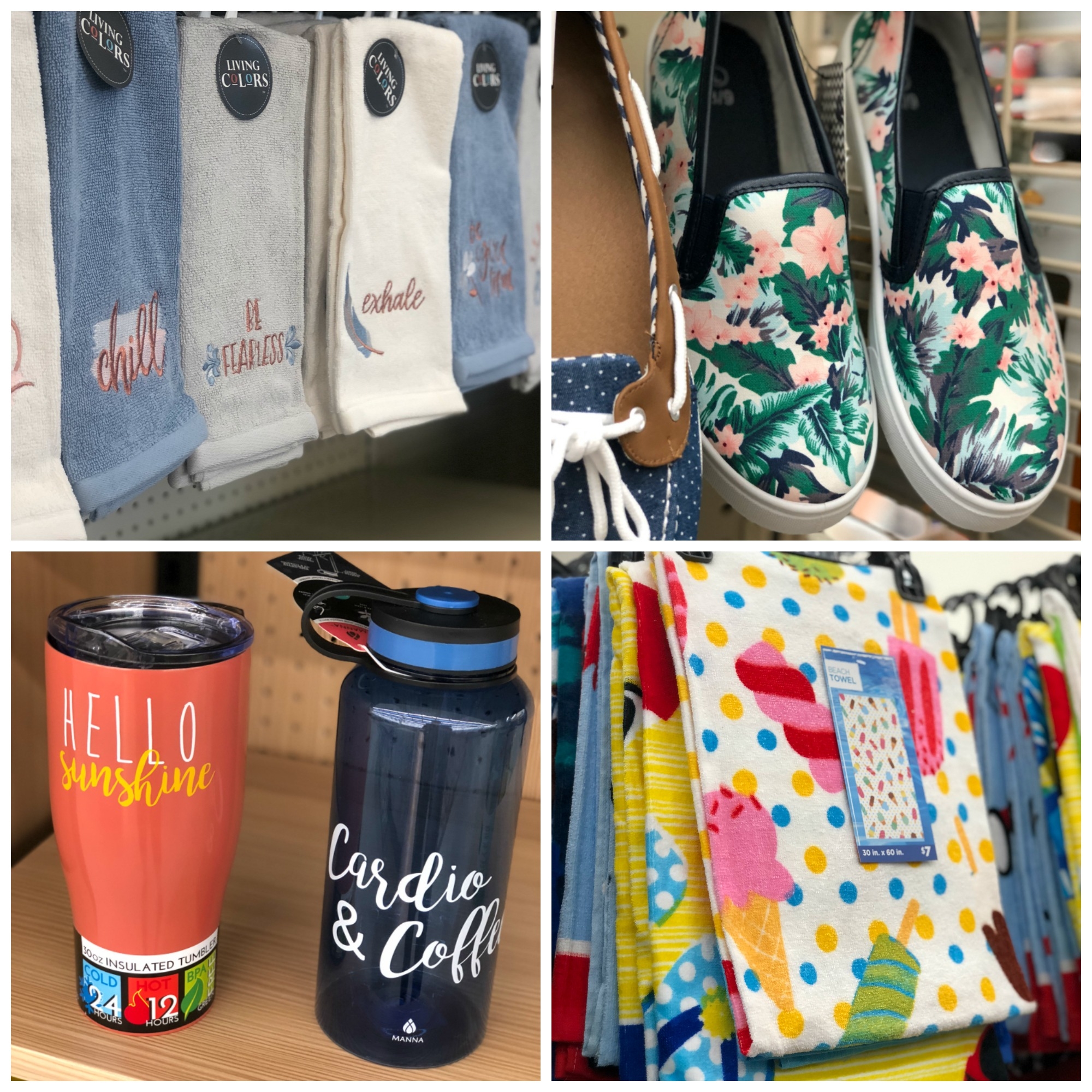 Last thing I like to check out is the outdoor patio items. They have EVERYTHING you need to update your patio and you guessed it – all at an amazing price. I scored these ​SOLAR lights​ (upper left picture) for under $8. The patio dinnerware was all at a great price, but, I think if I bought any more must-have​ plates my husband wouldn't be very happy! How cute are the designs?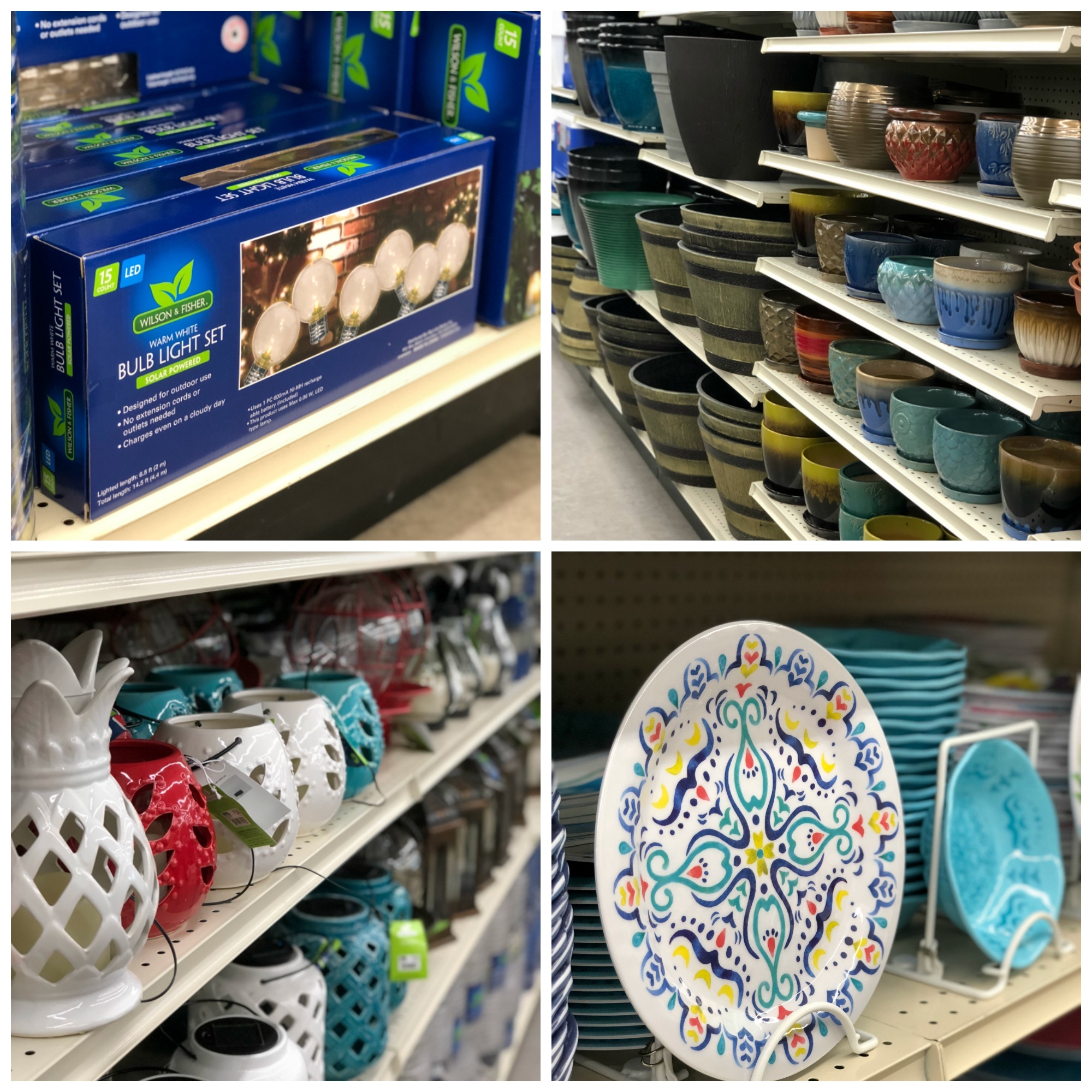 You can never have too many pillows, right? They were each $7 and match PERFECT on our patio couch. I love that they are all weather-proof. Only downfall, they take up a lot of room in my cart – making it hard to fill up.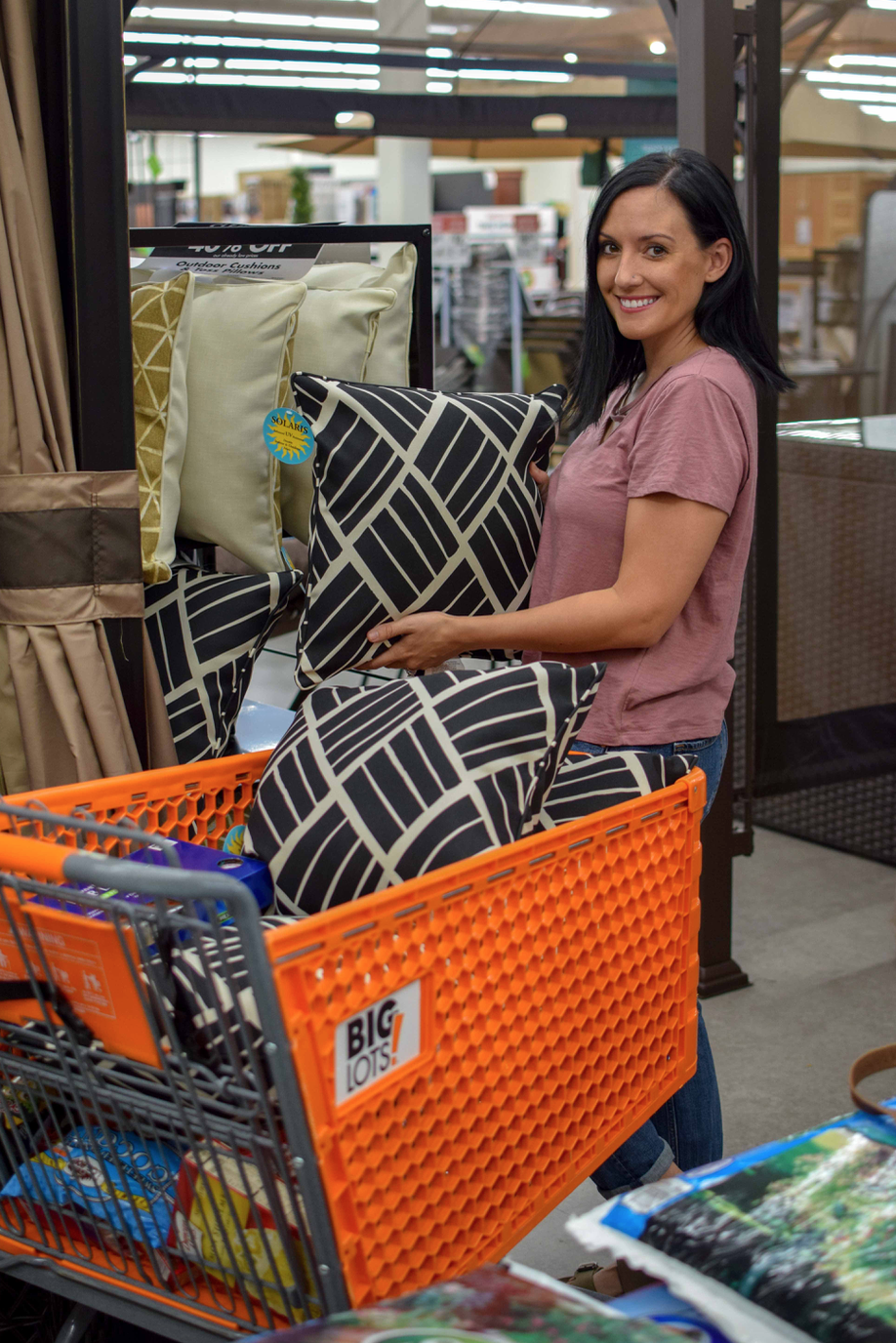 I guess they didn't take up too much space because I was able to fit in much more + a bookshelf from their ​'Back to Campus'​ line they have out right now.

Speaking of their 'Back to Campus' line, as soon as I saw it, I fell in love. It is rustic, yet modern. Just my style. At our house, I do have my own office upstairs, however, I found myself wanting something on the main floor. I wasn't looking for a full on office, just somewhere I could feel relaxed – maybe answer a few emails or catch up on a blog or two. I wanted a space that felt like my own, but, also felt like I was a part of what was going on on that level.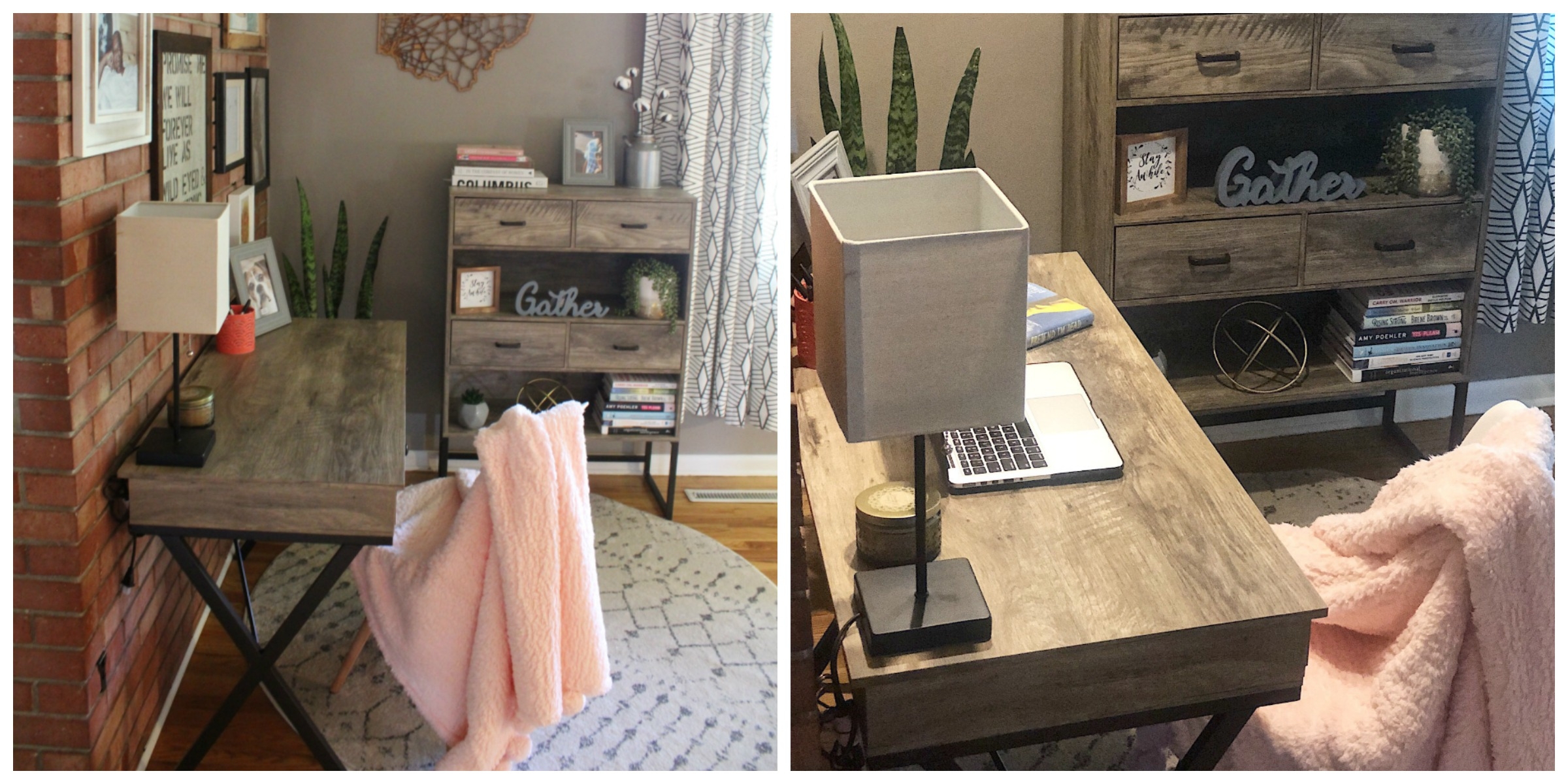 Per usual, Big Lots took the hard work out of designing the space for me. They had a matching bookshelf and desk that fit perfectly in the corner of the main living room.
Not only did they have furniture that met my style, as well as fitting in the space, they had decor to match. I got almost everything I needed for the space in one trip. If I didn't get it at Big Lots, I already had it at home. Everything pictured on the bookshelf, minus the books, I found in one section. Easy, right?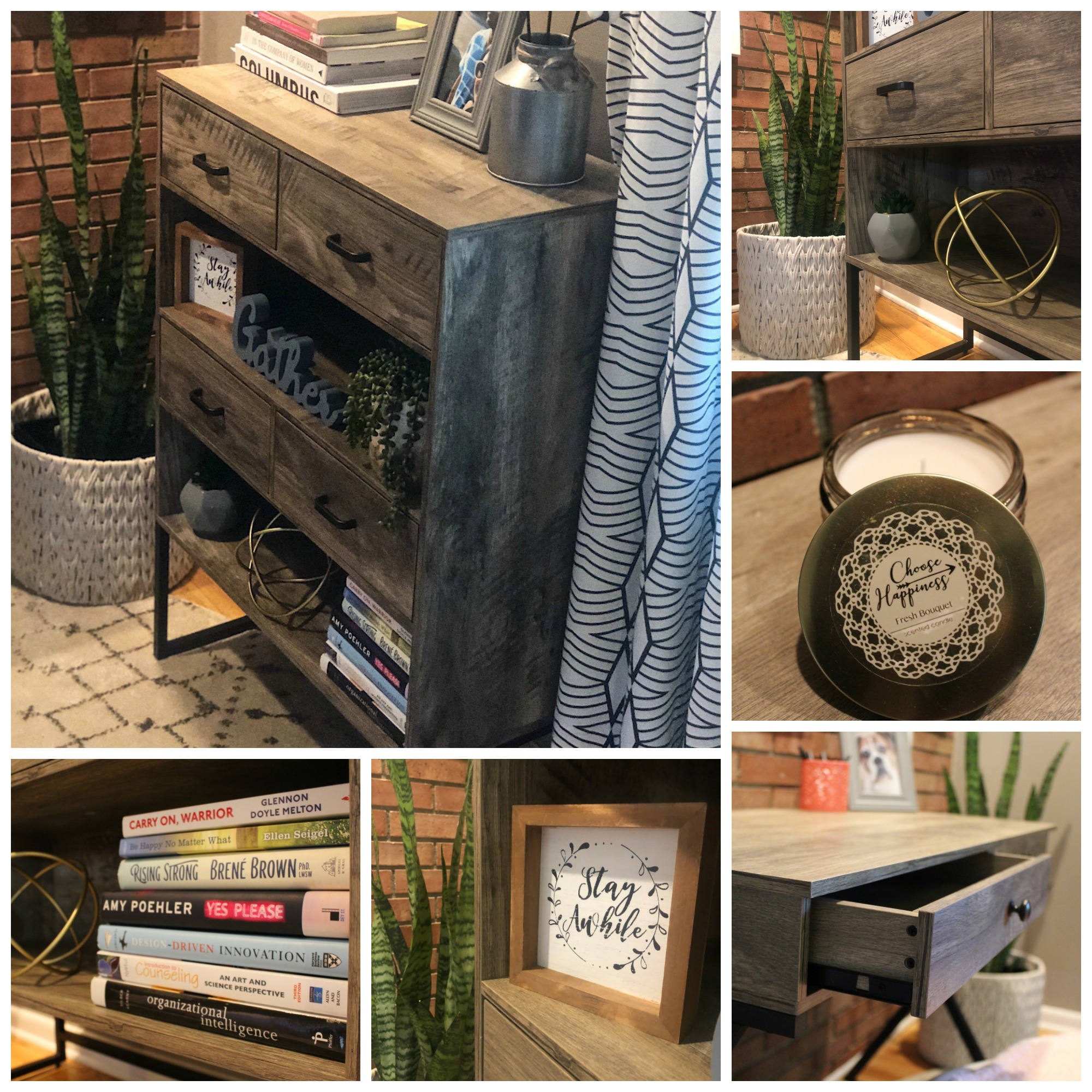 Thankful for my husband who put everything together. If you look at the bottom right of the picture, I picked up that side table to put on the patio for only $6. Forgot we need them, until I was walking to check-out and saw it out of the corner of my eye.

I absolutely love this space. Rustic, modern, boho, comfortable – just what I was looking for. I still can't believe everything on the bookshelf, minus the books, is from Big Lots. A few of the items were on clearance and cost less than $5.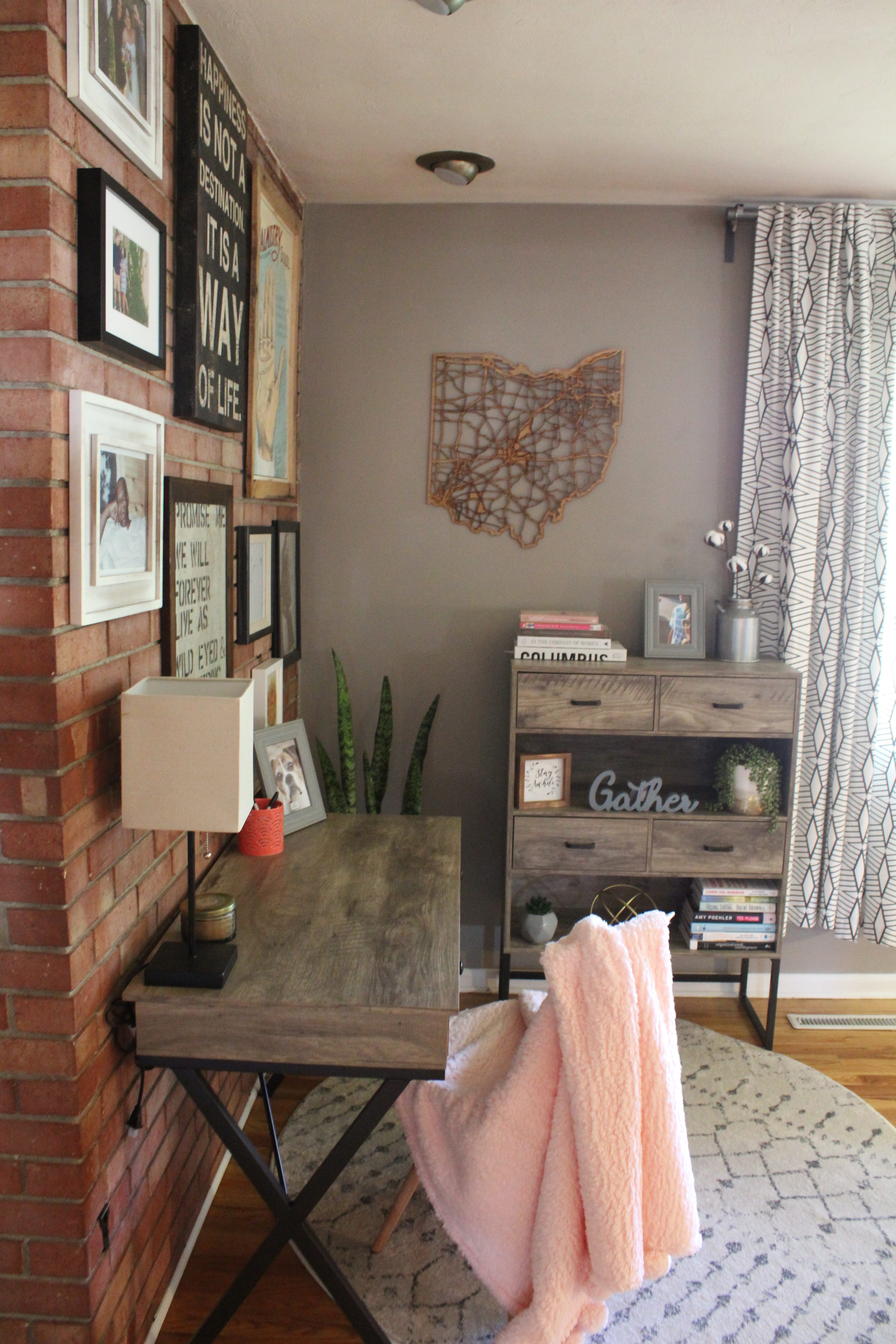 Oh, and the white chair? Surprisingly very comfortable because of its shape. The addition of the pink blanket helps cozy up the spot, too.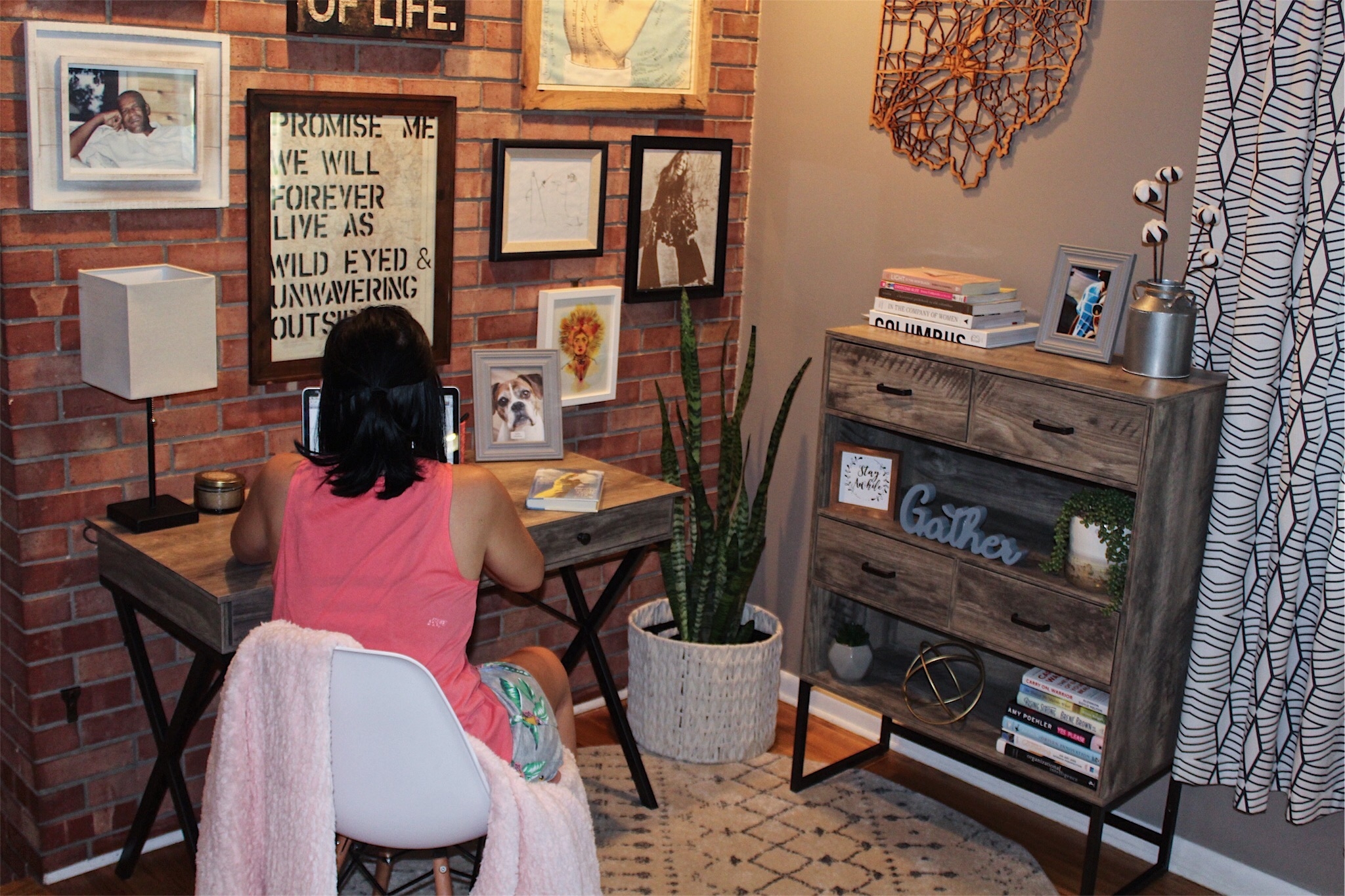 If you haven't been to Big Lots in awhile, maybe even the last year, I HIGHLY suggest getting over there. It is the one stop shop for everything you need. I love that I can merge almost all of my errands into one spot – saves a ton of time. When you walk in, I guarantee you will be blown away by the "store of the future" look and if you're not, you sure will be by their employees. They have fantastic customer service. Employees are always willing to go the extra step and help you out with whatever you need.
Plus, how nice is it to be able to re-do an entire space in your house with items from ONE SHOP at a super AFFORDABLE price? I would tell you how much I spent, but, no way you would believe me!
My favorite Columbus locations:
Grandview
1451 W 5th Ave Columbus​, ​OH​ ​43212-2401
(614) 362-2513
Polaris Towne Center 1245 Polaris Pkwy
Columbus, OH 43240-2037
(614) 854-0360
Tip: Make sure you sign up for their ​rewards program​. It is FREE to sign up and you earn tons of fun rewards + you get the heads up on any big sales. Sign up ​here.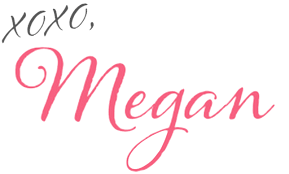 SaveSave