This blog post was written in partnership with the Springfield Visitors Bureau.
This year for my birthday, we decided to take an Ohio road trip (after we cancelled our trip to New Orleans). I didn't want to drive anywhere super far (maybe under an hour). I was trying to think of places we hadn't been and places we wanted to go. This is about the time the universe did the planning for me and I received an email from the Springfield Visitors Bureau inviting us to come explore. I was excited and then thought to myself, "Wait, what is in Springfield?" My question was quickly answered and I was blown away by their response.
Rock Climbing. Rock Garden. Mad River Gorge. Dairy Farm. Art Museum. Whitewater Kayaking. US Air Force Museum. The list could go on and on. There is a TON of incredible things to do in Springfield!
We went for an overnight trip and had the best time. While a full itinerary re-cap will be coming soon – here are three of our more unique stops we had in Springfield.
"The Hartman Rock Garden is one of the nation's most intriguing and revered works of in situ folk art, an outsider art phenomena where self-taught artists construct fascinating worlds out of concrete, metal, stone, and whatever else they can find."
Such a hidden gem on the corner of an unassuming street. Built by Ben Hartman during the Great Depression, the garden started off as a small project with the intention of being a little stone and concrete fish pond in his yard. However, he enjoyed doing the work and like the way it looked -so, he kept going. He collected the stone from a close by construction site, break it with his hammer, add stones/pottery/mirrors and turn them into cathedrals, little houses and more.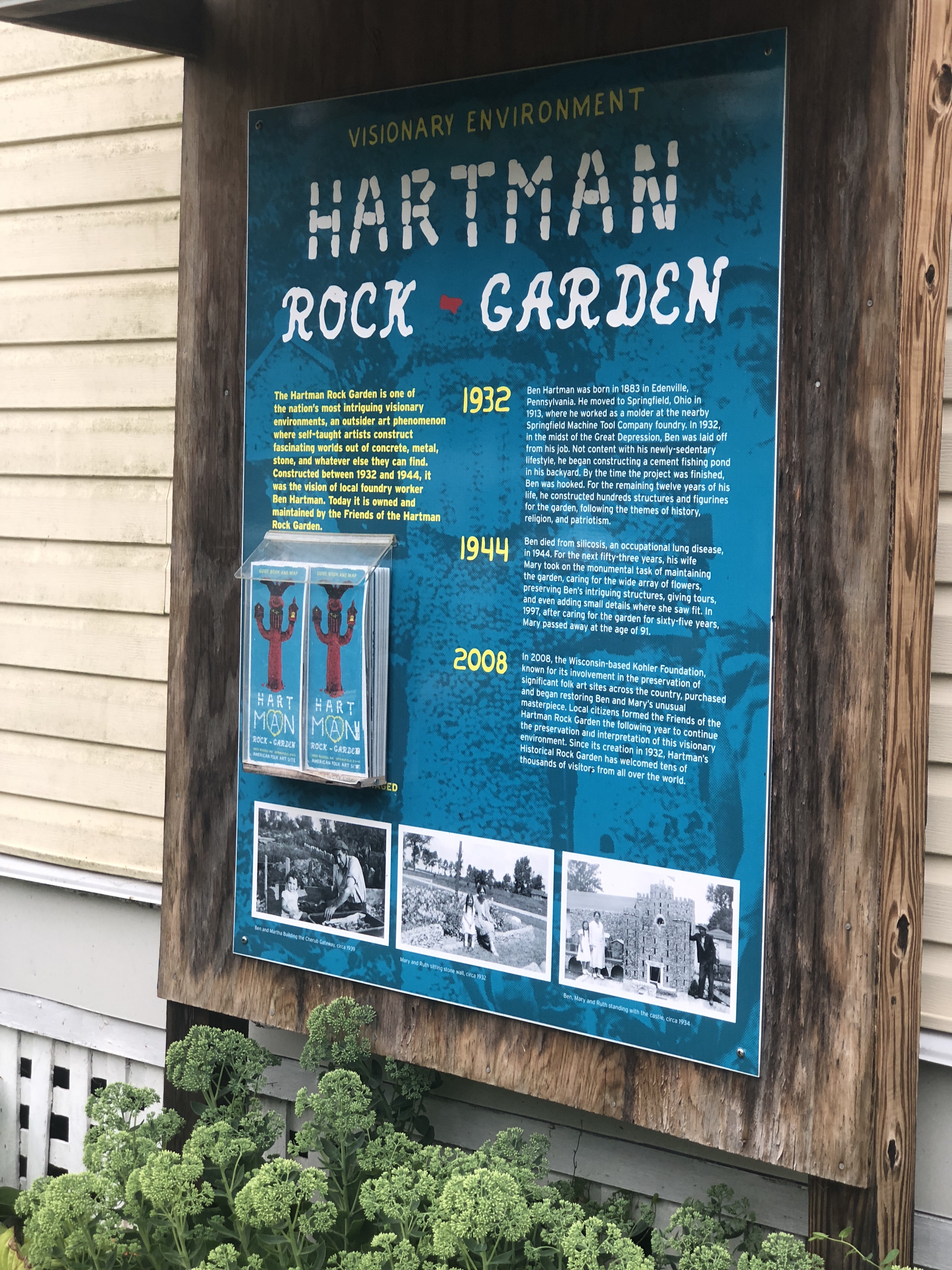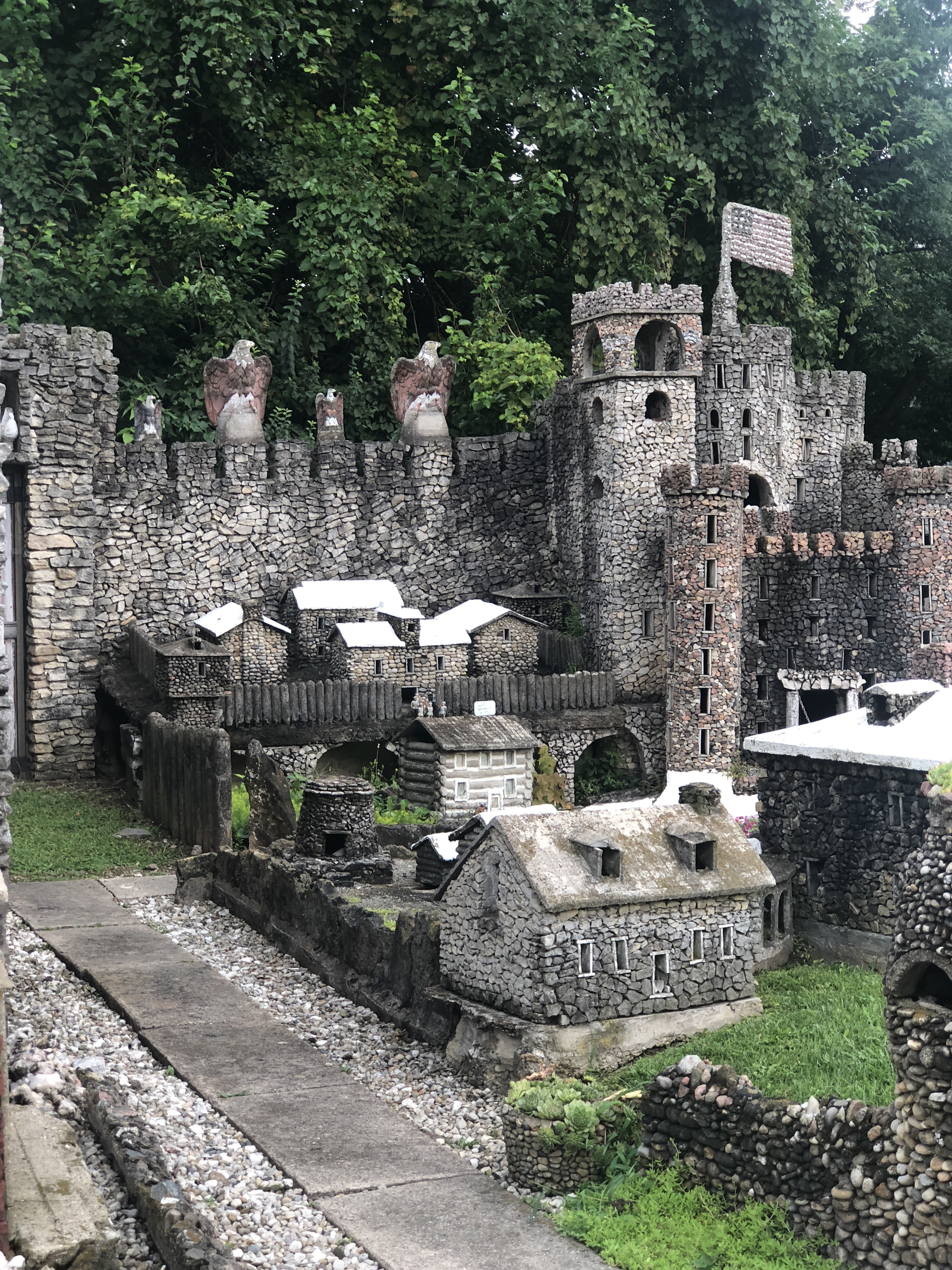 Throughout the garden you will see many replicas – Philadelphia's Independence Hall, a White House, a Mount Vernon, a large castle with a drawbridge and moat, a "Tree of Life," Oregon Trail, a Nativity scene, a line of stone animals marches up a bridge to Noah's Ark: all made of pebbles and more.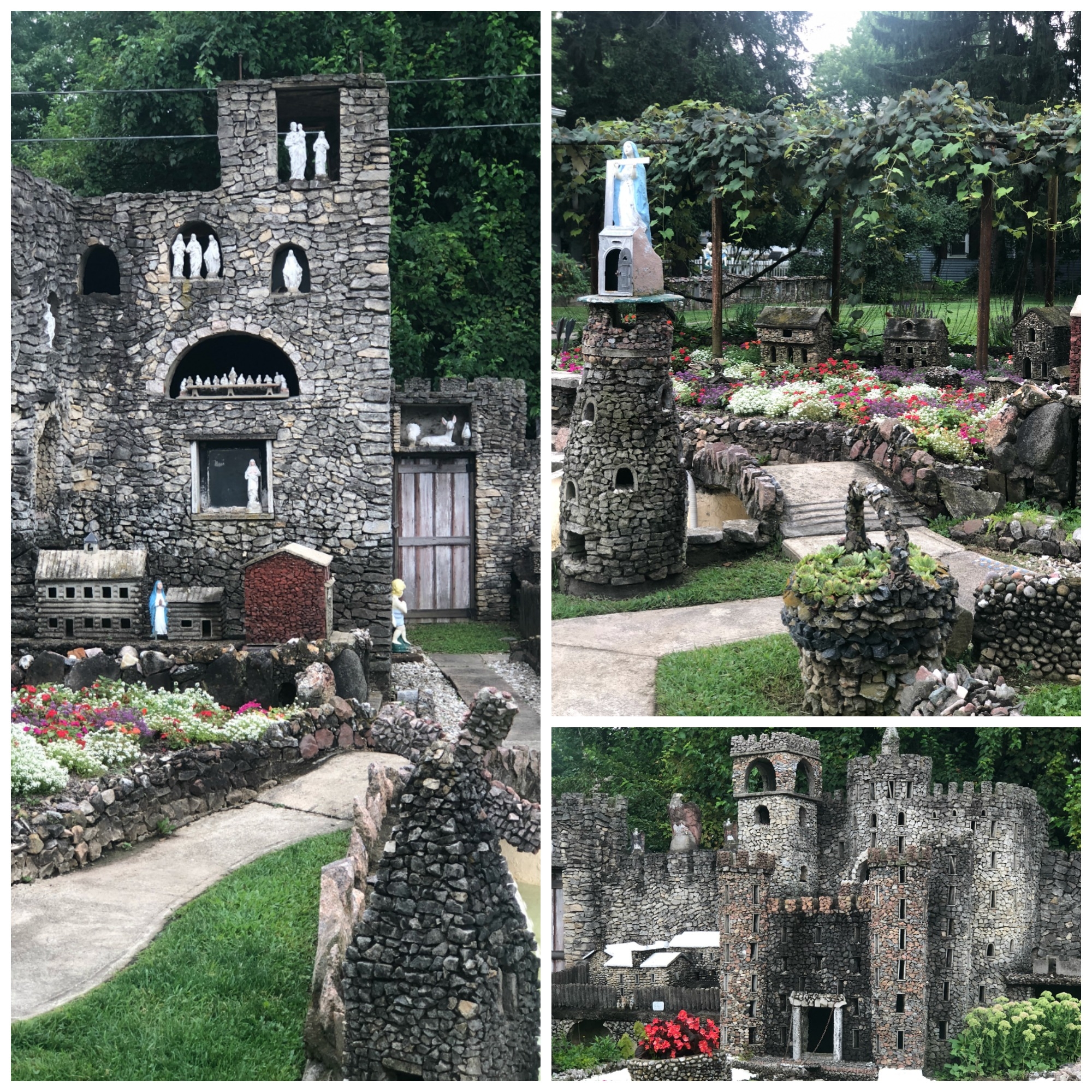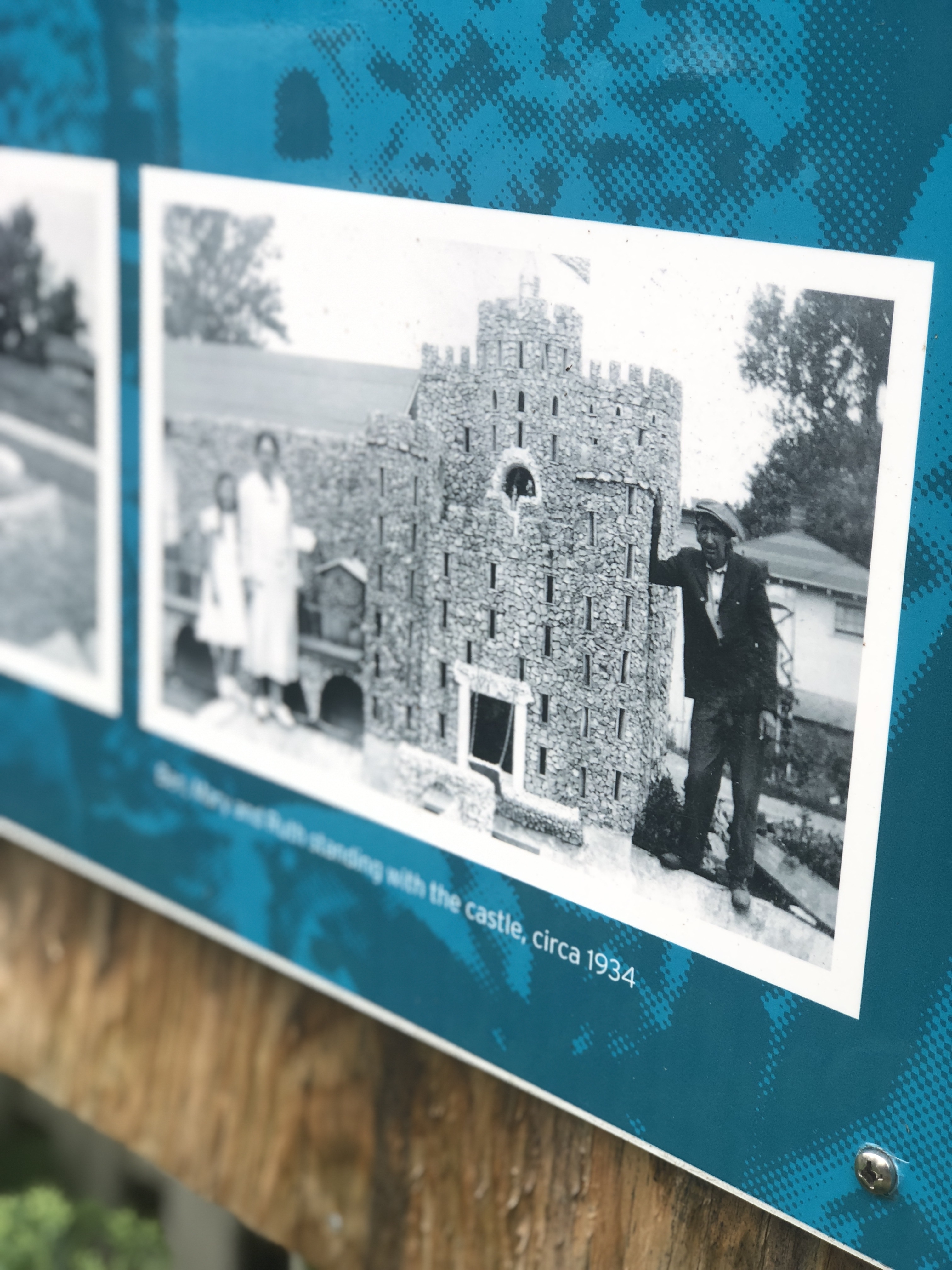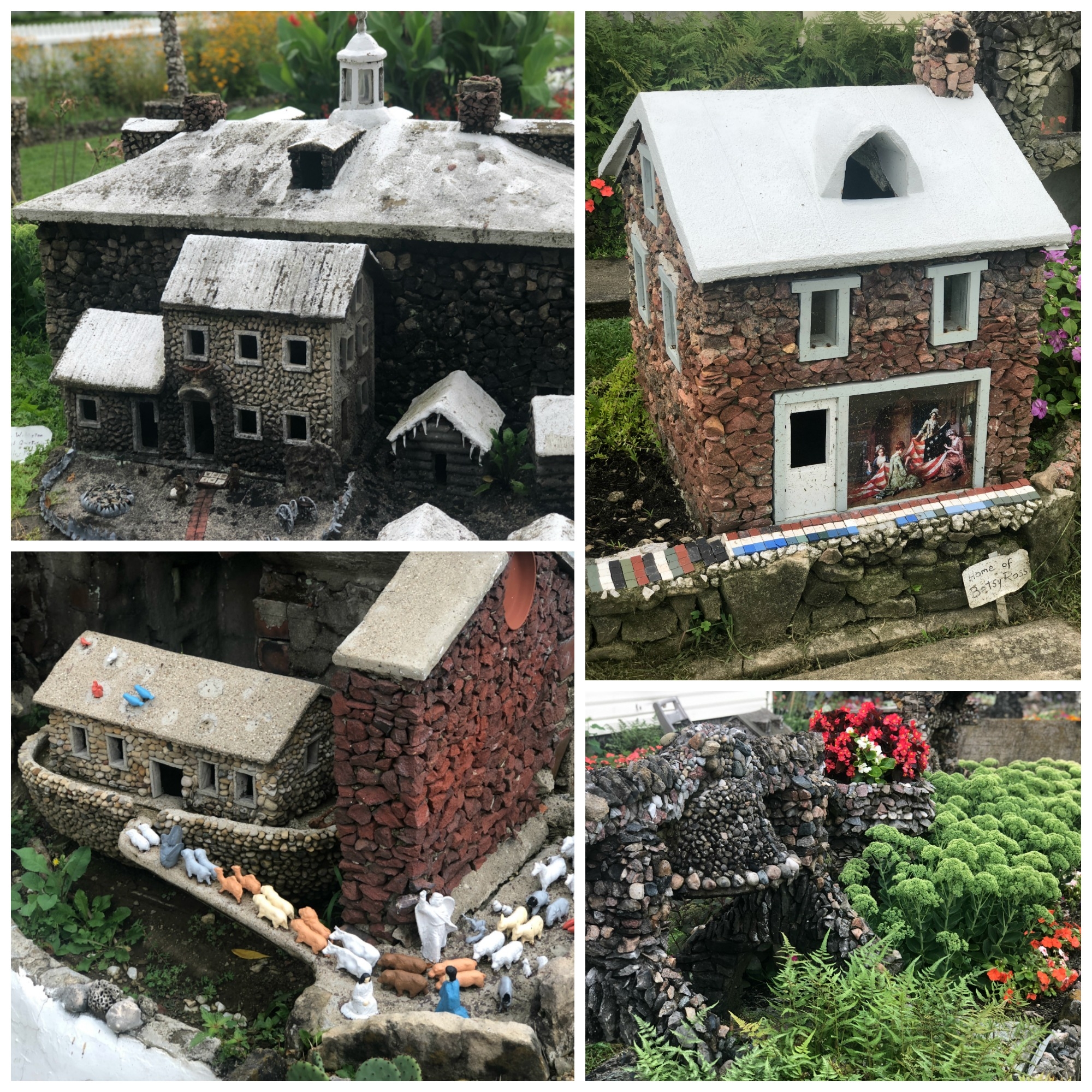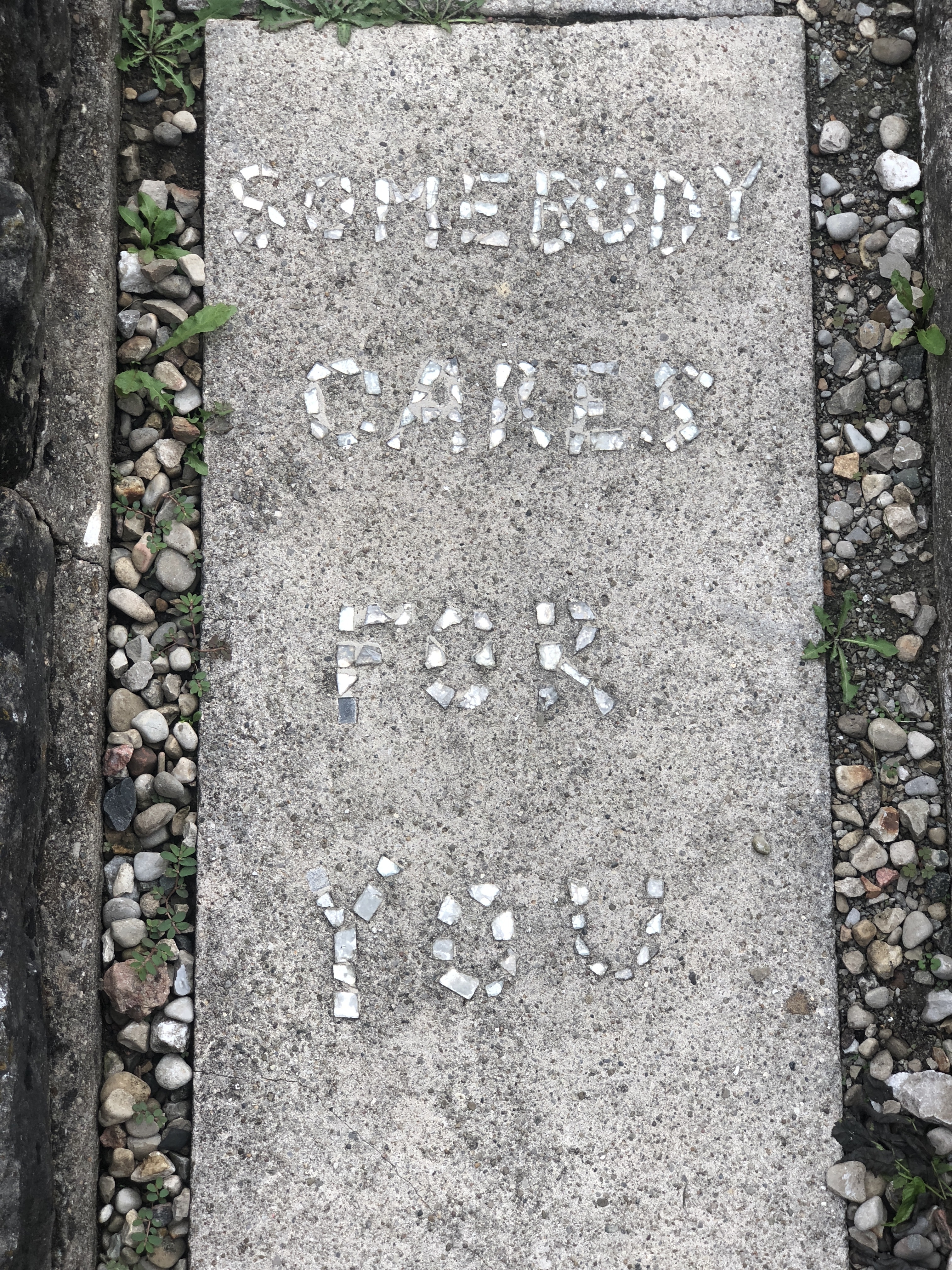 This was like something I had never seen before! While you can sign up for a tour, we opted to explore on our own. This gave us the chance to hang out, discuss what we were seeing (which wasn't very much because we were mesmerized) and go at our own pace!
Address: 1905 Russell Avenue. Springfield, OH 45506
Cost: Free admission
Hours: Free admission. Open 365 Days. Dawn to Dusk.
Tour: They  offer guided tours by trained and knowledgeable docents throughout the year. These tours are currently by appointment only. Tours are $12 per person, which includes a 45-minute guided tour, professionally printed tour booklets for every guest, access to the art pieces and molds in storage, and a brief demonstration of how Ben Hartman created his visionary art. Please arrange 2 weeks in advance of your visit. Please email info@hartmanrockgarden.org to check availability or make arrangements.
I'm not sure where I first discovered Frank Lloyd Wright, but, I have been fascinated from the very beginning. If you aren't familiar, Frank Lloyd Wright was an American architect, interior designer, writer, and educator, who designed more than 1,000 buildings in his lifetime. He was born in 1867 and when he started designing buildings – he was already far ahead of his time. He was designing buildings that looked NOTHING like the ones surrounding. He focused on simplicity and natural beauty, which was much different than the elaborate and ornate architecture that had many designers were following. I love his concept of bring nature inside, maybe that is why I am drawn to him. His work is very fascinating!
Lucky for us, we are within a comfortable day trip to a few different of his designs – one being less than an hour away in Springfield!
The Westcott House, the product of arguably the most important architect of the modern era, was designed in 1906 and built in 1908. In the early 1940s, the interior alterations—the conversion of the open floor plan into a multi-unit apartment building—changed the architecture so significantly that it no longer reflected the design intent of its architect. -Westcott House Website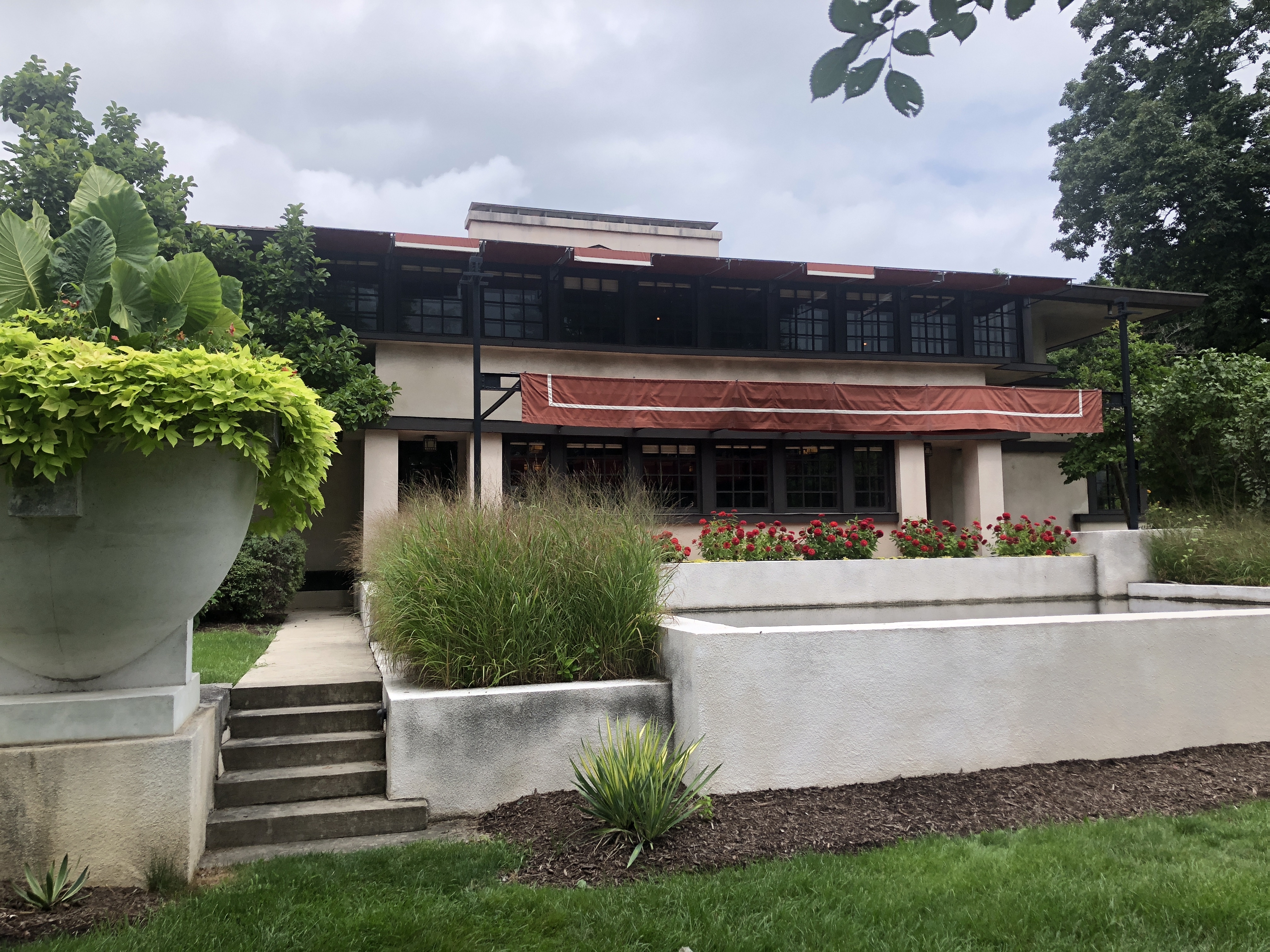 Due to these drastic alterations, the Westcott House remained an undiscovered relic for many years- a lost Wright artifact. Through the cooperative efforts of the Frank Lloyd Wright Building Conservancy and the Westcott House Foundation, today the Westcott House is an important rediscovery, a notable, newly-unearthed and revitalized example of Wright's legacy. The Westcott House not only embodies Frank Lloyd Wright's innovative Prairie School architectural design but also extended Wright's concept of relating the building to its site by means of a terrace, a lily pond, gardens, and other landscape elements. An extensive pergola capped with an intricate wooden trellis connected the detached garage to the main house, a design element included in only a few other Prairie Style houses. The Darwin D. Martin residence, built in 1904 and located in Buffalo, New York, incorporates this concept. - Westcott House Website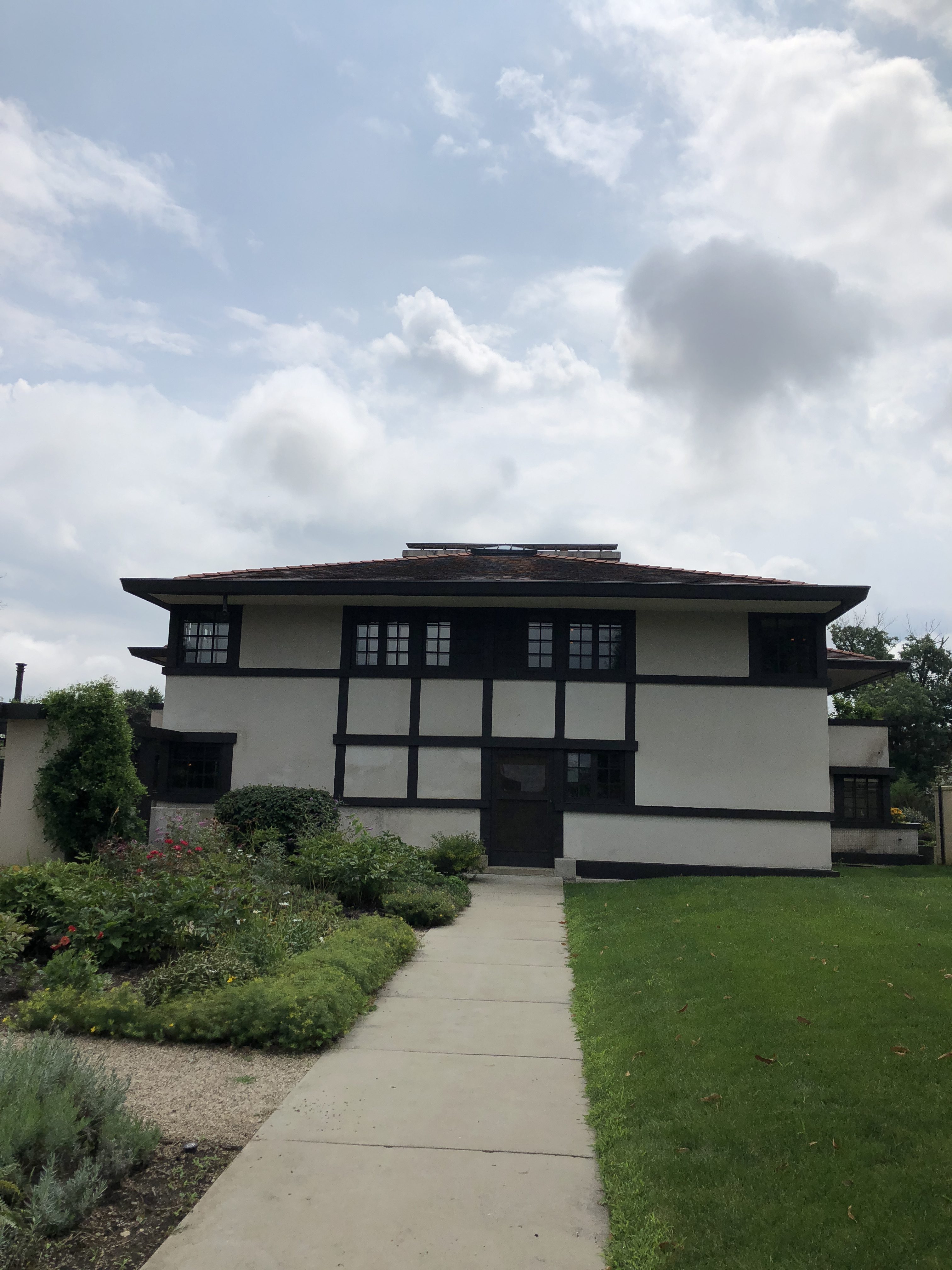 It was an incredible experience to walk through the halls of his work! They did a fabulous job on the  *multimillion-dollar* restoration.
When you visit, you want to make sure you call ahead. You aren't able to tour the house on your own. You take a one hour docent guided tour throughout the main house, garage, pergola and perennial gardens. We started off the our with  short documentary on the restoration process which was completely fascinating and set the tone for the tour!
Address: 85 South Greenmount Avenue. Springfield, OH 45505
Cost: $18 adults; $15 seniors 65+, students, and groups of 8 or more; $4.00 school groups; Free for Westcott Members
Hours: January – March: Tuesday – Saturday: 11am, 1pm, 3pm; Sunday: 1pm, 3pm. April – December: Tuesday – Friday: 11am, 1pm, 3pm; Saturday: 11am, 12pm, 1pm, 2pm, 3pm, 4pm; Sunday: 1pm, 2pm, 3pm, 4pm
Tour: Reservations are strongly recommended. Walk-in tickets subject to availability.Book Your Reservations Here.
I love going to Olentangy Indian Caverns – so, this was a big treat! Formed thousands of years ago, you'll be amazed by the passageways, countless crystal stalactites, stalagmites and other amazing formations of the Ohio Caverns.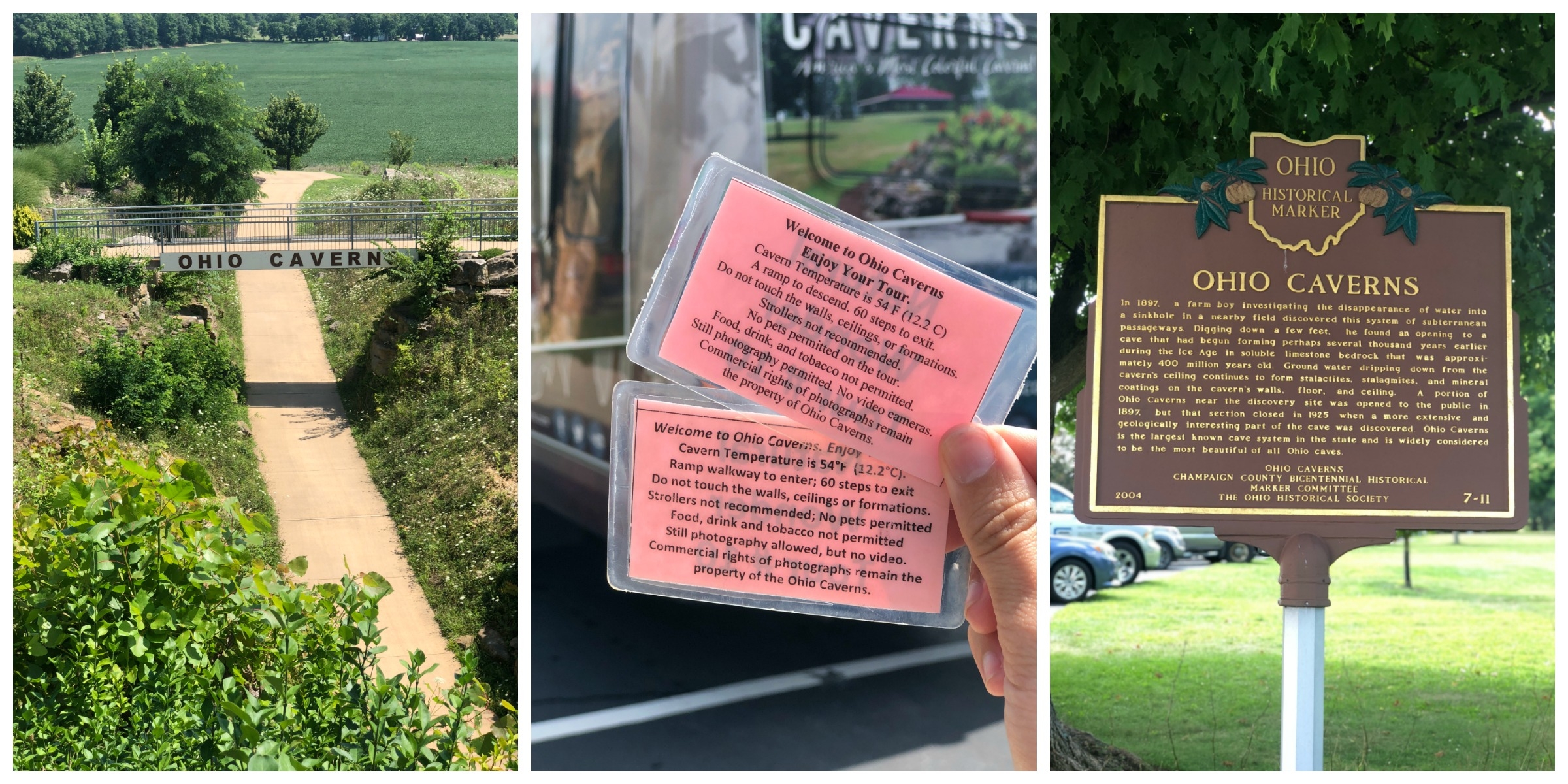 ⠀The caverns are the largest in the state, with over 2 miles of surveyed passageways ranging in depth from 30 feet to the deepest point of 103 feet. One of the best parts, it stays at 54 degrees year-round, regardless of the surface temperature. The humidity is always above 90 percent, and the air inside the caverns is cleaner than the air above ground — filtered by the water that formed the caves and still drips today. Perfect!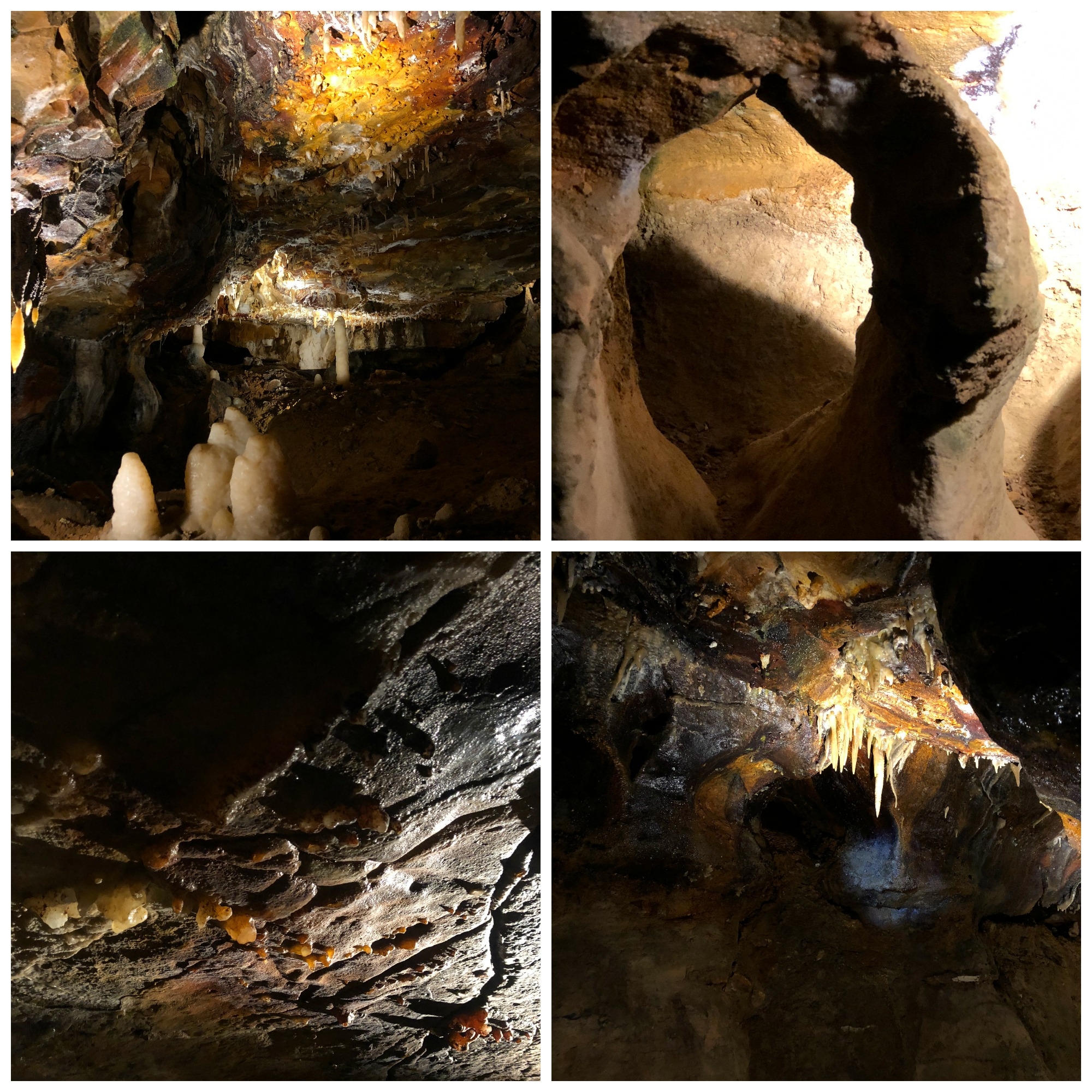 ⠀We went on the 'Natural Wonder' tour, which consisted of an hour long tour, led by a very knowledgeable guy! The tour covered areas discovered after excavation of the passages in the 1920s. Throughout the tour, the guide gave us  information about the geology of the cavern and a few fun facts. I think they said we walked about a mile? We were so distracted by the beauty of the cavern and the "do not touch anything" rule, that it didn't feel that far!   Just a heads up, at the end of the tour, you do walk up sixty steps!!! My tip: Don't be at the front of the group like Stephen and I were – your knees will thank you later.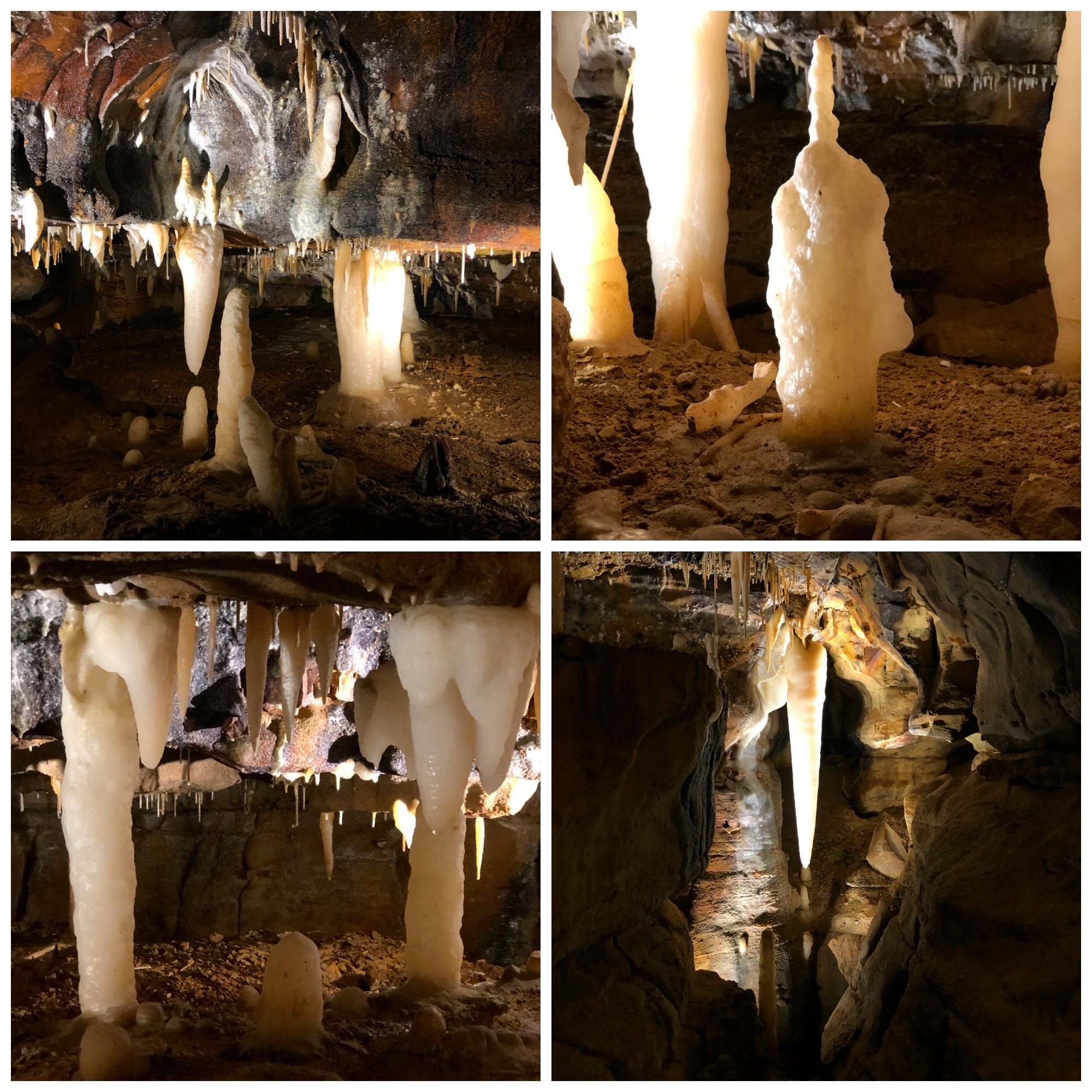 ⠀⠀⠀⠀⠀⠀The 35 acre park is the perfect day trip for everyone! On top of a few different tours of the natural beauty that lies underground in the Ohio Caverns, they offer picnic tables & shelter houses, a playground, mining for gems & fossils, a self-guided journey around the park to admire the various trees and more!
Address: 2210 East State Route 245 West Liberty, Ohio 43357
Cost: Natural Wonder Tour – 50 minutes; Adult: $17.00;Child 5-12 years: $9.00; Child 4 and under: No Charge. Historic Tour – 45 minutes; Adult: $17.00; Child 5-12 years: $9.00; Child 4 and under: No Charge. Combo Tour (Historic & Natural Wonder) – Approximately 50 minutes per tour with a short break in between. Last Combo departs daily at 4:00 pm. Adult: $29.00; Child 5-12 years: $15.00; Child 4 and under: No Charge.
Winter Tour – Approximately 50 minutes – This tour includes highlights of the Natural Wonder Tour and Historic Tour plus a section that is not toured during the summer session. Our winter season guests receive a balance of historical and geological information on this tour. Guests descend 38 steps into the cavern, walk on a level concrete path throughout the cavern and exit 60 steps into a small building at the south end of the park. Adult: $17.00; Child 5-12 years: $9.00; Child 4 and under: No Charge.
Tickets can be purchased online or at the caverns museum prior to tour.
Hours: Ohio Caverns is Open All Year. They are only closed on Thanksgiving Day and Christmas Day. Summer Session (May 1 – September 30) : 9 a.m. to 6 p.m. (Last tour starts at 5 p.m.). Winter Session (October 1 – April 30) : 10 a.m. to 5 p.m. (Last tour starts at 4 p.m.)
Oh, and pro-tip: Stop at Mike & Rosy's deli (Old-school mom-&-pop eatery with the most delicious sandwiches, chips, cold salads and more.) before heading t0 the caverns to pick up supplies for a picnic (bring a cooler) at one of the great spots on the Caverns property. Old-school mom-&-pop eatery with the most delicious sandwiches, chips, cold salads and more.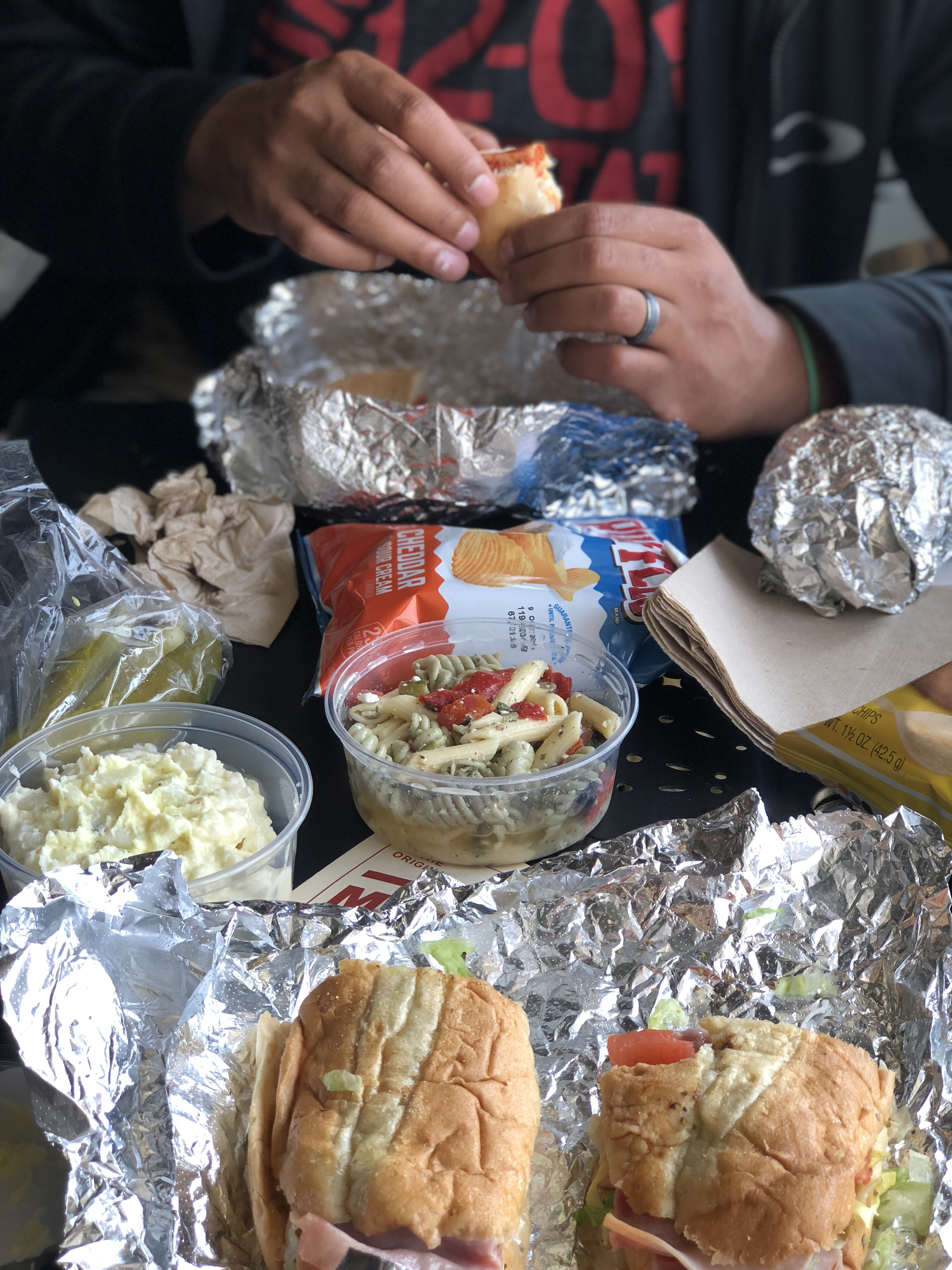 While this surely doesn't show all of the hidden gems in (and around) Springfield, these were some of my favorite. I love that we live within an hour of so many great spots in Ohio. Springfield was surprisingly the most perfect day trip!
For more information on where to go and what to do in Springfield, check out their official website!