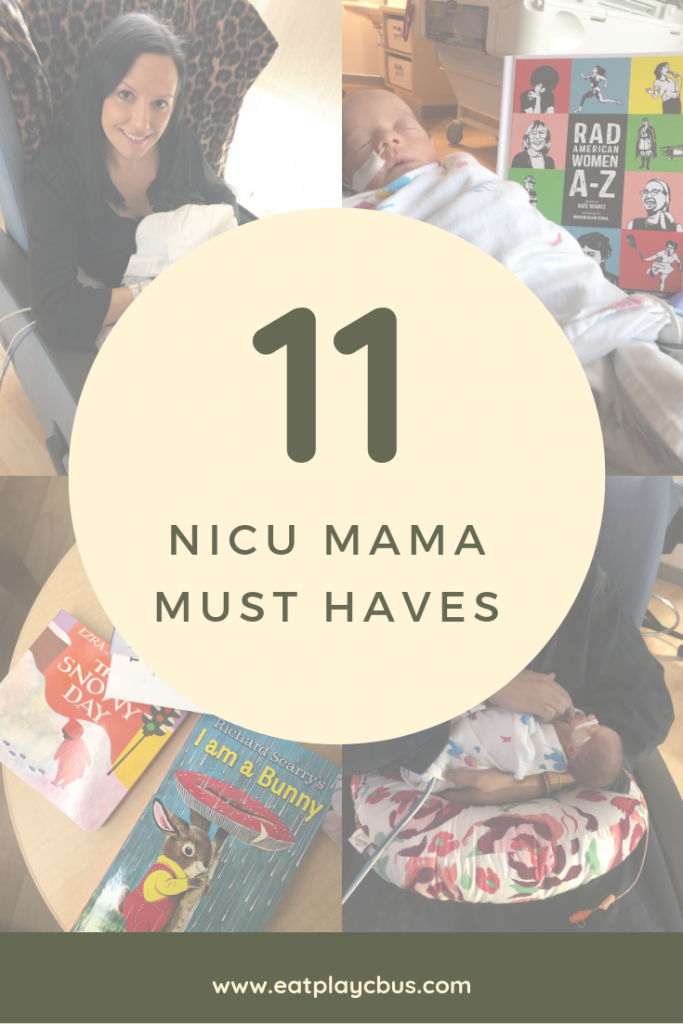 Whew. 32 days spent in the NICU. Feels like a lifetime and at the same time, it feels like it flew by. Isn't it weird how a moment in time can feel drastically different at the same time? Possibly because we were on overdrive and in such a routine, it already feels like a glimpse in time. So, sweet mama (or papa), if you're reading this and your NICU journey hasn't started or maybe your in the trenches of it, don't worry because this too shall past. *cue instant tears*
During our stay, there were a few things that I found very helpful, so, I thought I would share in hopes that they will help you, too!
Journal/Notebook
While in the hospital, my mom ran to Target to pick up a few requested essentials that I needed. Thanks Mom. One thing she brought back, which wasn't requested, but, ended up being the best thing ever was a notebook and fine tip markers. Who doesn't need another notebook? As I say that with a laugh (because I own about 1.2 million notebooks), I actually found great use for it! I used it to journal every day, from my hospital stay through the very last day that Harper came home.
I wrote the date, how many times I pumped, what I ate (while in the hospital and a few days into the NICU stay) to make sure I was eating, any big announcements from the NICU, the girls weights, etc. At first, I used it to keep track of everything. Making sure I was pumping/eating/staying on top of the girls. It soon transitioned into something that kept me calm, distracted and connected to the girls when I was checked out of the hospital. It was a tool that kept me in a routine. Now, it is fun to look back at how far the girls have come!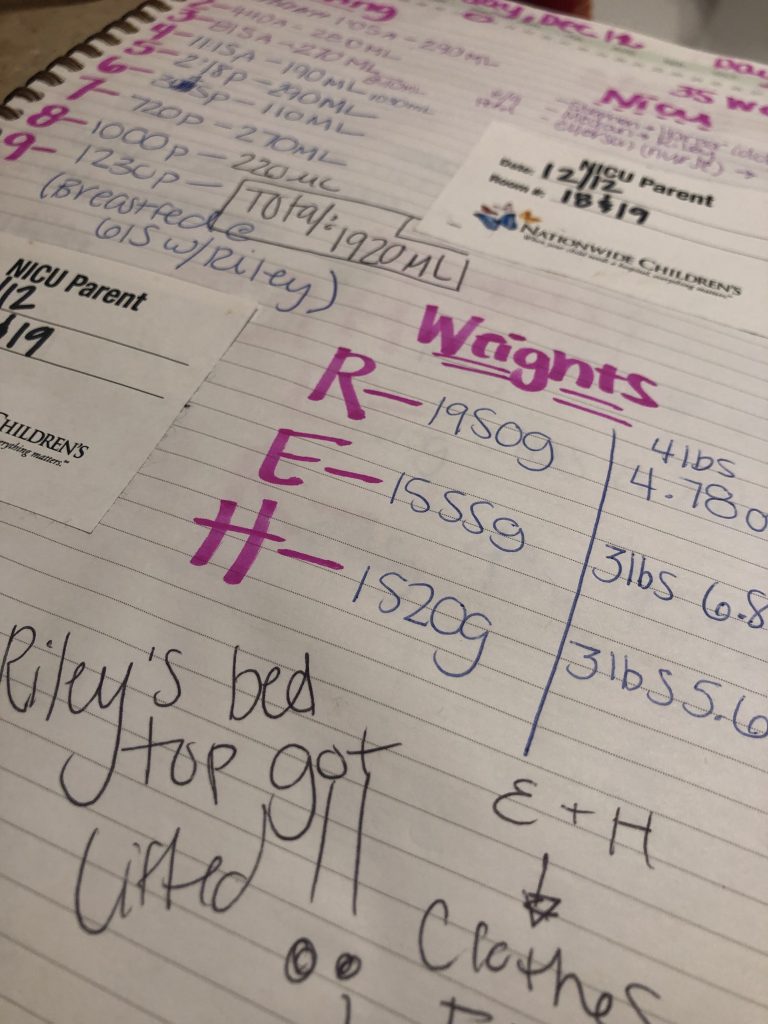 Blanket
The days can be long in the NICU and it is nice to have something to bring comfort from home! Plus, while the chairs are nice, they aren't the most comfortable. They are a weird material that made me sweat. Gross, right? I never realized it until I stood up. Ha. I brought one of my favorite leopard blankets and draped it over the chair. It was perfect! Hmm. I should probably wash that blanket now that we're home!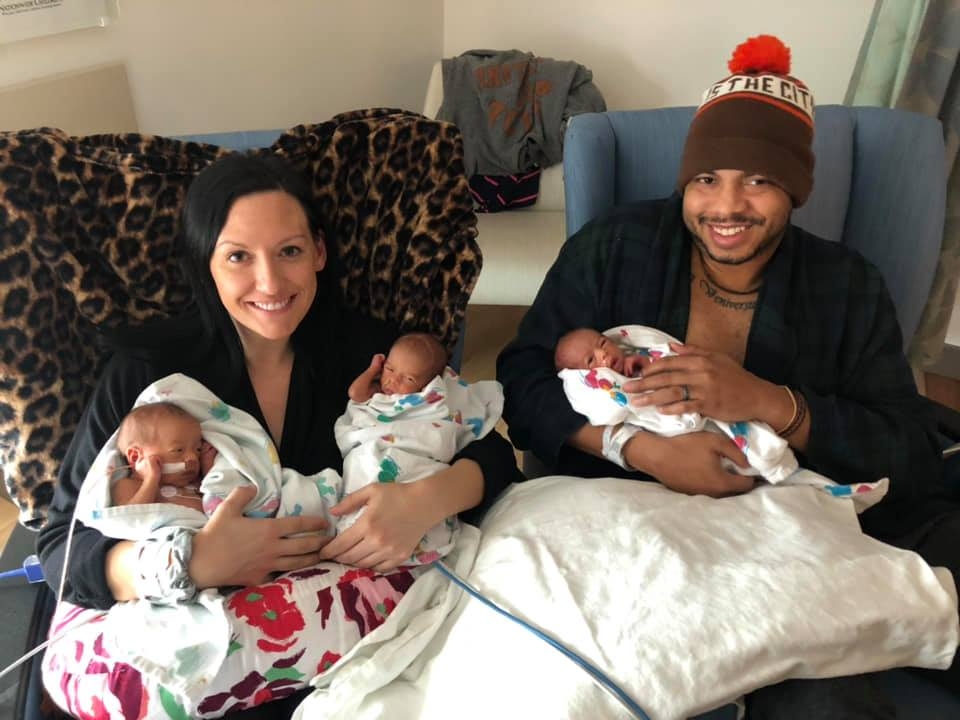 Fancy Water Bottle
Okay, maybe not a fancy water bottle, but, you want make sure that you bring one that makes sense. One that is easy to drink out of and doesn't spill. I brought a yeti with a metal straw (save the turtles) and learned the hard way that it wasn't a smart choice. It always spilled!! Make sure it has a lid and is easy to open (and drink). You're not allowed to bring much into the NICU in regards to food/drink, make sure you take advantage of being able to bring a water bottle! Occasionally, I would drink one of the Naked Smoothies to keep my stomach from growling.
Robe
This was such a good thing to bring for more than one reason. When I was in the hospital, it was great because I didn't really have to wear clothes (which were hard to put on + uncomfortable). I would throw a robe on and Stephen would wheel me down. Don't worry, we had private rooms in the NICU and I wore my fancy mesh undies underneath. It was easy to open to do skin-to-skin (kangaroo) with the babes. When I was checked out of the hospital, it was still great for skin-to-skin. Also, for pumping. I would wear my nursing bra and robe. Stephen even wore a robe to do skin-to-skin with the girls! Check out my amazon storefront for the most perfect robe. I searched and searched for this thing. Not too hot, not too cold. Not too short, not too long. Not too light, not too heavy. Fit before, during and after babies arrived.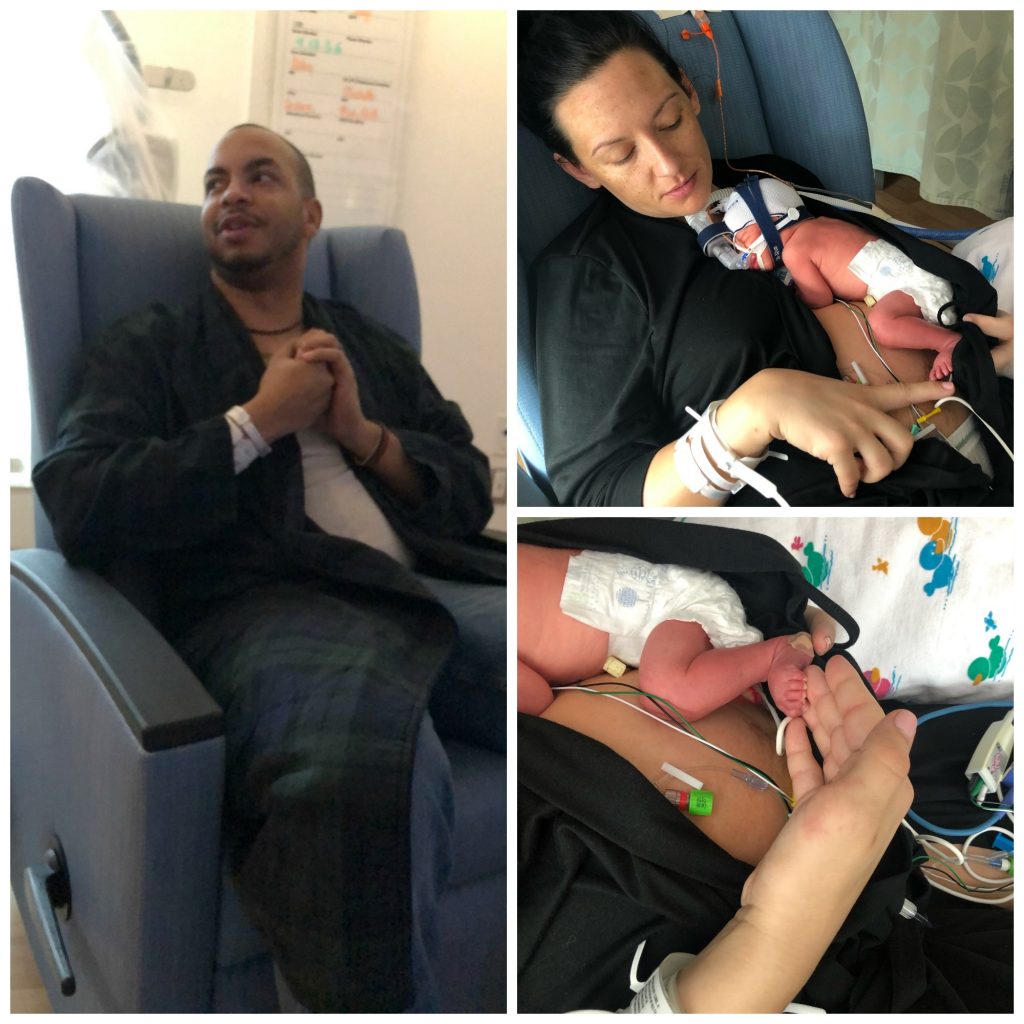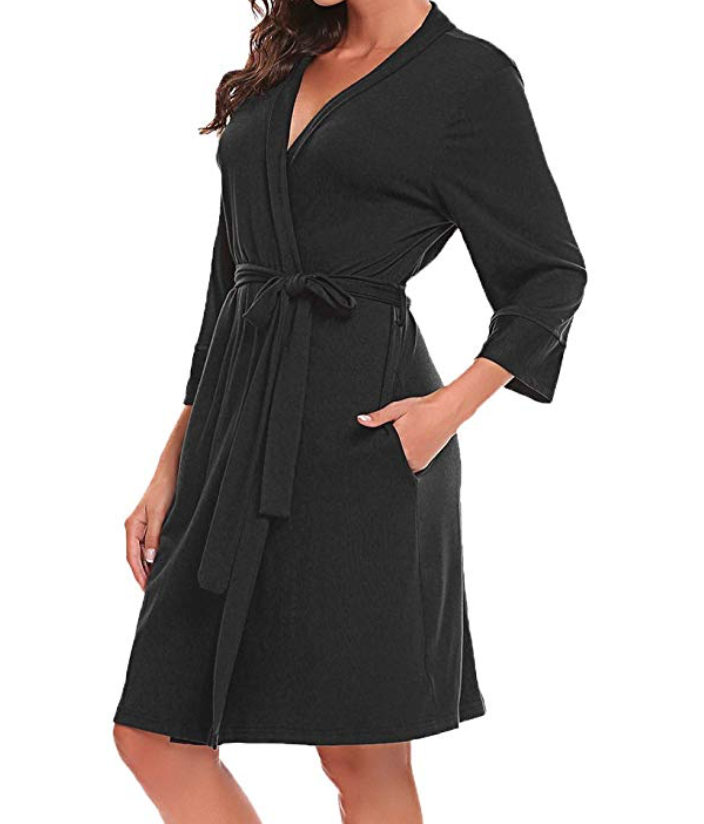 Nursing Pillow
If you're pregnant, I am sure you have received a few of those sheets filled with coupons, making the product almost free? Baby leggings. Baby shoes. Carseat Covers. You know what I am talking about, right? Well, I took the bait and bought 'The Nursing Pillow.' It said it was comparable to the boppy and at the "free" price (just pay shipping, second one is $10, etc), I couldn't pass it up. When I received the package, I was slightly disappointed. They were MUCH smaller than the typical boppy and not has sturdy/firm. With no returns allowed, I decided that I might as well use them.
They ended up being PERFECT!!! Since the babes were so tiny, using a boppy to help hold/feed would have been quite uncomfortable as it is more firm/bigger. The Nursing Pillow was soft, fit around my waist and was the perfect size for our little premies. They came in handy each day!
If you don't get one of those coupon sheets, don't fret. Follow them on IG and you'll see a new coupon everyday for a "free" pillow. Check out their website and you'll get a code for a "free" pillow. I think it is usually a $50 off code and they cost $49.95? Shipping for two was around $15. Very much worth it!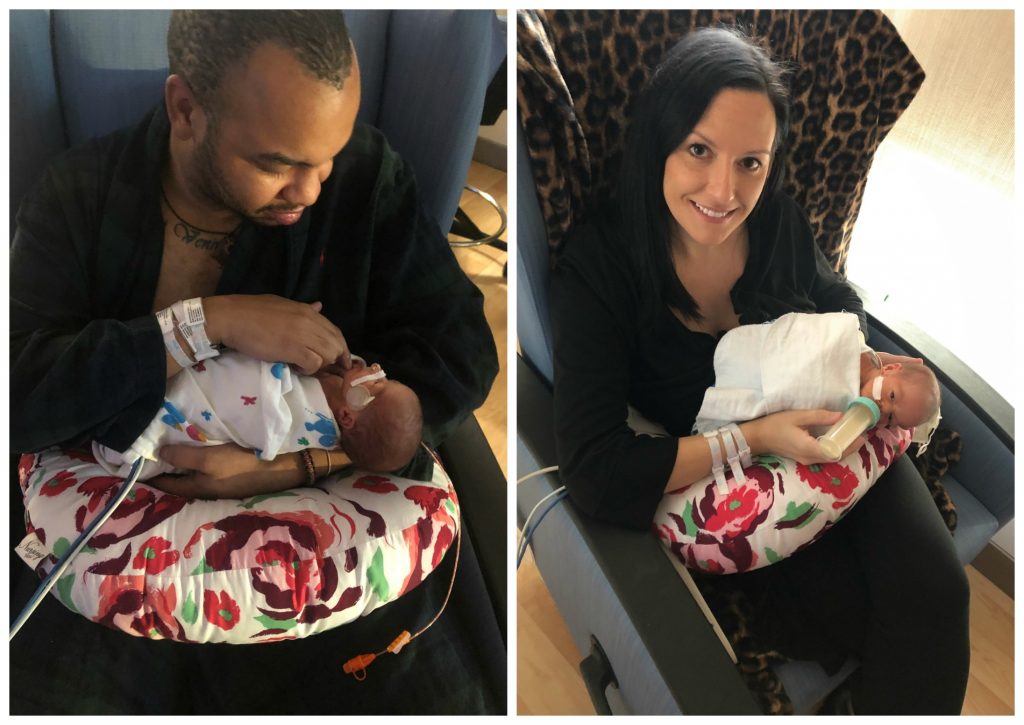 Easy Access Clothes
Speaking of easy access (not that kind of easy access, you gotta wait for that….), it was very helpful to have a few clothing items (when I couldn't use the excuse of just having major surgery to not wear clothes) that allow you to access those tatas quickly! I am absolutely obsessed with this shirt by Jessica Simpson. It allows you to keep your shirt on (it can get cold when your have just the robe on and nothing underneath), but, gives you full access to your chest/stomach. It couldn't be more perfect for skin-to-skin, nursing or pumping. I HIGHLY suggest getting it! I also found a few good finds on Amazon (and a few duds, which I returned). Check them out here.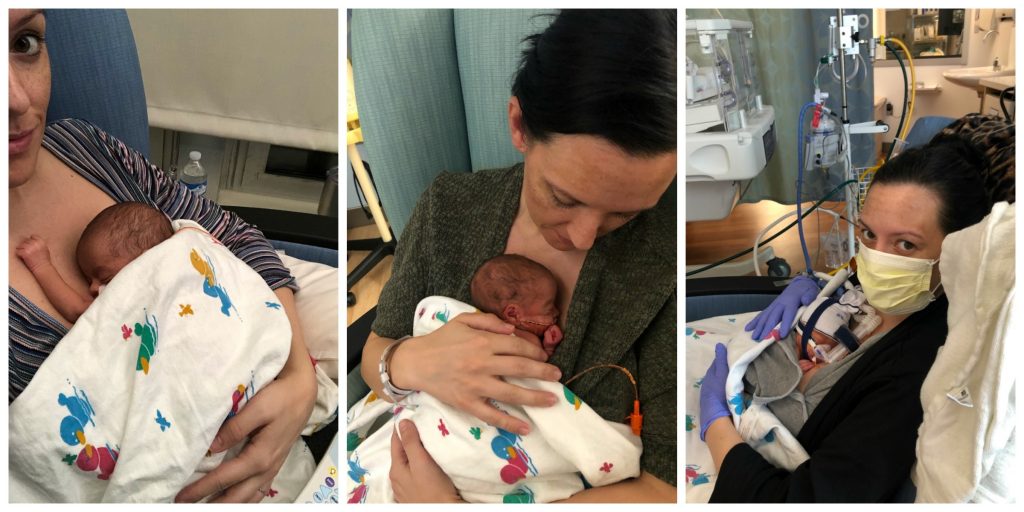 Pumping Bra
Speaking of pumping, you'll need a good bra! I prefer one that is EASY because that's what you'll need in the NICU. I love this one because it zips up the front and the holes where the flanges go are pretty sturdy.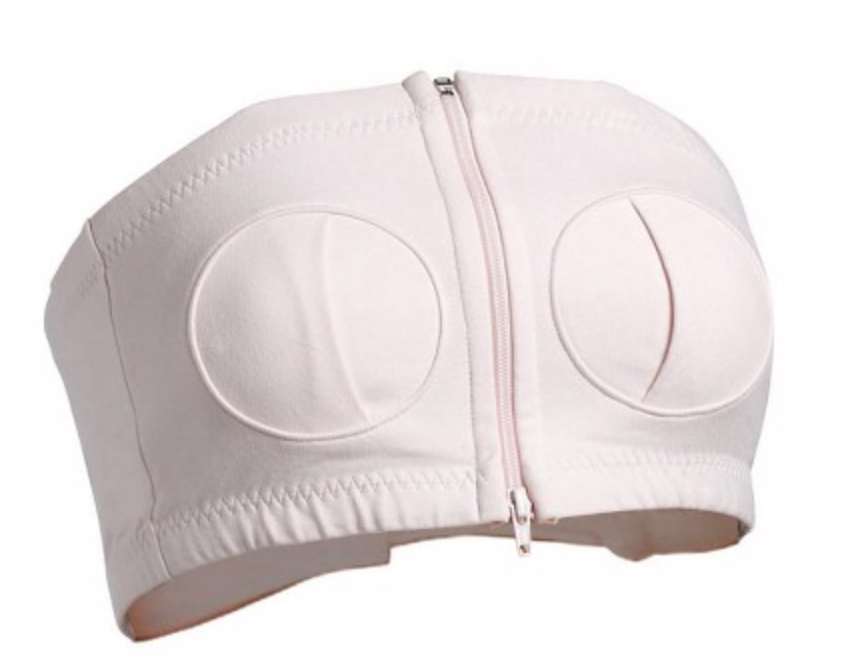 I love that it is strapless, too. It is very easy to put on (and take off). It does have decent coverage, if you have any modesty left after giving birth to a child. I've linked one on my amazon store front that is similar, if not the same + comes in 2 day thanks to prime!
Slippers
The first few days I was in the hospital, I would wear non-slip socks down. Mostly because I was in a wheel chair, did minimal walking and acted like the hospital was my house (where I could do and wear whatever I wanted to). After I came back from living in drug land, I realized maybe I should start wearing shoes and maybe clothes when leaving my hospital room. Ha. While I didn't want to put on regular shoes (try that after a c-section), slippers with non-slip bottoms were essential!! My mom ordered a pair off of Amazon, but, I've seen great ones at Target (of course) and TJ Maxx.
When I was checked out of the hospital, I kept a pair in my NICU bag. I would wear boots in to the hospital and quickly realized they were way too hot to keep on for a few hours. This is where the non-slip (very important) slippers came in to play. I would slip them right on when I got to the hospital.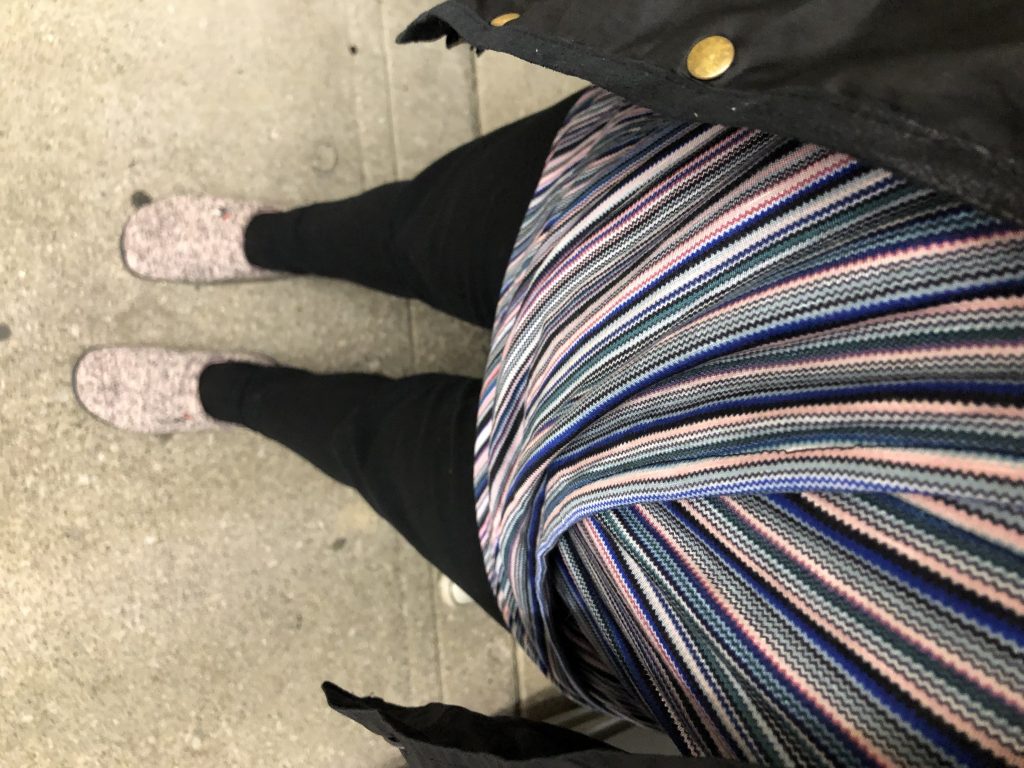 Books for Babes
It is never too early to read to your baby, right? Our house is filled with books! One day, one of the therapist stopped by with three books. I proudly let her know we can't wait to get home and read all of our books together. I was quickly humbled when she said its NEVER too early to read to them, meaning we could start reading to them at that moment! Geesh. Why didn't I think of that? After that conversation, we started bringing in a few books each day (my favorites are linked here). It was a great way for dad to get his voice heard, too.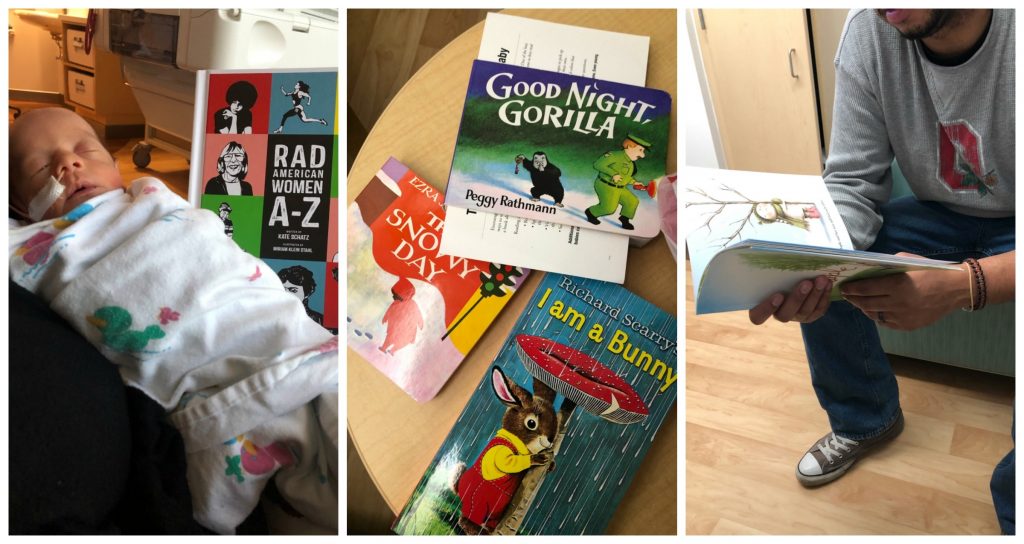 Fire/Kindle
Listen. I am a paper girl through and through. I read paper books. I use a paper calendar. I even track all of their diapers/bottles in a paper notebook. However, I learned that it is much easier to read books on the kindle than a normal book. Imagine trying to snuggle a baby (more than likely hooked up to a few machines) and flip pages without it dropping on the ground. Plus, I was able to get kindle unlimited for .99 for three months. That gave me access to so many different books, including kid books. If you get bored with the books, you can always watch Netflix or try your hand at candy crush (hard to play one handed).
PS – I think I have a Fire tablet, not a kindle? We bought it two years ago on sale and this is the second or third time it has been used. I just looked at the Kindle is around $119 and the Fire 7 Tablet with Alexa is only $49! If you don't already have one, I would get the Fire. It has access to all the books, Netflix, games, etc!
Car Snacks
This might be one of the most important things!! Each day, you'll be rushing to get to the NICU to see your babes. You'll get half way there and remember you didn't eat anything. Bad news? You aren't allowed to have food while visiting — so you get extra hungry while not wanting put your babes down. Point is. You have to eat, especially if your breastfeeding/pumping. If you keep a bag of snacks in the car, you can snack on the way to and from the hospital .While it doesn't replace an entire meal, it does hold you over. In my bag, I had fruit snacks, kind bars, granola bars, milano cookies and a few snacks I swiped from my hospital stay. Costco is a great place to stock up. Sometimes, I would pack grapes or strawberries.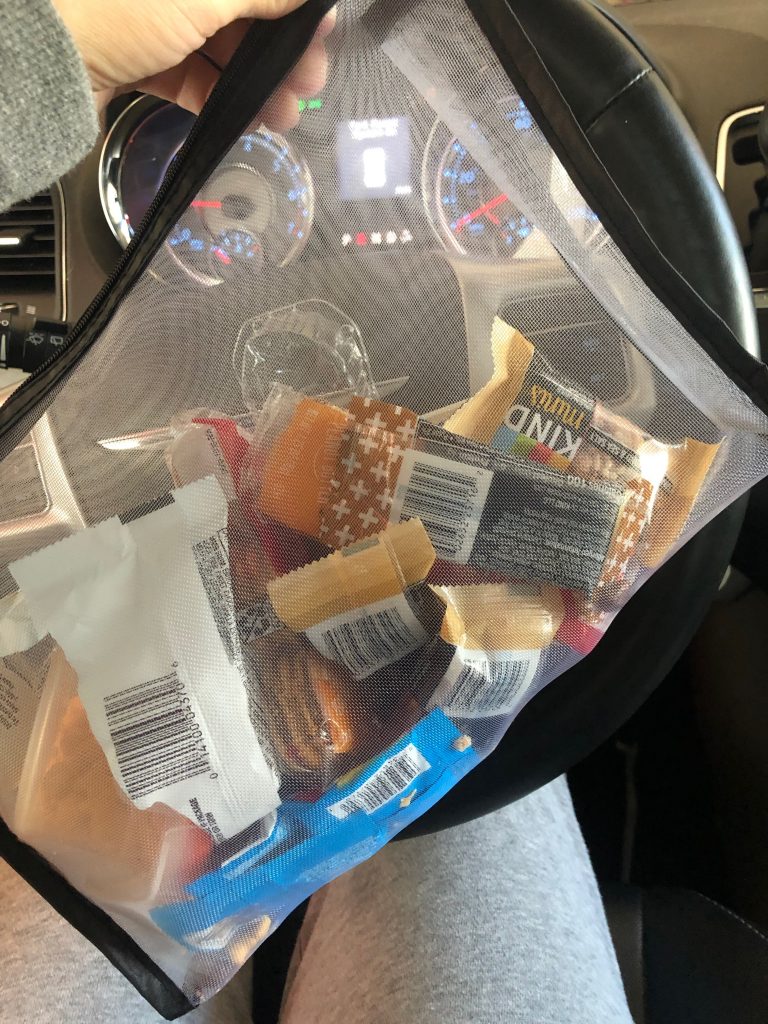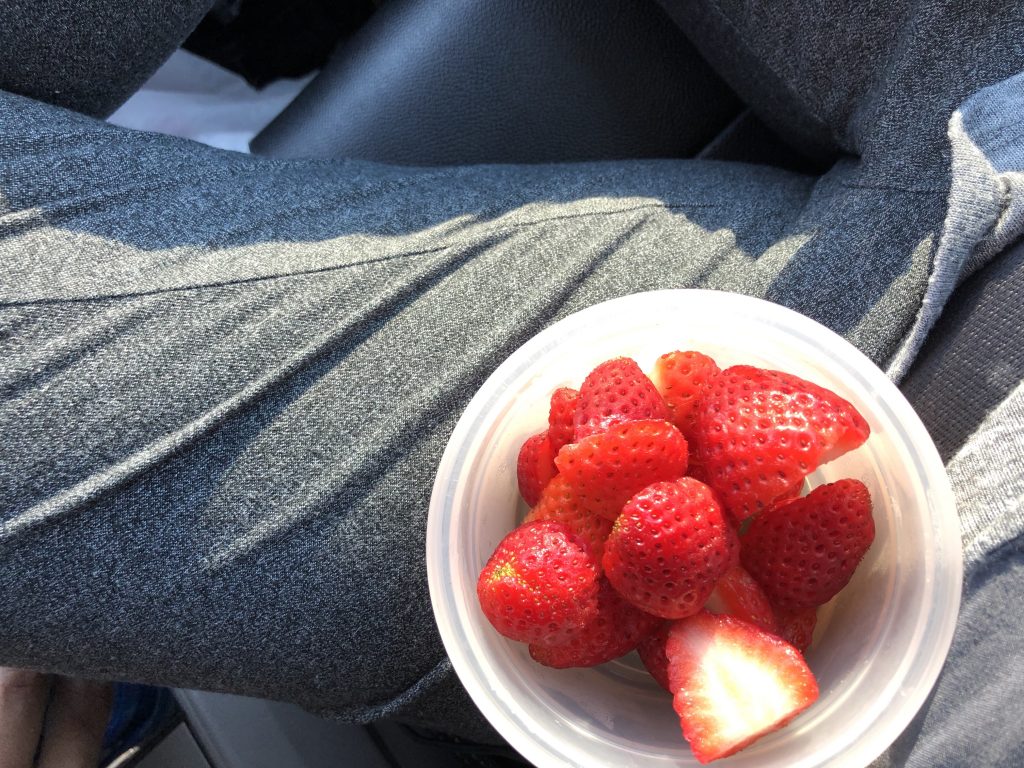 Hopefully this list helps you out, even if it's just one thing you didn't think about bringing and just remember, "this too shall pass." It won't be long until you're walking out of the NICU doors with your sweet little babe(s)!
I created an Amazon Storefront to organize all of my favorite must-have items, that way you won't have to go searching! Click here to check it out!