Don't get me wrong. I love a good Groupon. I don't think I have ever paid full price for an oil change and I am pretty sure we've tried every tour in Columbus because of it. With that being said, I've stumbled upon a few local sites who offer INCREDIBLE half off deals. I'm talking $50 to Carfagnas for $25, $50 to Yabos Tacos for $25, half off admission to the Columbus Zoo, $40 to Bend Active for $20 and MORE! Amazing, right? I will be on the look out for my local sites, but, for now – check out these four that I love!
All the deals you find on this site will be half off and range in price. You can find things from activities to automative to restaurants to services. They also have it organized by featured deals, current deals, bestsellers and even CLEARANCE!
My top three choices are Zoup, Star Lanes and Bend! Zoup is perfect for an easy dinner and who isn't craving soup right now? Whether it's a date night or a family night out, Star Lanes is a great way to beat the cold. Bend, well, you always need a new outfit from bend or maybe you can pick up a Christmas present?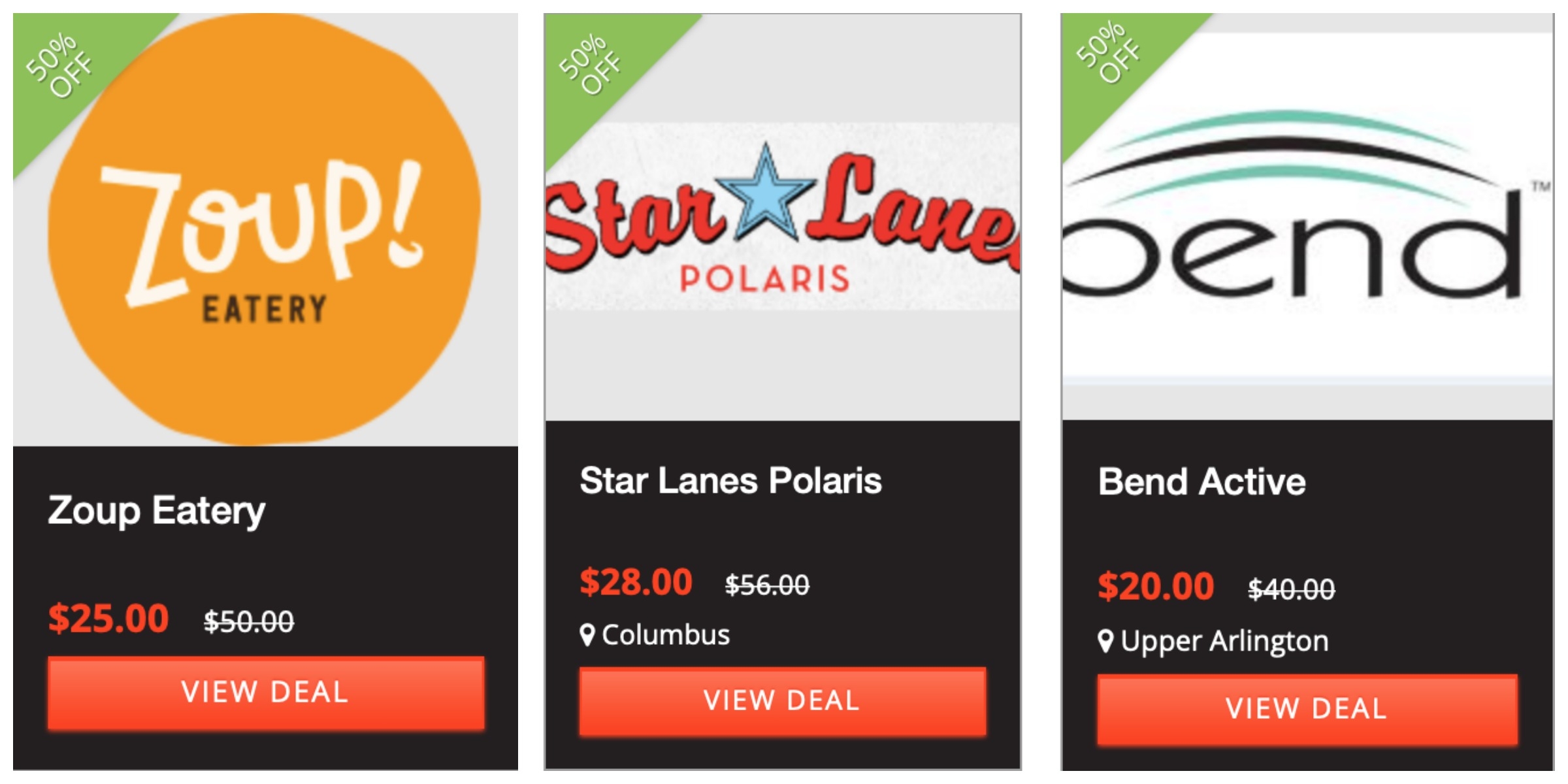 Make sure when you go to this site, you choose Columbus. It is a nationwide site. Might be a good tool for traveling. You will also find deals on things for the home, your kids, health & wellness, etc. Make sure to check and see if they will mail the gift certificate to you or you can print it right away. It would be the worst if you planned to use it for dinner the next night and didn't realize it takes 7-10 days to come in the mail!
My top three choices would be Savoir, Coliseum X and North High Brewing. At Savoir, you get $50 for $25. If you aren't familiar, they offer hands one looking classes taught by professionals. You'll get the chance to earn new recipes and techniques, and create dishes with coaching from professional chefs. Coliseum X is an extreme laser tag spot on 23, near Worthington/Lewis Center. With this deal, you get TWO tactical laser tag packages for the price of ONE. The package includes 3 missions for both people, one in each arena/map. I think they even have a bar? Last choice is $30 to North High Brewing for $15. In 2011, North High Brewing was born as Columbus' first and only Brew on Premises establishment, where the customer is the brewmaster.  In addition to customers brewing their own beer, North High Brewing creates small-batch, high-quality craft beer that they serve in their taproom as well as on tap at dozens of area restaurants and bars.

This site has some FABULOUS deals. However, it is a bit more exclusive. They usually only offer 100 gift certificates and normally, they only have 4-5 offers at a time. With that being said, this is where you're going to find the 'trendy' spots in Columbus. They usually have upcoming deals posted with details on when they will be available. Make sure to set your alarm if you see one you want because they will go quick!
It was easy to pick three offers. I am sure you have heard of most of these, if not – buy these and go this week! The Walrus has my most favorite nachos EVER. Smoked on High? I haven't been yet, but, all of their pictures are drool worthy. Their BBQ looks incredible. Duck Donuts? I probably don't need to explain this one. We always need donuts, right?

Okay, I know what you're thinking. "Val-Pak? Really? I just throw those away when I get them in the mail. There isn't really anything great in there!" Wrong! Well, I admit. I may toss them, too. However, I use the digital coupons! If you go to the Val-Pak website, you can pick a coupon and add it to your apple wallet. When you get to the website, you can type in the place you're looking for or the city you're in to get a feel for what is out there. It is great for oil changes and places like Woody's, Harry Buffalo, El Vaqueros, etc.
Happy Saving!