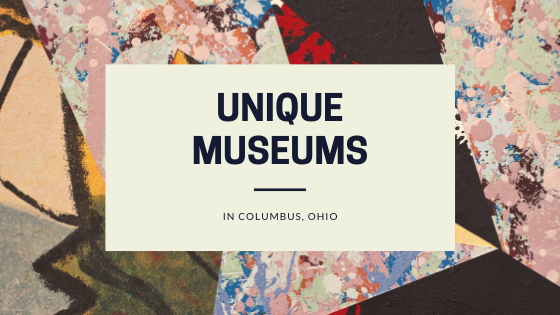 Mon – Sat | 9am – 6pm
Closed on Saturday: 1-2pm
Free Admission
Located in a historic building attached to the Westerville Public Library, visitors can access the museum through the library's main entrance.
126 S. State St | Westerville, OH 43081
You can take a virtual tour before going.
---
The Billy Ireland Cartoon Library & Museum houses the world's largest collection of materials related to cartoons and comics, including original art, books, magazines, journals, comic books, archival materials, and newspaper comic strip pages and clippings.
Tuesday – Sunday | 1p – 5p
Free Admission
Sullivant Hall | 1813 N. High St | Columbus, OH 43210
---
The Central Ohio Fire Museum is located in a 1908 engine house that has been authentically restored. The museum offers personal guided tours. The primary focus of the museum is fire safety education. Classes are available for any age. Interactive programs, such as the 9-1-1 Simulator are used in a hands-on manner to engage visitors. The Burned Items Display is another exhibit featuring items from house fires to inform visitors of the dangers of the intense heat of fires and that anyone can be the victim of fire (including the kitchen of a local fire department).
Tuesday – Saturday | 10a – 4p
Adults $6 | Seniors $5 | Children $4
260 N 4th St | Columbus, OH
---
The Jack Nicklaus Museum, located in the heart of The Ohio State University sports complex in Jack's hometown of Columbus, Ohio, is a 12,000 square-foot educational and historical facility. Here, you will encounter the history of golf and its greatest practitioner…take an immersive journey through Jack's brilliant career including trophies, photographs and various mementos from his unparalleled 18 major championships and 100 worldwide professional victories…and discover the many facets of this remarkable man who added so much to the history of golf.
Tuesday – Saturday | 9a – 5p
Adults $10 | Students (with ID) $5
2355 Olentangy River Rd | Columbus, OH 43210
---
The Jubilee Museum was founded by Fr. Kevin Lutz in 1998. Its purpose is to preserve the Catholic mind and memory as it is represented in art as well as Catholic Church history. The museum embraces liturgical art and secondarily any art that in some way tells the story directly or indirectly of Christ, Mary, the saints, and the history of the Catholic Church. The museum also embraces art that helps reference Christian history and the congregations of the Reformation. The museum holds in high esteem the Jewish faith and preserves a significant collection of Jewish art and history.
Tuesday – Saturday 10a – 4p | Sunday 1p –4p
Adults $10 | Seniors, Children & Students $5
57 South Grubb St. | Columbus, OH 43215K
---
Created in 1982, the American Motorcycle Heritage Foundation is a 501(c)(3) nonprofit, tax-exempt foundation created to recognize, record and preserve our motorcycling heritage. One of the Foundation's major goals was to create a Hall of Fame to tell the exciting stories of our community and a permanent repository in which to archive the memorabilia and ephemera of our past. On August 16, 1990, the AMHF realized this major goal when it opened the Motorcycle Heritage Museum adjacent to the AMA headquarters in Westerville, Ohio. The facility featured exhibits depicting all aspects of motorcycling history.
Monday – Sunday | 9a – 5p
Adults: $10 | Seniors: $8 |Students (ages 12 to 17): $3 | 11 & Under Free
Family Rate (parents and all single children under 18): $25
12515 Yarmouth Dr | Pickerington, OH
---
The Museum of Classical Archaeology at Ohio State is designed to provide a significant focus for ongoing teaching, research, and outreach in a number of areas within the University.
I would call before going. The website didn't have exact hours. The phone number is 614.292.1949. However, the website did say the Museum is closed Summer Semester and during University holidays and breaks.
The museum is in the basement of Dulles Hall (which can be reached by the main elevators) and it is located at the very end of a long corridor opposite the elevator doors.
Dulles Hall | 230 Annie and John Glenn Avenue | Columbus, OH 43215
---
Founded in 1948, The Ohio Railway Museum is one of the oldest railroad museums in America. The museum is designed to educate through displays and demonstrations, the role and effect of the railroads in the life of the people and businesses of Ohio and the United States. Today, we offer a glimpse of railroading's past through our exhibits, static equipment displays of electric traction and steam. We also offer rides on both our streetcars and our Pullman passenger car. Come visit us and explore a century of rail evolution!
Sundays (May – December) | 12p – 4p
Adults $8 | Seniors $7 | Age 4 – 12 $6 | 3 & Under – Free
900 Proprietors Road | Worthington, OH 43085
---
The Ohio Craft Museum is a program of Ohio Designer Craftsmen, presenting five major exhibitions each year, as well as focus exhibits and a rotating display of the permanent collection. In addition, the museum houses the Craft Research Library and offers educational workshops and events for all ages and levels of experience.
Monday – Friday 10a – 5p | Saturday 1p – 4p
Free Admission
1665 W. 5th Ave. | Columbus, OH 43212
---
Travel back in time and see barbering history unfold before your eyes! You'll learn the history, see shaving mugs and amazing tools + barber chairs and colorful barber poles.
Contact them at (614) 837-8400 or (614) 833-1846 to schedule your tour.
Adults: $50 | Seniors: $4 | Students: $3
135 Franklin St | Canal Winchester, OH 43110