Summertime in Columbus is all about the outdoors and if you're like me, there is nothing better than being outside on a warm summer night. listing to live music underneath the stars! Lucky for us, Columbus offers FREE outdoor music series all over the city. The list below includes all of the reoccurring music events throughout the summer. Don't worry, I will keep you updated on all of the other free music events, too!
---
Music and Art in the Park is a free summer concert series held the third Friday of May, June, and July, featuring live entertainment, art demonstrations, and activities at Stradley Place (located next to the city municipal building at 36 S. High St). in historic downtown Canal Winchester. Attendees are encouraged to bring portable chairs or blankets due to limited seating, a picnic basket (no alcoholic beverages) and enjoy a free summer evening concert.
Time: 6:30 – 9:30 PM
Dates: Third Friday in May, June and July
Where: Stradley Place, 36 S. High St in Canal Winchester
May 19: Danny & The Linders
June 16: 3 Cat Day
July 21: Gas Pump Jockeys
---
You know what goes great with a cool summer cocktail? Live music! You know what goes great with live music? An intimate outdoor oasis! That's why the Gateway, CD102.5, Art Makes Columbus, Four String Brewing Co.and World of Beer – High Street are all teaming up this summer for the second annual Local 'n Live music series. Grab some friends and snag a seat in the Gateway Beer Garden, and bask in the best beats Columbus has to offer! Before you know it, you'll be tapping right along.
Time: 5-9 PM
Dates: Friday and Saturday, May 26 – June 30
Where: Gateway Beer Garden
1556 North High Street, Columbus, OH
Friday, May 26: Stephen Spottswood • Booty and the Kidd
Saturday, May 27:  Eric Clemens • Joey the Songwriter
Friday, June 2 : Ryan Smith • Megan Taylor
Saturday, June 3:  Nearly a Nation • Magnumb Opus
Friday, June 9:  TJ George • Tourist Trap
Saturday, June 10:  Luke Mossburg • Matt Monta
Friday, June 16: Eric Ahlteen • Ruvane
Saturday, June 17: Rick Barr • Sean Szoch
Friday, June 23:  Topher James • Cortney Gail & Raucous
Saturday, June 24:  Darby Smith • Carob
Friday, June 30:  We are the Movies • The Jeffs • Mojo Flo
---
Every Summer, the Worthington Parks & Recreation Department hosts the Concerts on the Green series. These family-friendly concerts are FREE for everyone! All performances are held on the Northwest Quadrant of the Village Green (corner of High Street & Dublin-Granville Road). Parking is available at Kilbourne Middle School, Griswold Center, Worthington Library, Huntington Bank, and the Worthington Presbyterian Church. In the case of inclement weather, concerts are cancelled.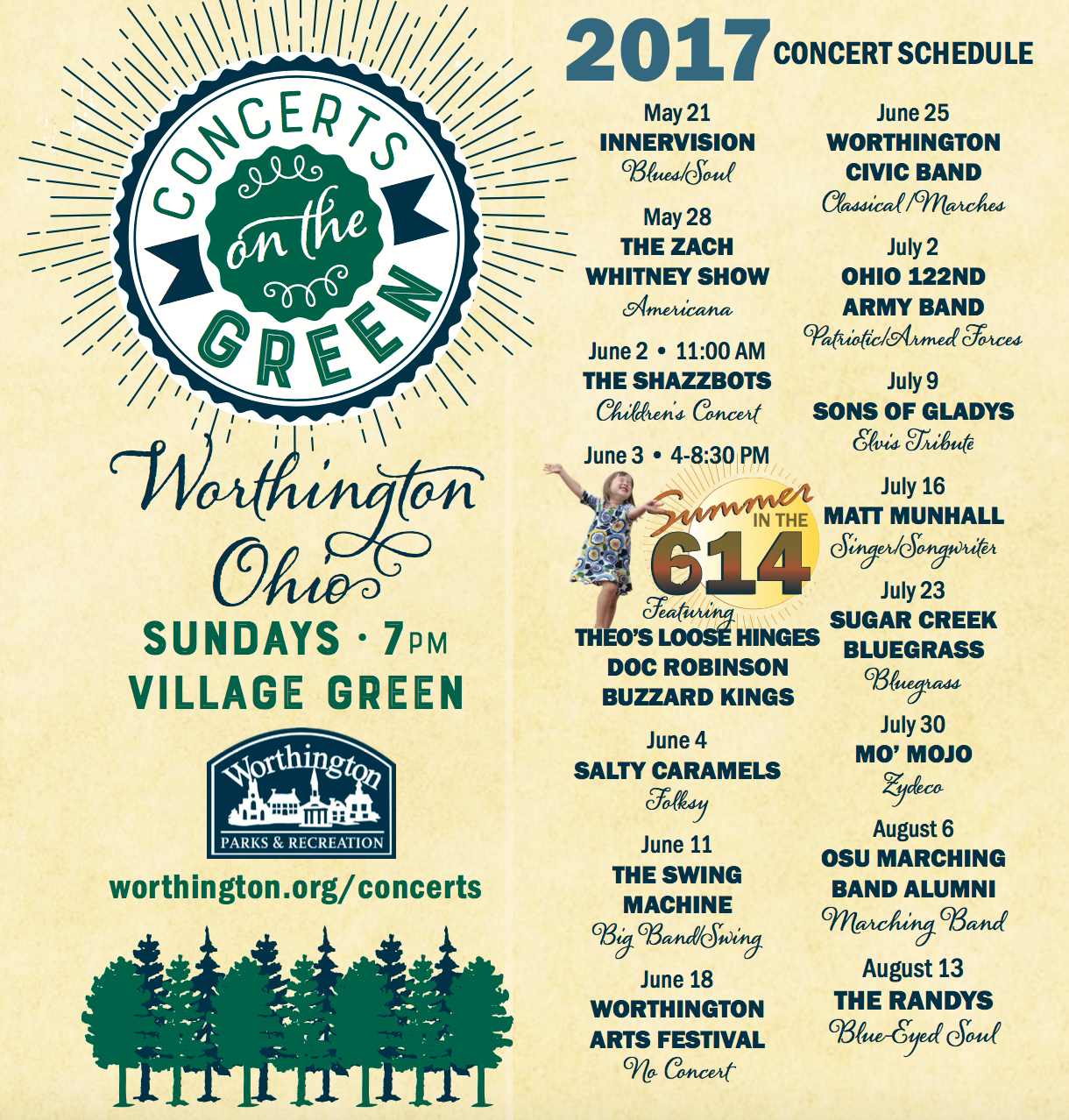 ---
Enjoy the outdoors with live music, great shopping, amazing restaurants and family and friends! Our Summer Concert Series features live entertainment that is always family-friendly. Make sure to bring a lawn chair.
Time: 7-9 PM
Dates: Thursdays, June 1 – July 27
Where: The Shops on Lane Avenue
1675 W Lane Ave, Upper Arlington, Ohio 43221
June 1: Buckeye Tailgaters
June 8: Soul Kitch'n
June 15: The Randy's
June 22: Dean Simms & the Funky Gurus
June 29: Mousetrap
July 6: Agent 99
July 13: The Majestics
July 20: Gas Pump Jockeys
July 27: The Buzzard Kings
---
Featuring free performances by premier touring artists and local arts organizations, Rhythm on the River takes place at the Bicentennial Park Performing Arts Pavilion on select summer Friday evenings.  The beautiful park setting and Scioto Mile Fountain provide the perfect backdrop for exhilarating music and dance performances.
Make it a perfect evening by enjoying a picnic under the stars! Donatos Pizza will be on-site with delicious pizza by the slice or pie. The Columbus Recreation and Parks' Strawberry Food Truck will be at all performances this year featuring a specialty menu from guest chefs. Proceeds help support free summer meals and after school programs offered by the department. Ice cold beer, soft drinks and water will also be available for purchase. For a special park dining experience, enjoy the performance and fabulous fountain views from the Milestone 229 covered patio (reservations recommended).
Time: 7:30PM
Dates: Fridays, June 2 – August 25
Where: Bicentennial Park
233 Civic Center Drive, Columbus, OH 43215
---
This kid friendly concert series is sure to be a hit for your family. These interactive concerts promise miles of smiles from kids and parents alike, so get ready for a toe-tappin', rip-roarin' good time! It is located at Village Green Park in Powell, which offers a large green space, playground and splash pad – creating the perfect morning! Just make sure to bring blankets, bathing suits, towels and sunscreen!
Time: 10:30 AM
Dates: Monday, June 5, July 10 & Aug. 7
Where: Village Green Park – 47 Hall Street
June 5: The Marvelous Toy
July 10: Music Man Dave
Aug 7: Endless Recess
---
Creekside comes alive the 2nd & 4th Friday's June-August. Join Creekside Live for a summer concert series featuring summer entertainment throughout the Creekside District headlined by popular bands from Central Ohio.  The event brings the community together celebrating the heart of Gahanna, the Creekside District. Come early and one of their many local restaurants. Onsite beverage sales available supported by the Gahanna parks & Recreation Foundation, net proceeds support the Foundation's focus on making Gahanna a great place to live, work and play.
Time: 6 PM
Dates: 2nd & 4th Friday's June-August
Where: Creekside District
117 Mill Street, Gahanna, Ohio 43230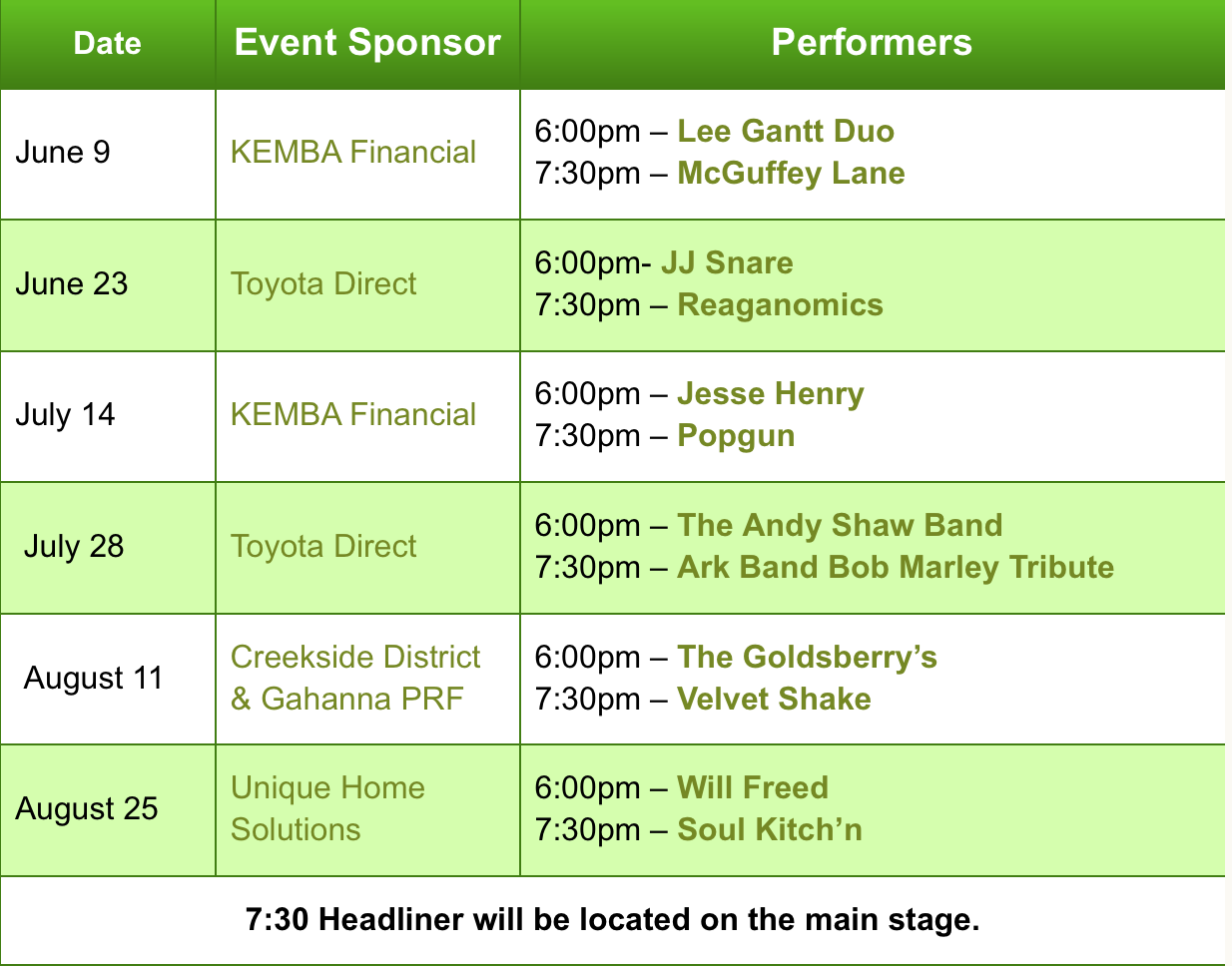 ---
Concerts showcase local and regional performing artists that include almost every musical taste, from reggae to jazz and traditional Celtic music to classic country. The annual summer concert series is of historical significance to Dublin Arts Council, which was formed after an ad hoc committee brought the Columbus Symphony Orchestra to the dedication of Scioto Park in 1983. The park is also home to Leatherlips, the first public artwork of DAC's Dublin Art in Public Places program. The 12-foot high native limestone sculpture of the Wyandot Indian Chief has overlooked the park's amphitheatre since 1990.
Time: 7 PM
Dates: Sunday, June 11 – July 30
Where: Scioto Park Amphitheater
7377 Riverside Dr. Dublin, OH
June 11: 7 Bridges
June 18: Davina and the Vagabonds
June 25: Alexis Gomez
July 2: Dulahan
July 9: The Ark BandJ
July 16: The Malpass Brothers
July 23: Popgun
July 30: Six Appeal
---
Thursdays are the new Friday: Downtown Live is a chance to decompress from the work week and check out the local music scene. The world-class Columbus Bicentennial Pavilion at Columbus Commons plays host to free concerts that fire-up at 5:30pm.  You can warm-up for the night (or cool-off) at the house bar starting at 5pm. Local improv group, Hashtag Comedy, will serve as the MC for this series.
Blankets and chairs are welcome; please leave coolers at home. Beverage and food-truck concessions are available on site. Bar concessions are cash only (ATM is located on the south side of the park near Rich Street and Tortilla).
Time: 5:30 – 10:30 PM
5:00pm Bar and food trucks open
5:30pm Opening act (45 mins)
7:00pm Second act (75 mins)
9:00pm Main act (90 mins)
Food trucks will be on site starting and 5 pm. Tortilla and Jeni's Splendid Ice Creams will also be open near the carousel.
Dates: Thursdays, July 6 – July 27
Where: Columbus Commons
July 6: Nick D & the Believers • Mojoflo
July 13: Forest and the Evergreens • Popgun
July 20: Reaganomics • Conspiracy
July 27: Spikedrivers • Floorwalkers
---
---