I have had Baba's on my radar for quite sometime. A change of plans last week brought the perfect opportunity to check them out. As soon as I walked in, I loved it. They have an inviting, comforting, simple vibe going on and I am into it. Plus, the aroma of sizzlingly sandwiches, cinnamon rolls and Thunderkiss coffee can't be beat. I love the dark wood and metals throughout the space, brightened by plants and cool lighting.
Baba's was founded with a rebellious spirit and a sentimental objective to bridge local harvest with modern distribution.Allowing the business to thrive while supporting Ohio producers.Embracing the fluid nature of seasonal change and community cravings, we are excited to grow with this vibrant neighborhood.
While the menu isn't large, they offer well thought out options to meet anyones cravings from sweet to savory.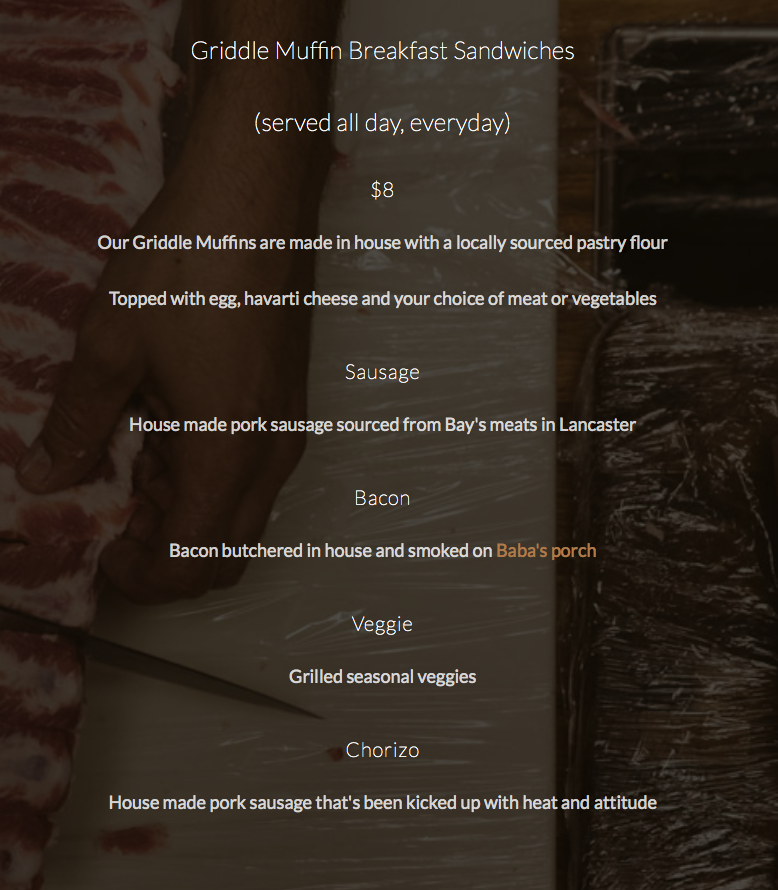 Sometimes the best breakfast is on you can eat on the go and while I love all the toppings, there's something to be said for a simple (yet tasty) sandwich. At Babas, you'll find just that. The griddle muffins are made in-house with a locally sourced pastry flour, topped with egg, havarti cheese and your choice of meat or veggies.
I went with the bacon sandwich, of course. The bacon is butchered in house and smoked on Baba's porch – yum. I love that they use havarti cheese. I think it is the absolute best cheese for a sandwich. It melts perfectly. It sort of tastes like softened, salted butter – soaking right into the egg/bread.
Hannah went with the "healthier" choice of veggies only. So Many. Veggies.I love that they grilled the veggies. Now that I think about it, she never gave me a bite!
If you're looking for a no frills type of spot, serving up simple & flavorful food – Babas is the spot for you! I am already planning my next trip. I have to try the chorizo sandwich and the inside out grilled cheese.
Tuesday-Friday 8-5
Saturday 8-5
Sunday 9-4
Closed Monday
2515 Summit St. | Columbus, OH 43202