My favorite thing to do on a sunny day is to get out and be a tourist in my own city – a phrase my sister is big on using! My second favorite thing to do is to be a tourist in my own city with my favorite people. Being followed by a photographer, who is capturing it all – now, that is just an added bonus! Recently, Lindsey from 'A City Explored' did just that. We spent the morning exploring our favorite spots in German Village and getting a few pictures in between and by a few, I mean a few hundred! Nursah, a friend of Lindsey and one of the most talented photographer's, agreed to spend the morning with us, capturing all of our silly moments.
The first place we stopped in German Village was Pistacia Vera. Why? Snacks, of course! How can you start a photo shoot with out shoving your face full of macaroons and chocolate croissants? This is where food blogger meets fashion blogger.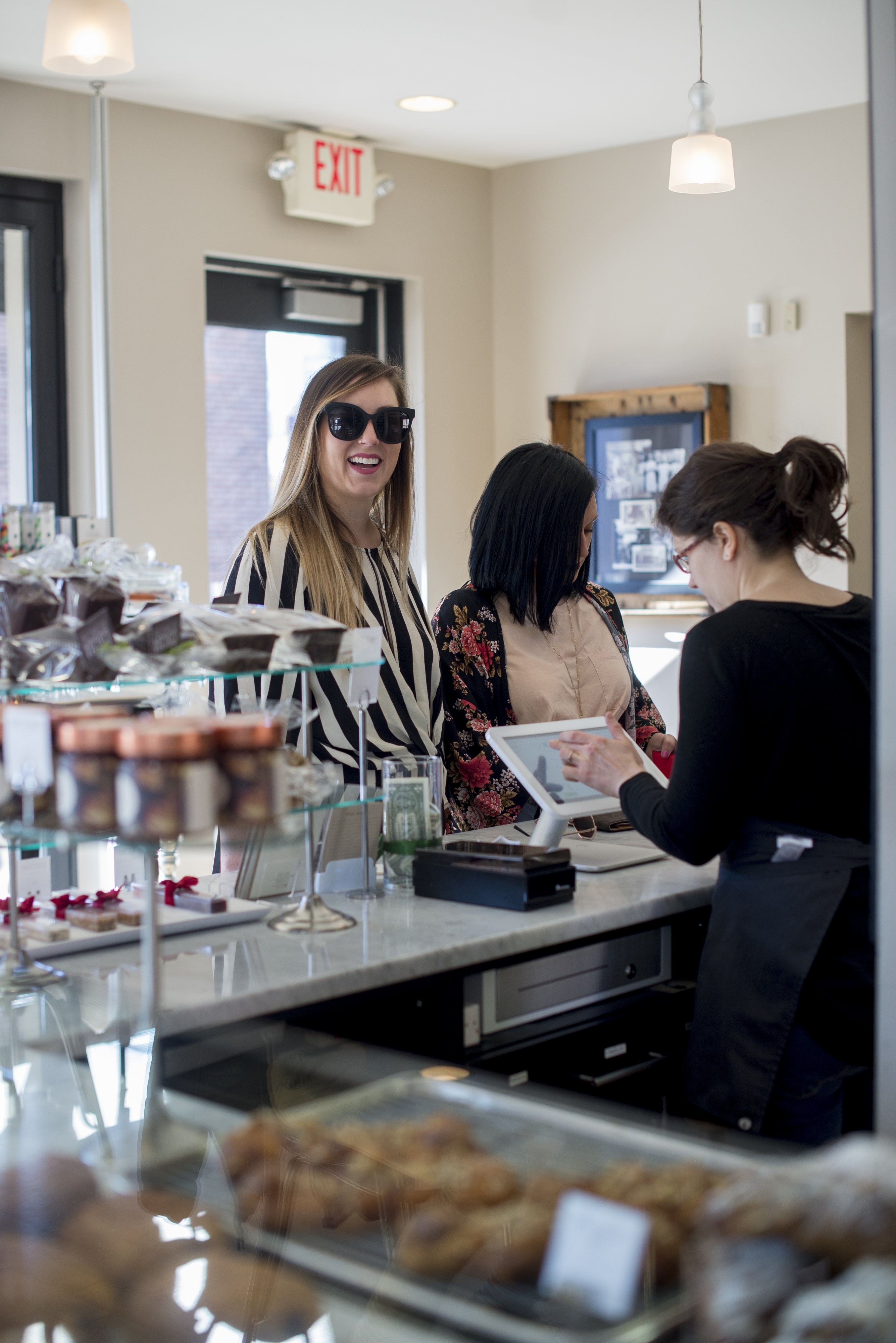 One of us is always ready for the camera. I'll give you one hint. It's not me.
Walking through German Village on a sunny day is one of my favorite things to do. One of the oldest and most treasured neighborhoods, filled with many gems on every corner.  One of my go-to and most frequented spots is Stauf's Coffee. If you know my sister, you know she fan-girls over Stauf's quite frequently. She is the one who introduced me to them. After visiting the Grandview location a few times, we met up at the German Village location. While I love Grandview, the German Village location just has a different feel. Still cozy, relaxing and welcoming like Grandview. I absolutely LOVE their patio. Quaint. Bright. Inspiring. Perfect spot to catch up on work or with a friend.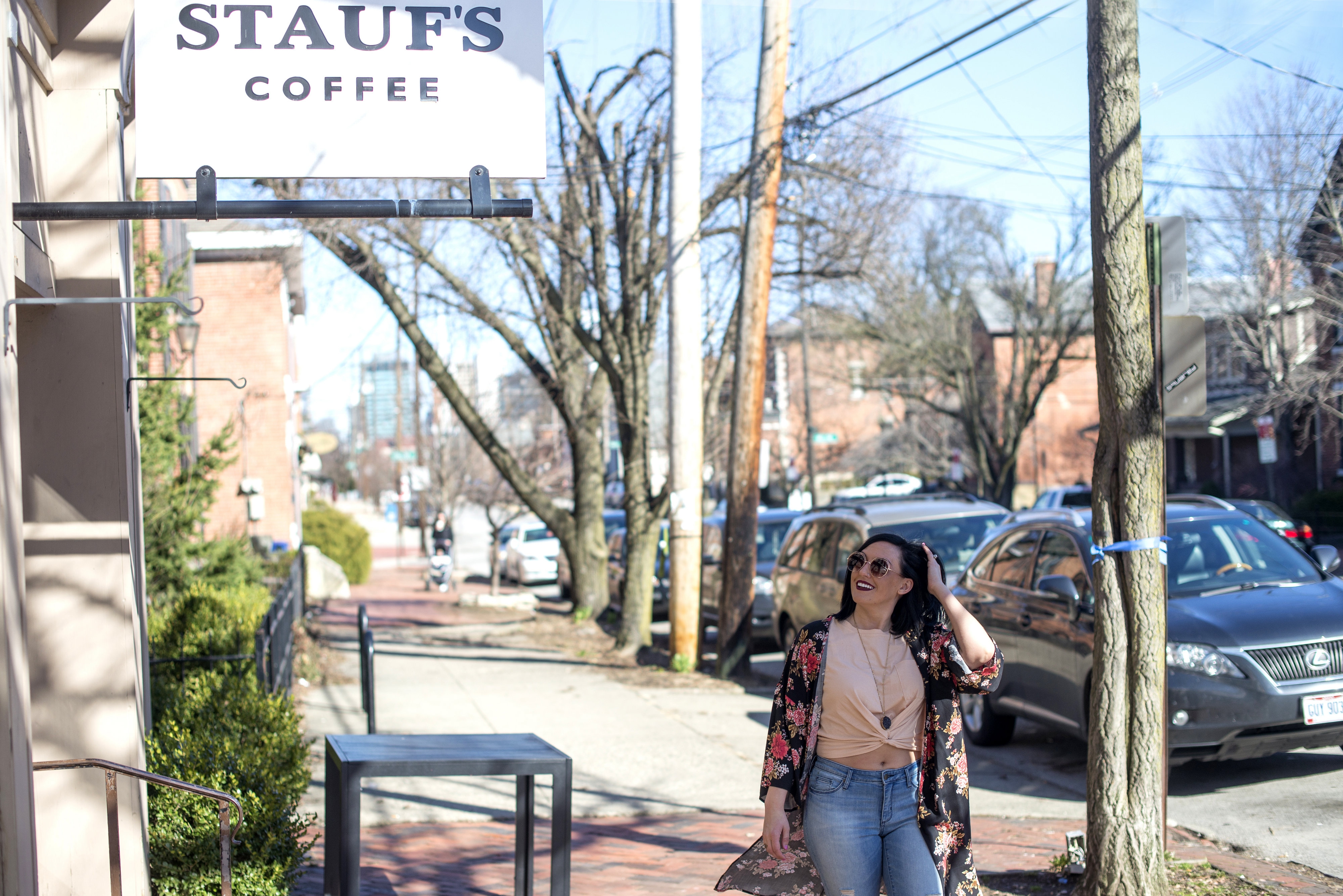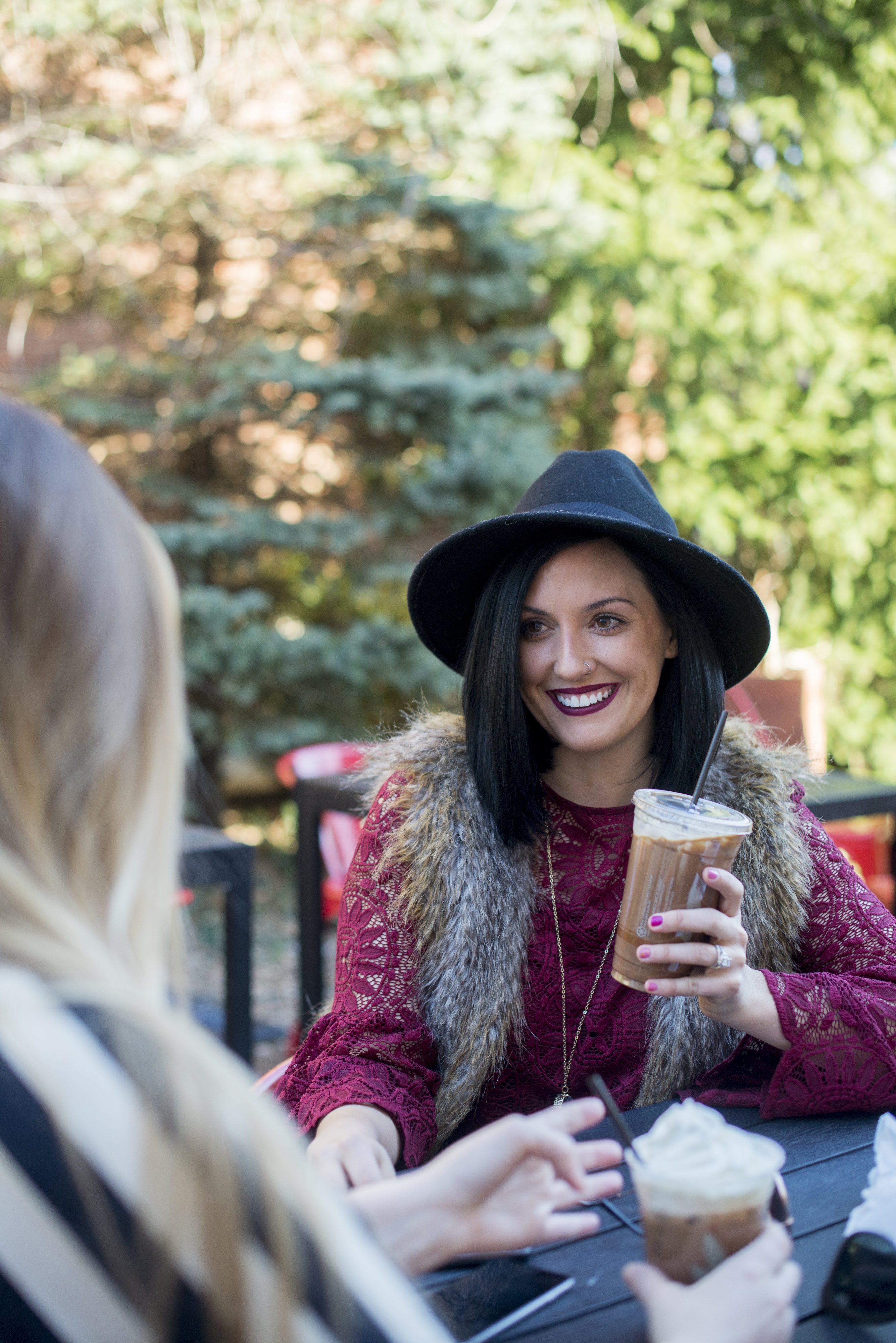 Just a few steps down from Stauf's is another one of my favorite German Village spots – The Book Loft. It blows my mind when someone tells me they've never been or even heard of them. Then, I think to myself? My first visit was only a few years ago and I have lived here since I was 5 years old. The Book Loft is one of the nation's largest independent book stores and includes 32 rooms! It is a maze you can spend quite some time in.
After Nursah left to go get her kiddos, I had to show Lindsey one of my favorite spots. You can probably guess….it was a wine shop! Hausfrau Haven is one of my favorite gem of a spots that I normally don't share with people – for selfish reasons. I want to keep it hidden! You won't find them on social media and you won't find much of a description on their website. All you need to know, they have a TON of wine and a gorgeous, wooden bar in the back. Oh, and can't forget the random (huge) assortment of greeting cards they have. An eclectic wine store if you will.
I read an article, that was dated from 2016, that they have more than 5,000 bottles of wine from around the world – most likely the largest inventory of any independent wine store in the area! I would have asked the owner, but, she was busy with one of her distributors and was kind enough to even allow us to enjoy a bottle of champagne!
I wish I could do this daily. Stroll around my favorite neighborhoods with my favorite people, eating croissants, drinking champagne and getting my picture taken. What a life that would be! For now, I will be thankful for the two hours I got to pretend like it was.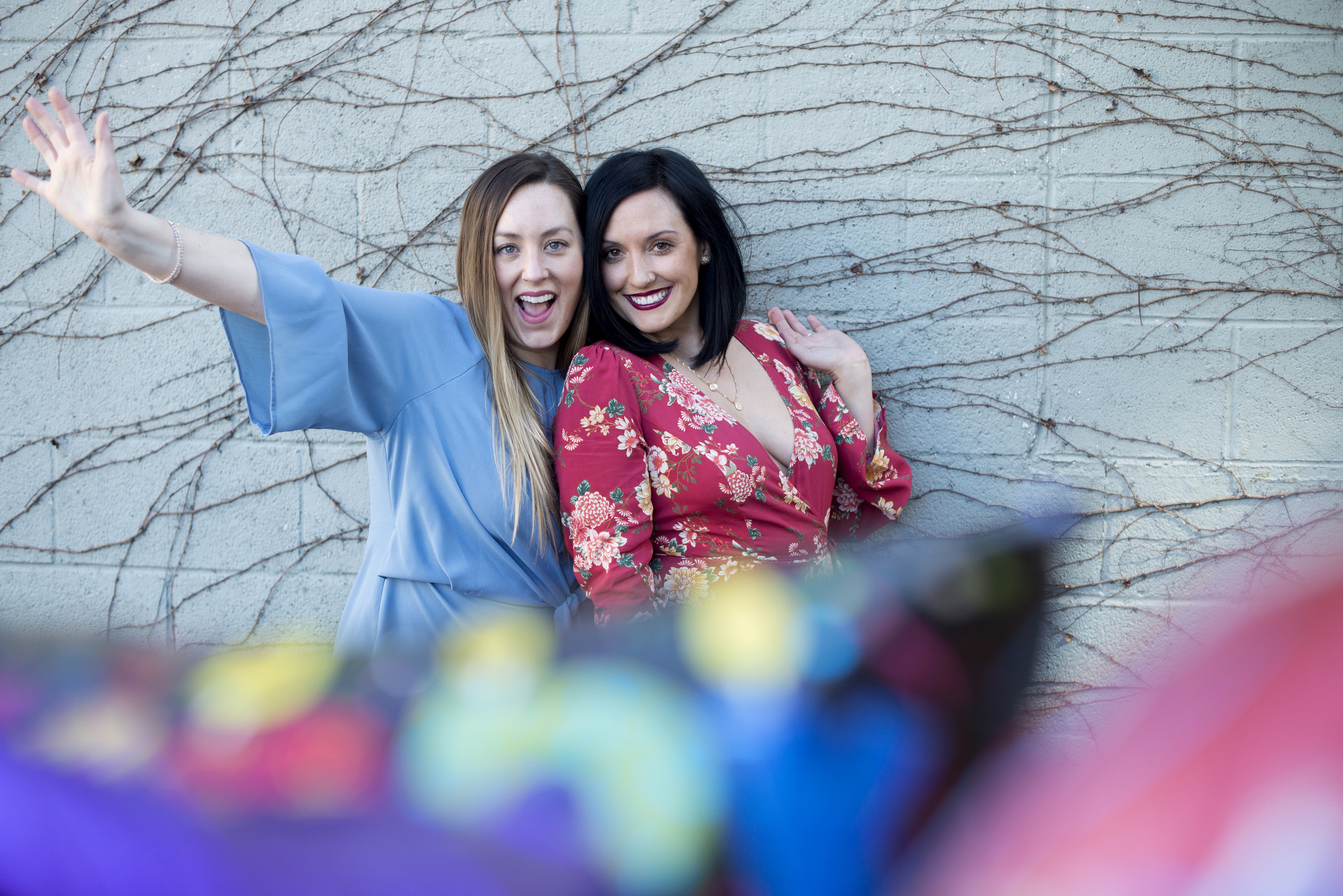 If you're looking for a photographer, I HIGHLY suggest Nursah. She has the be one of the sweetest, most talented women I have ever met. She is always willing to go the extra mile for you to make sure you're comfortable and that she get's the best shot. If I am being honest, I don't love being in front of the camera. I never know how to stand, where to put my hands and not be awkward, how to 'flip' my hair, etc. While I still don't LOVE it when I am with her, she makes me feel comfortable (and less awkward) and get's the perfect shot somehow. That moment when I am truly just being myself, she captures it and I think that is a talent that is hard to find. What normally would be a stressful situation for me isn't. She is so carefree, understanding, and free!
Whether you're looking for family, newborn, senior, engagement, maternity, wedding, etc. – Nursah is your gal!
Stauf's – 627 S 3rd St.