If you're from Columbus, specifically Worthington, you may already be familiar with Villa Nova. While I don't remember ever going, my husband has many memories of after game dinners with delicious pizza! When you walk in, you just feel right at home. Like you walked into your Italian grandmother's house – cluttered walls, quirky nicknacks and paper placemates – a site that hasn't changed a bit since you were a child. It just feels right.
One thing I always notice when walking in is the atmosphere. Everyone is laughing, having fun and truly in conversation with the people they're with. It's not quiet. No one is staring at their phone. Just enjoying the company they're with, while filling their bellies with classic Italian food.
I've marked this spot as an 'adult happy hour' – which might be confusing after I raved about the family-friendly atmosphere and talked about the memories my husband has growing up. The reason? When you walk in, you go left or you go right. If you go left, you're headed over to the family-friendly side. If you go right, you're headed to a dream of a happy hour. A local watering hole. A place where you will get lost in conversation with the absolutely hilarious regulars.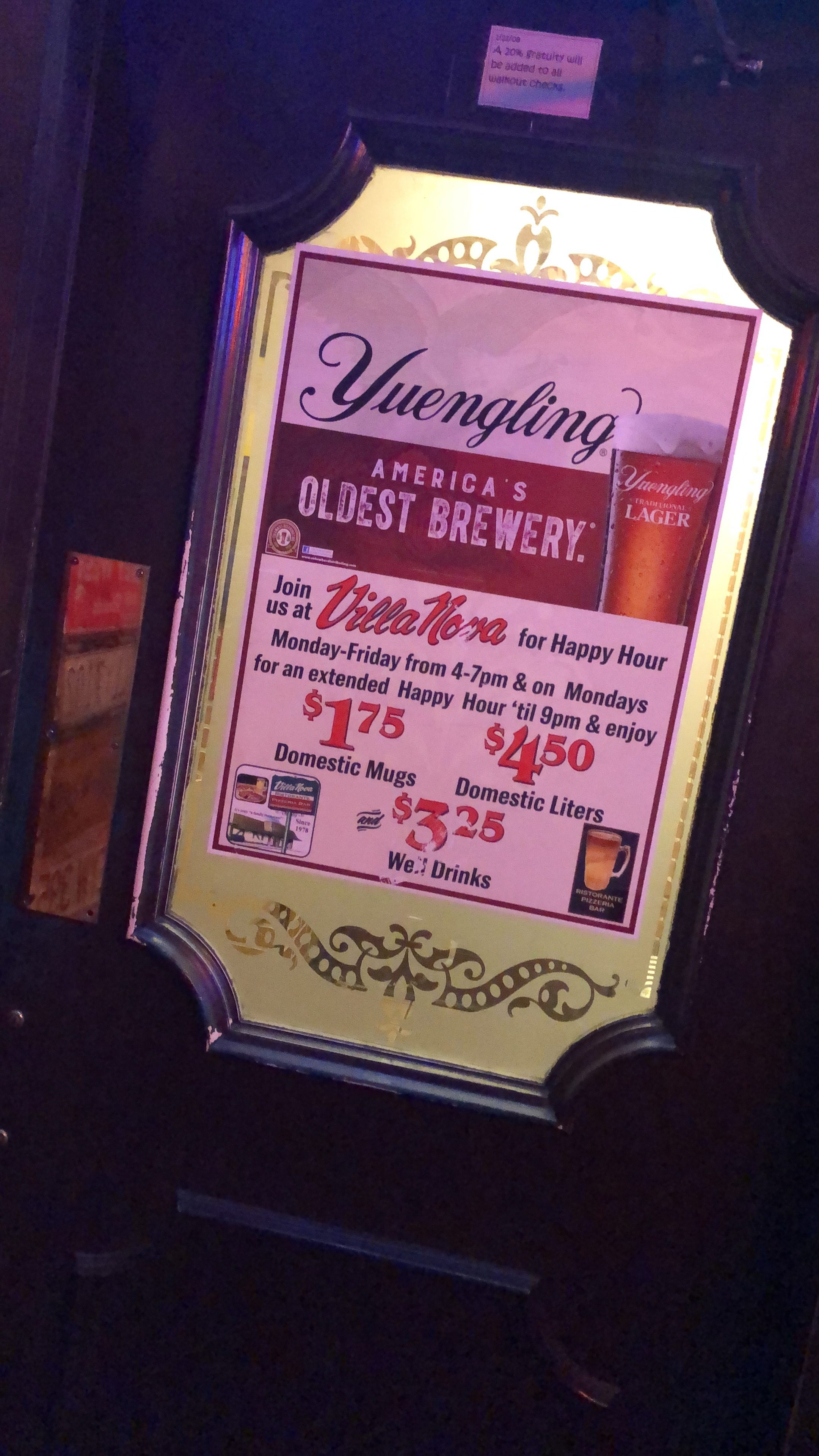 Just check out the details of this happy hour and I probably won't have to say much more!
Monday 4pm-9pm
Tuesday-Friday 4pm-7pm
$1.75 12oz. Domestic Drafts & Bottles
$4.50 32oz. Domestic Drafts
$3.50 12oz. Craft Drafts
$7.00 32oz. Craft Drafts
$3.25 Well Cocktails
complimentary snacks with drink purchase
What a deal right? I appreciate that it starts at 4pm and goes until 7pm, 9pm on Monday. Most happy hours end at 6pm, making it hard to get to and if you do get there, you're rushing to order.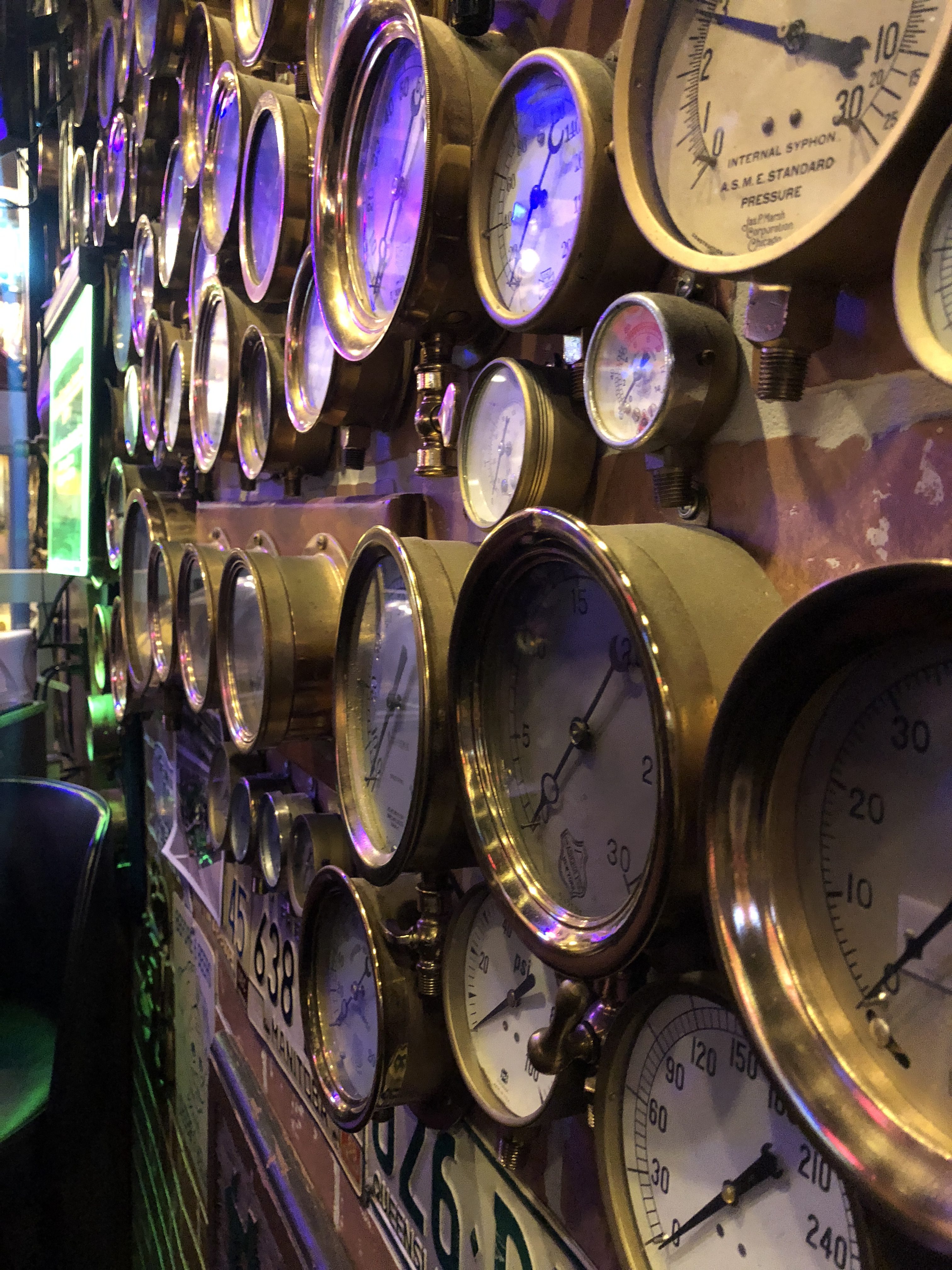 "The pressure gauges lining the walls of the bar, like the many teapots, were a labor of love bordering on obsession. Although the collection grew with the restaurant, the passion behind them started several decades earlier. As a younger man, Frank spent some time with the merchant marines. It was working in the boiler room of various ships that he developed his connection to the sea and all things nautical, as evidenced by the fourteen-carat gold fishhook dangling from his ear. Though Frank passed on in 2014, his gauge collections stands as a testament to his seafaring ways."
The beer in the picture is not positioned well enough for you to see the true size of it. The beer is a full liter. Hold on…let me ask Siri to convert that to ounces.According to Siri, that is 33.81 fluid ounces. That's a big beer for only $4.50. They don't skimp when it comes to the win either. Full all the way to the top. I can't remember how much my wine was, but, our tab for the two drinks wasn't more than $7 or $8.
You won't just find cheap drinks, great conversations with the regulars and a nostalgic atmosphere (especially if you grew up in Worthington) – you'll find a place that offers what every happy hour should offer. Free snacks! Yep, that's right. During HH, you'll find a table full of FREE snacks, with a drink purchase (of course).
Queue the everlasting nostalgia. Pizza rolls. Yes, they have pizza rolls. I grew up in the 90s and they taste just like they did before. A little hard and chewy on the sides and filled with gooey deliciousness!
Not on happy hour, but, just as much of a necessity – their pizza. Pretty sure the picture can do all the convincing on this one!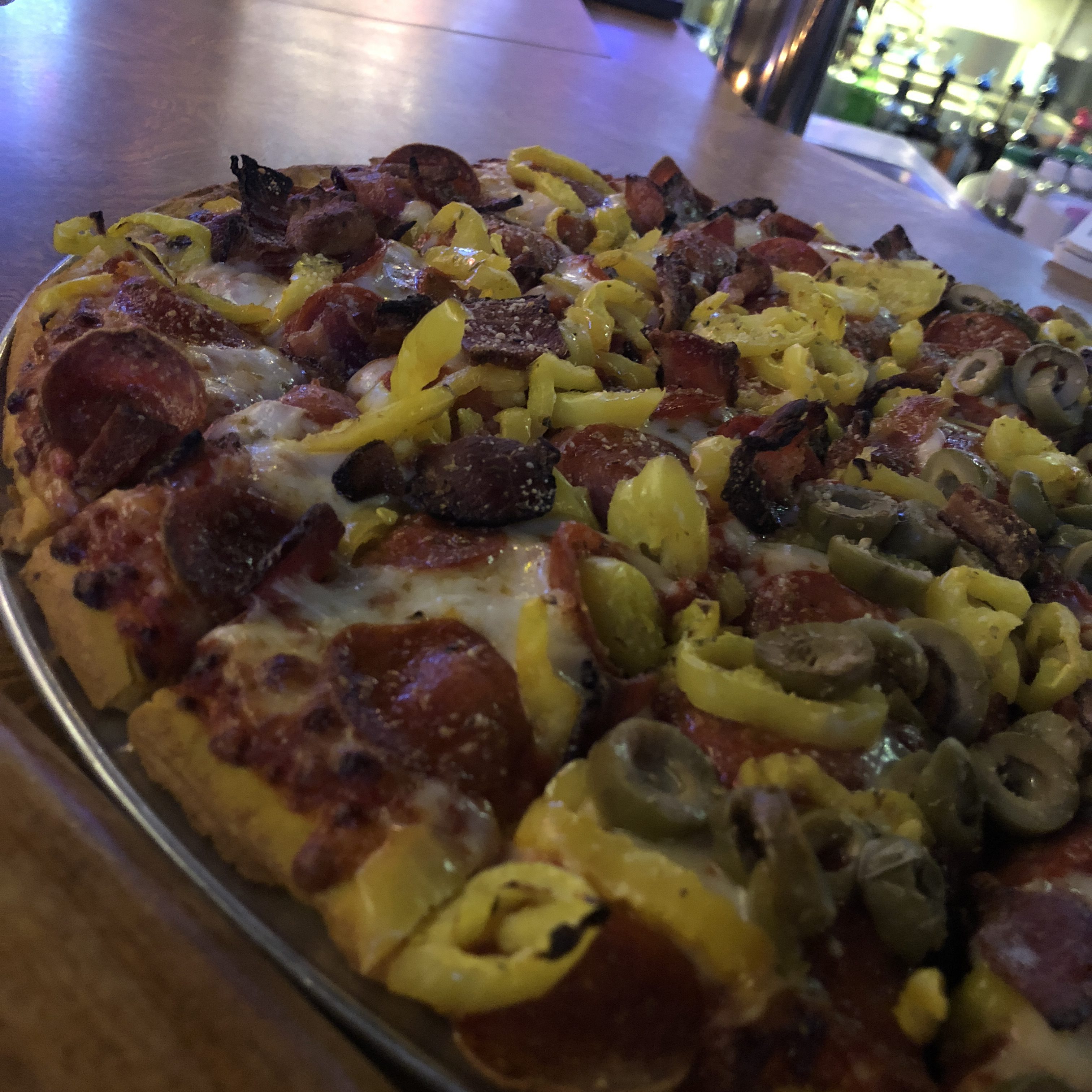 If you're looking for a fancy happy hour with high-end food, this is not for you. If you're looking or an unpretentious, laid-back happy hour with some of the best conversations you'll ever have – this is your spot!
BONUS: I just saw on their Facebook page they now carry Rhinegeist 'Bubbles.' Only $4 a mug during happy hour!
5545 N. High St. | Columbus, OH 43214
614-846-5777