One of my favorite hidden gems is Galena – technically a village in Delaware. Galena's historic New England style downtown still features structures built in the 1820s and is sprinkled with a restaraunt/pub, coffee shop and a 1500 ft boardwalk. Just a short drive down the road, you will find a delicious pizza shop inside of a bait & tackle shop and a ice cream shop offering ice cream flights. While there are a few more fun things to do in Galena, I want to tell you how to have the PERFECT Thursday night – family friendly and date night friendly!
Part 1 – Pizza Buffet
The first place you are going to go on your Thursday night adventure is Cheshire Market for their $9 (adult vs $5 12 and under) pizza buffet. Yes, all-you-can-eat pizza and salad bar for a great price! Cheshire Market Pizza is a fun, casual family-owned pizza shop inside of a Bait and Tackle/Convenience shop. You're not going to get any frills at this place – just a great home-cooked meal!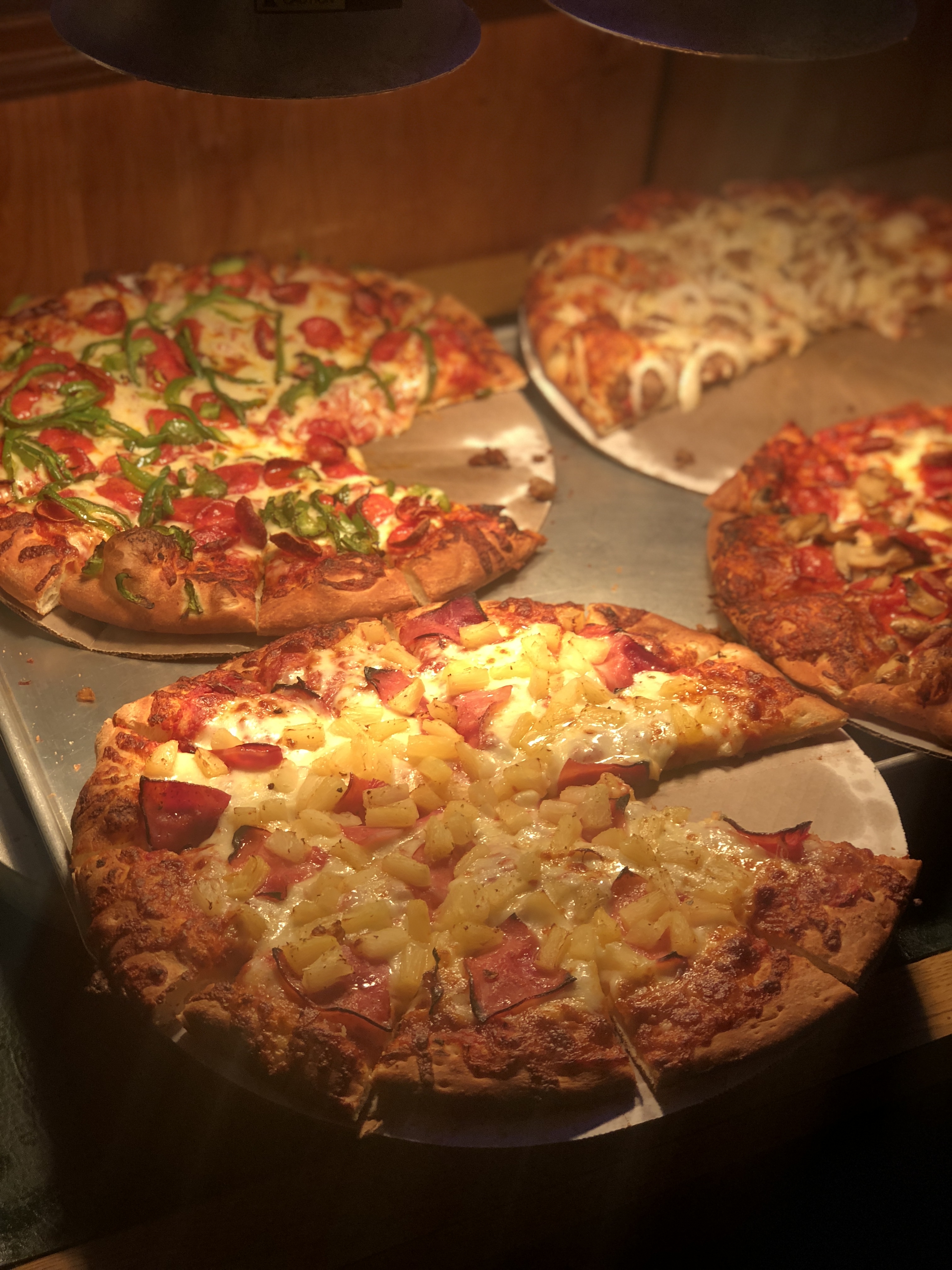 Disclaimer: When we first walked in, we only saw one pepperoni pizza with no indication of more coming out. We decided (for our first visit) we would opt out of the buffet and order our own thing. What we realized was, we may have just been a bit too early for the dinner rush because as we were leaving – there were multiple DELICIOUS looking pizzas waiting to be eaten. Don't worry if buffets short of freak you out – the pizza doesn't sit long! They are constantly going through pizzas and refreshing them. Along side of the pizza, they had your typical salad bar with a few types of salad (including macaroni type salads, too).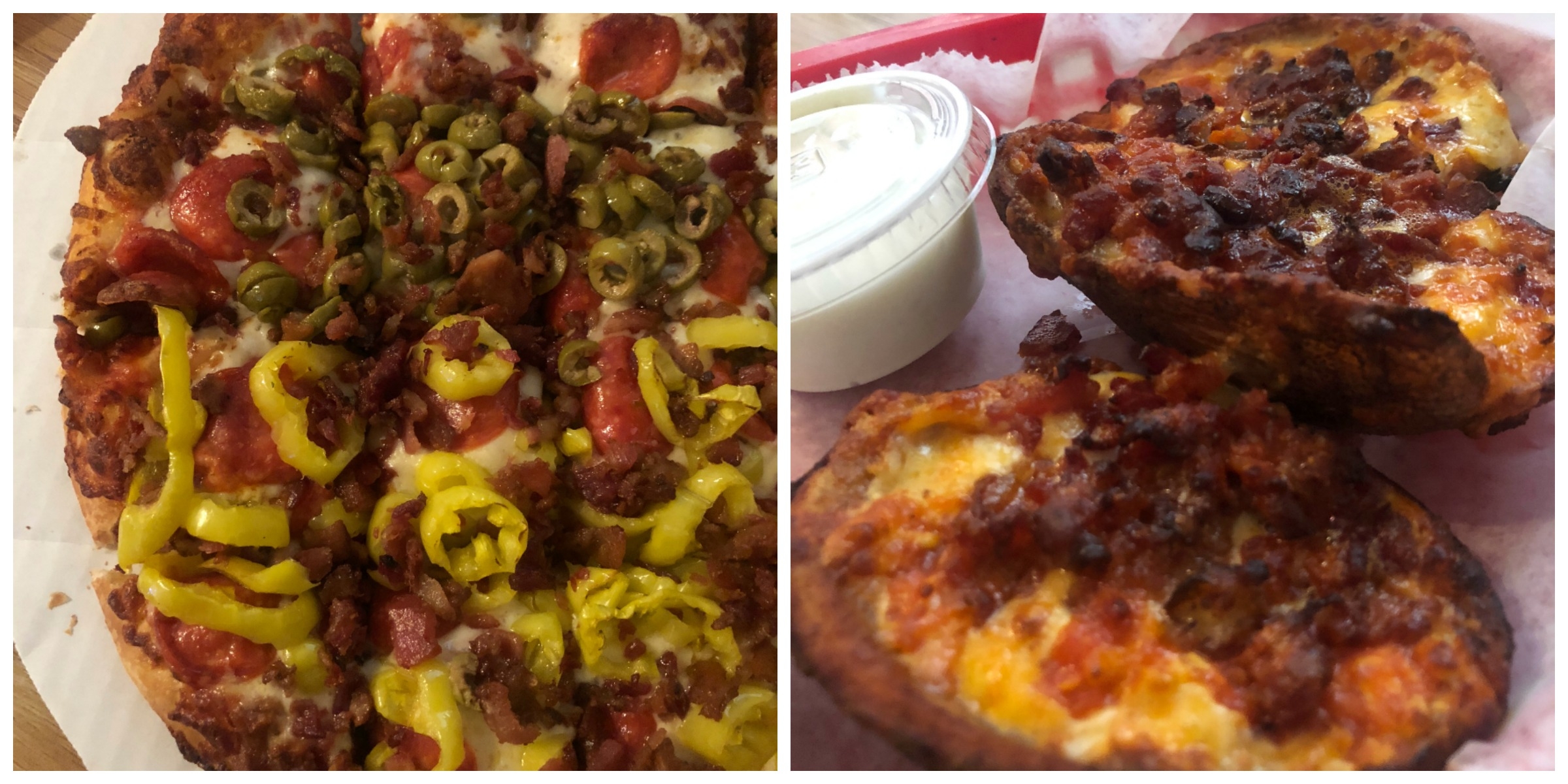 I went with a medium pizza with pepperoni and bacon + half green olives + half banana peppers. They have the BEST BACON EVER. Perfect pizza bacon. I appreciated that they had three pizza sauce choices – mild, mixed or spicy. I went with the mixed because I wasn't sure how spicy it would be. It wasn't spicy at all. I would for sure pick spicy next time. For my appetizer, I chose Tim's Hot Skins – potato skins plus hot sauce. As soon as I took my first bite, I was instantly thinking, "Why have I not been putting hot sauce on my potato skins until now?" DELICIOUS. Probably the best potato skins I have ever had. No joke. They weren't overfilled. They had the perfect amount of chess. The bacon was perfectly crisp and the hot sauce added that extra touch they needed. Texture combo on point!
I went with Hannah, Joel and Olivia (The Beard and The Baker). That way I could try more foods! Just kidding, it's always fun to have a family adventure. They order the cheese filled breadsticks with marinara sauce – similar to the bosco sticks we grew up eating as a kids. A classic cheese pizza and stromboli. The stromboli wasn't my favorite – but, I think Joel enjoyed!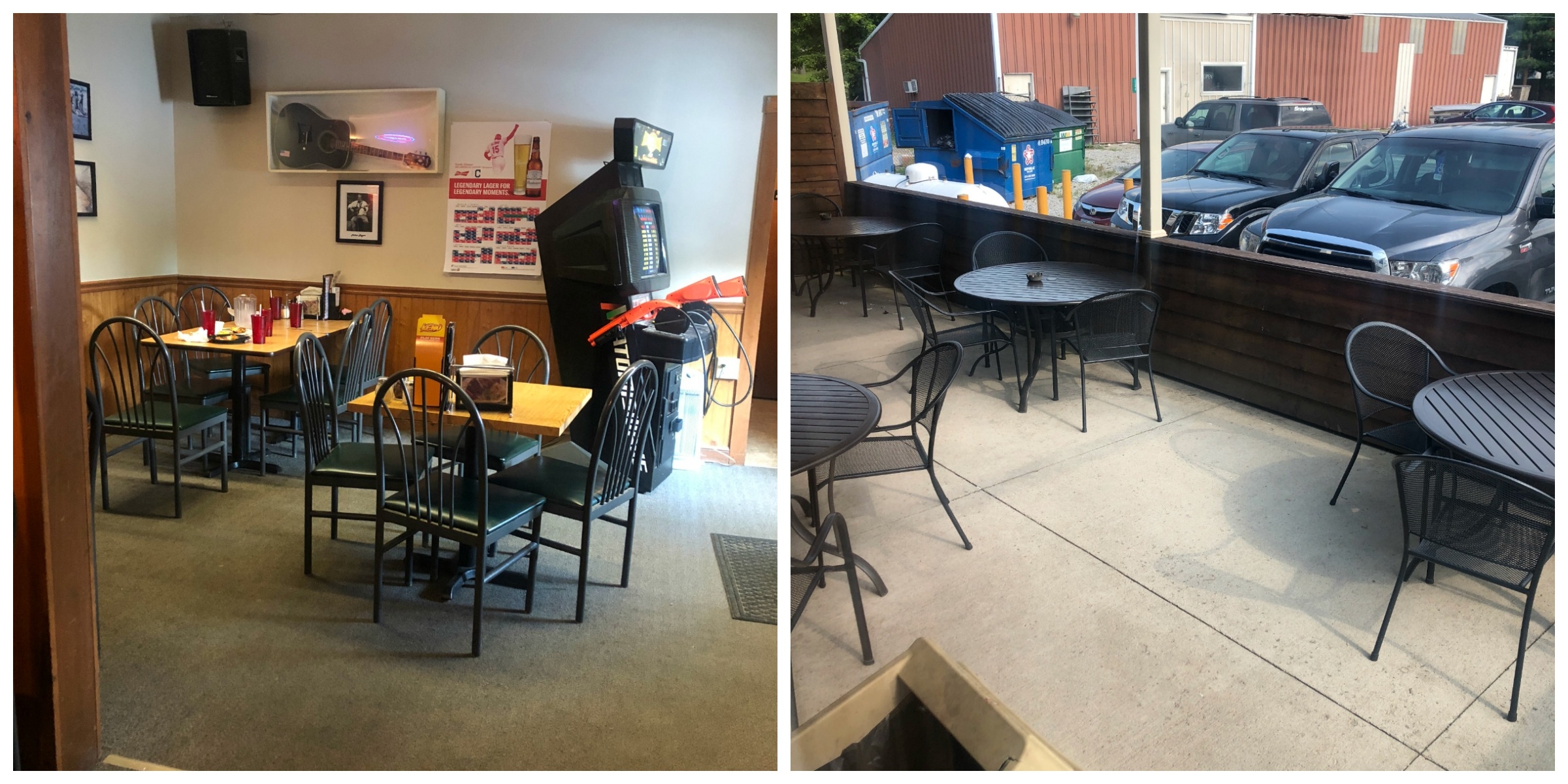 Seating options are simple. You can sit inside (they do have a small bar) or you can sit out on there covered patio. We didn't realize they had a patio until we were leaving. For being a small joint, they do have plenty of seating!
(They do have a small selection of wine/beer)
Address: 5094 Cheshire Rd, Galena, OH 43021
Parking: There is a parking lot in the front of the market and on the side.
Part 2 – Ice Cream Flight
Now that you've indulged in a pizza buffet (or a la cart), its time to get dessert! Sticky Fingers Ice Cream Parlor is just a short drive walk from Cheshire. It is directly behind it. We drove because we didn't realize it was directly behind the pizza shop until we turned on the road.
I thought they are pretty new, however, according to their "Two Year Celebration Party" coming up – they aren't new and there building has a long ice cream history! The building was built in the 1970's and served as at the home to the Frosty Freeze. Over the years, as you can imagine, this spot has become a summer staple for people near and far. Sticky Fingers owners opened in 2016 with the intention to bring back to life memories of past summers on the porch. This is their THIRD summer open!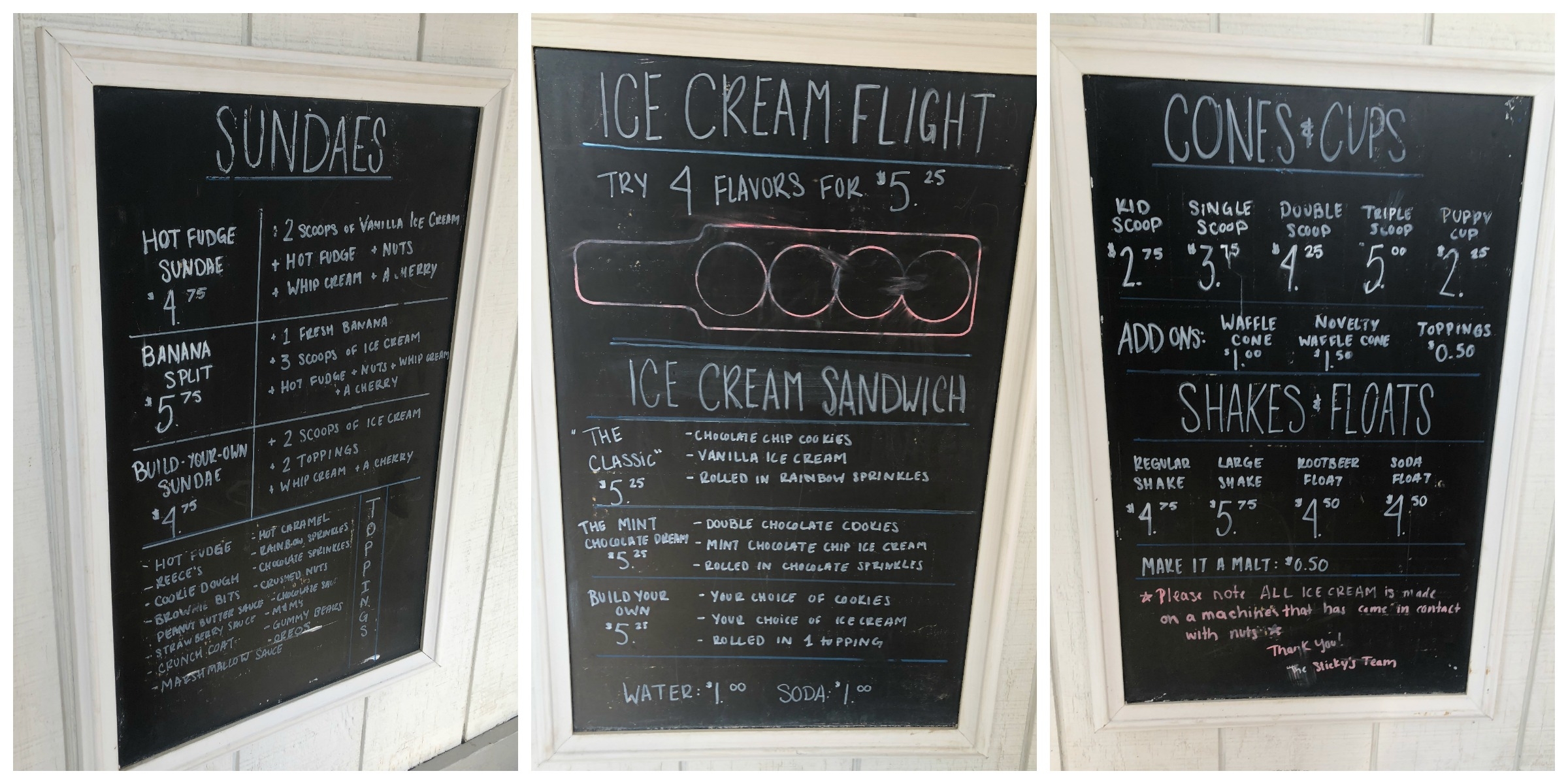 There options are simple and delicious. They have your classic cones and sundaes, but, also add in more modern ideas such as ICE CREAM FLIGHTS! Obviously what H and I ordered. Joel ordered a milkshake, which is exactly what Stephen would have ordered if he had been with us. As for Baby O, well, she ate EVERYONES!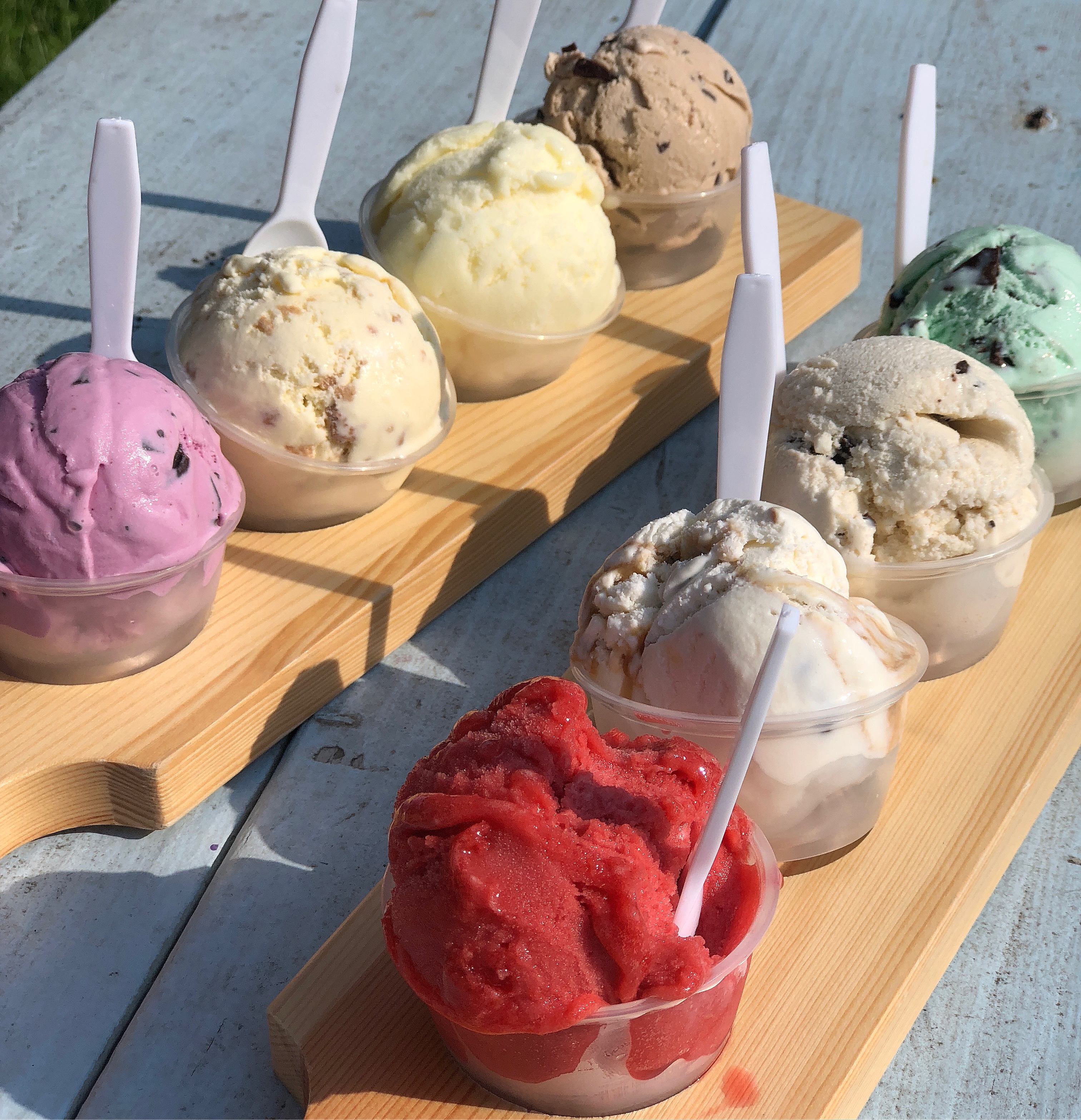 When I first saw the containers they were using, I was disappointed. Why so small, I thought. I was wrong. They filled the cups up with the perfect scoop. Not sure how I did it (after all of the pizza and potato skin), but, I finished all of my ice cream. It was just too delicious to stop. I suggest adding in one of their sherbets or sorbets to break up the richness of the ice cream.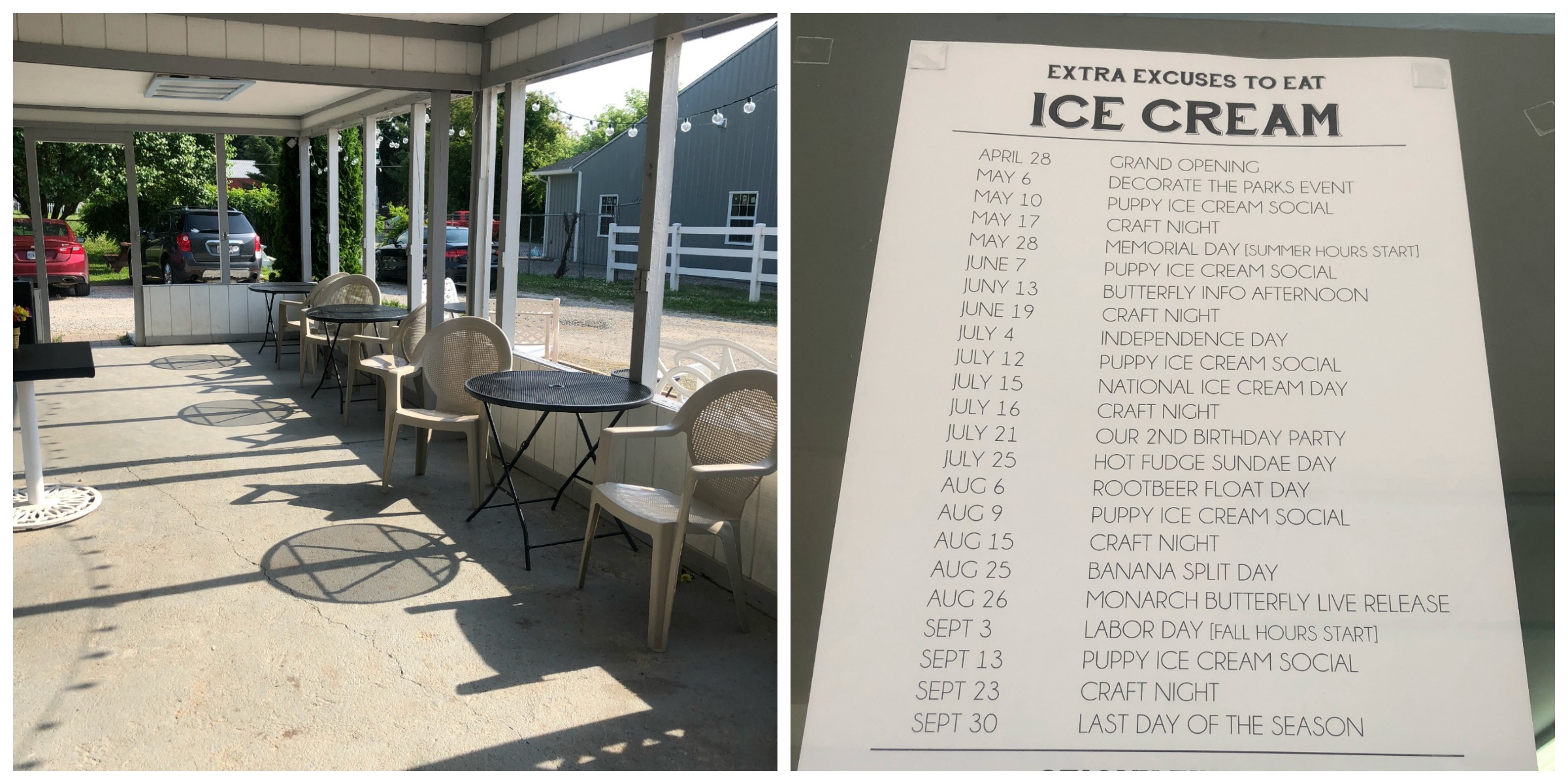 Just like Cheshire Market, Sticky Fingers has great seating options. They have tables under a covered patio, picnic tables across the parking lot under the street or benches right out front of the patio. Not only do they have delicious ice cream and great seating, they have "Extra Excuses to Eat Ice Cream!" This includes craft nights, puppy ice cream socials, rootbeer float and banana split day and of course their 2nd birthday party! We were there during puppy ice cream social night and it was the cutest. There were quite a few dogs who were enjoying a puppy friendly ice cream with bone on top! I believe it was free with purchase!
Address:5140 Cheshire Rd, Galena, OH 43021
Parking: There is a decent size lot right behind shop.
Part 3 – 1500 ft Boardwalk
Okay, you've eaten at a pizza buffet and you've devoured your ice cream flight – what do you do next? Get a little exercise in! Don't worry, nothing crazy – just a walk down a 1500ft boardwalk, taking you to a place that doesn't feel like you're in Ohio anymore! If you haven't already figured out from previous posts on IG, I love the Mudflats Boardwalk. You can read all about it here. The views are quite picturesque and just what you need after dinner and dessert.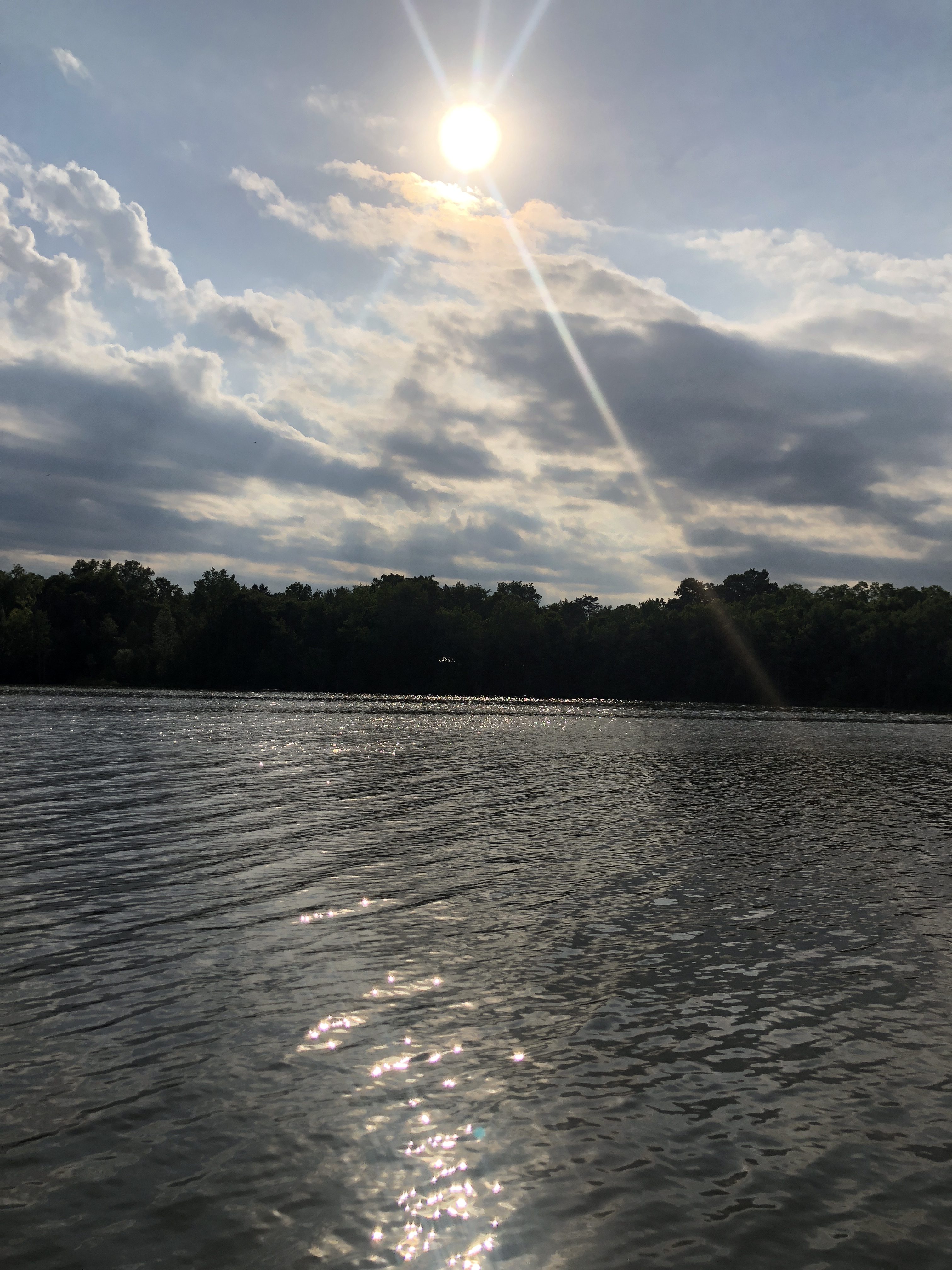 Quite dreamy, right? Sometimes you will find the boardwalk filled with fisherman, who are very friendly and liked to give tips on what you're looking or. They usually stay at the beginning of the boardwalk, so, keep on walking because the best part is at the end.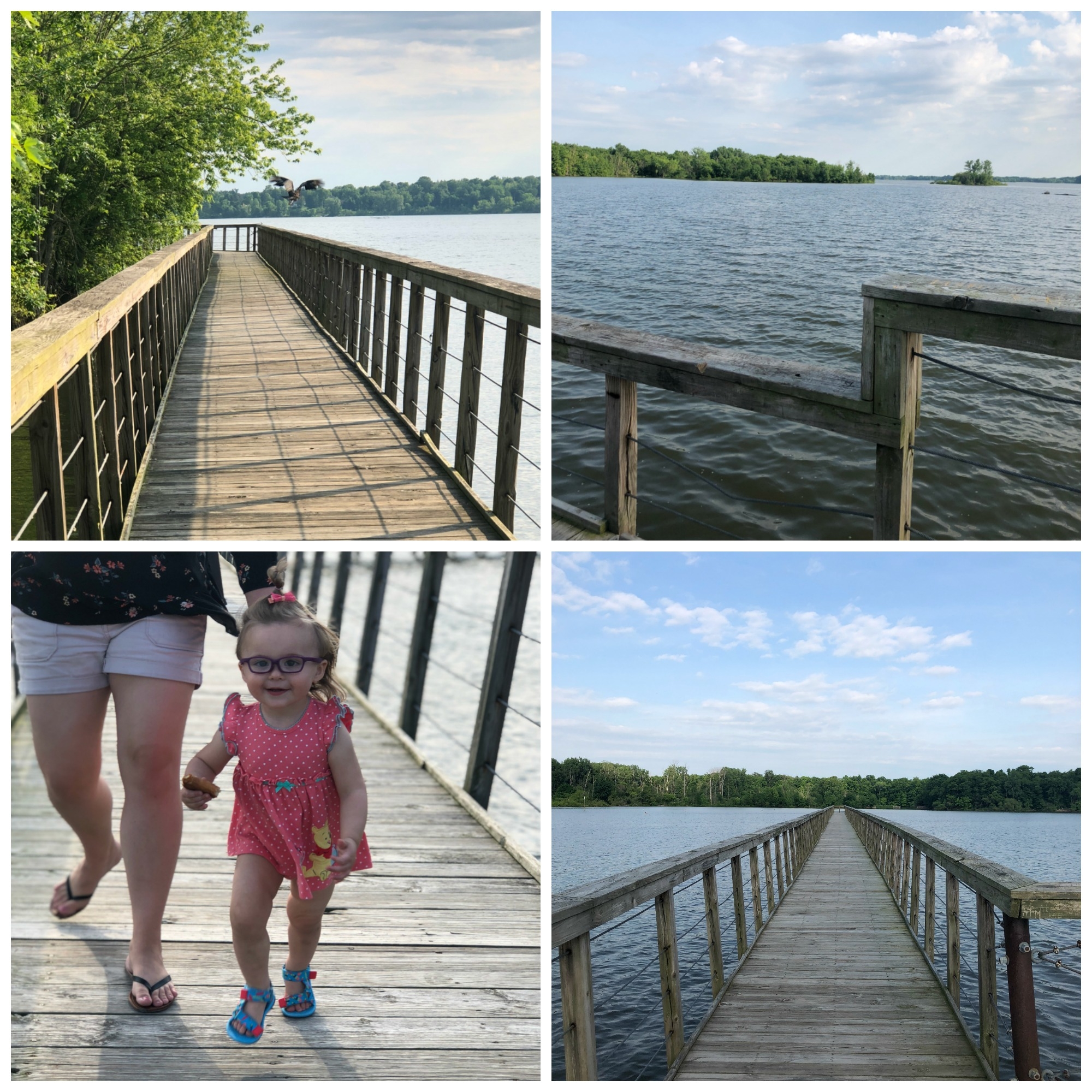 Baby O thought it would be fun to run the entire time and give us all heart attacks. Not really, but, be careful because the railing/fence is pretty open, as there are only a few thick wires separating us between the boardwalk and the water!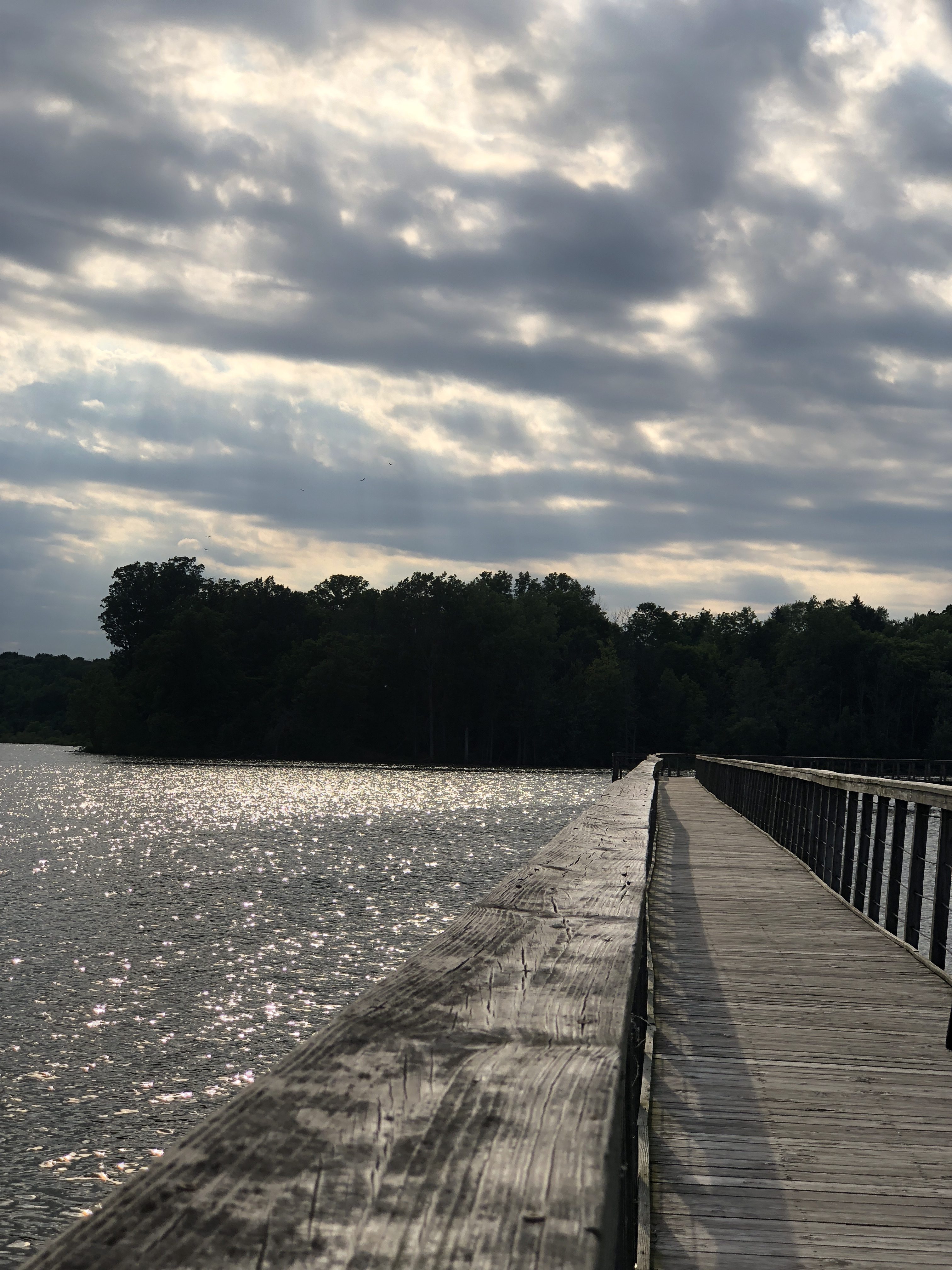 Address: 37 S Old 3C Hwy, Galena, OH 43021
Parking: There is a decent size lot right near the entrance to the boardwalk.
I'm telling you, this was the perfect Thursday night! Just make sure it's not rainy. That may put a bit of damper on it.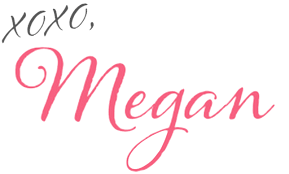 SaveSave
SaveSave
SaveSave
SaveSave
SaveSaveSaveSave
SaveSave
SaveSave
SaveSave
SaveSave