One of my favorite things while traveling is to explore the local food scene. It was no different while we were visiting Butler County. What I love about the area is, they have such a great mix of new and old – eclectic and traditional. When visiting, we try to hit up a mix of spots – making sure we don't stick to one culinary outlet. This last trip, we went to a few different spots. These were my favorite five!
Taqueria Guanajuato
What used to be a pretty popular food truck in Butler County has since taken their talents to a brick and mortar restaurant. There menu still reads similar to a food truck with tacos, burritos, tortas and quesadilla making up the majority of the menu – with a few appetizers such as chips & salsa, as well as cheese + chorizo. While they don't have margarita, they do have the good sprite in the bottles.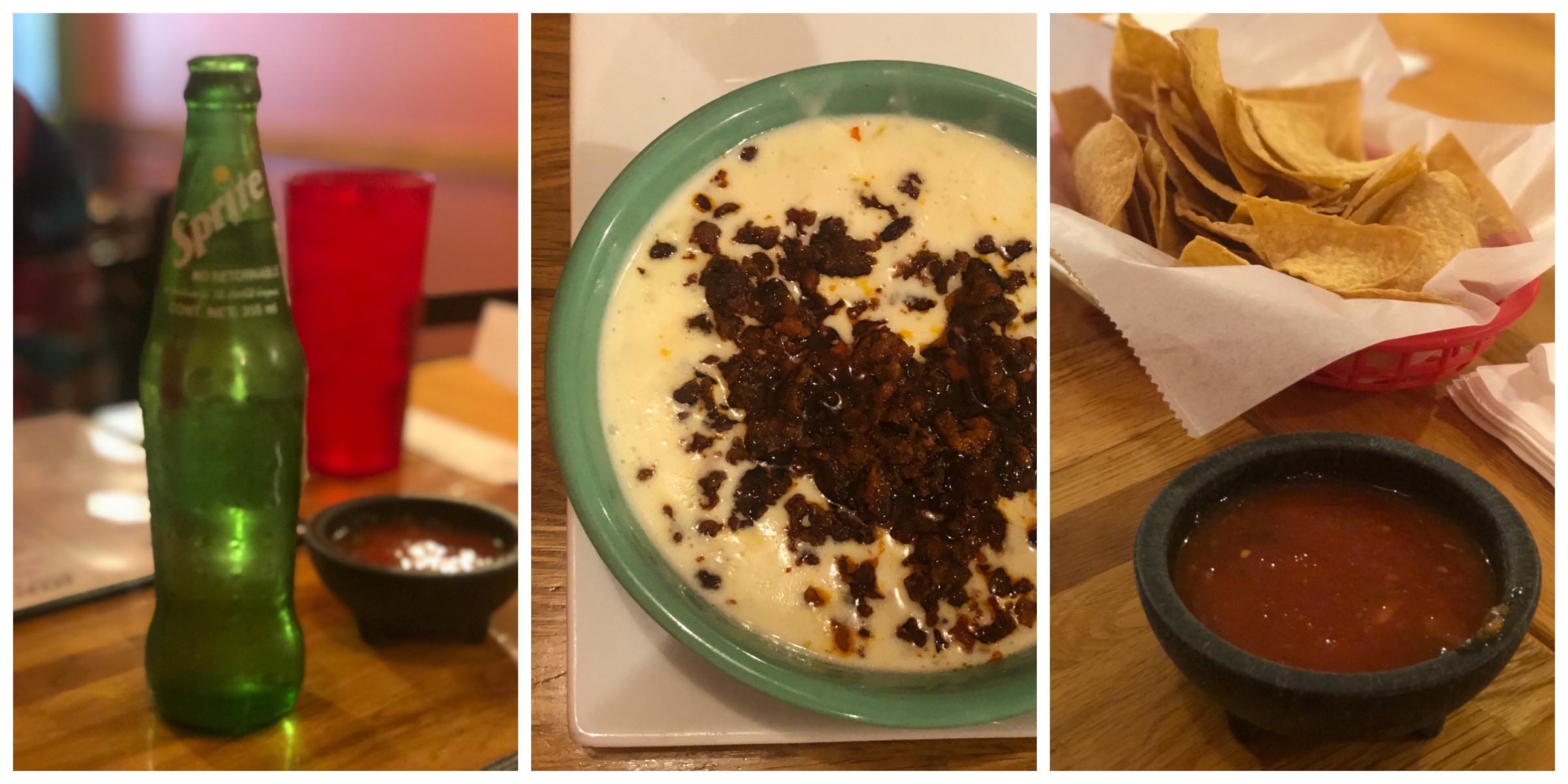 We started with chips + salsa (complimentary) and queso + chorizo. The perfect way to start a meal at a Mexican restaurant.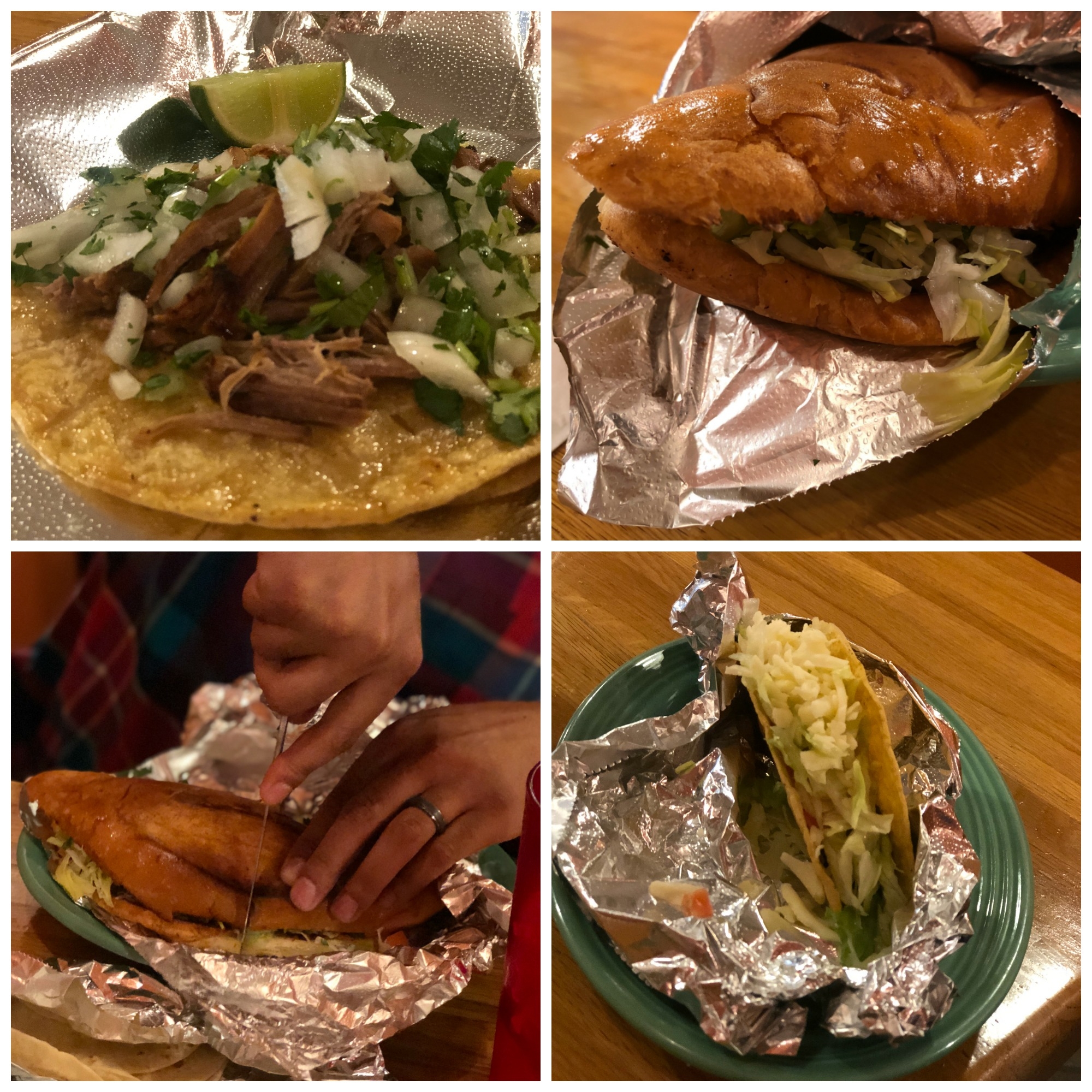 As for dinner, we ordered just about one of everything! Knowing for there tacos, we knew we had to order a hard and soft shell. I appreciated the authentic (or what I think an authentic taco is) vibe of the hard taco. There wasn't any lettuce, tomatoes or sour cream. The focus was the perfectly cooked carnitas and toppings of cilantro and finely diced white onion. They were amazing and  pretty affordable. Stephen went with the steak torta – which ended up being the perfect sandwich. We loved this place! Flavors were insanely delicious and the service was beyond great.
Address: 752 NW Washington Blvd., Hamilton, OH 45013
Facebook: Click Here
Jolly's Drive-In
Jolly's is a must go to. Every town has the burger joint that's been around forever and for good reason! Jolly's is no different. They have been around for 70 years, keeping the old-fashioned drive-in spirit alive. You can order your hot dogs, burgers, popcorn and root beer and have them delivered right to your car or you can go inside to eat/carry-out. Inside you won't find much seating – a table or two + one booth. If you go, you have got to try the root beer – it's what they're known for.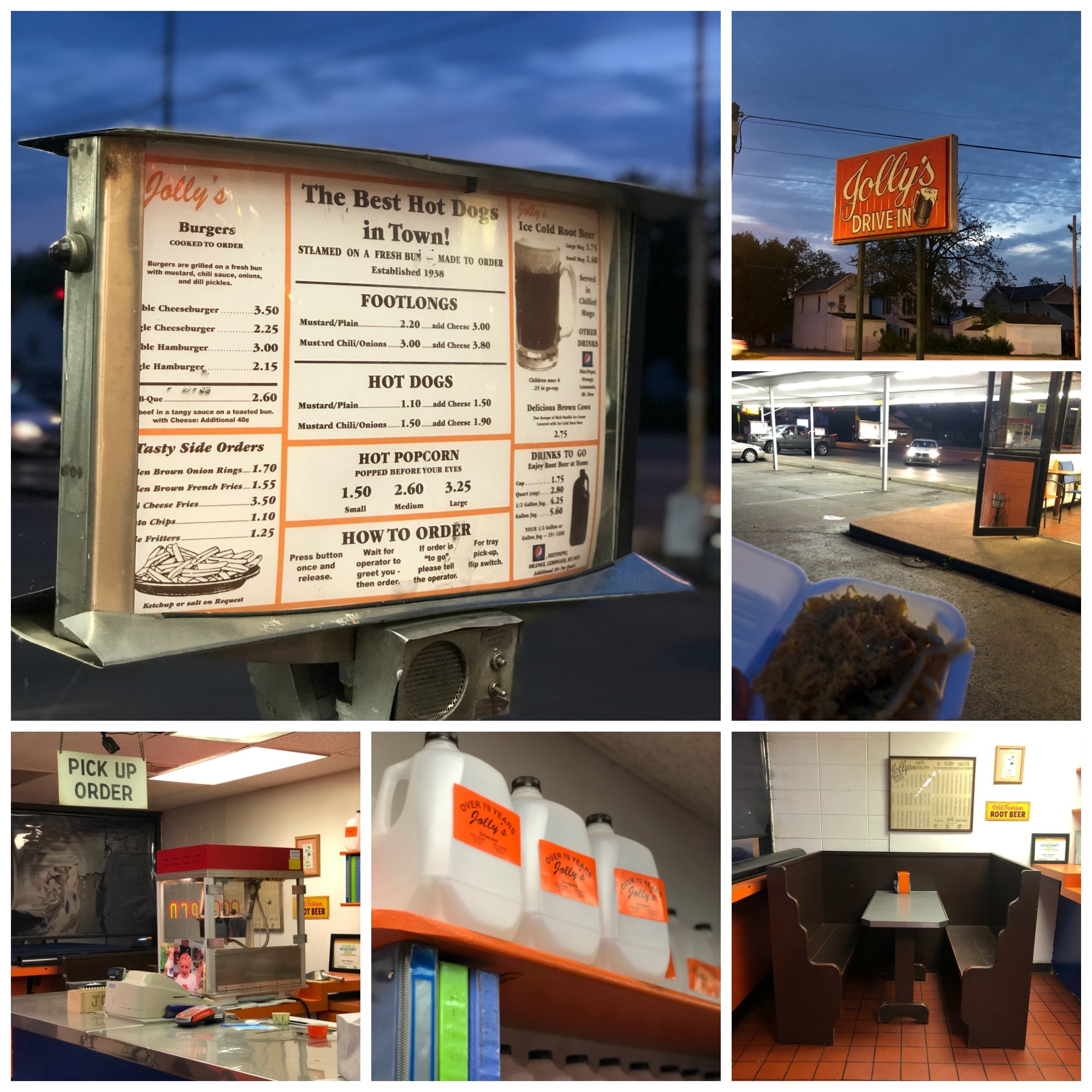 We decided to get carry-out and take it back to the hotel. Glad we did because we got to go inside and chat with the ladies working. They were so fun and excited it was our first time. When ordering, we pretty much got one of everything. I am not sure I have to even tell you the food was good – you can tell from the pictures. Greasy. Cheesy. Delicious. Just what you would expect from a 70 year old hamburger joint!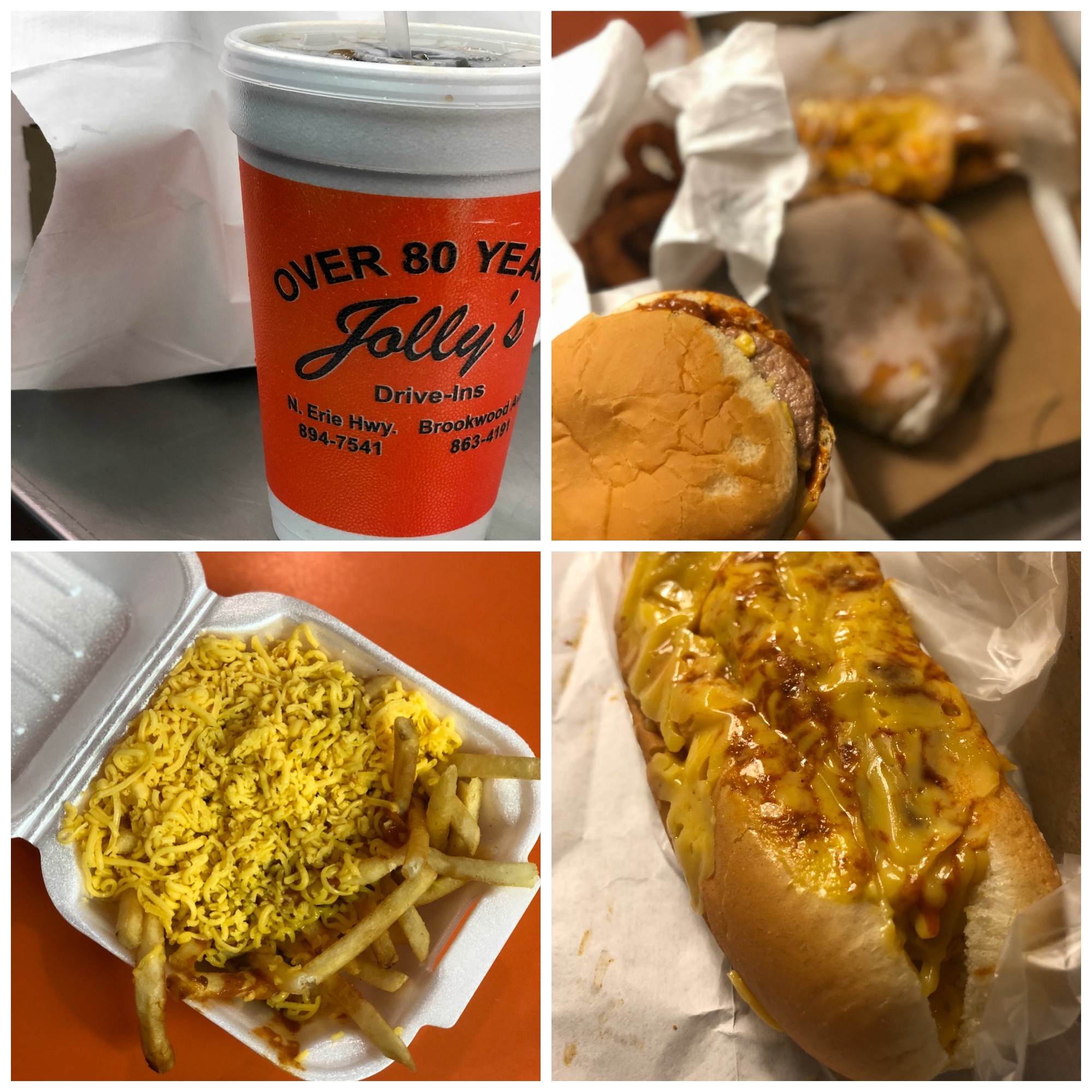 Address: 210 N. Erie Hwy., Hamilton, OH 45011
Website: Click Here 
High St. Cafe
High St. Cafe is where you want to go to breakfast. Quirky and historic inside – they serve homey, comfort food. With over 50 years of experience between the chefs, you'll find a menu that is familiar, yet – creative. Throughout the restaurant, you'll find antiques and collectibles on display, as well as art from local artists.
I went with the Italian Toast- two eggs cooked in griddled toast – topped with marinated tomatoes and red onion, mozzarella and Italian seasoning. Unique version of eggs in a  basket. I like it – great flavor. Only thing – the bread did get a bit soggy from all of the tomatoes. Stephen went with the Scrambler – three eggs scrambled with ham and spinach, topped with shredded cheddar, served a top an english muffin with home style potatoes on the side. This is my favorite way to eat eggs. Really the only way I like to eat eggs besides extra fried with hot sauce!
Address: 250 High St., Hamilton, OH 45011
Website: Click Here
Bagel & Deli
We hadn't heard of the other restaurants, but, Bagel & Deli has been on our radar for awhile. If you went to Miami University or have friends who did – you have probably heard of this shop, too. They are world-renowned for steamed bagel sandwiches and subs – with over 90 different concoctions!
"A treat for carnivores and vegetarians alike, Bagel & Deli will fill your belly and put a smile on your face!"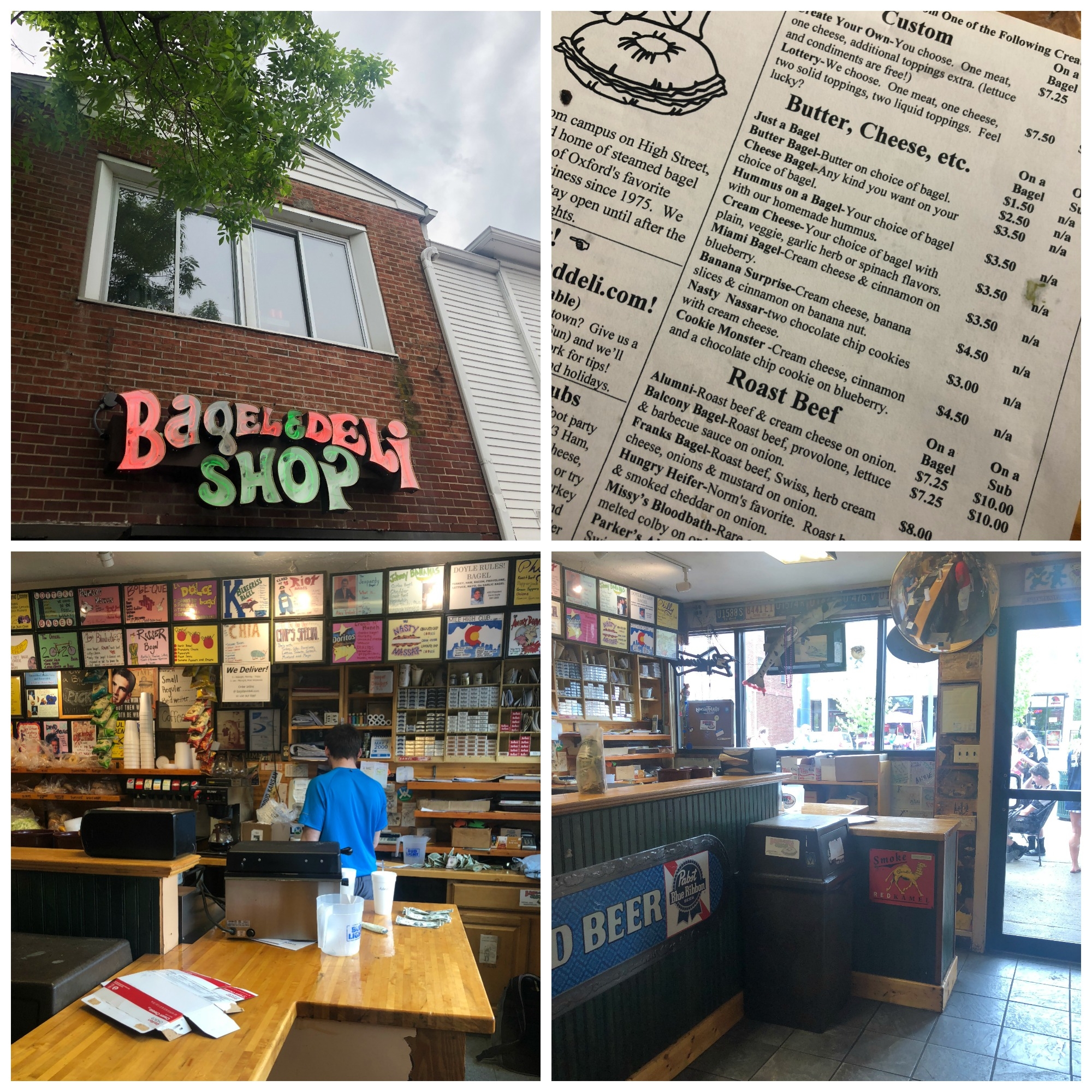 I chose The Crunch and Munch – Everything Bagel, Turkey, Smoked Cheddar Cheese, Lettuce, Parmesan Peppercorn Ranch Dressing, Honey Mustard Dressing and Doritos!  I didn't realize I didn't have to choose Doritos, but, already said it. I think next time, I might go with the spicy kettle ones (the ones they have a Subway) – just to add a bit of spice.  On top of their creative sandwiches (I suggest looking a menu online prior), you have the option of plain bagels + cream cheese and "create-your-own" bagels. Overall, delicious and pretty bummed we don't have one closer.

Address: 119 E. High St., Oxford, OH 45056
Website: Click Here
Flub's
We couldn't leave out a dessert spot, right? Flub's – another Butler County icon is a 50-year-old ice cream stand! I guess you could call it a stand. You walk up and order your deliciousness, then you sit at one of the tables, maybe the curb or even the hood of your car. Total summer nostalgia. You have the option of going through the drive-thru, but, to us, it just didn't feel right. This is a place you walk up to, chat with the staff and then order something far bigger than your stomach can eat. The menu is impressive and is guaranteed to make everyone happy. My husband went with his go-to, a vanilla milkshake. The biggest vanilla milkshake I have ever seen. Me? I went with the cyclone, which has over 40 combinations. Of course, it took me 10 minutes to decide. Check out the combinations here. Oh, if you notice – we also went with a cookie dough ice cream pie. We couldn't pass it up. We are BIG fans of Flub's, wishing we could make this a weekly summer stop.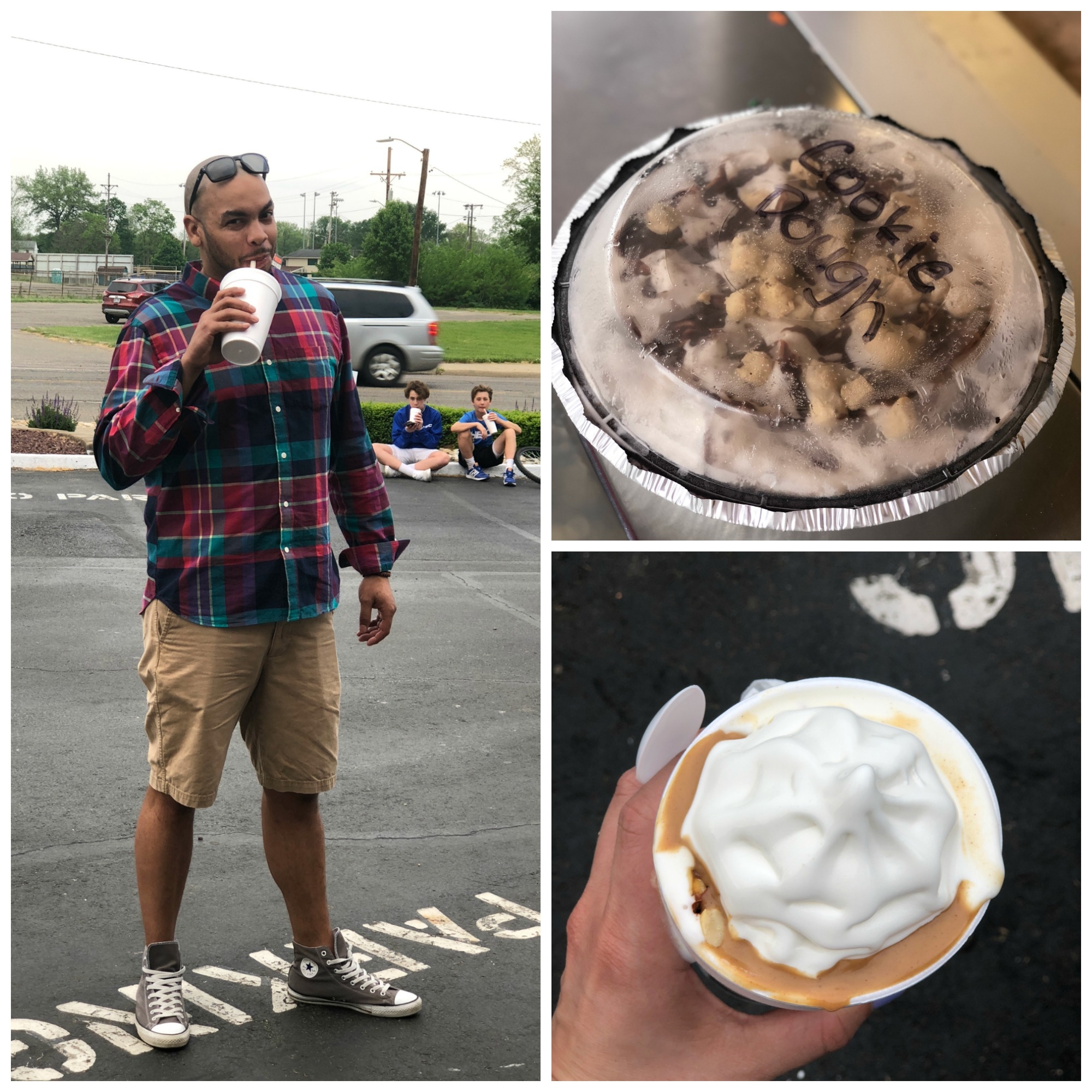 Address: 981 Eaton Ave., Hamilton, OH 45013
Website: Click Here 
If you're looking for a foodie road-trip, I suggest heading down to Butler County. Not on this list, but, make sure to check out our first and second trip on the Donut Trail. That is definitely something you don't want to miss.