*updated 2/15/19
Yes, free. Not "put in your credit card" free or free "with $67 shipping." Actually free. All you have to do is put in a little work sending the letters in the mail.
While pregnant, knowing we would be losing my income, I started looking for ways to save money. This is where I stumbled upon a few articles talking about getting things free for having multiples. Sweet. Push out three babes and get a free coupon. Seems easy enough?
I'm kidding, of course. I didn't push the babies out. I had a c-section. Okay, kidding again. Anyways, after doing a bit more research and sending out a few letters, I realized – this wasn't a scam. You really can get free stuff and not just a coupon! Formula. Back-packs. Gift certificates (I call them that because they are $10-$20 coupons, which pay for the entire product). Toys. Bottles. Yep, FREE!
I sent out my first round of letters on January 22nd. I am just now starting to receive the items in the mail, which means this list will be up-dated as times goes on. However, I wanted to get the details out to you NOW!
For each company, I sent a letter (scroll to bottom to see the letter used) and the girls temporary birth certificates from the hospital. They use that to verify that you actually have multiples. I found phone numbers you can all, as well, but, who has two hours to sit on hold in hopes that they do have a multiples program. Not me!
---
Pampers Multiple Birth Offer
Address: The Procter & Gamble Company P.O. Box 599 Cincinnati, OH 45201
Mailed: 1/22/19
Received: 2/14/19
What: Multiple coupons – ONE Pampers Diapers Pants up to $13.99 (x2), $1.00 off wipes (x4), $1.00 off Dreft (x2), $5.00 off ONE Pampers diapers or pants (x2) and $2.00 off ONE Pampers diapers or pants (x3).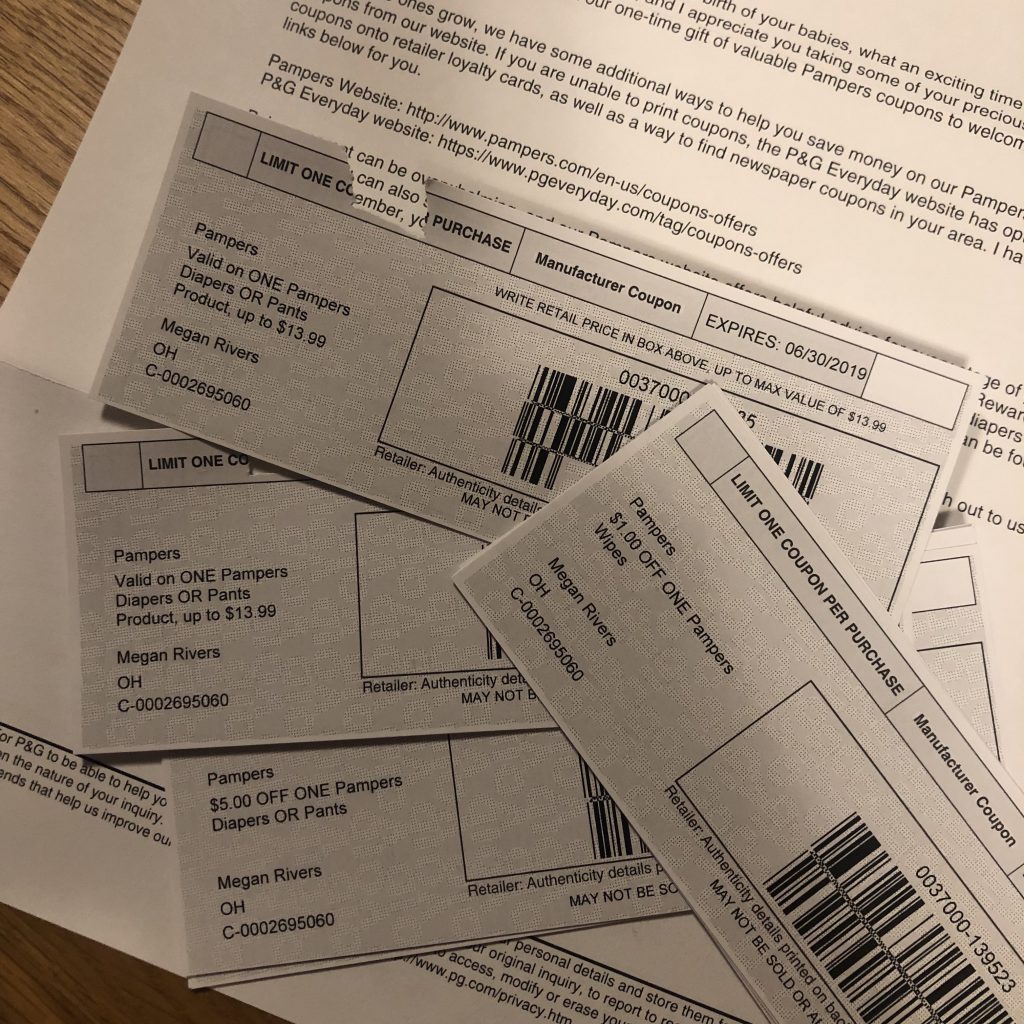 ---
Address: 103 G.P. Clement Dr., Collegeville, PA 19426
Mailed: 1/22/19
Received: 2/8/19
What: 8oz jar of Triple Paste for our changing table, 2 oz tube of Triple Paste for our diaper bag, 8 oz jar Triple Cream, Triple Soap bars and three organic snap suits. Bonus: A coupon that makes us eligible for 30% off until our babes 3rd birthdays! I loved that they sent a sweet letter with the products, too!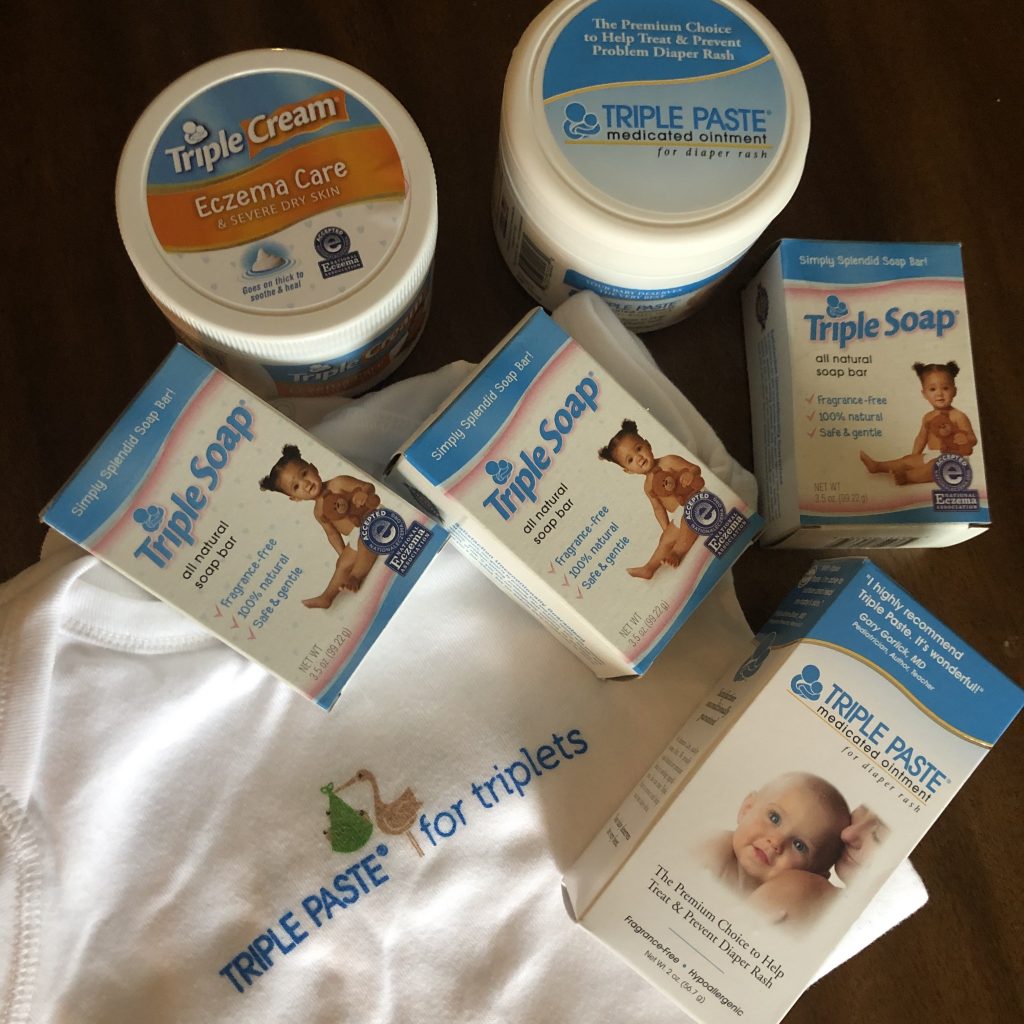 ---
The First Years
Address: Attn: Multiples Birth Program, 2021 9th St SE Dyersville, IA 52040
Mailed: 1/22/19
Received:
---
Gerber
Address: Attn: Multiple Birth Program. 445 State Street, Fremont, MI 49413
Mailed: 1/22/19
What: Insulated sling backpack. Three bibs. $10 off $20 coupon (x3), $.25 off any one Gerber food or drink coupon (x6) and $3 off Gerber Good Start Powder formula, Proiotic drops or Gerber Dietary Supplement coupon (x3).
---
Handi-Craft Company (Dr. Brown's)
Address: 4433 Fyler Avenue. St. Louis MO, 63116
Mailed: 1/22/19
What: I received an email on 2/1 stating that they do not have a multiples program, however, there are times when they have some extra bottles from production oncer-runs. When that happens, they will honor sample requests! Woo hoo! We received six bottles shortly after I received that email.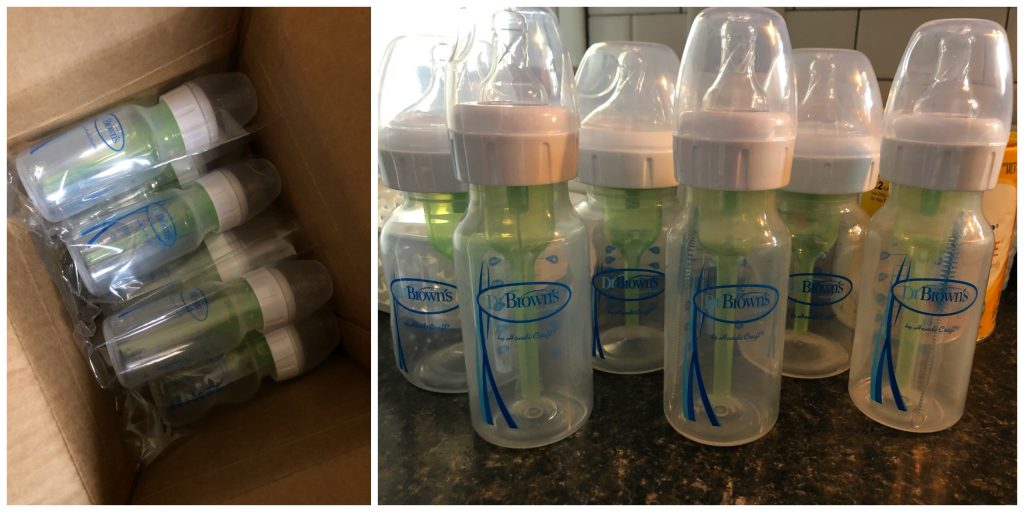 ---
Johnson & Johnson Consumer Products, Inc.
Address: 199 Grandview Road, Skillman, NJ 8558
Mailed: 1/22/19
Received: 2/11/19
What: They mailed a nice letter with info on finding quick tips on caring for your baby, as well as congratulating us. There were also two mini sample bottles and two $2.00 off Johnsons or Destin products.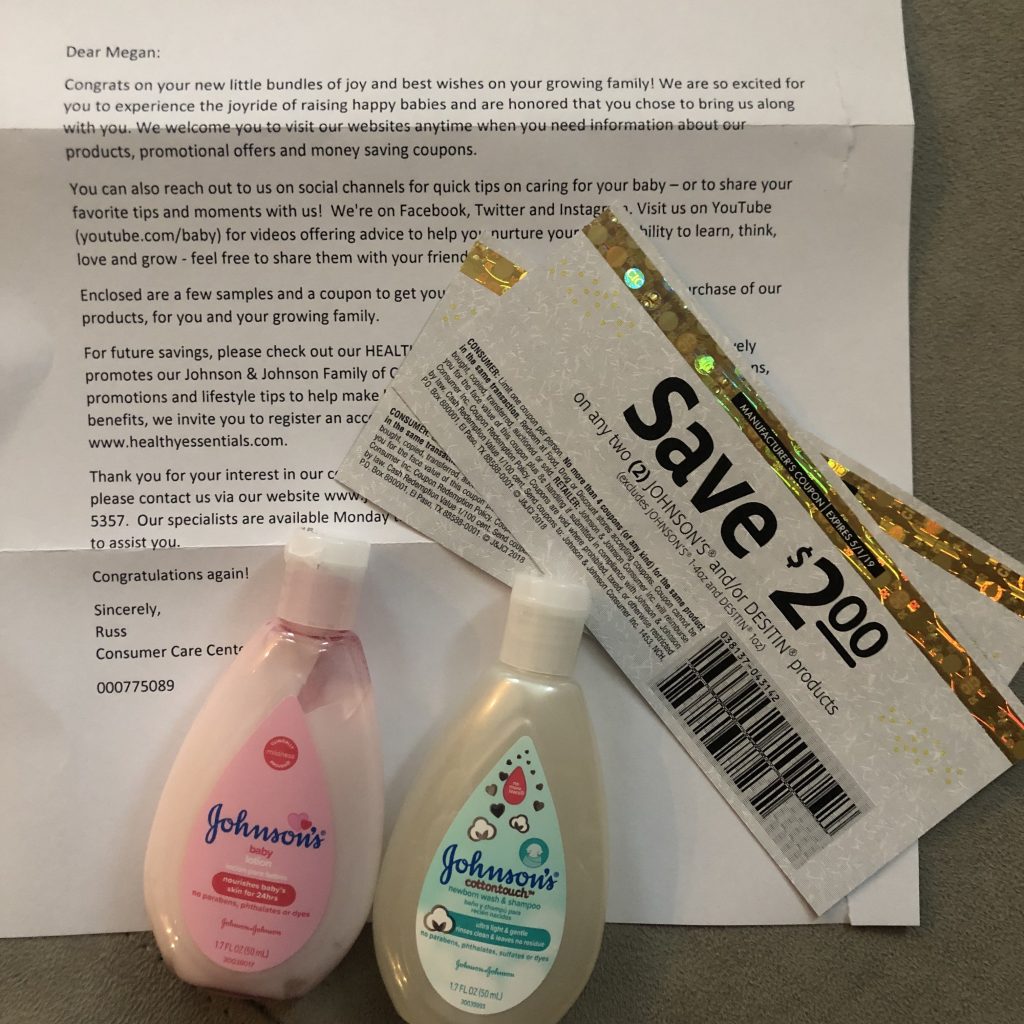 ---
Mustela
Address: 60 East 56th Street – 6th floor, New York, NY 10022
Mailed: 1/22/18
---
Basket Gift Headquarters
Address: American Baby Basket Gift Headquarters. PO Box 734, New York, NY 10113-0734
Mailed: 1/22/18E
---
Kids II INC
Address: Attn: Consumer Services Department/Multiple Birth Program. 555 North Point Center East, Suite 600. Alpharetta, GA 30022
Mailed: 1/22/18
---
Haven't sent letters to the following (yet):
Luvs Multiple Birth Offer
Address: The Procter & Gamble Company. P.O. Box 599. Cincinnati, OH 45201
Mead Johnson (Enfamil)
Address: Attn: Public Affairs Dept. 2404 Pennslyvania St. Evansville, IN 47721
Ross Laboratories (Similac)
Address: 624 Cleveland Ave. Columbus, OH 43216
Associated Hygenic Products
Address: 3400 Rivergree Court, Suite 600. Duluth, GA 30096
Carnation Good Start Formula Nestle Infant Nutrition
Address: PO Box AW. Wilkes-Barre, PA 18703
Carters
Address: Attn: Multiple Birth Program. 224 N. Hilll St. Griffin, GA 30223
Leap Frog Main Office
Address: 640 Hollis Street, Suite 100. Emeryville, CA 94608-1071
Learning Curve Brand
Address: Attn: Multiples Birth Program. 2021 9th St SE. Dyersville, IA 52040
The First Years
Address: 100 Technology Center Dr, Ste 2A. Stoughton, MA 02072
Little Tikes
Address: Attn: Contribution Committee. 2180 Barlow Road. PO Box 2277. Hudson, OH 44236-0877
Ocean Spray Cranberries, Inc
Address: Consumer Affairs Dept. 1 Ocean Spray Drive. Lakeville-Middleborough, MA, 02349
Parent's Choice
Address: ATTN: Debbie Burdyck. 204 N Main Street. Gordonsville,VA 22942
Energizer Personal Care Consumer Affairs
Address: P.O. Box 537. Neenah, WI 54957
Summer Infant Products
Address: 33 Meeting St. Cumberland, RI 02864
---
This is the template I used for each letter. I am not sure who to give credit to for the original template. I found it on multiple spots across the internet! Only thing I did was add in the last paragraph!
To Whom It May Concern:

On (date of birth), my husband and I became the proud parents of triplet girls. We understand that your company offers special benefits for families with multiples. We would love to take advantage of this offer and be added to any mailing list your company may keep for future coupons and informational mailings. Enclosed are copies of the birth certificates for our children (baby A, baby B, baby C).

We are BEYOND thank you for your support of our family. It truly does take a village. If you should have any questions, please do not hesitate to email me at (insert email).

Sincerely,

Your Name
I thought about making each letter more personalized, but, decided I didn't have enough time and went with signing each letter with a pen. Make sure you put your email address! They will add it to the tracking, meaning you get notified when you're getting a package and that is half the excitement.
I hope this list helps you! Let me know if this works for you or if you have any other contacts you want to share.
Last thing, I will continuously be updating this as I received items (or find out the address doesn't work or they don't have a program).