I will admit it. It tends to be difficult for me to make some decisions. I second, triple, ten times question things – ESPECIALLY when it comes to food while eating out. There are just too many good choices and I don't want to miss out!!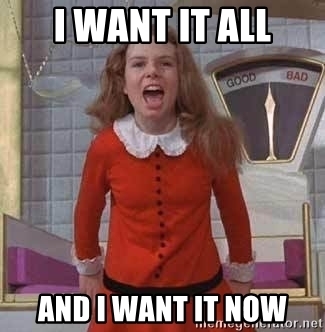 If you're like me, then your heart probably soars when you see the word "flight" on the menu, right? If you aren't sure what I am talking about, a flight is almost like a mini tasting option. You get smaller portions of 3 or 4 items off the menu. Sometimes it's coffee. Sometimes it's beer. Sometimes its pizza. Whatever it is, it is the perfect way to try out a few items without spending far to much money on one meal.
Coffee
Bottoms up Coffee in Franklinton is one of my favorite coffee shops. They have a great mission + they have great options for drinks/snacks. The owners newest creation is a flight, how perfect?
(614) 706 – 2443
1069 W Broad Street
Columbus, OH 43222
Hours: Mon – Fri 7:00 am – 3:00 pm, Sat 8:00 am – 3:00 pm, Sun 11:00 am – 3:00pm
Mimosas
Mimosas are a Sunday morning brunch necessity, right? The Crest has the perfect solution for that need. A MIMOSA FLIGHT. I shared with a friend, but, next time – I am getting my own. How cute is the display??
Clintonville
(614) 261-7128
2855 Indianola Avenue
Columbus, OH 43201
Hours: Tues–Thurs 11:00am-12:00am, Fri 11:00am – 1:00am, Saturday & Sunday Brunch: 9am-2pm, Saturday & Sunday Dinner: 2:30pm-close
Parsons Avenue
(614) 682-7090
621 Parons Avenue
Columbus, OH 43206
Hours: Tues – Fri 11:00am – 10:00pm, Sat 10:00am – 10:00pm, Sun 10:00am – 9:00pm, Saturday & Sunday Brunch: 10am-2pm, Saturday & Sunday Dinner: 2:30pm-close
Sake
Plan to go to Rishi Sushi for the Sushi Panini (Panko crusted rice patties, avocado, and your choice of spicy tuna, spicy crab, or spicy salmon, with sweet soy reduction) and stay for the Sake flight. While I am no expert, they seem to have a pretty decent Sake selection. Their website has 40+ different types. You might have to indulge in more than one flight!
(614)-914-5124
114 N 3rd Street
Columbus, OH 43215
Hours: Mon-Thurs 11:00am – 2:00pm, 5:00pm – 10:00pm, Fri 11:00am – 10:00pm, Sat 4:00 pm – 10:00 pm, Sun 1:0 pm, 8:00 pm
Wine
Wine lover? Check out Camelot Cellars wine flight option. From sweet to fruit to bold to ice – I am sure you will find something you love. Bonus: Did you know that Chef Ryan LaRose, owner of our beloved Leone's Pizza, has now found a new home at Camelot? Pizza and wine? Yes, please!
(614) 227-0100
901 Oak Street
Columbus, OH 43205
Hours: Tues-Thurs 4:00 pm -10:00 pm, Fri 4:00pm -11:00 pm, Sat 11:00 am-11:00 pm
Whiskey
Whiskey lover? Interested in trying higher end without having to indulge in an entire bottle with the hopes of loving it? If yes, make sure to join The Joseph's master mixologists on Fridays from 6pm to 10pm to tour some of the world's most unique "browns." They have live music, too. Check their website for a list of the four you'll try by clicking here. The cost is $25. Tip: Make sure you order the Black Radish Creamery Cheese Curds: Tempura Fried Cheese Curds, Parsley Leaves, Chili Flakes, Parmesan, Tomato Sauce
(614) 227-0100
620 North High Street
Columbus, OH 43215
Hours: Whiskey on High is every Friday, 6:00pm-10:00pm
Beer
I'm not much of a beer drinker, which means I can't help you specifically. All I know is there are a TON of breweries in Columbus and per Lindsey from A City Explored, they should all have flights. Sadly, some do not. Check her IG for all the best spots or even DM her. I am sure she will be able to guide you in the right direction.
Everywhere you look, you will find a brewery! Check out Columbus Ale Trail to get a pretty good list (aka the best list).
Margarita
Margarita flights? Yes, please. I am not sure why more places don't do this. Luckily, we have places like Condado that realize how important it is to offer this. With the Tres Banditos, you can choose your 3 favorite standard ($12), premium ($15) or super premium ($20).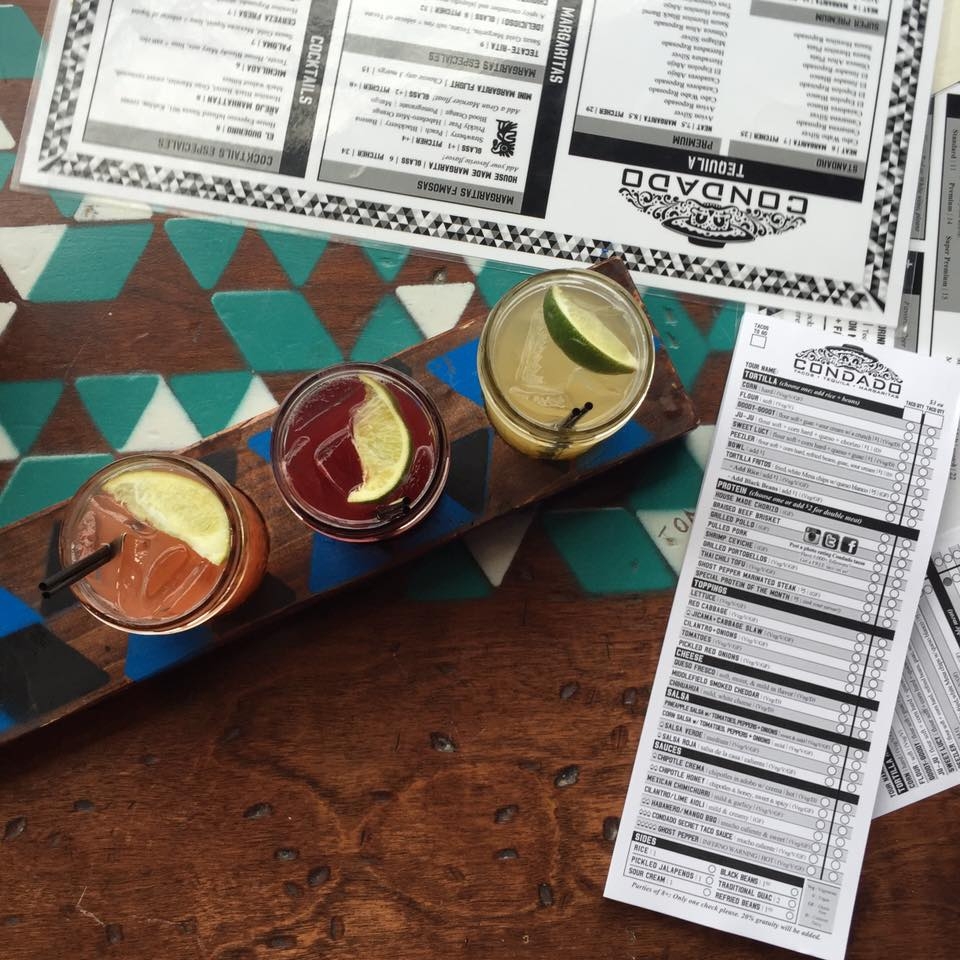 Condado has a few locations around Columbus. Check out the closest one to you here. Hours are 11am-2am DAILY! Happy hour is 4pm-7pm, M-F.
Ice Cream
Ice cream flight? Sign me up. Sticky Fingers, in Galena, is a warm weather must. They're a local ice cream parlor serving high quality ice cream in a family friendly environment in a location that has a long ice cream history! Make sure you keep an eye on their Instagram/Facebook because they host craft nights, puppy ice cream socials, and this year they are partnering with Delaware Park Services & Rescued Ohio.
(740) 909-4217
5140 Chesire Red
Galena, OH 43021
Hours: Tues-Fri 3:00-9:00, Sat-Sun 1:00-9:00
Pizza
Did you know pizza flights were a thing in Columbus? I didn't, unless you count ordering three medium pizzas for yourself and calling it a flight? Paulie Gee's in the Short North is home to this genius idea. During HH, Tue – Fri from 5-7pm, get your flight for $20. Bonus: They have one of the best cocktail menus in Columbus and during HH, signature cocktails are $2 off. Oh, and they have vegan pizzas, too!
(614) 808-0112
1195 North High Street
Columbus, OH 43201
Hours: Tues-Thurs 5-10pm, Fri 5-11pm, Sat 4-11pm, Sun 4-9pm
Pancakes
Superchefs is known for many delicious things. Giving us intense flavors, vibrant palettes, and creative presentations. At the top of their list might be the pancake flight (aka OG Pancake Platter).
A shareable breakfast soon turns into "I wish I would have ordered this for myself!" What do you get? For $12.50, you get a platter of their OG pancakes. Red Velvet Pancakes Layered W/ A Cream Cheese Whipped Topping, Baked Alaskan Banana Pudding Pancakes, Reese Cup Pancake W/ Peanut Butter Layered Between Each Cake and Blueberry Pancakes Layered W/ Lemon Butter Cream Whipped Topping. OMG. I think I need to go right now.
(614) 532-8030
1344 Cherry Bottom Rd
Gahanna, OH 43230
Hours: Tues–Sun 7am to 4pm
Healthy
I couldn't leave out a healthy option, right? Little Eater has us covered on that one. You can get a flight of six tasting portions for $15. Check out their daily options here. This was enough for lunch in their adorable new spot in Clintonville + lunch for a few days at home.
PS – Did you know that Little Eater was named one of the top 50 vegetable-forward restaurants in the WORLD?
Clintonville
(614) 732-5829
clintonville@littleeater.com
4215 North High Street
Columbus, OH 43214
Hours: Tues–Sat 8am to 9pm
North Market 
(614) 670-4375
northmarket@littleeater.com
59 Spruce Street
Columbus, OH 43215
Hours: Sun–Mon 10am to 5pm
Tues–Sat 9am to 7pm
Sun 8am to 8pm
Babies
The best trio flight of all? TRIPLETS, of course! 😉