When I was doing my baby registry, I remember being overwhelmed by all of the choices! There are SO many things out there – all saying that they are necessary for your babies development. As a first time mom, I felt like I needed all of them, but, deep down I knew we really didn't. However, I still registered and purchased more than our fair share of necessary toys.
What I've learned is – you don't need much! Really, laying on the floor and talking/laughing/being silly/doing tummy time is their favorite thing. I'm not a development specialist, so, I can't officially say it's been the best for their development, but, I would say it's been the most beneficial in our case.
However, there are a few toys/gadgets that we use DAILY and by daily, I mean ALL DAY! Listed below are the girls six favorite things to play with.
Bright Starts Sit and See Floor Mirror, Safari
There is nothing worse than walking by a mirror at Target and thinking, "Woah, that's what I look like?" Haha. I mean there are worst things, but, that's up there. When I was looking for mirrors, I was really picky about the quality of mirror. Can you imagine being new to this world and the first reflection you see of your self is a skewed, carnival like image? Ahhh! I wanted a mirror that was clear, shatterproof/baby friendly (obviously) and that had a great reflection. This is it. I also appreciate that it is easily to fold up for on-the-go moments aka every moment with triplets.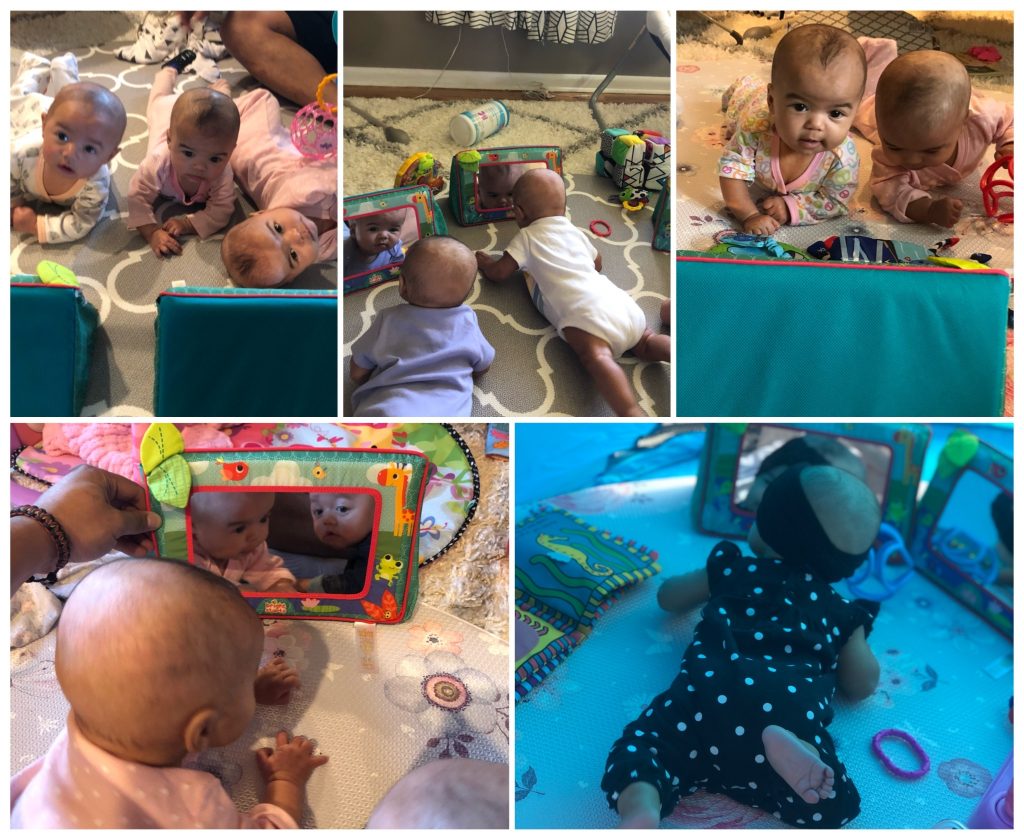 The first time Riley saw her reflection, she started smiling so BIG and laughing. It was the best moment! I also love that the girls have started noticing each other in the mirrors. When they do, they also get big smiles. The cutest thing ever.
---
The First Years Star Teething Blanket, Multi
This was given to us as a gift and we are thankful for that, as I haven't really noticed them in the stores. Of course, they're on amazon – but, you would have to be looking for them (that is unless you mentioned it near your phone or alexa because then it will magically appear in your IG ads). The girls love to grab the sides and snuggle it up/take it to their mouth, while laying on their backs. It was one of the first things they really could pick up/hold on to. I love that it has different textures and sounds. The squeaker (not too loud) and crinkle are their favorite. There is also one corner that is silicone with different textures, great for teething. I think it said hand-wash, but, I for sure put it in the washing machine at one point and it held up perfectly fine.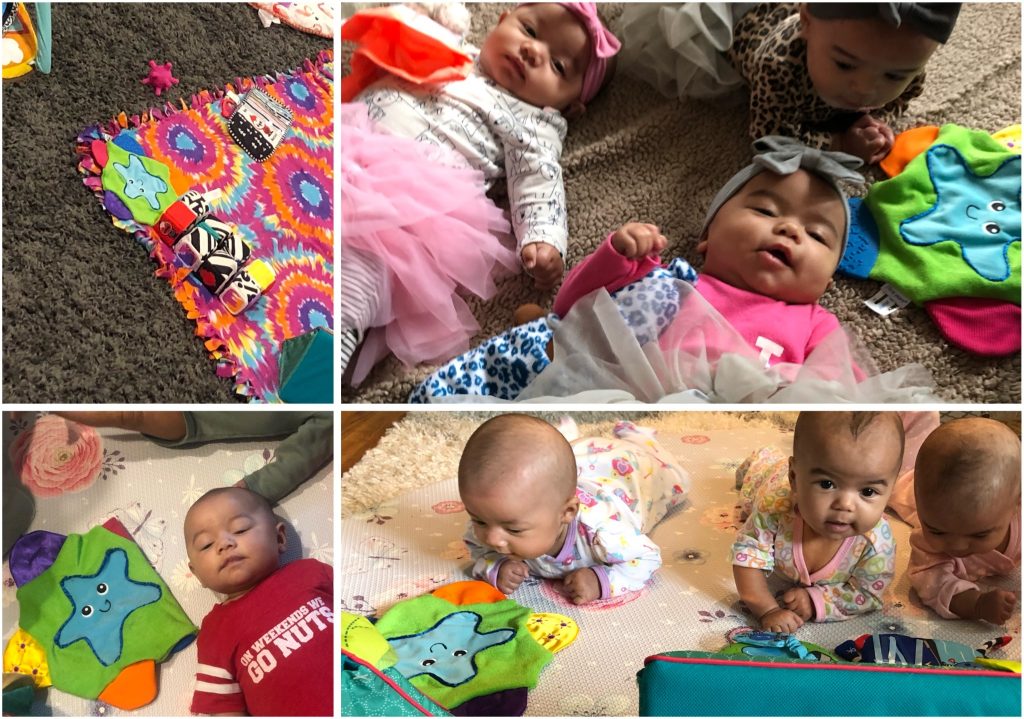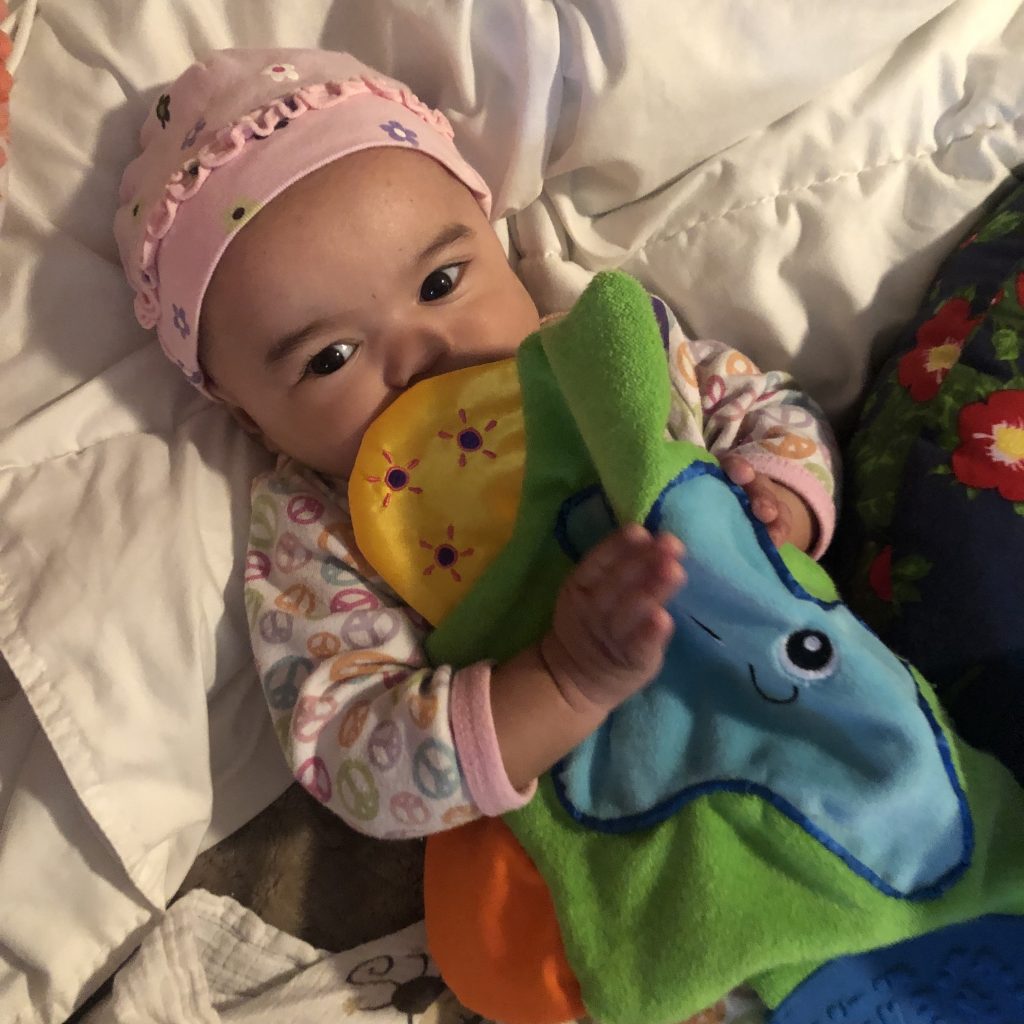 ---
Bright Starts Lots of Links
We use these for EVERYTHING. Hanging toys from play gyms. Holding in hands. Hooking toys to car seats so they don't fall out. Putting in front of them to reach out too. Everything! I love this brand because they have different textures and they're the perfect size. They're also easy to hook, but, very secure – toys don't fall of easily.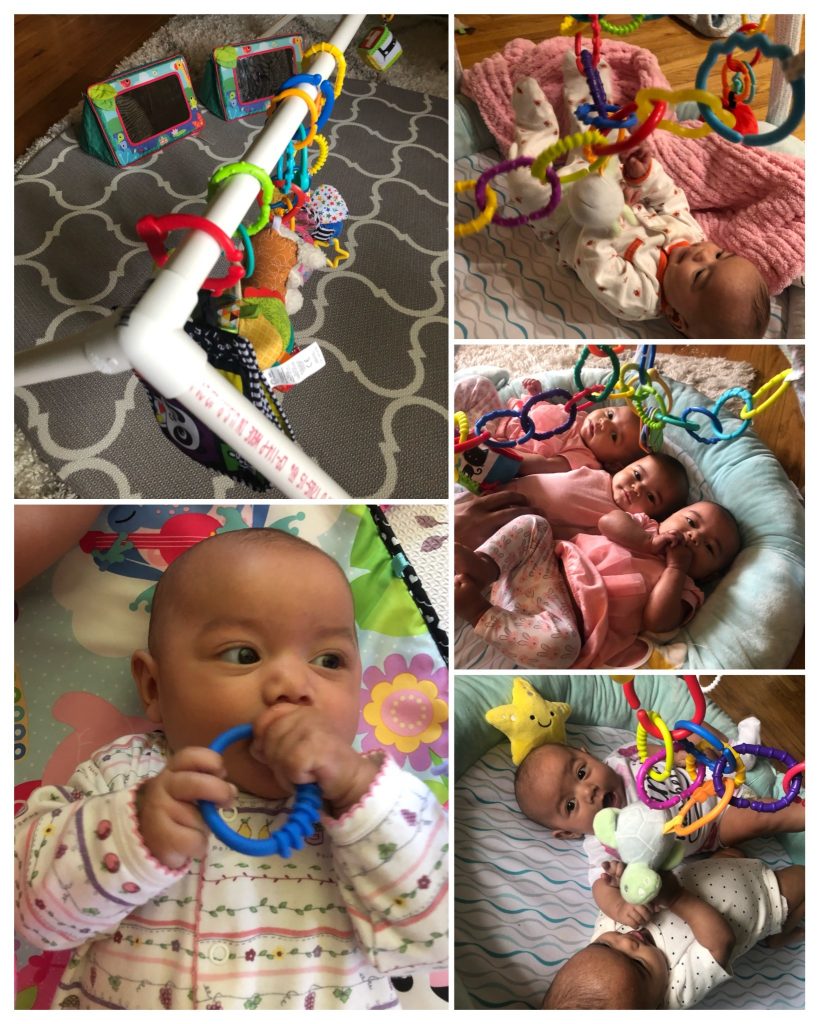 ---
World of Eric Carle, The Very Hungry Caterpillar Activity Toy
I am not sure where this toy came from, I think maybe a hand me down from my sister? I didn't really introduce this toy to the girls, they sort of picked it from a pile and now seem to always be looking for it. The ears are crinkly, which the girls love to grab at. There is a part that has ridges on it and is rubber – perfect for teething. The elephant is super soft, which they rub against their face. Ours hooks with velcro to pretty much anything, but, there is also a star (which is pictured, too) that you can hook a clip, too. The girls also like to just hold in their hands and look at the pretty, bright colors.
The picture below isn't the exact one we have, but, it is the closest I found. Only difference, our elephant doesn't have legs! Ha. I love that you can hook this on everything or you can just hand it to them.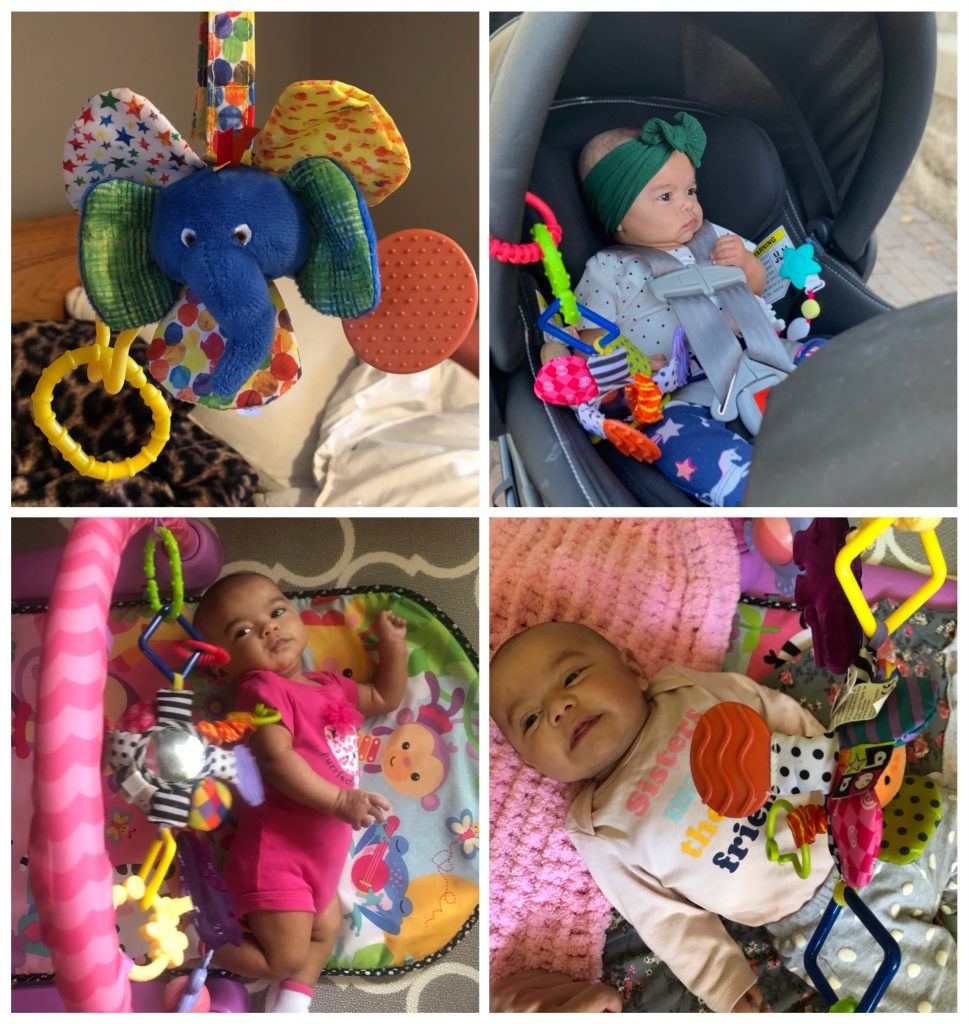 ---
OgoSport Bolli – Flexible Teether Ball
If I had to pick out a favorite toy, this would be it – without a doubt. The girls loved this so much, we had to end up getting two more right away as they were fighting over it. I love everything about this and probably wouldn't change a thing. It's perfect for hand-eye-coordination, fine motor skills, teething, etc. The toy itself is made from 100% nontoxic, BPA, PVC and Phthalate free, food Grade silicone. It is super flexible and stretchy, yet firm/nice quality (if that makes sense). It is so easy for them to stretch/squeeze manipulate it – perfect for small hands.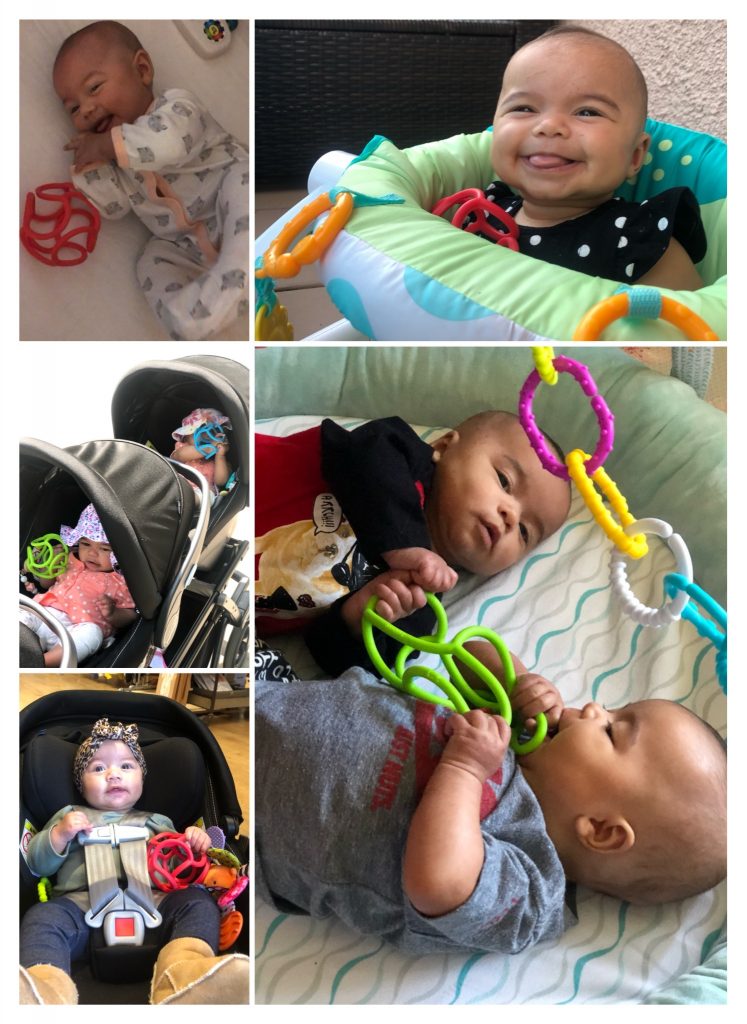 We take this everywhere we go.
---
chewbeads® Rainbow Silicone Links
I think these are marketed as links you connect and hang things from, however, I think the openings are just a bit to big for them to actually stay connected. We use them more for grabbing and chewing on. They really like the ridges/bumps on them. Firm, yet smooth. I think they feel good on their gums. I've even read that people put them the freezer before given to them. A lot of times, they will just grab and hold them. I think they're the perfect size for that. I love the colors, too.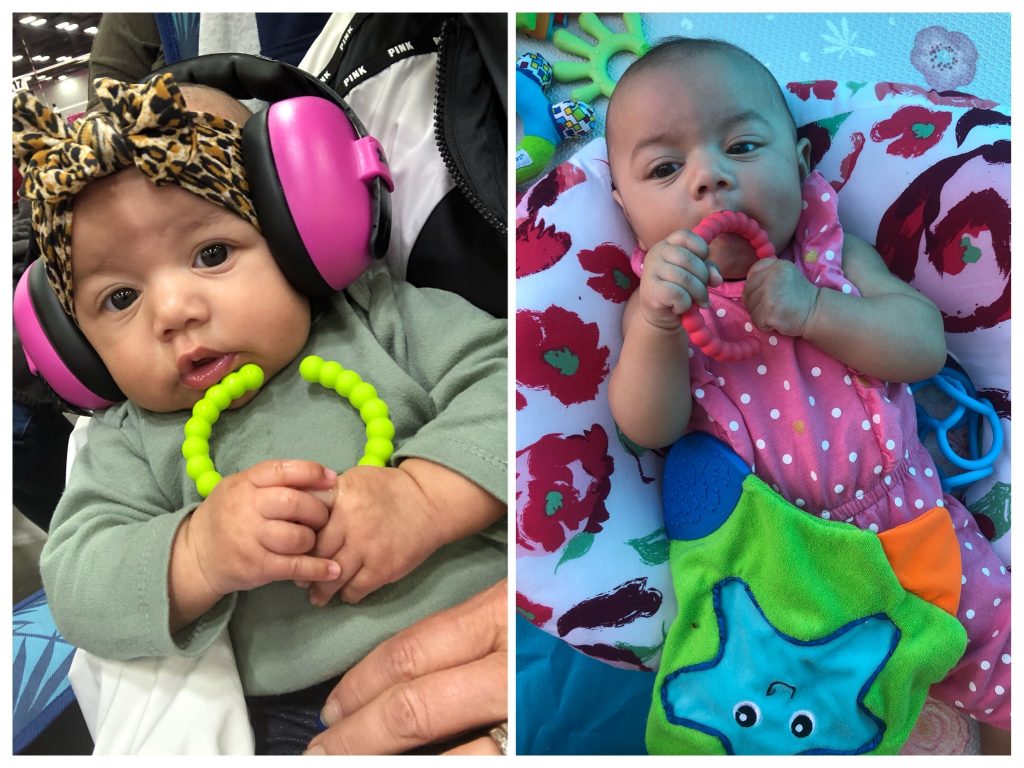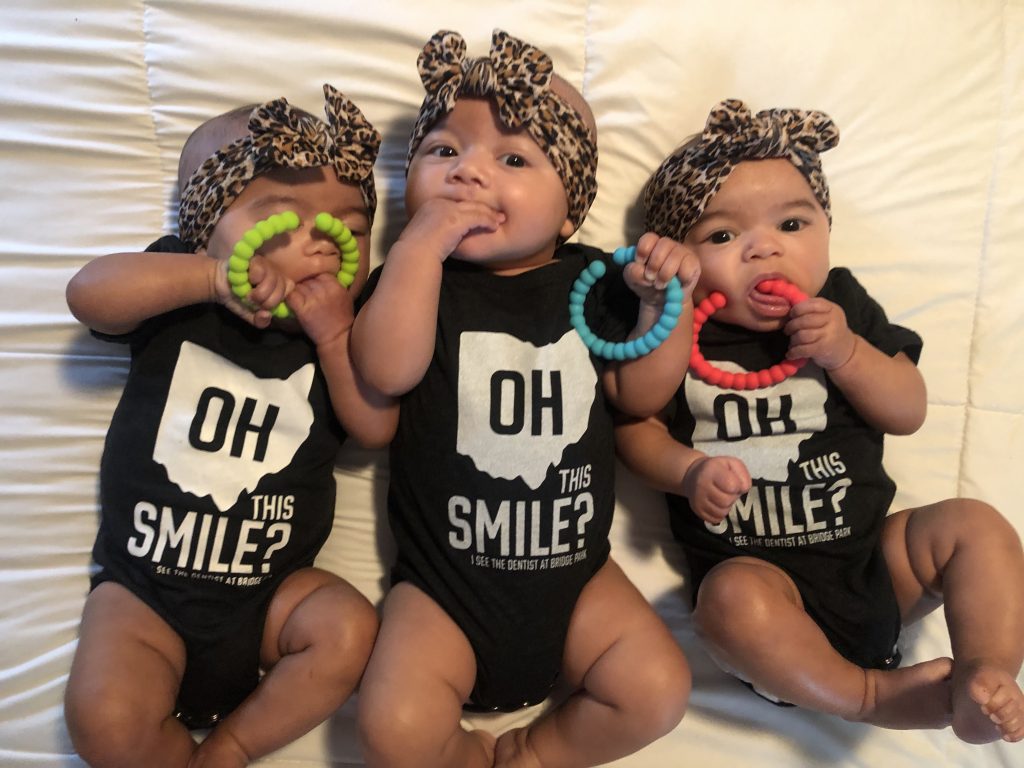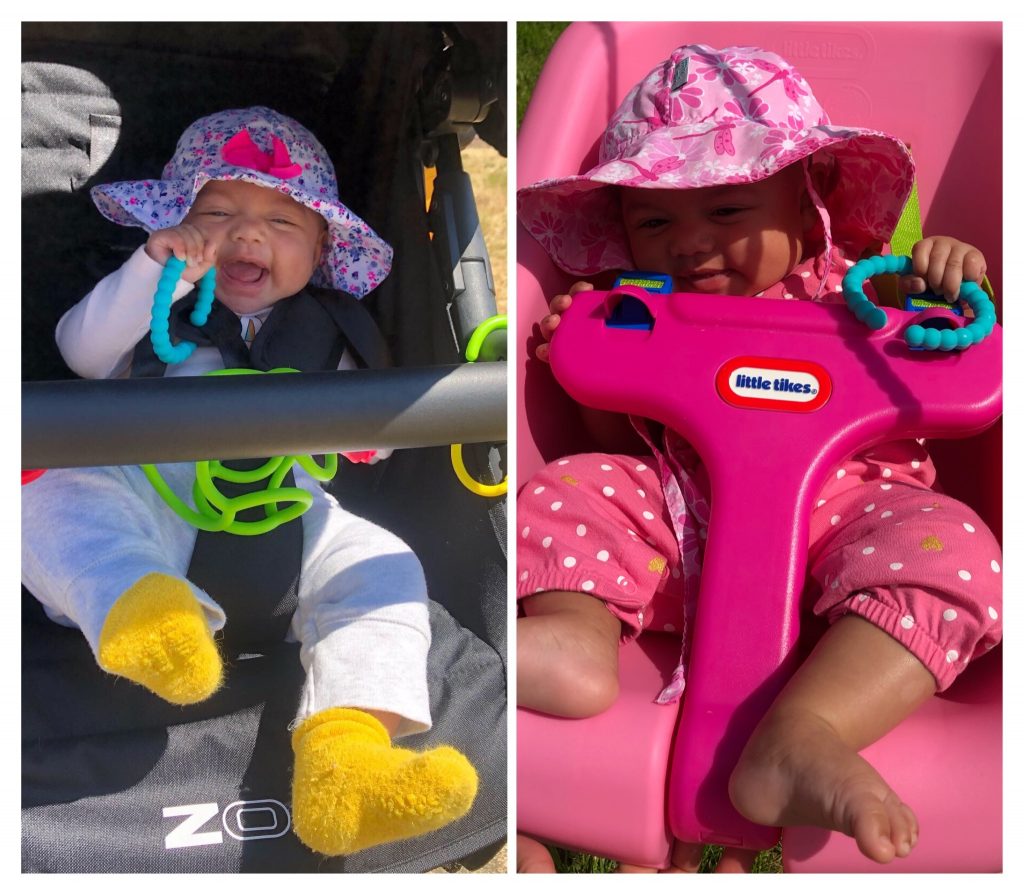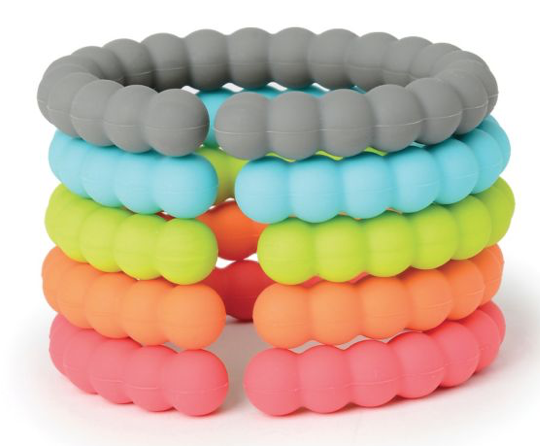 ---
Happy playing! If your babes have a favorite toy, let me know what it is!